When I was in college, I got a job working at the Cole Haan boutique in the King of Prussia Mall near Philly. Cole Haan's shoe styles were still somewhat conservative, but their men's jackets had a rebellious flare that quickly seduced me. After a year, I'd racked up $2000 worth of jackets (though I won't say how much I actually paid with my employee discount). It's been well over a decade, and I still have all of those jackets…and several more.
When you throw your jacket on in the morning, you set the tone for your day. Like choosing between loafers or work boots, choosing between different types of jackets is a matter of form and function. What's the temperature? Could it rain or snow? Am I feeling formal, casual, business, or athletic today? Your jacket choice is the result of these decisions.
But sometimes, you might not know where to start. We've compiled a list of the most common men's jacket styles. Keep the list going in the comments if we didn't include your favorite or if you have experience with any of our picks.
Table of Contents
Field Jacket
The field jacket is one of the few sartorial pieces that perfectly mates form with function, meaning 1. It will never go out of style, and 2. You'll always have a spare pocket for your keys. The field jacket is easily recognizable as it typically has 3-4 exterior pockets and a generous fit (so you can layer up underneath). The original M-65 field jacket was developed in tandem with NYCO, a cotton/nylon blend that offered improved water and wind resistance over previous iterations.
Today, outerwear companies have gotten creative with their fabrics, offering field jackets in cotton canvas, waxed canvas, and cotton blends. As the field jacket has become mainstream, it's split into two sub-categories: the modern field jacket and the military field jacket.
The modern field jacket is more inspired by farm fields than battlefields, like this one from Peter Manning, and maintains a roomy cut but adds a softer shoulder and creature comforts like corduroy trim and flannel lining. The military field jacket stays true to its roots with boxy shoulders, snap-in linings, and a hood that zips into the jacket's collar.
Read more about field jackets: The 10 Best Field Jackets
How to wear a field jacket:
Bomber Jacket
You probably know that the bomber jacket was originally created for pilots, but you may not know that the streamlined silhouette you see today was at the outset, crafted from seal leather and lined with fur. Over the decades, the bomber has seen several iterations, loosening its insulation requirements as airplane cockpits have become warmer.
Today the bomber jacket is the throw-it-on-for-anything jacket in terms of style: Going to the store in your sweats for milk? Throw on your bomber. Going out for drinks with the fellas? Bomber. And with different colors, cuts, and levels of warmth available, you can have a different bomber for each season. Not sure where to start? Try something like this lightweight bomber from Levi's. The polyester will resist the wind and rain, and the trim cut will keep you looking svelte.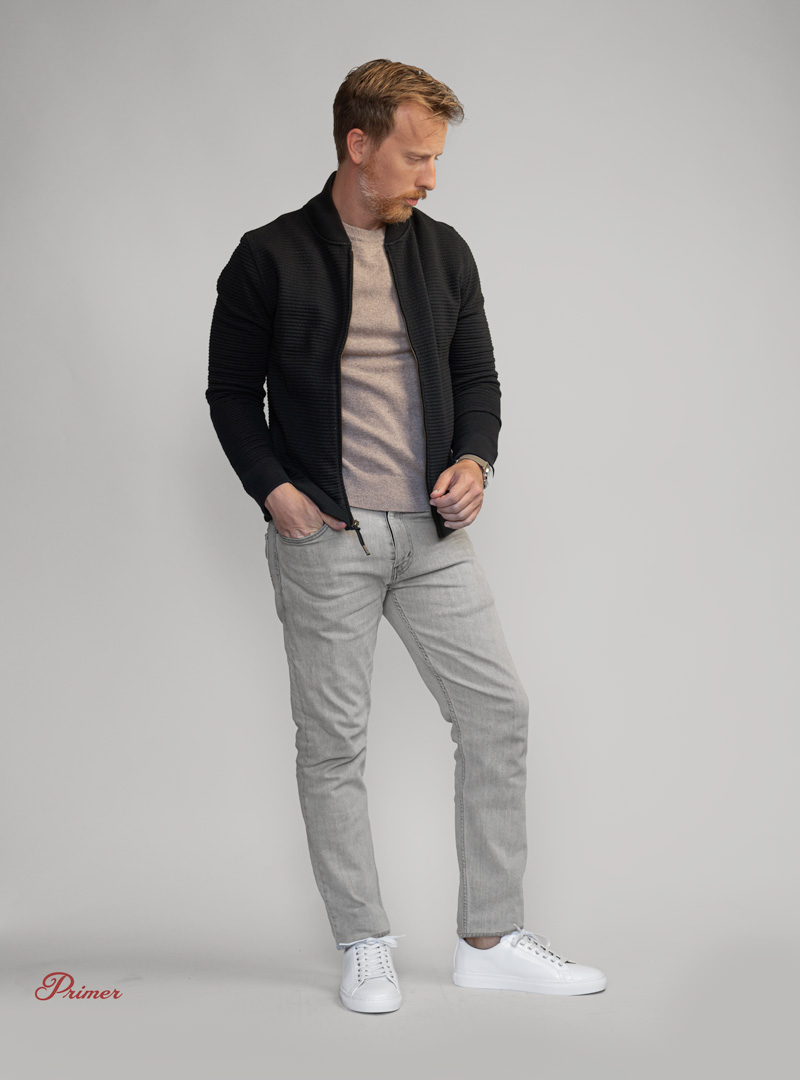 Learn more about bomber jackets: The Bomber Jacket: How to Wear It
Bomber jacket outfits:
Denim Jacket
Plenty of companies make a denim jacket, but no on does it quite like Levi's. The denim, or jean jacket dates back to the late 1800s. It was originally created for farmers and gold prospectors with seams that could be easily let out and moved if the wearer needed a looser fit. When you picture a denim jacket, you probably see this one from Levi's, which is their classic Trucker Jacket.
The metal buttons and v-shaped seams make it unmistakable. Suitable for a spring day with a light breeze, a summer evening, or a fall evening with layers, the denim jacket has a rugged casualness that looks laid back but intentional.
We feature it regularly in our outfit inspiration due to its versatility among smart casual.
It's important to note that while the denim trucker jacket is the most ubiquitous, there are other types of jackets that can be made of denim, most commonly a chore coat: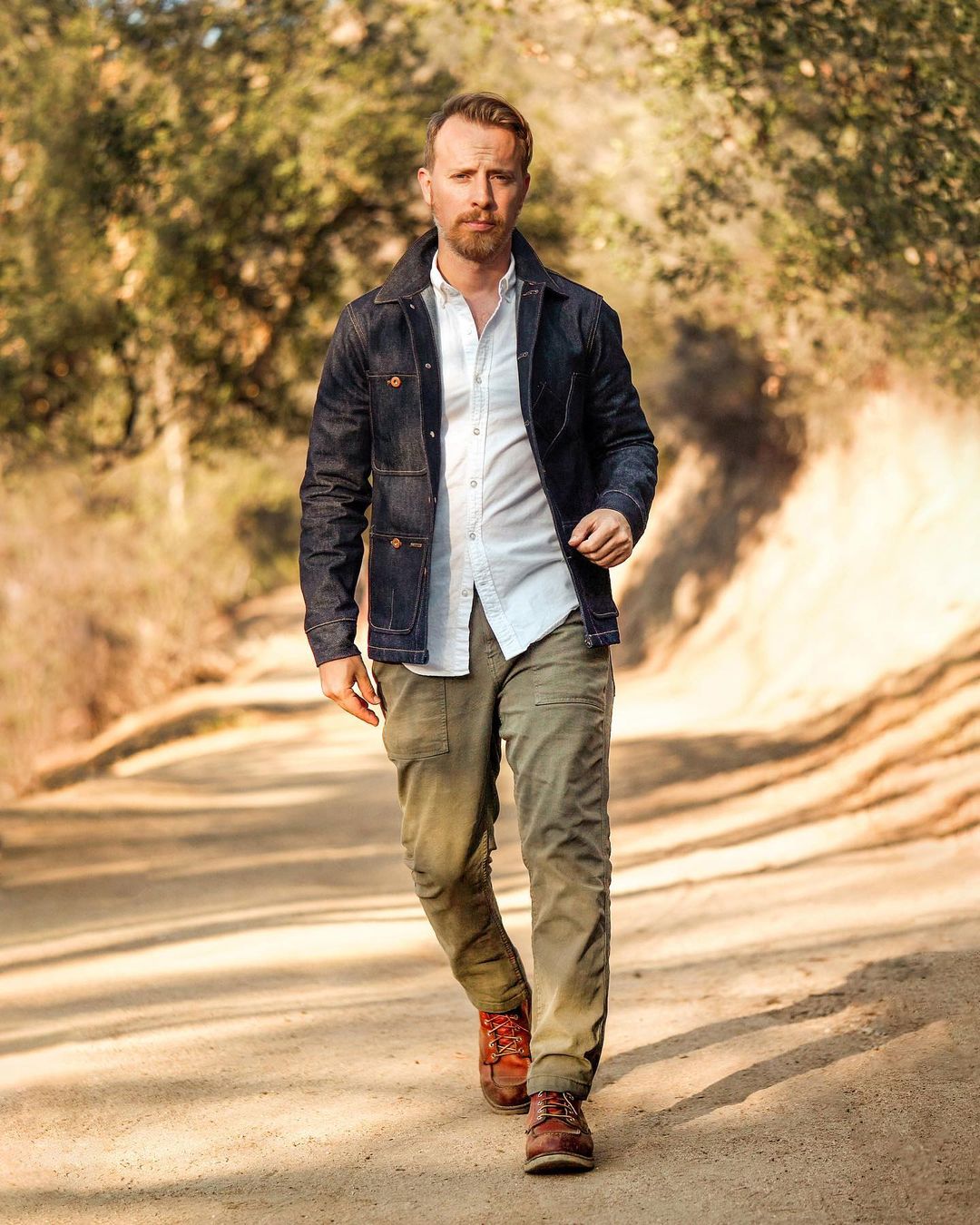 Read more about denim jackets: What's The Difference Between A Trucker Jacket And A Denim Jacket?
How to wear:
Trucker Jacket
The trucker jacket has an intriguing history, from protecting cowboys from storms to keeping Robert Redford looking like a stud. The trucker jacket is a specific design of jacket that can be made of various materials, which features a waist-length cut, tall collar, and generally one or two chest pockets. Cinching button flaps on the back waist that narrow the opening are also standard.
The most common trucker jacket you'll see is the Levi's denim one that we've featured above, but for a little added comfort and weather resistance, we like a trucker made from waxed sailcloth like this one from Flint and Tinder. The fabric comes from New Jersey, and the jacket is crafted in Los Angeles with a soft flannel lining to keep you warm.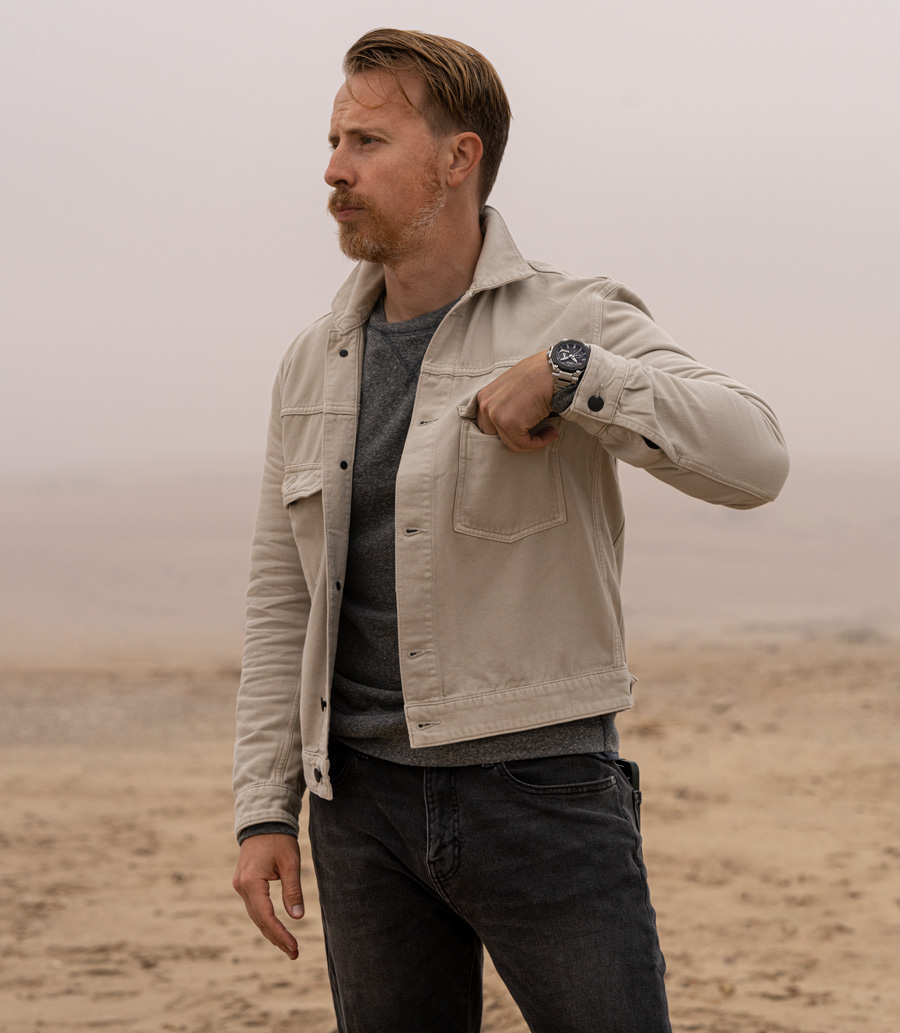 Flint and Tinder (which started as an American-made underwear company) even takes the extra time to wax the fabric on both sides for extra resilience. Creases and scuffs will help this jacket age with character and a 60-day return policy gives you the time to make sure it's the right fit and style for you.
Read more and see early designs of the trucker jacket: The Fascinating Evolution of the Trucker Jacket
Outfits featuring trucker jackets:
Chore Coat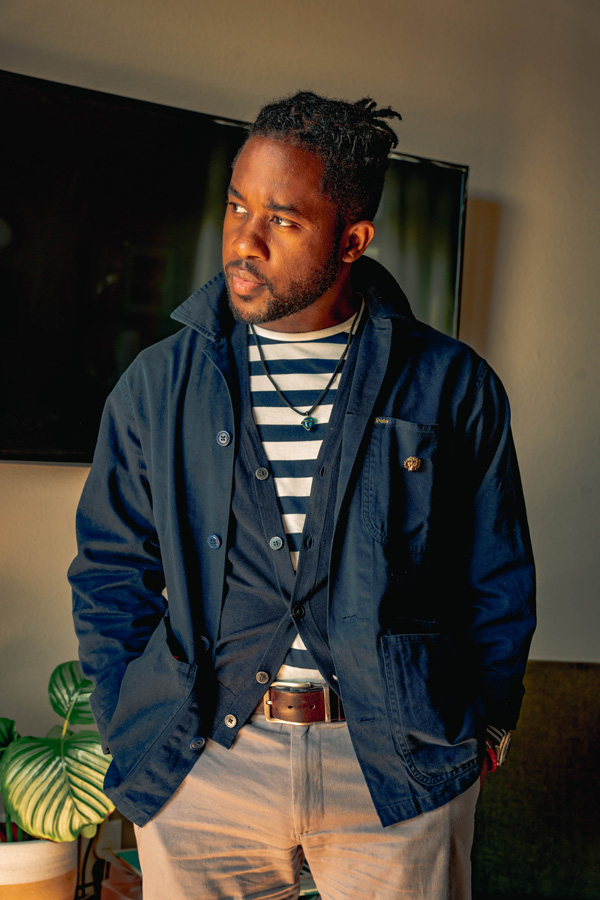 Back in October, we started getting our house ready to sell. There was a myriad of jobs to do, and the weather was just starting to turn chilly. One crisp Saturday morning I threw on my chore coat with a t-shirt and a sweatshirt underneath and set aside two hours to pressure wash the front of the house. But you know how it goes when you get pressure washin'. Next thing I know I'm doing the back porch, and then I started eyeing up the deck. Five hours and two meals later, I'd ditched the sweatshirt, but I was still rockin' the chore coat over my t-shirt.
The chore coat isn't for a nice night out. It's not for the meeting before the board of managers. It's for chorin'. It's for a walk in the woods or a casual weekend away. Made from cotton canvas, wool, or denim, the chore coat has a roomy cut for layers and a rugged construction that dares you to do some real work. Go get dirty.
A few chore coats worth checking out: The 11 Best Chore Coats
How to wear a chore coat:
Moto Jacket
The Belstaff Jacket (originally spelled Bellstaff and known colloquially as the "moto") dates back to 1924 when a father-and-son company aimed to create a waterproof jacket for motorcycle racers, so they could race on the beach at the water's edge. The jacket was the first commercially available sartorial item to use Egyptian cotton coated with wax.
This kept the moisture out while still letting air in. Word spread, and soon it wasn't just racers wearing Belstaff jackets; pilots (like Ameila Earhart) became customers as well. Soon Belstaff started making custom cycling and camping equipment, and by the time WWII had begun, the government was requesting Belstaff's gear for their soldiers.
Today Belstaff is an iconic fashion designer, with the likes of Ewan McGregor, David Beckham, and Liv Tyler headlining their newest collections. But their legacy, and more importantly, their quality, has remained untainted.
The exterior pockets, snap buttons and general badassedness of the Belstaff-style moto jacket lend it to just about any body type. But like we've said before, most guys don't want to take out a loan to pick one up. Unless you need the ruggedness of a leather moto (like if you actually ride a motorcycle), this cotton moto by Goodthreads is perfect for the upcoming spring.
How to wear a moto jacket:
Shirt Jacket
When a button-up shirt isn't enough, the shirt jacket steps in for that added layer of warmth. It is known by various names depending on what region you're from including shirt jacket, shirt jac, CPO jacket, or shacket.
The advantage of the shirt jacket is how well it allows you to move (since really, it's just like wearing another shirt). You get the warmth of a light jacket without the added bulk, kind of like an alternative to a shawl collar cardigan or hoodie.
This affordable one from Amazon comes in 12 colors and patterns and is made from polyester to give you the fleece feel with the shirt fit. Style it with a dark shirt, denim, and your favorite pair of boots for a hale fall look.
How to wear a shirt jacket:
Harrington Jacket
I'm a prep. Freshly shined penny loafers with a pair of Nantucket reds and a bow tie, and I feel right at home (maybe a copy of Gatsby in my back pocket in case I get bored). On a sunny day, you'll see me rockin' my basket-weave navy blazer, but if there's a chill in the air, I get out the Harrington.
Like a Mini Cooper with a hemi, the Harrington is a total sleeper in terms of versatility. Also known as a blouson jacket, wear a Harrington with chinos and a button down; wear it with jeans and your brown leather sneakers. Hell, throw it on with a pair of shorts on a cool summer evening. Keep in mind that just because the original G9 jacket from English brand Baracuta has become a cult classic since its inception in the 1930s, you don't have to spend $400. This one from Uniqlo is $30 and looks swell.
See the long history of the Harrington: The Harrington Jacket – How to Wear It, History, & Affordable Picks
Harrington jacket outfits:
Leather Jacket
It was fifty-five degrees in my part of Pennsylvania today, and my wife and I had some errands to run (My mom watched the kids, so we called it a date). I threw on jeans, suede chukkas, a sweatshirt, and my leather jacket, and I felt smooth. The leather jacket is the ultimate feather in the cap of smart casual: It's intentional without being presumptuous.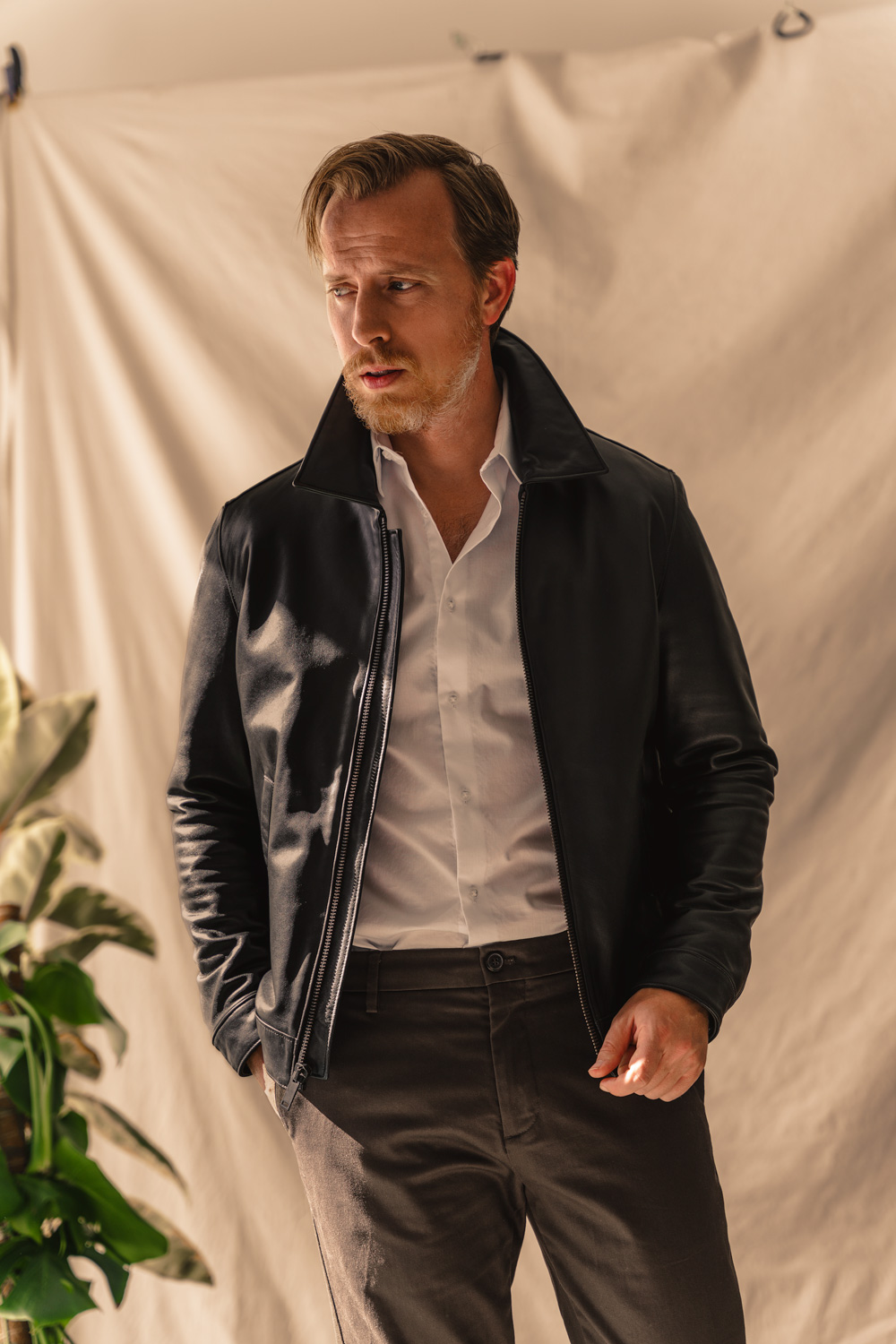 Leather jackets can come in lots of different styles, from the racer style shown above to bombers, blazers, and everything in between. The most famous style is probably the double rider: The classic leather jacket with big collars and asymmetrical zipper, shown below.
The first commercially available leather jacket was released in the early 1900s for motorcyclists; if you fell, the leather would take the brunt of the road rash instead of your own skin (it took a while to figure out that helmets were a good idea too).
Marlon Brando and James Dean wore leather jackets in The Wild One and Rebel Without a Cause respectively, and suddenly it was the sartorial staple of the 1950s. Perfect for fall days or days like today when spring is doing its best to make an entrance. A jacket made from great leather will outlast you: Primer editor and founder Andrew Snavely has a 1940s horsehide motorcycle cop jacket.
How to wear a leather jacket:
Double Rider Biker Leather Jacket
If you're feelin', as my grandfather would say, as bad as you gotta be, you might want to pick up a biker jacket. Biker jackets feature a trim cut (so they're not great for layering), a short torso (so you can easily lean over the side of your bike without having a button dig into your pelvis), and ample hardware for ruggedness. While the double rider biker jacket lends itself to a more casual look, it actually complements a shirt and tie quite well. Pairing your work wear with a little bit of renegade is always a cool move.
Fleece Jacket
When I hear polyester, my mind goes to Saturday Night Fever, but the polyester of today is not the polyester of the 1970s when your dad wore platform shoes and shirts with collars points down to his armpits. Today's polyester fleece is lightweight, soft, and breathable, allowing you to stay warm and (relatively) dry without breaking a sweat.
It won't shrink when you dry it, and because it's a synthetic fabric, it keeps its shape. The best part? You don't need to drop $100 to get a more-than decent fleece jacket. This fleece from Amazon comes in 26 styles and hits a price point that won't make you cringe.
Pea Coat
The pea coat is one of the few coats that has seen very little change since its inception. Why? Because it's hard to update perfect. Like quite a few men's coats, the pea coat finds its roots in the military, originally crafted in the 1700s for Dutch sailors from rough, thick wool. The term "pea" is thought to come from the Dutch word "pij" or "pije" (depending on the source), which described the wool.
The British navy popularized the style, and we're still wearing them today. The modern pea coat is slightly more fitted than the original, but the oversized collar, hem just below the waist, and double-breasted button closure remain. And because a classic never dies, plenty of companies have their own take on the pea coat, meaning you can choose the one that fits your personal taste and your budget.
Get a good one: These Are The 23 Best Men's Pea Coats, Car Coats, Walker Coats, and Overcoats
How to wear a pea coat:
Shearling Jacket
The shearling jacket hits that sweet spot when it's too cool for a trucker but too warm for a pea coat. If you go for genuine shearling, which comes from sheep, you'll spend a few hundred at least (and that's if you catch a deal).
Luckily faux-fur shearling (which is essentially hi-pile, textured fleece and labeled as "sherpa") retains warmth nearly as well as the real thing. It's also easier to maintain (because you can wash it), and it won't mat down as easily as genuine shearling. A sherpa trucker like this one is soft and easy to wear like a heavy sweatshirt.
Mac Jacket
The Mackintosh, or Mac…or rain coat actually dates back to the 1800s. Charles Mackintosh, a chemist, devised a way to insert a layer of liquid rubber between an interior and exterior layer of fabric. And the Mac was born. Traditionally a Mac was cut for wear over a suit, but the modern Mac is slightly tailored. You can certainly layer it over a suit or a thick sweater, but you don't have to. This Tommy Hilfiger Mac comes in three colors, maintains the traditional style but with an updated silhouette, and comes with a removable hood.
Trench Coat
Trench coats became iconic after service by British officers in World War I, but their story starts almost a century earlier, as a response to the popularity of the Mackintosh coat. Traditionally trench coats are below the knee, double breasted and feature wide lapels, and a waist belt, though you can find coats labeled as trench coats that feature other styles.
Puffer Jacket
The puffer jacket is your quintessential winter jacket. It's lightweight, it's warm, and it has just enough moisture resistance to get you through a snow shower.
There's nothing wrong with an extra puffy puffer jacket, but anymore, insulation technology has allowed for more svelte options like this one from L.L. Bean with down that's been treated to allow it to stay dry even when wet.
Vest
Also known as a gilet, the vest is one type of outerwear men sleep on the most. It's the perfect layer for those frustrating-to-dress-for days where a thicker coat would be too hot after a certain point. The torso-covering vest keeps heat in while not insulating the arms, a way of regulating body temperature while also looking damn cool.
Check out Primer's guide to this turtleneck and vest combo which will have you looking as sharp as style contributor Daniel Baraka and not an old guy on the ski lift.
Coach Jacket
The history of the coach's jacket is in the name. In the 90s, this lightweight windbreaker-style jacket (complete with snap button closure) was worn by NFL coaches all over the country (with a big ol' team logo on the back). It moves easily; it resists moisture in case it starts to drizzle, and snap buttons mean it goes on and off easily so the coach can stay comfortable without missing a play.
Waxed Canvas Jacket
This may be the best damn looking jacket on the entire list, and I'm not just saying that because Daniel Craig wears it in No Time to Die. Ok…that might have something to do with it. The waxed canvas jacket is the one you throw on in fall or winter over top of a sweater, or for the spring camping weekend when it's going to be cool at night, but you'll be sitting by the fire.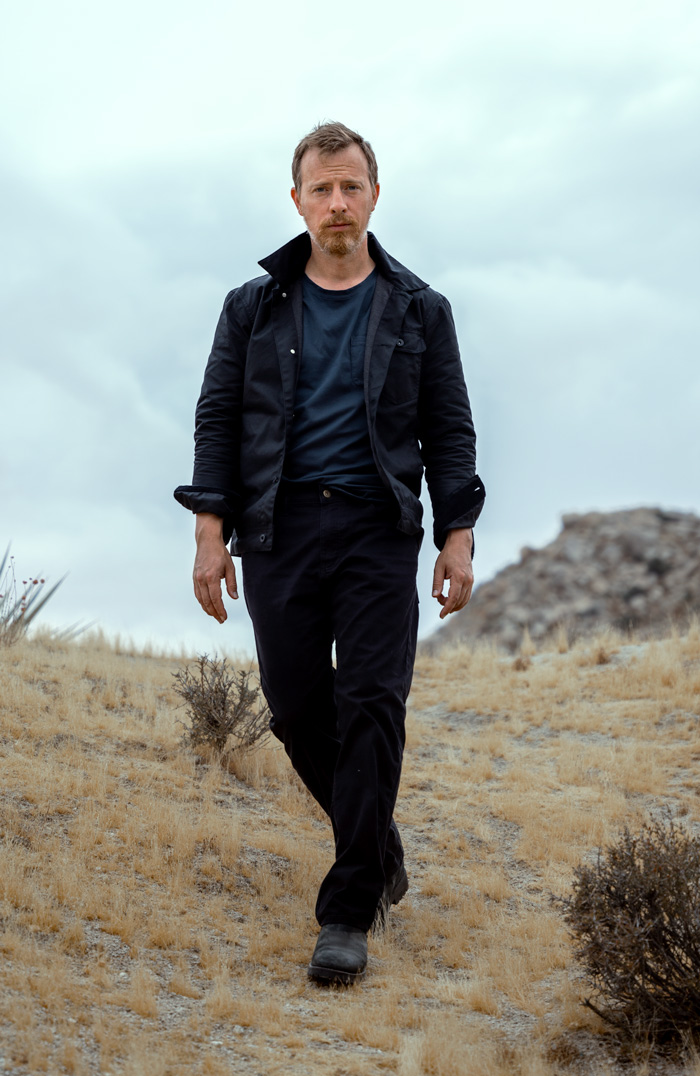 Over time, the canvas will crease, darken, absorb dirt and oil from your hands, and it'll keep looking good. In a few years, throw a fresh coat of Otter Wax on it, and you're back to factory specs for moisture resistance.
Read more about waxed canvas jackets: The 9 Best Waxed Canvas Jackets: History, Style, and Affordable Picks
How to wear a waxed canvas jacket:
Blazer
As a card-carrying prep, the navy blazer is my go-to jacket for every season and almost any occasion. It is the essence of versatility in that it looks good on any man regardless of body type, and shy of black-tie-only, it's appropriate for most occasions. A night out with your partner? Throw on the navy blazer with your favorite denim and a button-down. A day at the office? Navy blazer and chinos (Think Andy Bernard. Did you know he went to Cornell?) Office with a more casual dress code? Navy blazer with denim, a shirt, and tie.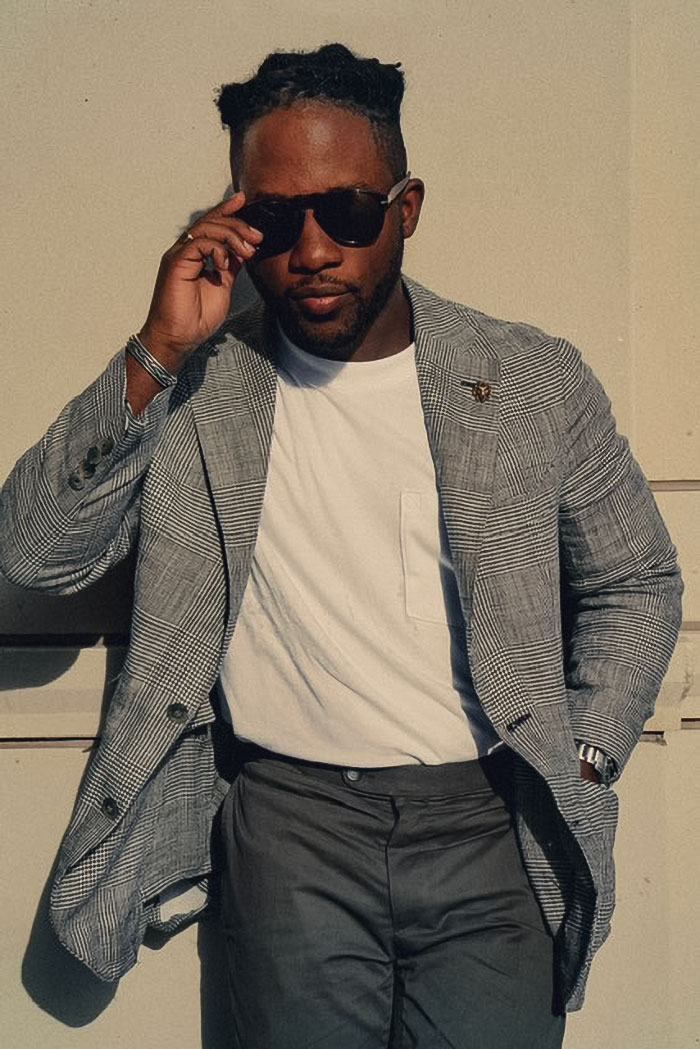 You only need one navy blazer, and if you can afford it, I recommend picking up one made of wool. It breathes; it seldom needs cleaning, and the drape is always flattering. If that's a little too steep, a wool blend or cotton will do just fine.
Navy blazer outfits:
Rain Coat
Yes, the Mac is handsome, but you're probably not going to wear it to your daughter's soccer game on a rainy Saturday morning. This is where the traditional rain coat comes into play. This one from J.Crew is made from triple-layered nylon, with a bit of stretch, flap pockets, and an interior pocket for your phone.
If you're like me, you're thinking that all that waterproofing doesn't allow for a lot of air movement. But this jacket has a trick up it's sleeve: zippered vents with lightweight mesh to keep moisture out while allowing for air flow.
Anorak
The word anorak comes from the native Greenalndic language annoraaq. Similar to a parka (itself having native Russian etymology), an anorak is a hooded, pullover hip-length jacket usually made of nylon to provide wind and water protection. They've regained fashion popularity in the last two decades or so and often come in bright solid colors or a mix of bright colors. Due to their pull-over style, nylon construction, and zipper pouch, anoraks are casual wear jackets, often chosen for weather utility.
Packable Jacket
In the back of my SUV, I have a fleece blanket, a multitool, and a packable jacket. Why? Because dammit you just never know. And let's be honest: the packable jacket is just cool. Here's a piece of clothing that will keep you warm and neatly pack into itself for easy storage – there's something profound in its simplicity. This one from Amazon is made from nylon (which will cut the wind and resist moisture) with polyester filling for added insulation. And at $45 with 11 color options, it's a no-brainer.
Parka
When the elements are kicking your ass, you reach for the parka. Originally made from seal skin by the Caribou Inuits, the parka is a garment designed for true cold weather activity and is one of the best types of jackets to stay warm in the winter. The body is cut below the waist, the interior is insulated (usually with down or a down alternative), and pockets have storm flaps and buttons (or velcro). This one from Patagonia is made with recycled 600-fill down, stretch canvas, and a hood that will cover your head and neck. Winter's got nothin' on you.
Suede Jacket
The best part about a suede jacket is that every guy can make it work. The suede racer compliments any body shape and looks as good at the bar as it does at the office. Suede gives you the durability of leather, but it breathes better and has a soft hand. Worried about water damage? Give your jacket a light misting with this fabric guard.
Technical Jacket
The first jacket I ever bought from The North Face was an Apex. I was 22, fresh out of school, and the Apex was my graduation gift to myself. That was 13 years ago, and it's still hanging in my closet. A tech jacket (named for the tech fabric from which it's made) is the Swiss Army knife of jackets: it's warm, it cuts the wind, and it's waterproof (the Apex uses a proprietary fabric with a polyurethane coating, which allows the fabric to breathe while keeping moisture out).
If there's rain in the forecast, and you're going for a hike or traversing the city, the tech jacket won't let you down.
Fishtail Parka
The name says it all: the fishtail parka is cut long in the body with a short vent at the bottom of the back, which kind of looks like a…well…you get it. This one from Alpha Industries is made from a cotton/poly blend for high breathability while still keeping you dry. The front placket adds a layer of moisture resistance while the drawstrings let you decide how tapered you want the fit.
Quilted Jacket
In the springtime, my default weekend outfit is jeans and a solid t-shirt (I like the pocket tees from J.Crew Factory). A simple way to enhance this look is by adding a little texture, and this is what a quilted jacket does best. The quilted jacket has a way of looking fancy yet casual; call it, "laid-back-equestrian."
The quilted jacket is ideal for layering, so throw it over a sweatshirt to cut the wind and lock in a little extra body heat. This one from Ralph Lauren is handsomely classic,.
How to wear it: There's No Shame in Being a Jeans & T-Shirt Guy: Here's How to Do It Intentionally
Varsity Jacket
Unfortunately they didn't give out varsity jackets if you were the lead in the musical (not that I'm bitter), but I prefer the kind without letters on them anyway. The varsity jacket traditionally has a wool body with leather sleeves, an American cut (which is to say a bit boxy), and a team's logo on it. These days the varsity jacket has a slightly trimmer cut, and most are made from blends of fleece or cotton. But if you want the real thing, check out this one from Grey.
Overcoat
I have a problem with overcoats because they look so damn good over a suit or a navy blazer. So I have four of them. The overcoat is cut long in the body with a little extra room in the chest and sleeves to go over your suit for work. Perhaps more than any other coat on the list, overcoats come in at every price point you can imagine from low-cost options like this one, to exorbitantly expensive like this one that costs more than my first car. Camel, navy, or black are the most traditional choices, but don't be afraid to go off the beaten path with a pattern.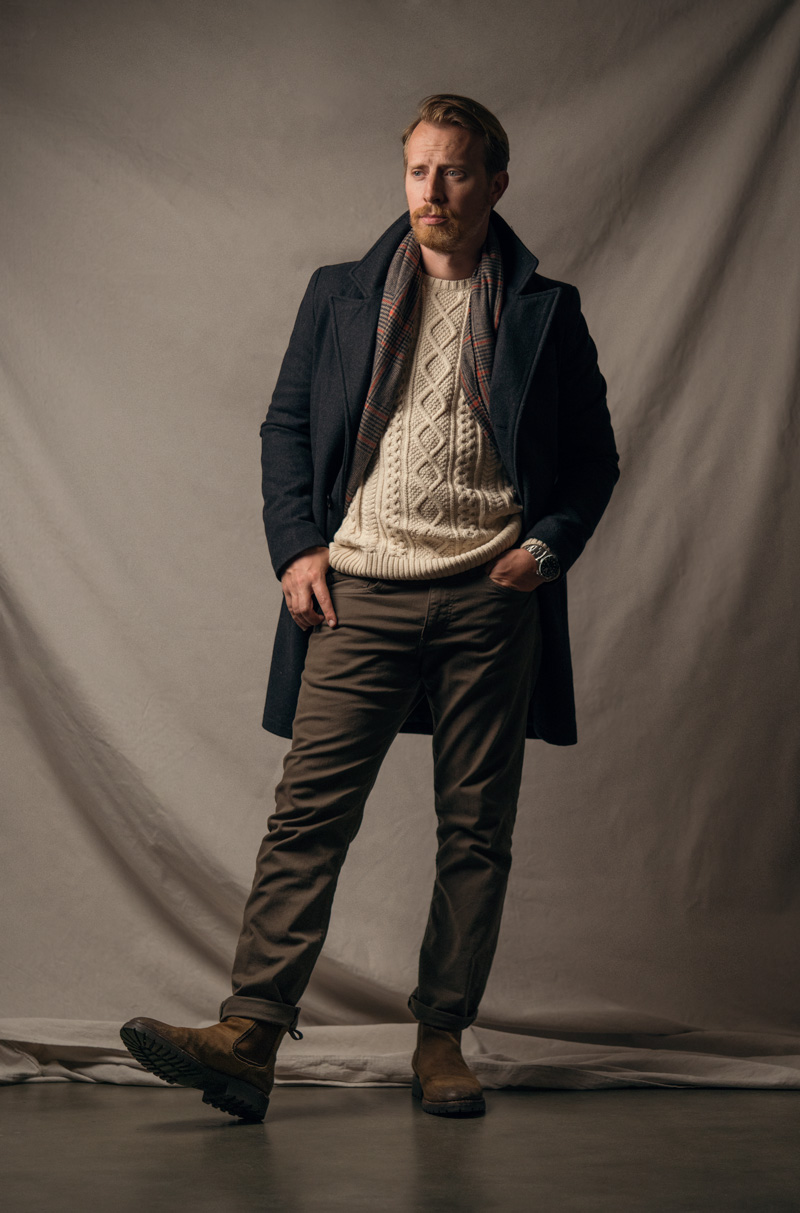 Read more: These Are The 23 Best Men's Pea Coats, Car Coats, Walker Coats, and Overcoats
How to wear an overcoat: