It is very important to me that our readers feel they can trust Primer. Be that in the content of an article or our relationship with sponsors and advertisers.  Advertising on Primer is very black and white: a company pays money to get their brand on the site. There are no quid pro quo's, and they can't pay us money to write nice things about them.
When an advertiser sponsors an article, they believe in the message of the article. In return for supporting the creation of the article financially, they receive a small advertisement on the article, no different than when a company sponsors a football broadcast. Coke doesn't decide the winners of the game, and our sponsors have no say in our content. If a sponsored post includes a product by the sponsor, that product was chosen by Primer, not the sponsor. If a sponsored post says nice things about a sponsor or their product, it's because we believe that and we chose to say it.
Affiliate links are equally transparent. Affiliate programs are great because they allow us to earn a small commission by linking to the products we're already talking about, at no added cost to you. Affiliate programs exist for practically every brand and type of product, which means we don't make decisions of what to link to based on whether there's an affiliate program or not. As an Amazon Associate we earn from qualifying purchases. Additionally, we participate in programs such as Skimlinks, RewardStyle, Shopstyle, Pepperjam, iDevAffiliate, ShareASale, Commission Junction, Impact Radius and others. We include products we think are worthy of your genuine consideration. Period.
Put simply, our opinions aren't for sale, never have been, never will be.
If you have any questions, don't hesitate to drop me a note on our contact page. Read our Terms & Conditions and Privacy Policy for more information.
Thank you for reading!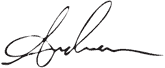 Andrew
Editor & Founder