The single best fashion tip for dressing better: how to incorporate smart casual outfits and elements into your wardrobe so that you're the best dressed guy – wherever you go.
There was a time when the bulk of a man's style was dictated by what he wore to work. Consider past decades, when middle management executives would don suits that were just a tad more relaxed than what the lawyers and accountants they interacted with would wear, yet slightly less casual than what the copywriters and creatives wore. You could tell what every man did for a living simply by their style uniform.
Today, men's fashion is about a lot more than the office. Men have freedom to build their own personal style. We now live in a world where it is possible to have a wardrobe that is equally appropriate for a day at the graphic design firm, a night of cocktails, or an evening at the theater.
If you're free to create your own look, why not create a wardrobe that can work in almost any situation? This desire to create a sharp, versatile wardrobe has given rise to smart casual.
In the following sections we'll break down the smart casual dress code with lots of outfit photos, history, how to put together your own perfect smart casual outfit, and we'll answer some frequently asked smart casual questions Primer readers reach out with.
Jump to section:
What is the Smart Casual Dress Code?
Smart casual is a pair of dark, slim jeans, a blazer, and desert boots. Smart casual is also chinos, a patterned shirt, and a bomber jacket.
Done right, a smart casual look can work in "casual," "business casual," and even some "dressed up" environments while still standing out from the crowd. At a casual bar night, you'll look sharp. In a low-key business meeting, you'll look bold but professional. No matter where you go, you'll have the confident look to impress.
These days, almost everything you do in life doesn't have clearly defined style expectations. Treat this as an opportunity. You have a chance to plant a flag with your fashion intentions.
Where Does the "Smart Casual" Dress Code Come From?
The first known usage of the phrase "smart casual" was in 1924. The writer was describing a "sleeveless dress with three-quarter overblouses, in smock appearance completing it for streetwear." The women's look, somewhere between flapper chic and office modesty, was conceptually similar to what we consider smart casual today.
In the 1950s, you started to see the term used in menswear. At that time, the term was simply used to describe a suit that was more casual than what you would wear to the office. Even though the look was different, the concept was the same. A smart casual suit was something a man could wear in almost any situation and feel good.
Smart casual as we know it today first emerged in the 1980s. Shifting standards of formality and the rise of informal workplace attire blurred the line between work wear and street style. It was now possible to create a look that was entirely personal and extremely versatile.
The modern version of smart casual was born.
Before we can fully understand smart casual, we need to understand what it is in contrast to. Despite ever-changing men's style standards, we can define three broad dress codes of men's style that have dominated the fashion conversation for decades. These categories grew out of the initial relaxing of the precise Victorian sensibilities about how men ought to dress and evolved through the twentieth century.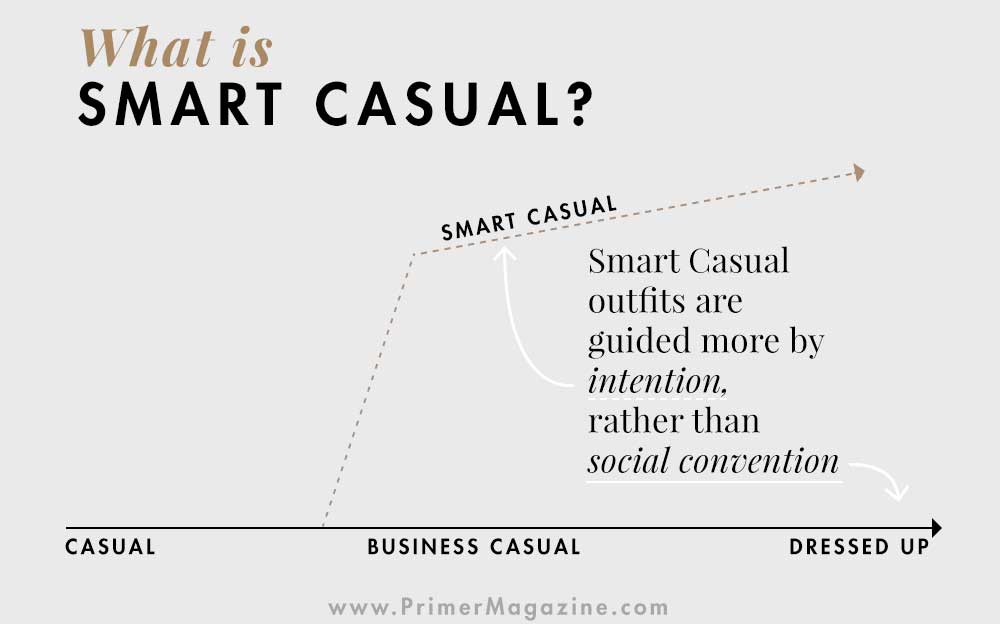 Dressed Up, Professional, Semi-formal Dress Code VS Smart Casual
This is the clothing you wear on special occasions or if you have a career that still requires a daily suit. When you are "dressed up," you are matching your attire to specific standards, locations, and conventions. We all know how you dress for a job interview, a wedding, an anniversary, or a funeral. Each of these events comes with social expectations, and we have a shared style language around these important occasions.
Business Casual Dress Code VS Smart Casual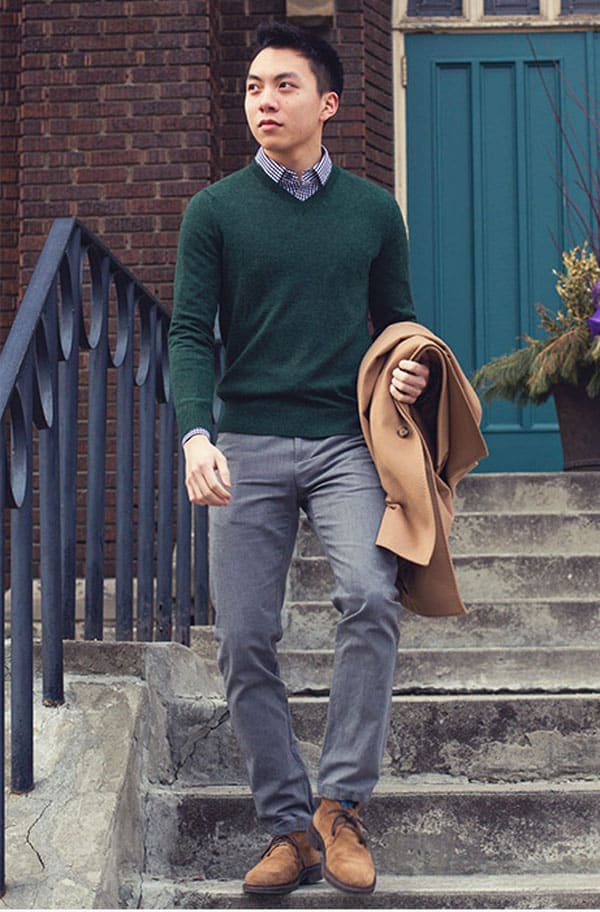 Though some workplaces have moved to a more relaxed environment, many offices still have a business casual dress code. Business casual probably doesn't mean a suit; touches of formality like blazers, khaki pants or suit pants, a button-down shirt or polo, and dress shoes are hallmarks of the classic business casual look.
Casual Style Dress Code VS Smart Casual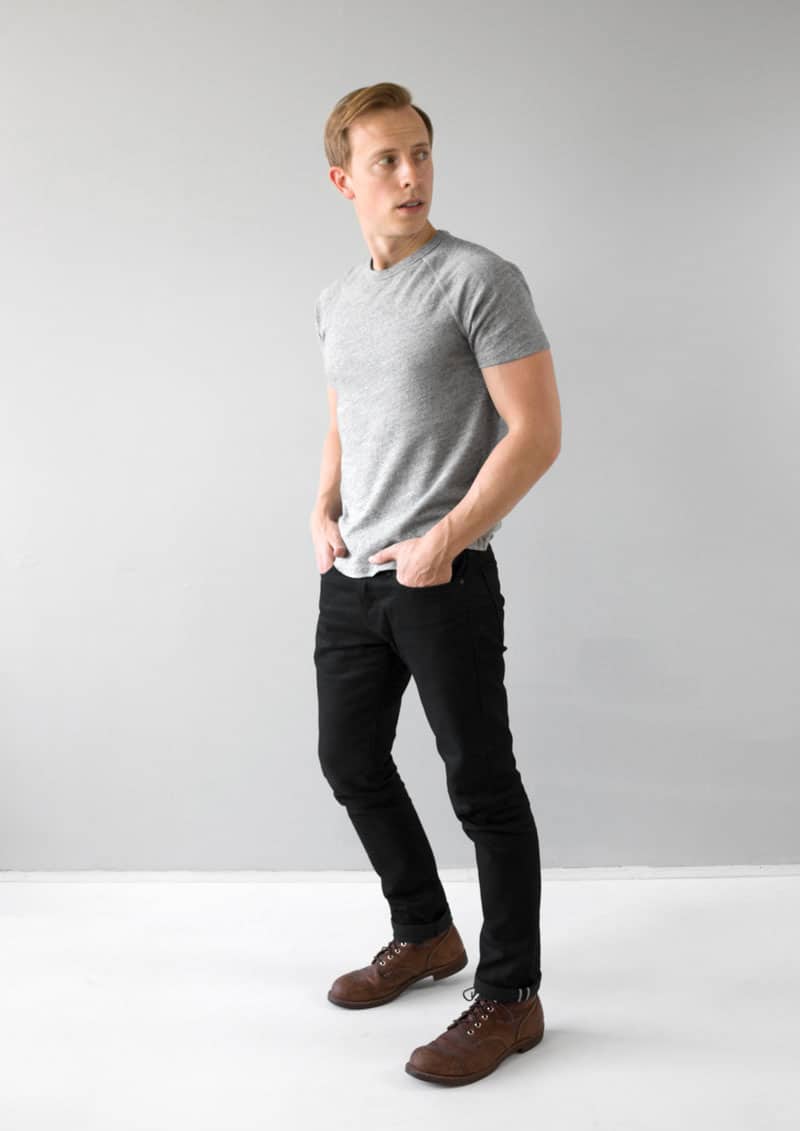 Casual, of course, is your most relaxed look. It isn't necessarily as simple as waring whatever you want. If you receive an invitation that reads "casual attire," you probably shouldn't show up in gym clothes. For our purposes, "casual" means no pretense of formality.
Examples of Smart Casual Outfits
Some say smart casual is anything dressier than a sweatsuit, but less formal than a business suit. That doesn't give us much to work with. You could also get hyper-specific, checking off a box to create your smart casual outfit: a blazer, dress shirt, neat jeans and brown loafers. Looking at it that way is far too confining.
It's better not to look at smart casual as a set of rules or a list of particular items. Your intention is to look great in any environment. A smart casual outfit should feel versatile, sharp, and ready for anything.
Smart casual can even mean the right t-shirt (perhaps accompanied by a blazer) or even the right sneakers (probably solid colored and higher-end). A pressed t-shirt or a crisp pair of jeans can fit the bill just as well as a tailored blazer.
Smart casual is like art: you know it when you see it. Or rather, you know it when you feel it.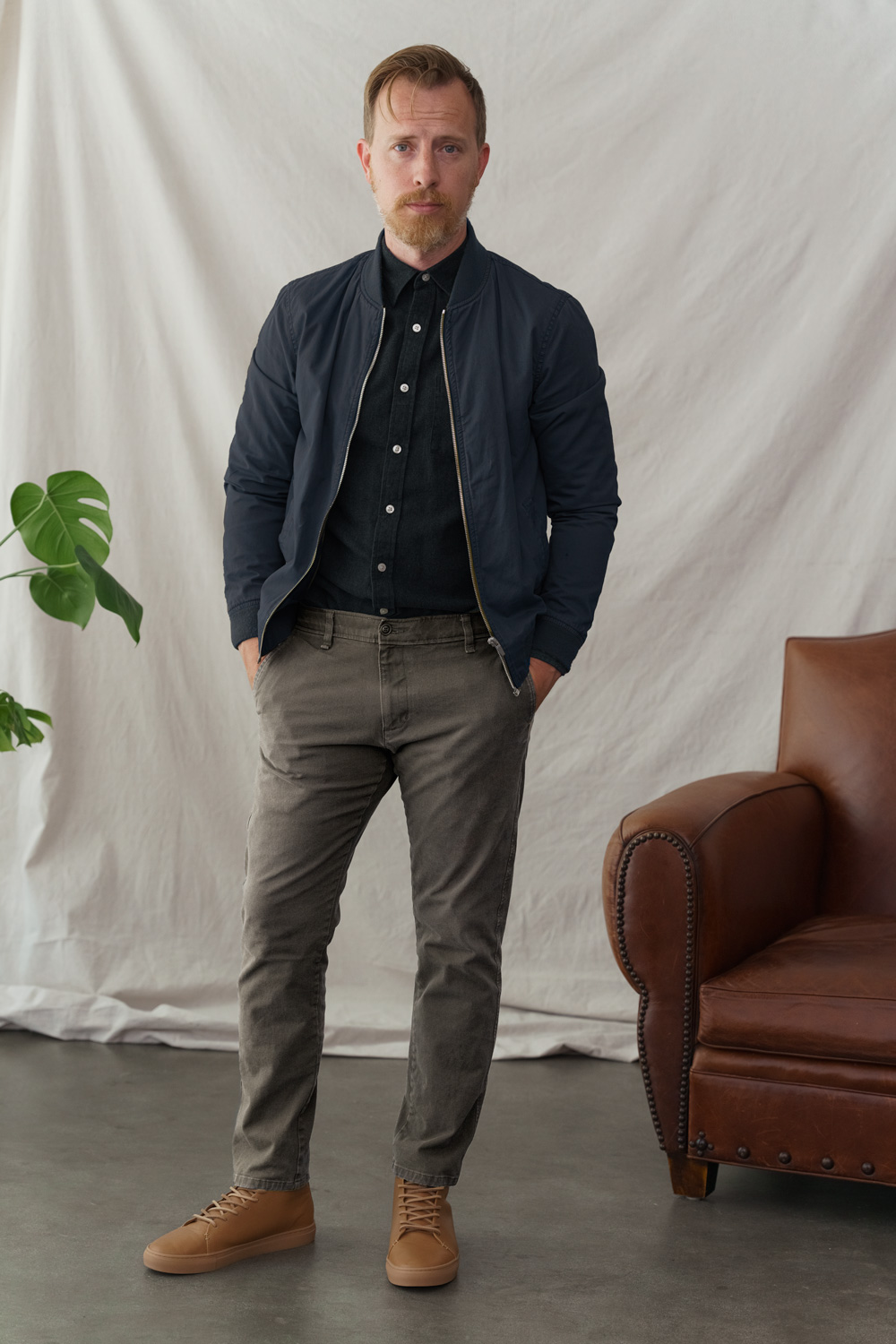 Using a similar color scheme but swapping the bomber for a blazer, and the high tops for suede dress shoes creates a more professionally focused, but still casual aesthetic: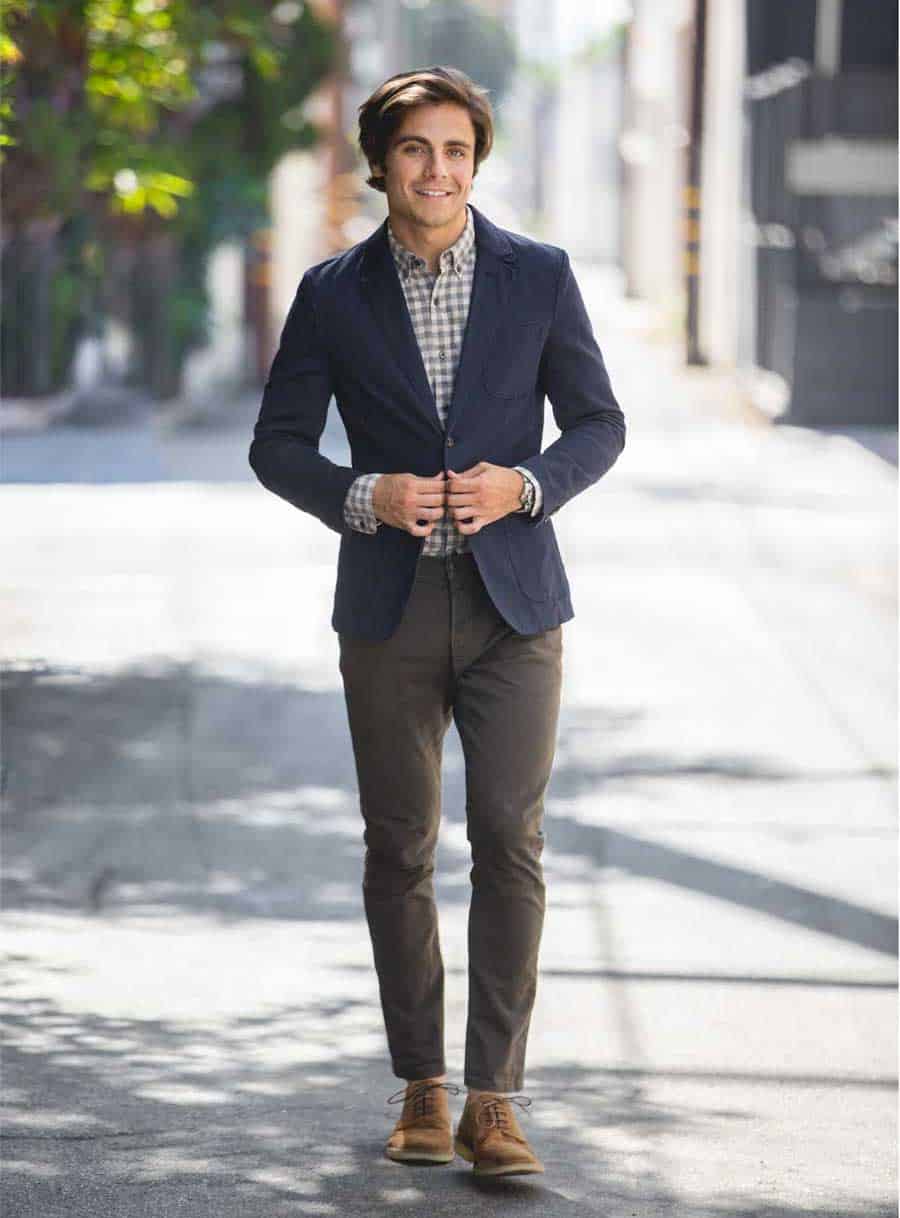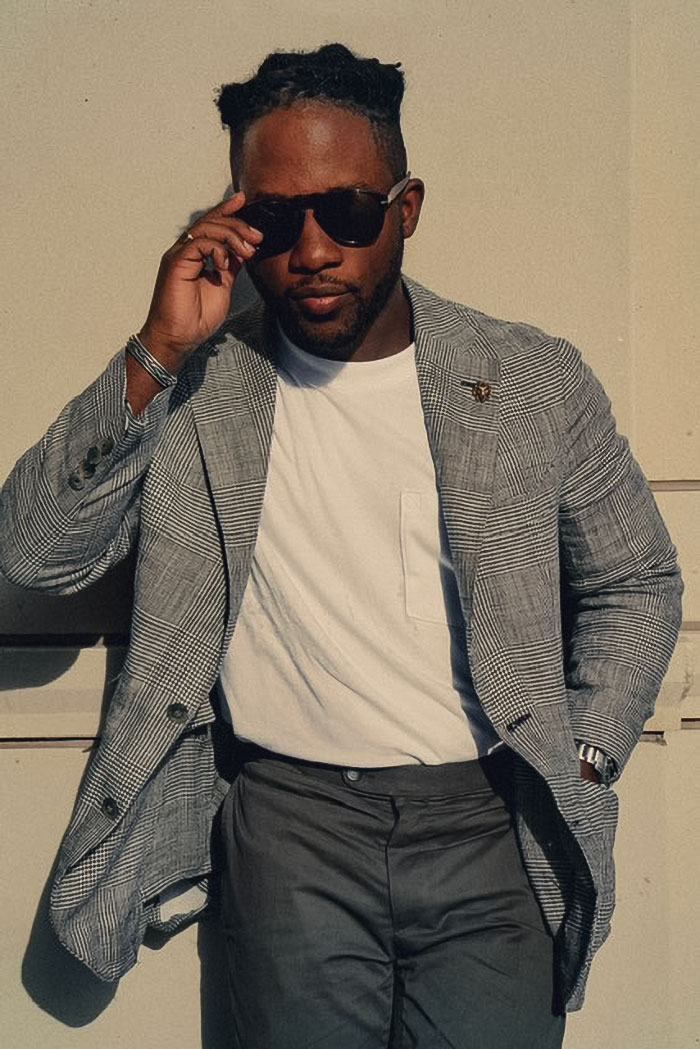 Smart Casual Style: A Feeling
This room for creativity is what makes smart casual so great. Rather than defining smart casual by specific items, think of smart casual as a feeling.
What is that feeling?
When you've done smart casual right, you should feel like you can walk into any room and have people think, "Damn, he looks good." With a few exceptions, like a trip to the courthouse or a wedding reception, smart casual will work in any situation.
The best advice we can give for perfecting a smart casual look is allowing space for experimentation. If you're feeling too dressy, a lighter color jacket or simple switch to a more casual shoe might do that trick. If you look in the mirror and feel like the look is too casual, swap out your bomber for a blazer or your jeans for some slim wool trousers.
At the end of the day, smart casual is about empowering yourself with your best look.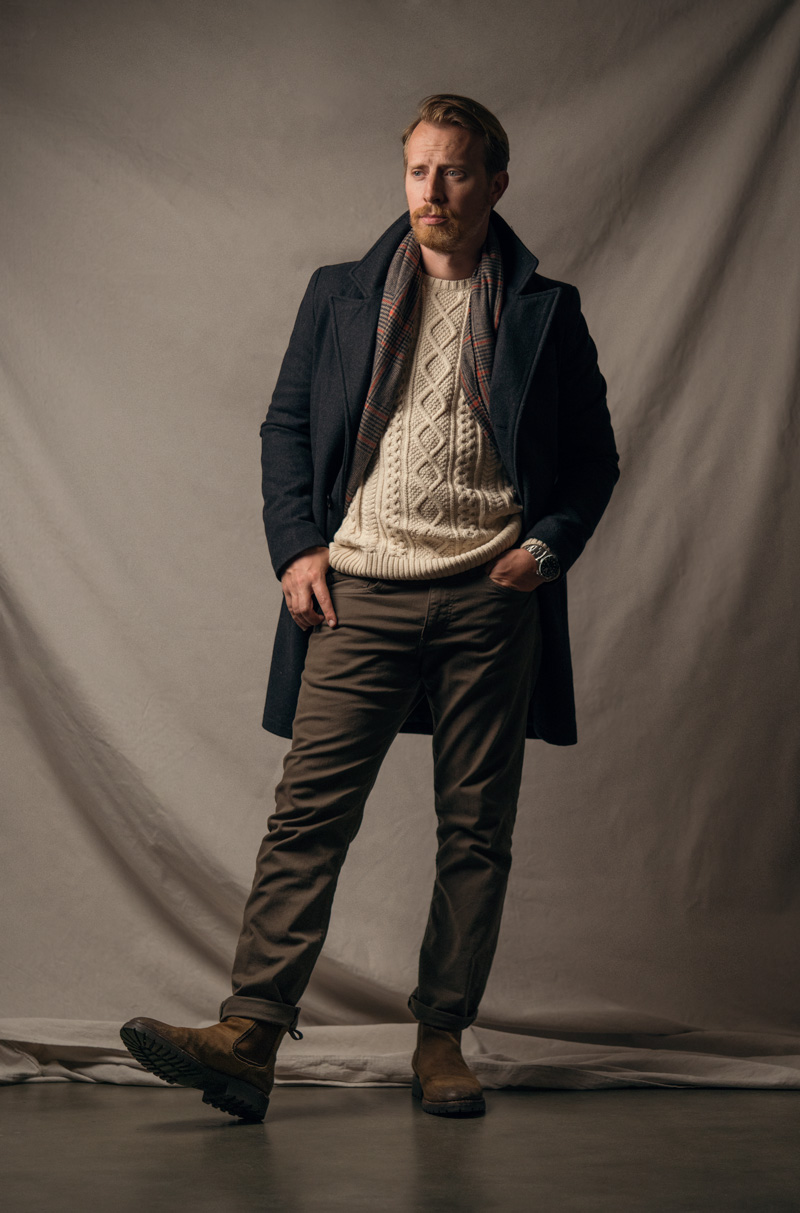 How To Dress Smart Casual: The Getup
For more advice on how to build a smart casual look, check out Primer's long-running outfit inspiration series, The Getup. We've been running the series for years, as we attempt to offer great looks for a variety of occasions and seasons. Whether you're trying to dress for a smart casual office, prepare for a "spring weekend adventure," or your just want to find your "smart summer casual" look, we've got you covered. With the Getup, we won't just tell you about a look, we'll tell you how to make that look your own.
This outfit is a great example of a more casual style within smart casual. A white t-shirt and light denim jacket are certainly very casual, but when combined with the navy dress pants, dress socks, and clean white leather sneakers the lines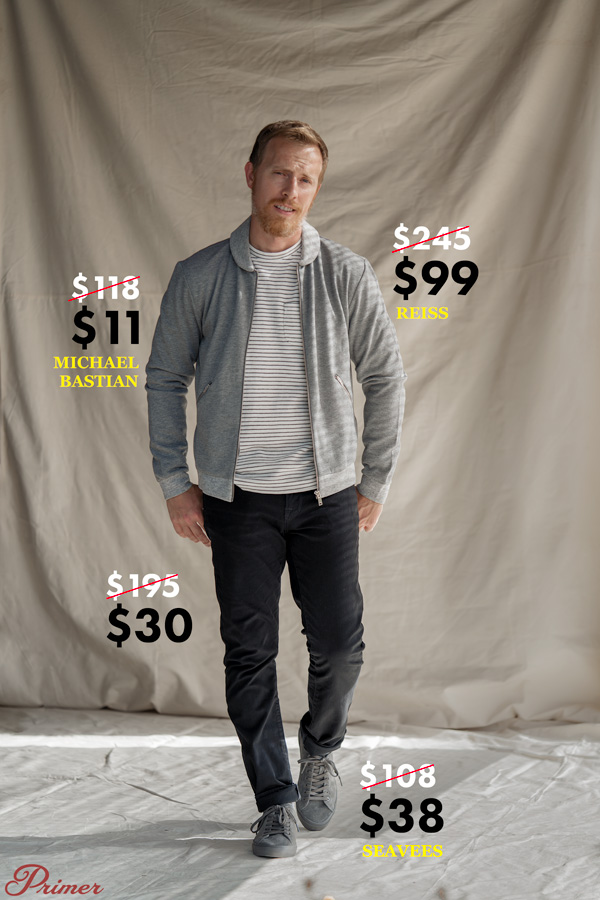 A clean, minimalist leather jacket is a long-term piece that can span casual and smart casual attire.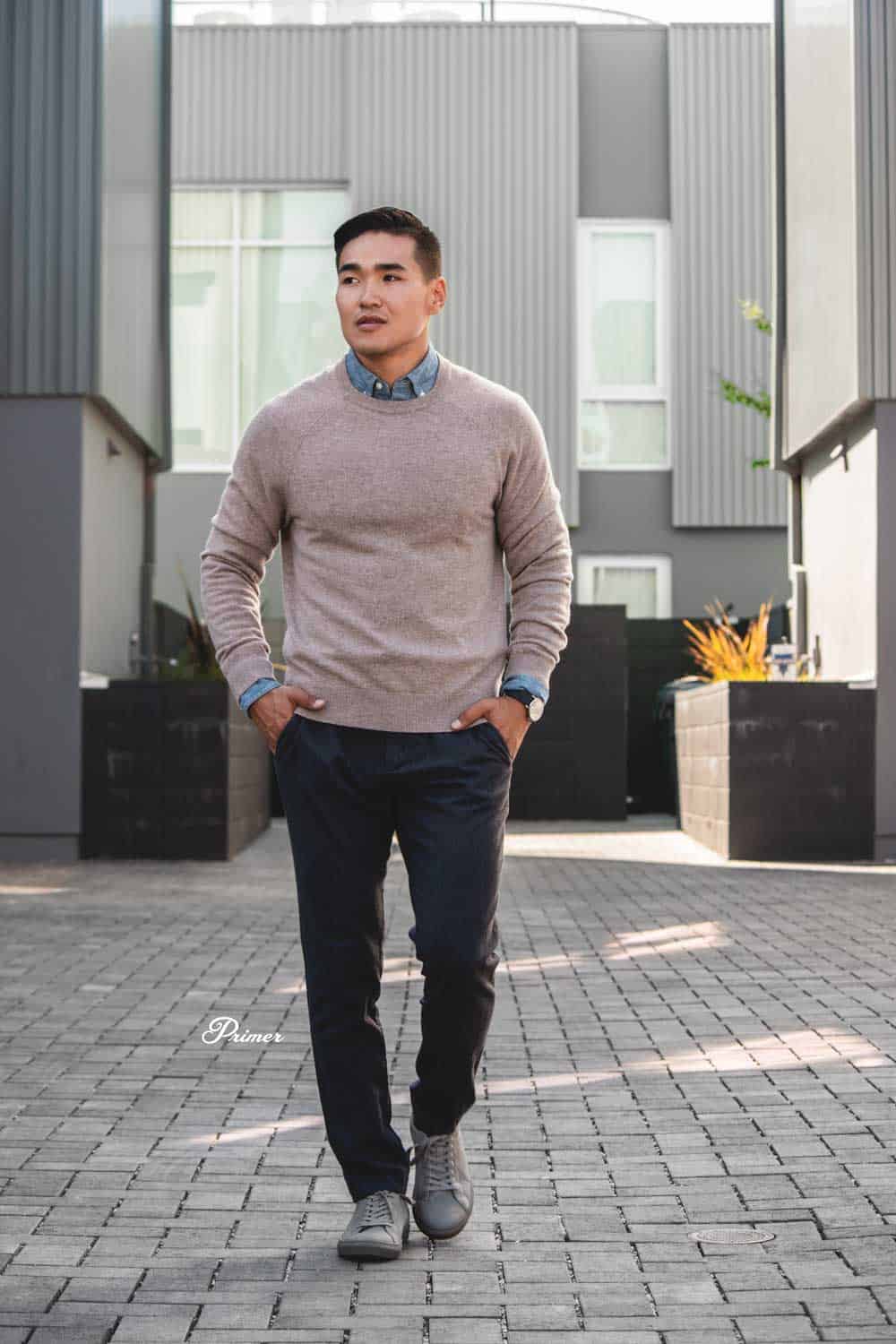 At first glance, this outfit could be business casual, why isn't it? The grey monotone leather sneakers look killer with the dressier items without feeling out of place. On top of the that, we're using more hearty fabrics: The knit crewneck sweater, the chambray shirt, and wool trousers all provide texture; decreasing "how dressed up" the outfit is while feeling masterfully coordinated.
Here, the casual light wash denim jacket and black pocket t-shirt are dressed up by the slim, no-break chino pants and brown Chelsea boots.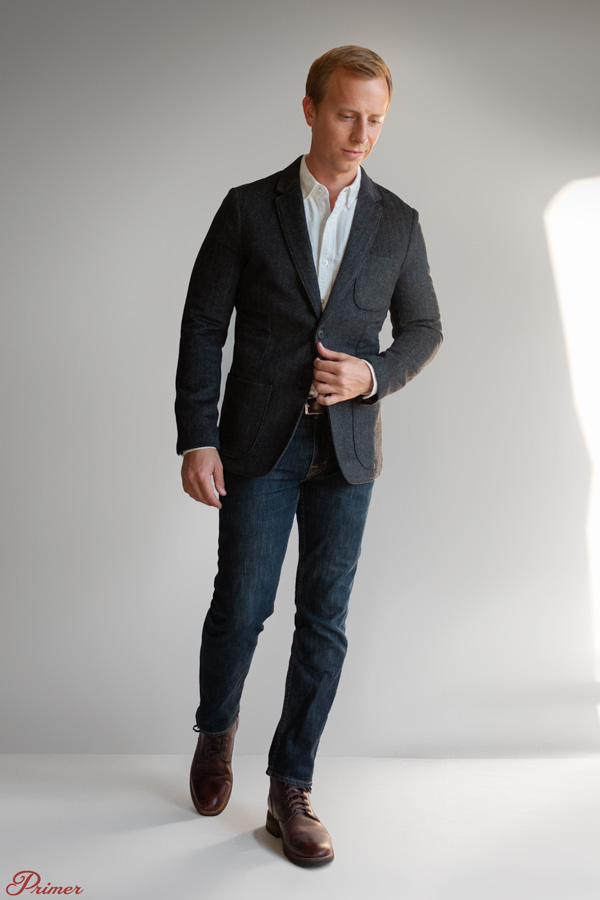 Leaning on neutrals is an easy way to put together a smart casual style that feels purposeful.
Ties can be worn with more casual elements like jeans when the fit of all the components match. Here the jeans are trim and read like dressier trousers even though they are still light denim.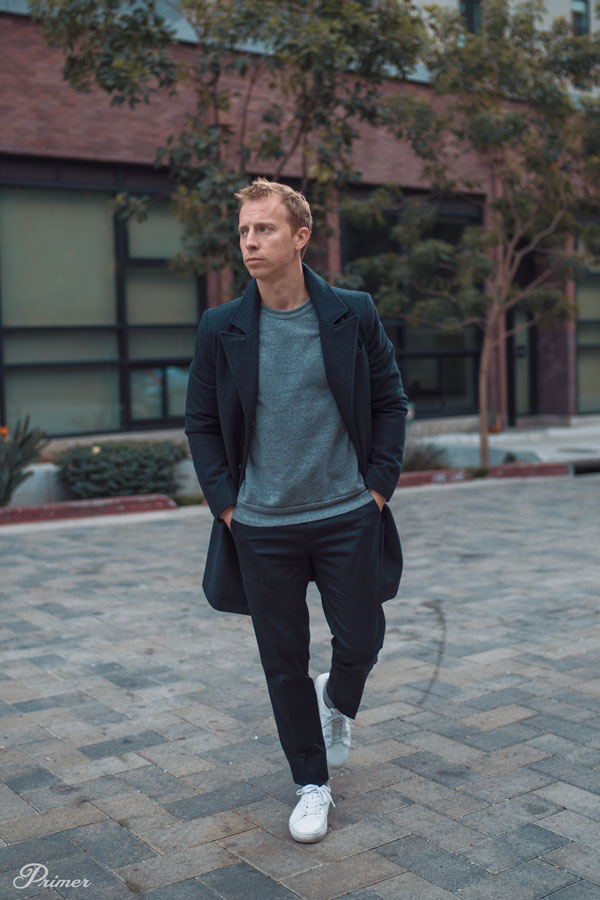 Smart Casual FAQ
Can you wear jeans in smart casual?
Yes, as long as they skew more smart than casual. This primarily means a slim or tapered silhouettes and typically means darker rinses (although lighter hues can work in warmer weather) without any rips, patches, elaborate logos/stitching, or frayed areas (deliberate or unintentional). The right jeans will pair well with a collared shirt and blazer, or even a fine-knit sweater.
What is the difference between casual and smart casual attire?
Casual is laid-back and comfortable. Casual can still be stylish and intentional, but it lacks any nod to or need for formality. This typically means more relaxed/unstructured silhouettes, like T-shirts, henleys, baseball tees, and slightly more relaxed-fit jeans. Maybe even jogger sweatpants if you're really dressing down.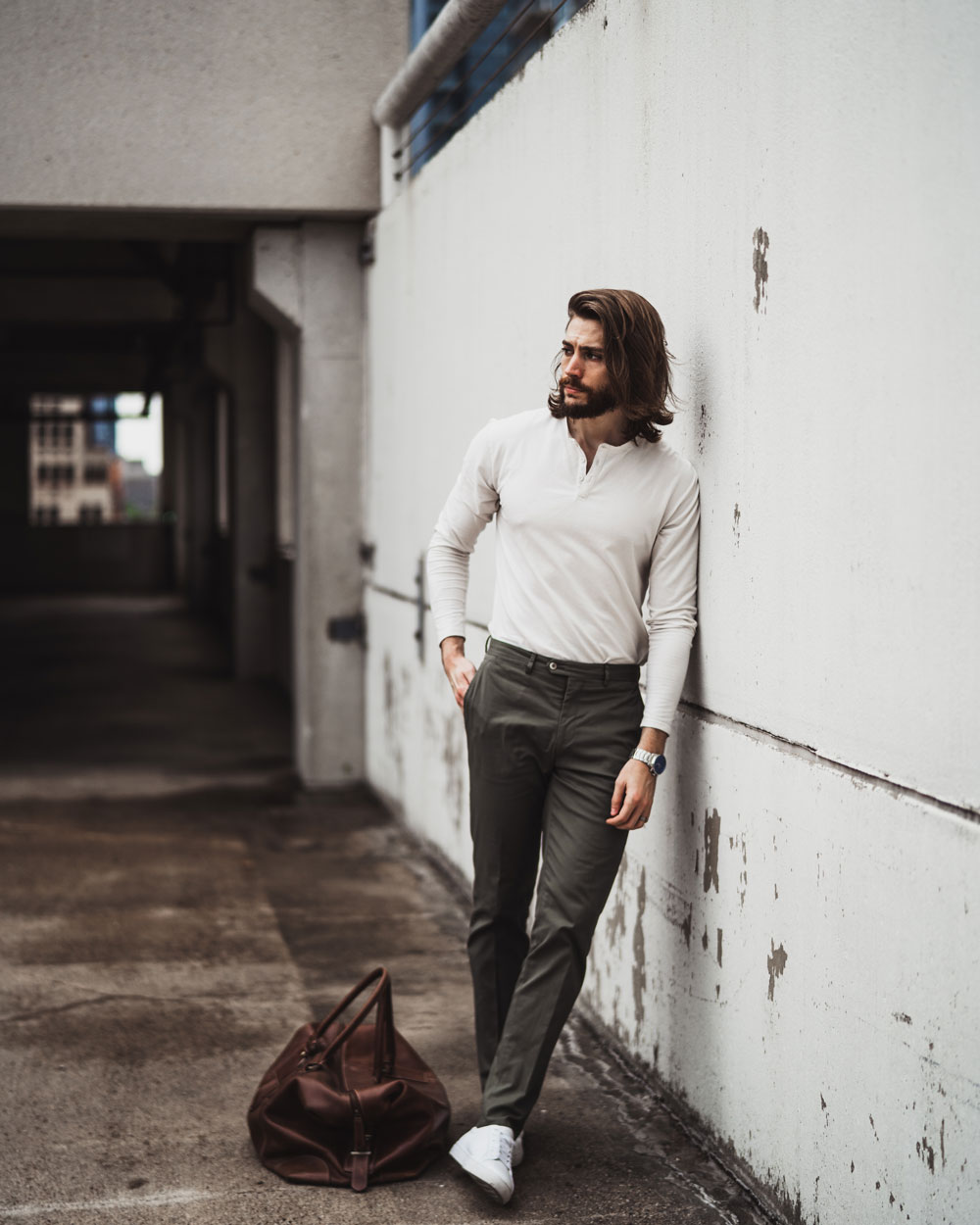 Smart casual can still be comfortable, but there's an added layer of attention and *intention*. You're thinking of smaller details and adding layers. Maybe you're still in jeans, but you've chosen a fitted T-shirt made from a finer cotton without any graphics on it. Or you've swapped out the tee for a short sleeve button-up shirt and slipped on some higher-end sneakers. Speaking of…
Can you wear sneakers for smart casual?
Yes! However, they have to be dressier–think classic or minimalist styles that you've kept looking fresh and new. If they're worn-down or grimy, they're just casual, not smart.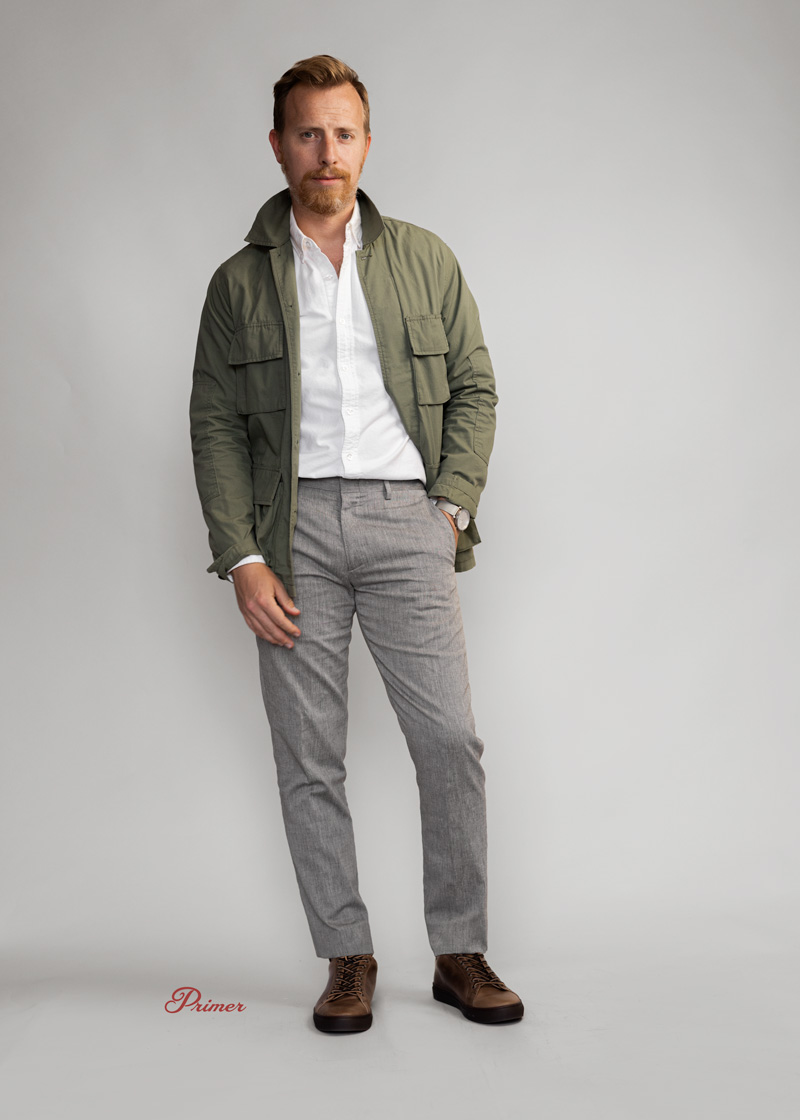 Is a polo shirt smart casual?
Generally speaking, a traditional pique polo is not smart casual. The collar gives it a whiff of business casual formality, but evaluate the way you would a T-shirt to determine if your favorite polo is "put-together" or "informal". Pique polos are generally a little looser, with a robust weave and an uneven–or 'tennis tail"–hem, stylistic nods to the shirt's sporting roots.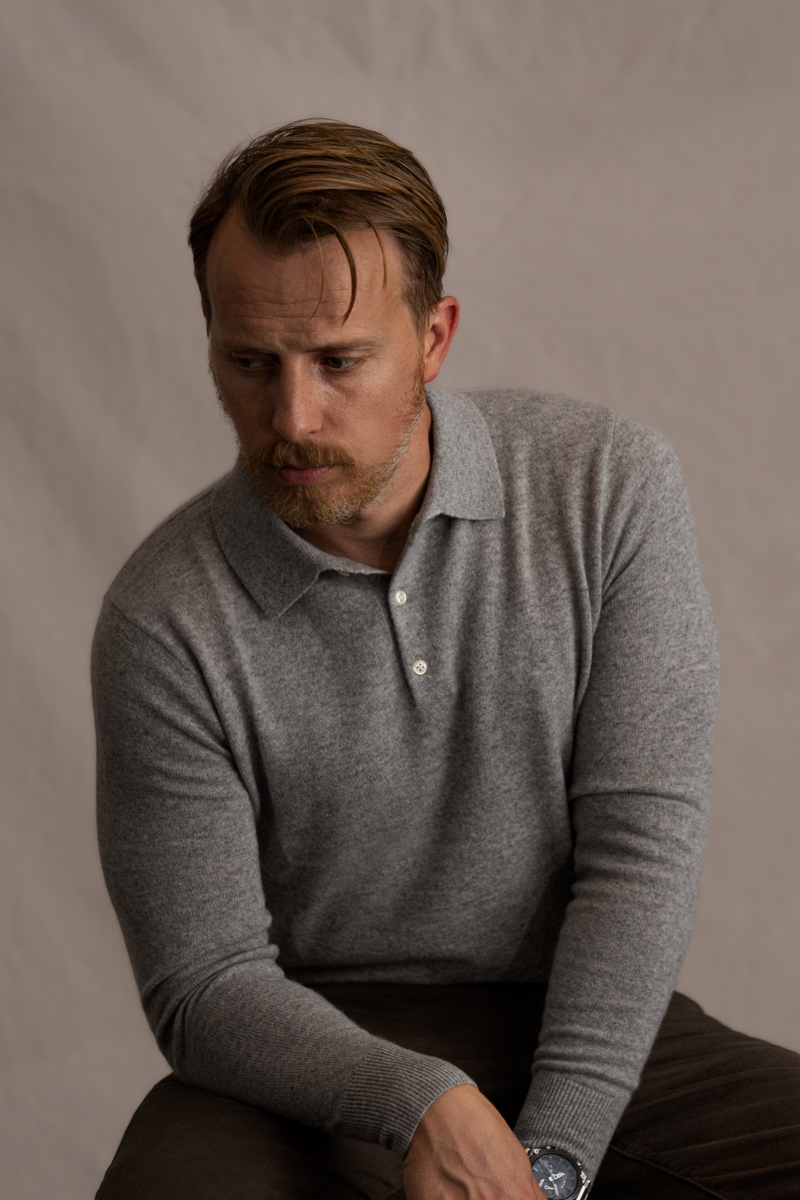 If you want to incorporate a polo shirt into your smart casual wardrobe, choose a dressier, more refined style like the knit polo. Look for details like a more structured silhouette, finer materials (such as silk or linen), and a clean hem. And never, ever, for the love of tiny baby ducklings, pop the collar.
What should you wear to a smart casual wedding?
Smart casual weddings are the perfect time to inject a little bit of fun into an otherwise more traditional event. That means dressier sneakers or loafers, dressing down a suit with a t-shirt or short sleeve button up, or if it's in the summer, embracing the more colorful (and heat appropriate) Garden Casual.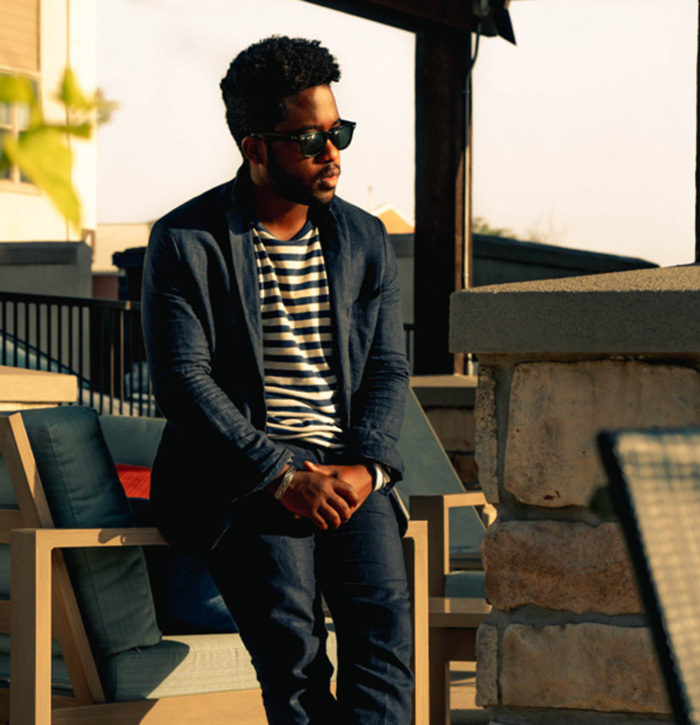 Get Smart
We've told you what smart casual is, we've given you advice on how to build your smart casual look, and we've showed you where you can find style inspiration. Now it's time to figure out what smart casual looks like for you.
It's time to to build that sharp look that can work no matter where life might take you.
Keep the guide going, share your favorite smart casual outfits in the comments!