Because stressing about the formatting shouldn't be delaying your job search. Instead get a jumpstart with these 12 free resume templates.
Get a head start on your resume with these 12 free resume templates. The real world is coming. Are you ready? In only a few short months the next wave of new graduates will be entering a tough job market. Impressing potential employers at every stage has never been more important. As a welcome gift into adulthood, I proudly offer these 12 free resume templates to get the new grads and folks looking to switch jobs started.
I've written my own handful of resumes through the years and have talked to a ton of friends and Primer readers about the process. The number one complaint about looking for a job (which means using it to delay the process for months) is writing or updating a resume.
A resume is short, fewer than a couple hundred words. Sometimes it's not even written in complete sentences. It's about a subject no one knows better than ourselves.
And yet it's such a chore. Perhaps the most frustrating thing about the resume writing process is formatting. Getting everything you need to say down and have it packaged neatly is a trial-and-error design challenge.
You're a smart person, this isn't an unmanageable task, but this extra time could be used for the fruit-bearing part of the job seeking process like researching positions, having coffee with contacts, and connecting with others in your network.
To help out, I've created these 12 Microsoft Word resume template designs free to download. Differing in structure, style, and tone the resume templates should cover a wide variety of industries and positions for job seekers. Find a template that makes use of white space for folks with limited job experience. If you've been at it for a few years, find a template that allows for greater detail of your previous responsibilities and experience.
How to Write a Resume
After you've picked a resume template it's time to get down to work on the truly important part: the contents of the resume. A resume designed by the world's best artist without the right content isn't any better than no resume at all.
Here are some resume writing tips from a few seasoned Primer contributors:
If you submit the same resume to every job you apply to, you're doing it wrong. There's no such thing as a one-size-fits all resume for every position, even for the same position at different companies. Create a master document, and modify it to reflect the interests of the specific company you're applying to.
The job description is the secret to success. The employer is literally telling you what they're looking for, so apply your experience to the keywords they use.
Ditch the "Objective" section. This is an outdated part that just takes up space. Everyone's says the same thing: "To have a rewarding and challenging role at an industry-leading organization blah blah blah." Instead, create a Profile section. This is where you define yourself, work ethic, and experience in your own words. Your overall strengths and impressive accomplishments. Keep it short, no more than a couple of sentences.
Don't describe the duties of your previous positions. If you're applying to be an accountant, the hiring manager already knows the duties of an accountant. Instead focus on highlighting your quantifiable contributions to the companies. Don't write "Monitored accounting and related systems for accuracy," get specific. "Developed new workflows for analyzing accounting across departments that cut errors by 40%" is a specific contribution you made to your previous employer. It shows the kind of value you bring beyond the staple duties of the position.
Keep it to one page. You may eventually get to the point where your resume will require more pages to list impressive clients or projects, but until then keep it readable with just one page.
Provide more focus to your most recent position. Don't feel the need to detail the specifics of a job you had 5 years ago, since you likely had less responsibility and made less impressive contributions. If your most recent position has 4-8 highlights, use 2-4 for the older ones.
Be objective with yourself: know when something is impressive and when it's not. If it reads just like a job responsibility, ditch it or reword it to showcase your expertise.
For more check out Jack Busch's great and detailed feature, "How to Avoid a Dead End Job: Laying the Groundwork for a Fulfilling Career."
Note: These resume templates were created in and intended for Microsoft Word. The formatting may shift or break if used with other applications, though it should be easily modifiable to look correct. If the template looks different than the example it may be because you don't have the correct font. Simply find a similar one installed on your computer.
All the best to you on your job search! I hope you find my resume templates helpful.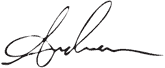 12 Free Resume Templates

Resume 1
Download this resume template.
Resume 2
Download this resume template.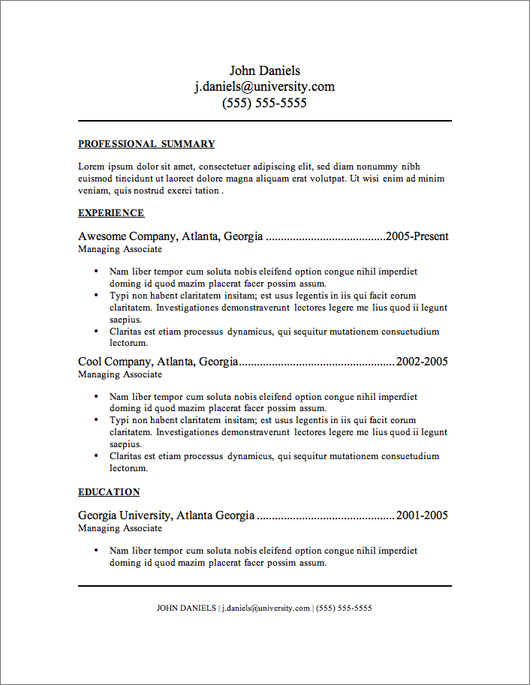 Resume 3
Download this resume template.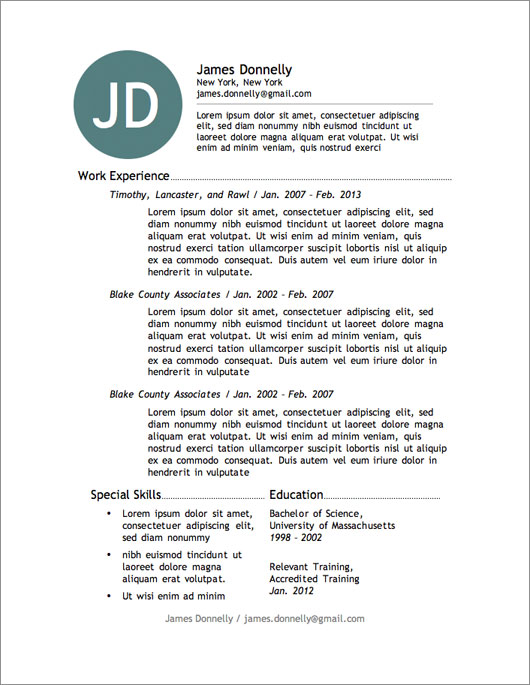 Resume 4
Download this resume template.
Resume 5
Download this resume template.
Resume 6
Download this resume template.
Resume 7
Download this resume template.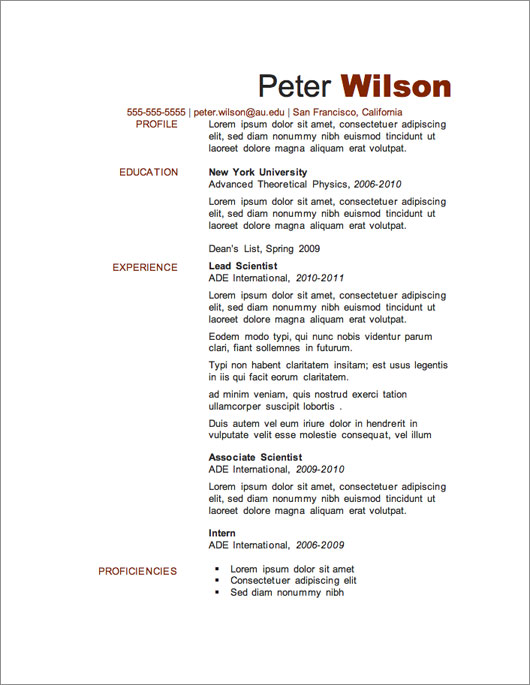 Resume 8
Download this resume template.
Resume 9
Download this resume template.
Resume 10
Download this resume template.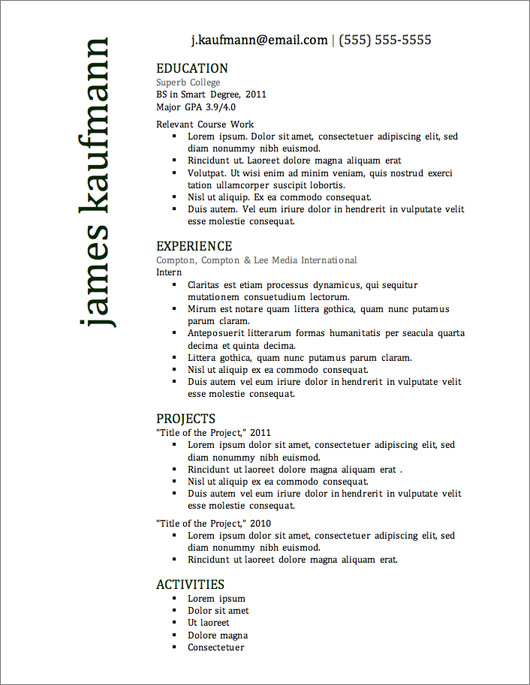 Resume 11
Download this resume template.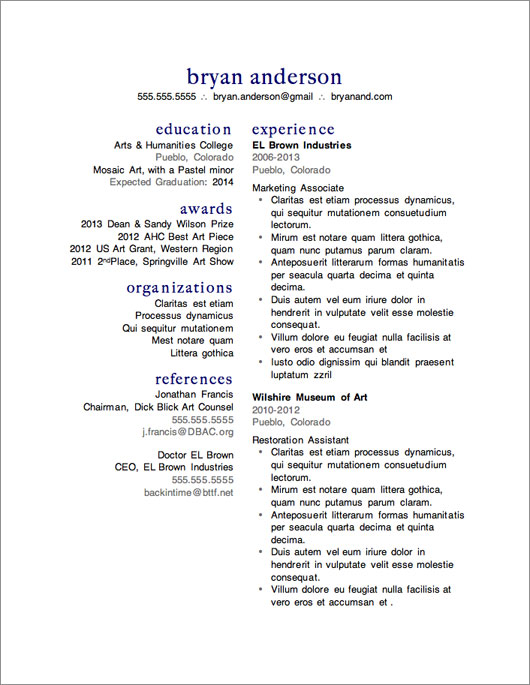 Resume 12
Download this resume template.