The difference between you and the schlubs in the cubicle across the hall? You emphasize the details.
Unless you work in a creative field – designer, artist, musician – your outfits probably look more like a uniform: collared shirt and dress pants during the week, t-shirt and jeans on the weekend.
While there's nothing wrong with having some go-to looks to streamline your morning routine (Steve Jobs famously wore black turtlenecks and jeans every day so he didn't have to think about what to wear), you don't have to dress like an eccentric CEO unless you want to. And if you want to express yourself a little more, there's a way to break out of your style rut without breaking the bank: accessories.
Compared to women, men don't have as many opportunities for changing up their look. And a lot of guys worry that deviating from the expected formula will make them stand out from the crowd – and not in a good way.
This is where accessories shine. These small personal touches are simply adding interesting details here and there. The goal is to put a finishing touch on your outfit. And while you can certainly choose items that hint at your sense of humor, the goal is to look put-together, not silly or cartoonish.
Primer Partner Pick:
Watch
A wristwatch is the ultimate men's accessory. Some collectors drool over investment models, but you don't have to drop several months' rent to acquire a stylish timepiece. Many guys are opting for stylish (and affordable) casual watches for everyday wear.
While many casual watches are clean or even simple in appearance, the Chrono S from Vincero is more visually complex. Its array of functional dials classifies it as a chronograph, not just a display watch (if you're interested in what all those complicated features are, we've got you covered).
Founded by former watch industry professionals, Vincero offers superior mechanisms and style – without an unpalatable price tag. Some die-hard watch aficionados might question if you can get high-end quality and design without paying a small fortune. Well, more than 12,000 reviews (and a 5-star average) should be a satisfying answer.
For all its technical features, the Chrono S is a surprisingly elegant piece. It's satisfyingly solid, without feeling too weighty or bulky on your wrist (a must if you need to shrug into a blazer). The crocodile-embossed strap adds dimension and texture, while the rose gold band is versatile and neatly solves that "silver or gold metal?" question.
The end result is a piece that looks like a luxury watch that a pilot, navigator, or other intrepid adventurer might wear – modern, distinctive, and – yes – timeless.

Patterned socks
Socks are a great place to start playing with color and pattern – the entry level offbeat accessory, if you will. At the most, you'll flash an inch or two of ankle, offering just a glimpse of a bright color or unexpected print. And even in more conservative companies, fun socks are (usually) tolerated. You can try out some more subtle options first, or jump right into bold prints and patterns.
Even though socks can be less noticeable than other accessories, keep your overall outfit in mind. If you have a more colorful shirt, choose a patterned sock rather than a brightly colored one. If you go for a strong color, keep the rest of your outfit a little more neutral – both so the socks get the attention and to avoid looking like a kids' TV show host. Unless that's your job. In that case, wear the silliest socks you can find.
The graphic stripes and hearts on this two-pack of Scotch & Soda socks aren't too far out in left field, but they have more visual appeal than a solid color.
Variegated stripes and geometric patterns pop in bright colors in these Stance socks (or try them in neutral grays for a more formal feel).
Big, bold and bright, these polka dot Happy Socks are a little in-your-face, but the black and white color palette is minimalist enough to read as whimsical without edging into goofy.
The Pair of Thieves line available at Target also has sharp, fun patterns for a decent price.
Belts
While "the rules"  that get repeated dictate matching your belt to your shoes, save the shiny leather for dressier occasions. You can add some color and texture with a cloth or braided leather belt, or choose a classic leather belt with an interesting buckle to straddle the casual-formal divide.
A braided leather belt, like this one from Banana Republic, is versatile – it's appropriate with jeans and suits alike. This is another belt that is easy to tighten or loosen, essentially creating a custom fit.
In sturdy leather and gleaming brass, this Red Wing belt reimagines a traditional pairing through the lens of a heritage brand. The full-grain leather will just look better and better with age. In this case, the resulting patina is a well-earned detail to your look.
This adjustable canvas belt from Fjallraven will grow (or shrink) with you. The buckle is a nod to military style – always a good bet. Try it in olive green or deep blue – these tones are a nice deviation from expectations, and contrast well against dress pants or jeans. The cloth webbing is especially nice in summer.
Ties
Ties usually read as formal (and dress up an outfit), but if you choose a material other than shiny, satiny silk it instantly skews more casual. You can even wear it slightly loosened at the top. Try a narrower tie in a stripe or plaid, and up the casual factor with a pair of boots instead of dress shoes.
Available in several neutral tones (gray, denim, olive) the cargo stripe tie from The Tie Bar features traditional diagonal stripes. The textured weave gives it slightly rougher edge, even though it's 100% silk. (Helpful hint: the Tie Bar has a shirt/tie matching tool so you can see what combinations work best.)
Dubbed "The Grandpa Nick" due to its vintage good looks, this cotton flannel  JCRT tie is made from small-batch runs of plaid fabric, so you don't have to worry about twinning with your co-worker. The colors are rich but muted – red almost looks like a neutral here.
Studded with moons, planets, comets, and other heavenly bodies, this printed silk J. Crew Factory tie is on the nerd chic end of the style spectrum. But that just gives it universal appeal – everyone's a nerd about something, right?
Tie bars
At first glance, tie bars look like more fashion than function. But if you've ever dipped your tie in your soup or had it slap you in the face on a windy day, a tie bar is a lifesaver. This slim piece of metal holds your tie to the button placket of your shirt (usually attached between the third and fourth shirt buttons).
You can find them in just about every color, shape, and design, from classic silver to fashion-forward neons, and representing every interest, hobby, and pastime you can imagine.
If you want to keep your tie bar as an accent vs, stealing the show, try an interesting shape in a neutral tone, or a more subtle color. One important note: the tie bar should never be wider than your tie.
The etched grid lines on this Cufflinks.com tie bar would look clean and modern against a solid tie, or add a layer of texture when paired with a pattern.
Whether you actually like to sail or just like marine-inspired style, this nautical by nature tie bar from, well, The Tie Bar will anchor your tie in place.
Brooks Bros. wrote the book on how to be a gentleman (no, really, there's a book) so take a page from their style encyclopedia and add this striped tie bar to your collection. The diagonal stripes are only like 40% preppy, so no need to pop your collar or wear boat shoes.
The classic handlebar 'stache makes a quirky, not-taking-myself-too-seriously tie bar courtesy of Honey Bear.
Cufflinks
The cufflink is a decorative element that feels formal (but doesn't have to be). Again, there are a wealth of design options to choose from. You could wear a simple pair with a collared shirt and sports jacket, or a more modern style with a plaid collared shirt. And you don't have to buy special shirts – if you have a shirt you'd like to wear with cufflinks, a tailor can easily convert the cuffs for you.
Fabric knots are about as traditional as cufflinks can get, but Thomas Pink updates a classic with tone-on-tone and contrasting colors.
In smooth silver-tone metal with a subtle enamel inlay, these Kenneth Cole cufflinks skew more conservative. But they're still a deliberate choice that shows you took the time and effort to fasten your cuffs with more than just an everyday shirt button.
Give a raptor screech of defiance to dress codes and style ruts with these dinos cufflinks by Paul Smith. Then try not to say, "clever girl" when someone compliments them.
Pocket square
More than a humble handkerchief, a pocket square is an eye-catching accent. We placed this one last because it takes a little more attitude, a little more confidence to pull off. Stuffing a little square of patterned cloth into the pocket of your blazer doesn't seem like it would have a big impact. But that small bit of fabric breaks up the solid expanse of your navy/black/charcoal jacket and adds a little panache to an otherwise plain suit.
Many stores sell pocket square and ties in sets, but you want your accessories to play off each other, not match exactly. Skip the sets and pick out a single color in a patterned tie with a solid pocket square, or vice versa. Don't be afraid to try out some pattern mixing once you really get comfortable. Choosing a square with an unexpected pattern takes this accessory from stuffy to sharp.
There are many ways to fold a pocket square, so choose one and practice it a few times until it's second nature.
Pirate skulls have a bit of a tough edge, without being too serious. Paired against a classic navy blue background, this OTAA pocket square is a little macabre, but in a playful way.
Don't fear the flower. This ditsy floral ASOS pocket square looks like a geometric print, and the black and white palette is chic and modern.
Anyone who gets close enough will do a double take at this silk insect-print pocket square from Banana Republic. And that's the goal, isn't it?
There are many other kinds of accessories (rings, bracelets, hats, glasses/sunglasses, and scarves, to name a few) you can try on (and take off) to express your personality without overhauling your wardrobe.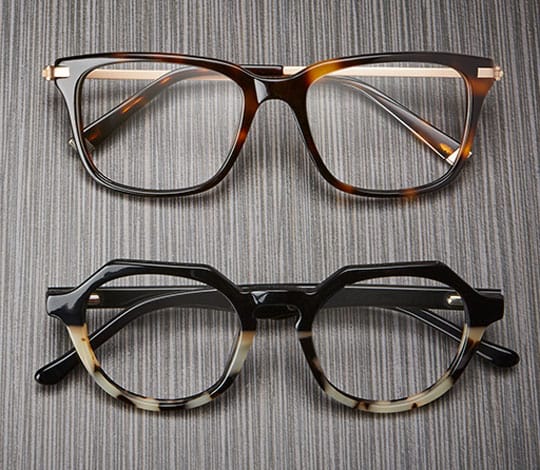 Bonus: Glasses
We didn't want to include glasses as an "accessory" since they serve a function for a specific group of people, and we don't encourage the trend of glasses without lenses in them. It feels a bit like wearing a broken watch.
But for those gents whose vision needs a bit of enhancement, having different styles, sizes, and colors of frames is one of the most dramatic ways of influencing how you look.
Not too long ago a pair of glasses was like a smartphone: They were very expensive, you had one, took utmost care of it, and used it till it didn't work anymore. And if you broke them? Whew – tape on the bridge for weeks.
Luckily, with web-based start ups like Warby Parker ($95), Felix and Iris ($119), Coastal ($19-$95), and Zenni Optical (starting at $6.95), it's completely within reason to have 2-3 frames to switch between the same way we do with watches. If you'd like to see more about glasses and style, let us know in the comments.
Do you have a favorite accessory? Keep the list going in the comments!
Special thanks to Vincero for believing in Primer's mission of looking great without a designer price tag and for partnering with us to offer readers 15% off with code PRIMER15.
Thank you for supporting the brands that support Primer!