The turtleneck has a long history with both rugged and refined men – so why don't more of us wear them? We'll show you how to nail it effortlessly.
Thanks to some of the dodgier style choices made by moms in the 80s, followed by the obvious links to Steve Jobs' 'uniform' and Howard Wolowitz from The Big Bang Theory, turtlenecks can get a pretty bad rap. It's the kind of style that's thought to be hard to pull off because it's either very smart, overly practical, or – if worn too casually – slightly off track.
In fact for many of us who were made to wear itchy turtlenecks as kids, that bubbling resentment has stayed in our minds into adulthood and now, out of spite, we simply refuse to wear one. Even if we're beginning to admit that they do look pretty cool. Because, in reality, the turtleneck isn't only a practical, neck-warming piece. It's actually super versatile, a great winter layer, and can be dressed up to look smart and stylish for everyday wear, not just formal occasions.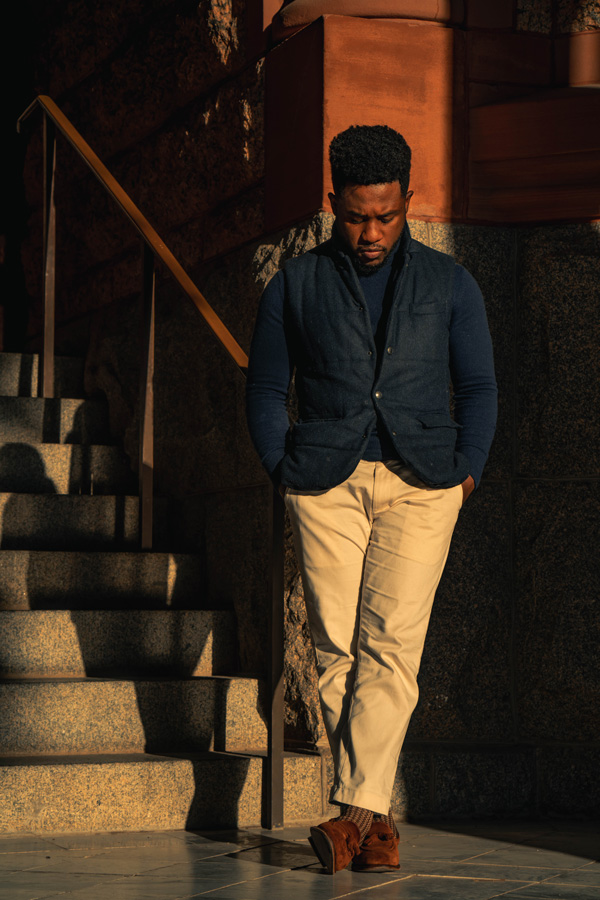 "Not only is the turtleneck wonderful to wear," says style contributor Daniel Z. Baraka appearing in this feature's photos, "I think they look incredibly stylish, too. They have this British vibe to them, as the Navy and all those strong, manly people in history used to don turtlenecks. And I feel really cool wearing one myself."
Consider the fabric
The first step to picking a truly great turtleneck is to focus on the fabric. Part of the problem with your childhood turtlenecks might have been that itchy polyester blend… But a luxurious Merino wool or cashmere, or even a good quality cotton can elevate the turtleneck into the more stylish end of your wardrobe.
Daniel is photographed here in a cashmere turtleneck from Grana and similar can be found at Quince, Land's End, J.Crew, and Uniqlo. Cashmere is soft and warm with a luxe feel that brings comfort to your winter wardrobe.
Notice the neckline
"The neck of your turtleneck is an important consideration," Daniel says. "The collar needs to embrace your neck without being too tight and suffocating. If it's too loose and it dangles, then it looks like it doesn't fit you."
A collar that just about embraces your neck with a couple of millimeters to spare is the perfect fit. The advantage of a good quality wool, like cashmere or Merino, is that they offer this soft, loose fit without draping away from your neck. "It's the perfect way to keep your neck warm without feeling too stuffy," Daniel says.
Layer it up
Forget about your childhood disdain: the truth is, the turtleneck makes an excellent layer. It looks great under an Oxford shirt for formal occasions, under a sweater for a sporty vibe, or under a vest in colder weather.
The beauty of a turtleneck worn under a vest, like this similar one from Suit Supply, is that the two super warm layers can be worn in place of a jacket. The padded vest keeps your body warm while the turtleneck has your arms and throat covered, balancing your temperature so you don't feel too cold or too restricted by multiple layers. And in the depths of winter you can easily throw a bigger coat over the top.
"The benefit of this look is that my chest and my back, which are the first to lose warmth, are protected and my sleeves don't get too bulky," Daniel says.
The rest of your look can fall into place
The combination of a smart top and more casual vest veers into workwear territory without looking costume-y or over the top. It's an easy way to nod to a trend, without diving into it head-first. J.Crew chinos paired with an interesting sock from Suit Supply pulls some of the focus away from your top layers.
Your socks might not be an item you pay much mind to, but when it comes to winter dressing they offer a great opportunity for some texture and color. Even a subtle pattern adds some dimension to your look that has a striking effect.
"I'm a huge fan of outfits where a bright red pair of socks is paired with a suit or something like that," Daniel says. "It's beautiful to me, and it makes the shoes stand out even more by creating a good separation between the pants and the footwear." Just be sure to go for mid-calf socks that stay stretched and neat. If your socks are on show, they shouldn't be stretched out or sagging.
Shoes set the tone
Your choice of footwear can really lead a look into smart casual or casual territory. If you're wearing your turtleneck and vest combo out on a winter walk you might want to opt for some casual sneakers or chunky boots like Red Wings or Timberlands, depending on the terrain. If you're wearing it to a business meeting, you'll probably opt for brogues or derbies.
But these Cavendish loafers from Crockett & Jones, bring the look firmly into smart casual territory. It creates a look that you could easily wear to the office or the bar, or even out for brunch on the weekend. These are high end shoes purchased second-hand. "They were one of favorite shoes that were given to me by my wife for my birthday this year. And she found them on The RealReal," Daniel says. His secret to getting amazing shoes on sites like eBay or The RealReal? Know what you want and be patient.
"I think I'd been looking for the Cavendish for about three years on eBay, The RealReal, Poshmark, every platform I can find, and one day, boom they showed up. The same thing happened with my 1953 Gucci loafers. I know what I want. I wait for my size, because this is the danger that you run into. You start making compromises, with sizes and fits. The third thing when it comes to shoes, especially, is checking the heels on the bottom of the shoe."
Never before has the turtleneck felt so easy to pull off. It's got us switching our winter shirts for turtlenecks this season: they're incredibly smart, very warm and very practical for colder months.