Nail the elusive casual suit and be the most stylish man in the room without feeling out of place.
Wearing a suit casually has been an elusive aspiration. We've seen GQ, Esquire, and their ilk outfitting men in a mix of a suit and casual wear for over 20 years.
These guys look effortlessly rakish. Stylishly deliberate with a nod to the formal, but socially aware enough to not be sporting a full-blown 3 piece where the attire isn't warranted.
But for any guy who has ever even toyed with the idea of dressing down a suit, you know the "wait this does not look right" feeling all too well.
You either come off like a Wall Street guy who ditched his tie to grab drinks after work or like a punk pop band member wearing a graphic tee and Chucks with a suit. Neither are the poster child for effortlessly rakish.
So what's the deal? Do we have to chock this up to "some things only work in fashion magazines"?
Not at all. As Primer contributor and well-dressed everyday guy Daniel Z. Baraka proves to us, the casual suit is our time's perfect evolution of a gentlemanly staple. "It is perfect for date night, going to the bar, going to the club, anything like that. For weddings. It is also an incredible and very beautiful step up from jeans for casual Friday at the office." Daniel promises.
But if you, like me for a very long time, are just super skeptical that the casual suit is something you can pull off in real life, then stick with us. It was my aim with this piece to finally create a complete guide for the rest of us – those without cover star jawlines or fashion magazine wardrobe budgets – that breaks down everything you need to know to dress down the suit.
The Advantages: Why Wear a Suit Casually?
Aren't suits designed to be more formal? Why would anyone even choose to wear a suit if they're not going somewhere that requires you to be dressed up?
Well, that's a pretty black and white limiting view of your wardrobe.
The mixing of dressier and casual elements is the fundamental principle of smart casual. Not only can you easily wear the same outfit to different social functions of varying formality, it lets you be more comfortable too. This way of thinking ensures you're never under or overdressed since smart casual is all about intention.
Once you understand the mechanics of the casual suit, it actually can make getting ready EASIER because it's an adjustable framework that can have you looking socially fluent in 99% of the events you'll find yourself in.
Unless your job requires it, which even that is rare these days, most guys find that they only have to wear a suit once or twice per year. That's incredibly infrequent use for something that costs hundreds of dollars. Incorporating the casual suit look into some of your more casual days means you'll actually get to wear this thing you spent so much money on.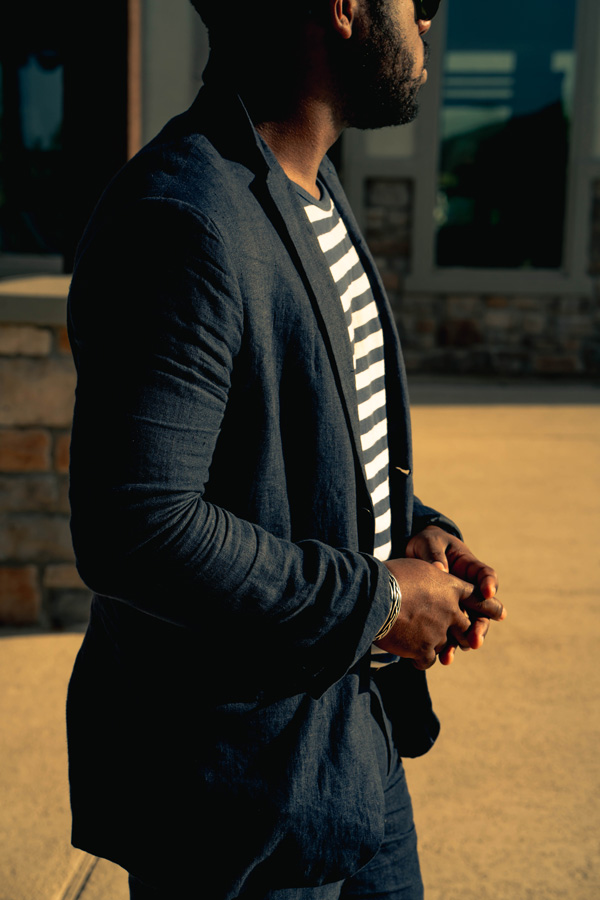 The Parts of the Perfect Casual Suit
As you've probably discovered for yourself, you can't just grab any suit and wear it casually. As an extreme, you can understand that a proper tuxedo will be virtually impossible to wear casually by a normal person. No matter what you pair it with, it's going to look very structured and formal. That's the far end of the spectrum, many average suits will be closer to that end.
The keyword there is structure. What you want to look for is a suit with a less formal structure. What does that mean?
"We're looking at very, very soft shoulders that will follow the natural slope of your shoulder – not hard shoulders like you would find maybe on a business or double breasted suit or just a winter tweed jacket. This will make it look a bit more like just a regular jacket, just like a bomber jacket would have." Daniel advises.
Structure is also heavily influenced by the suit fabric. "I highly recommend casual fabrics," says Daniel. "We're talking about linen, cotton suits, even some very light wools in the winter can work. But they're a lot tougher to find." notes Daniel.
Linen and/or cotton blends that include things like silk can also improve the drape or texture while creating a more relaxed, less stiff structure.
How a Casual Suit Should Fit
So how do you make a dressed down suit look purposeful and not like you're a guy who is just out of his mind? Nailing the fit.
"We want to see clean lines," says Daniel, and that means avoiding bunches, breaks, and rolls in the fabric. It's very important that suit jacket sleeves are tailored and your pants have no break: The amount of extra fabric that bunches up on the top of your shoes.
Break alone is one of the biggest reasons trying to dress down a suit goes awry. While the amount of break is a personal preference when wearing a suit dressed up, having much more than no break when wearing one casually amplifies the other casual elements instead of balancing them.
Don't Wear a Dress Shirt When Wearing a Suit Casually
To avoid the "I just came from work but took off my tie" look get as far away from the normal dress shirt you wear with suits as possible. What does that mean? Knit polos work great here. (Polos are inherently casual, but a knit polo more closely matches the formality of a suit. Pique polos can be done but our recommendation is to avoid them unless you know exactly what you're doing.)
Playful button up shirts such as floral work great for weddings, especially outdoor ones requesting "garden casual". Denim shirts can also work thanks to the texture and the inherent casual qualities often associated with the fabric.
If you want to cement the casual suit look, ditch the collar altogether. In warmer months cashmere crewneck sweaters are possibly the easiest way to dress down a suit.
Wearing a T-shirt with a Suit
Of course to be the most casual in a suit is to rock one with a t-shirt – but it's also the most intimidating.
"I'm a huge fan of t-shirts," says Daniel. "So for this particular outfit, I'm wearing a striped t-shirt that I got from Gap about three or four years ago. It's just a classic blue breton striped shirt – it's incredibly elegant. And I've worn it many, many times."
The key to harmonizing the casualness of the t-shirt with the formality of the suit is to ensure the fit of both are cohesive. The t-shirt should also offer clean lines, not baggy in the body or sleeves, and should be no longer than half way down your pants fly.
Nail the Details of The Dressed Down Suit
Obviously, if you're going without a collar, that means no tie. But Daniel also recommends forgoing some of the other details you'd normally include with a suit:
"Like the pocket square, for example. I'll go ahead and skip that generally, just so it doesn't feel too serious, because I'm trying to bring down the formality of the suit."
But for the more adventurous, you also have the option of utilizing some of the details you normally wear with casual clothes. Daniel's case in point: The rakishness of a slight collar pop on a pea coat or trucker jacket. "You could do the same with your suit jacket, but the trick is to pop the back of the lapel up and then lay the rest of the lapel down. So it's kind of like a half up, half down style. That's really casual and very cool."
To keep the complete look from feeling empty, you can lean into some of your more embellished (read: less formal) accessories like rings and bracelets.
Daniel loves to give his suit jacket sleeves a slight roll to highlight his jewelry, "it will help with showcasing your accessories like the bracelets or your watch if you wearing one. It's the summer and it's a casual outfit, so it's a nice time to showcase some of the things you've been collecting.
Just like with moving away from dress shirts, you should move away from dress belts. Here, Daniel styles a leather double ring belt that still looks purposeful but more casual than a thin dress belt with a traditional buckle. "I could have also gone for maybe a nautical belt or a braided belt," he adds.
Shoes to Wear with a Casual Suit
The easiest? Loafers. They still have the air of a dress shoe but their lack of laces and hint of skin makes them more easy-going. "You have a few selections for shoes. For me, I went with these 1953 horsebit loafers from Gucci that I scored on eBay for $150 just a couple of months back but any loafers with no show socks would work with this outfit, whether it's tassel loafers, penny loafers, or any other type of loafers.
Sneakers can also be worn, but it's important to find what Daniel calls "grown up sneakers." That means a simple silhouette and in very good condition. Opt for sneakers that have little in the way of branding or decoration. If they're something you would actually wear to participate in something athletic, they're not the right sneakers.
But Daniel reiterates the importance of a minimal pant break with sneakers, "They do wear up a little bit more, which is where the higher hemline comes into play as the shoe gets a little taller."
Get Daniel's Look
Casual Suit Recommendations