A complete guide to brands you can bank on.
I'm a school teacher, and I have three daughters, so I'm never quite teeming with cash. That being said, my dad raised me to be a cry-once type of guy. If I can tell the difference between the best and everything else, and I can afford the best…then I'll get the best. I've been wearing the same Alden penny loafers for eight years. I've had them resoled thrice, and they look just as sharp as the day I bought them (better actually since they're laminous with years of Saphir polish). They're the best, and I can tell.
At Primer we talk about style, and we don't talk much about fashion. The difference? Fashion is transient: its trends are always changing and seldom practical. Style is functional, attractive, and most importantly, it's lasting (like my loafs).
If you're like me, you're always trying to strike that balance between spending your hard-earned cash where it's warranted but also being cognizant of saving where you can. Spoiler alert: when it comes to smart spending, fashion ain't it.
We've compiled our favorite list of men's clothing brands for 2021 that bring you stylish pieces at practical price points. These aren't all budget options (we have another list for that), but these are all solid brands we feature and wear regularly. Take a look, and let us know if we left your favorite off the list.
1. Buck Mason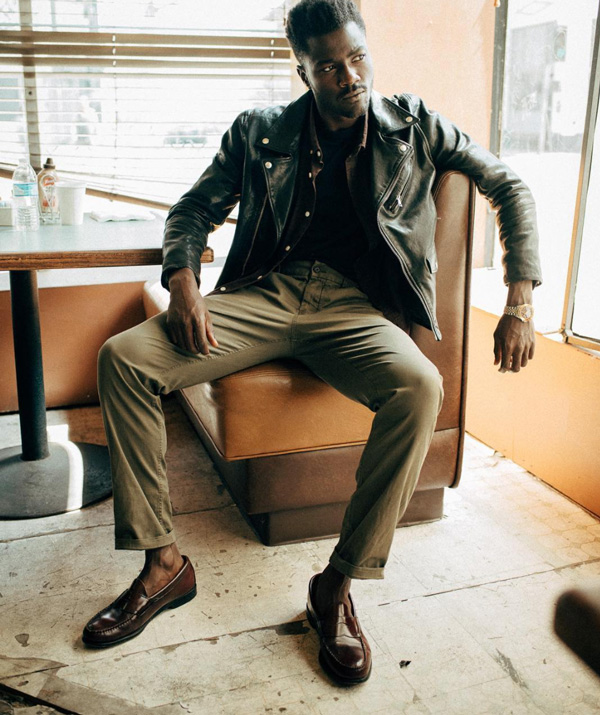 Buck Mason set up shop in 2013 with the goal of creating well-made, modern American classics, clothes that would last in terms of design and quality. At their root, they're a jeans and t-shirt company, with a made-in-America slub-cotton classic tee that rivals every t-shirt you own.
The weight of the preshrunk cotton combined with the straight cut offer a flattering drape, while their Japanese-sourced denim comes in standard or slim fit and a myriad of washes, so you can choose what best suits your style. Buck Mason is the brand that can take a wardrobe staple like a henley or a chore coat and elevate it to a level you didn't realize you needed. They've since expanded to include sweaters, soft button ups, leather jackets, and shorts.
You can think of it as a J.Crew minus the colorful prep. If you dig the outfits we feature on Primer, you'll probably like Buck Mason's aesthetic.
If you're in California, New York, or Austin, Texas, stop in a Buck Mason store to get the full brand experience: leather couches, minimalist decor and damn good lighting.
2. Taylor Stitch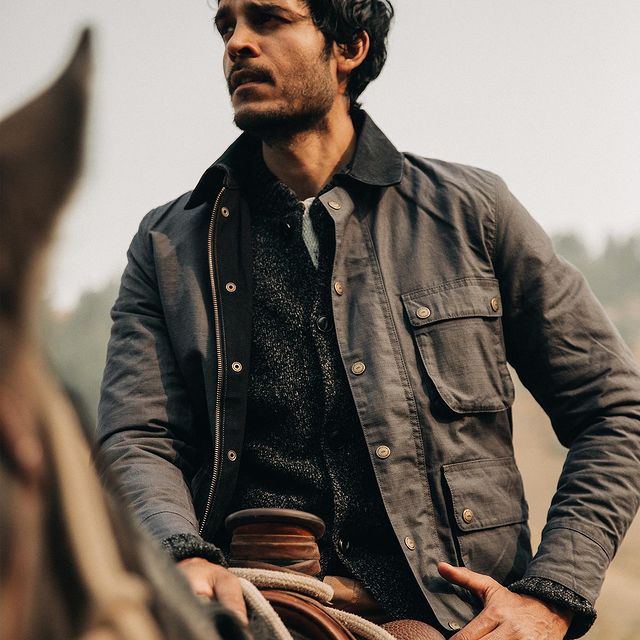 If you dig hardy staples like Americana-inspired denim and shirts, Taylor Stitch crafts weekday clothing for the man who spends his weekends in the mountains, chopping wood and heating his coffee over a campfire.
Taylor stitch doesn't want to just make clothing that will last; they want to protect the world while they're doing it, finding creative ways to maintain sustainability like using reclaimed fibers in their blends. They crowd fund their newest pieces, which means if you get in early, you can snag a great deal.
While they make amazing chore coats, fisherman's sweaters, and work pants, their bread and butter is their shirt line. The Jack is their household cut, with new fabrics each season, like linen for summertime. They also make a sturdy, toasty shirt jacket for the colder months (and they're on sale in limited sizes right now).
3. Todd Snyder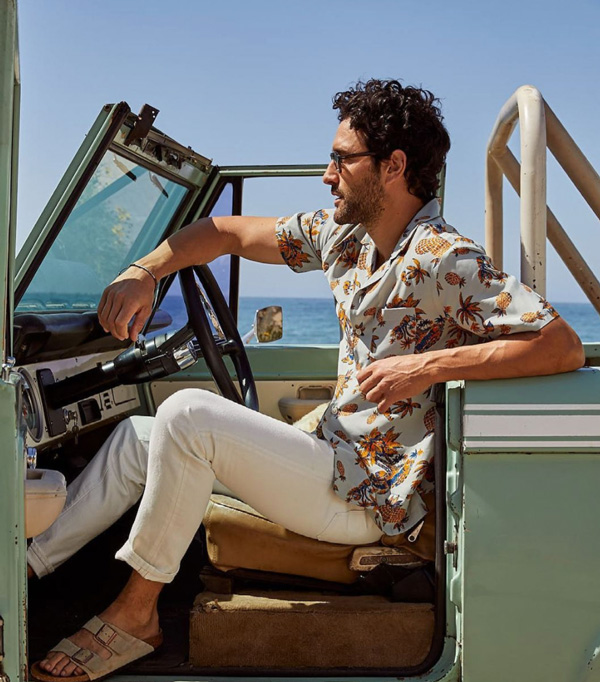 Remember that Champion sweatshirt you had as a kid? The one you wore for every game of tackle football with the boys? Well thanks to Todd Snyder, those sweatshirts are a hit again.
Todd Snyder is a New York City based designer who pairs up with the likes of Timex, Champion, and Converse to give your vintage favorites a refresh. In the world of style, Todd Snyder is the king of collaborations (as former head of menswear, he's the reason J.Crew works with Red Wing and Alden).
He finds the perfect harmony between honoring the timeless exemplar of a brand and adding his own flavor to the details that creates an obviously premium finish.
4. SuitSupply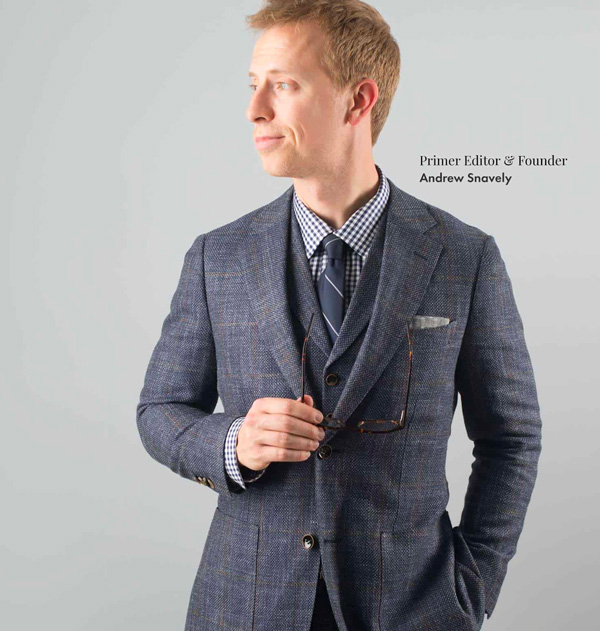 SuitSupply is the one place we all agree makes great men's suits at an affordable price. While the suits start at around $400 (which isn't cheap), the quality, cut, and fabric (which is usually woven in Italian mills) make this a cry-once kind of brand.
Primer's founder, Andrew, swears by SuitSupply because 1. It's where he got his favorite suit, and 2. He always gets compliments when he wears it. Don't let the name fool you: SuitSupply also makes pants, knits, dress shirts, and killer outerwear.
With 100 retail locations, it's not hard to find a SuitSupply near you, and since they do alterations in-house, you can walk out with a tailored suit. Their in-store customer service is the closest thing most of us will get to feeling like James Bond on Savile Row.
5. J.Crew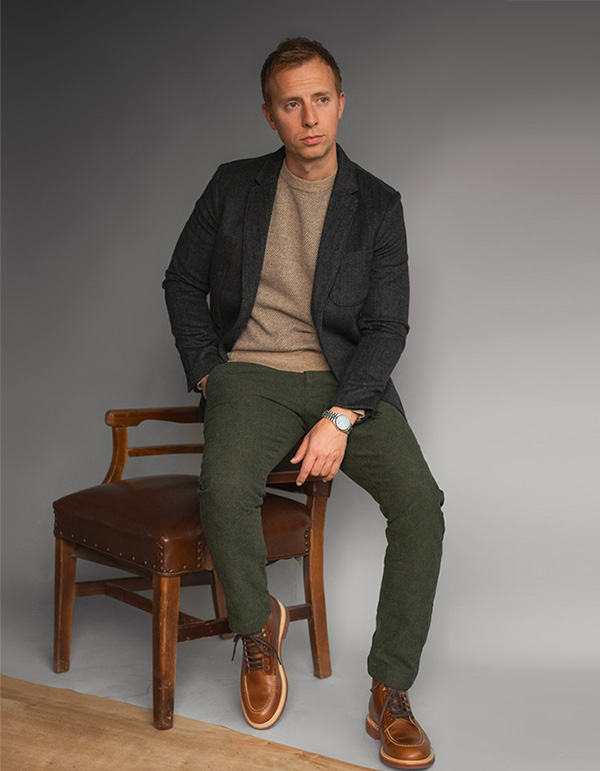 I own more clothing from J.Crew than any other brand. Why? I love the prep style, the bold colors, and they run great sales. J.Crew chinos are easily the best on the market (for the price point). Their button-up shirts, jeans, shorts, sweaters, and even their suits are all long-term style pieces at price points that most men can handle without going broke.
The best part about J.Crew is the cut of their clothing; they offer different fits like skinny, slim, or athletic, depending on your body type. Regardless of your build, you'll find something to make you look svelte. Like the aesthetic but want to save beyond the regular sales? Their Factory line offers decent quality at a reduced price.
See more of our 12 Best Stores for Affordable Men's Fashion For The Guy on a Budget
6. Flint & Tinder
Flint & Tinder started with the humble goal of creating the best underwear, but they quickly turned into one of the best men's clothing brands available on the internet, with a good portion of their line up being made in America. Now a housebrand of Huckberry, Flint and Tinder make some of our favorite pieces, like the 10-year hoodies, our favorite waxed canvas jacket, and their 365 stretch pants, all of which we've featured at Primer.
7. Goodthreads
Goodthreads is Amazon's housebrand that has a classic American aesthetic (think J.Crew or Gap but without the price tag). Not only do you get two-day shipping and free returns (I mean obviously you're a Prime member), you also get decent-quality wardrobe staples like lightweight outerwear, t-shirts, chinos, jeans, sweatshirts, shorts, even blazers and sportcoats.
With summer coming up, you can literally put together your whole summer wardrobe from Goodthreads in under $200. One of Goodthreads biggest advantages is not only do they offer a variety of fits like slim, athletic, tall and more, they also offer lots of stock for uncommon sizes like inseams shorter than 30" and XXS, XS, and XXL.
8. Alex Mill
Think of Alex Mill as an upscale version of J.Crew with a nautical twist. The company was founded by Alexander Drexler, who's dad was at one time the CEO of J.Crew, Gap, and he founded Old Navy and Madewell (so he knew a thing or two to pass onto his son). The clothing isn't cheap re: $98 shorts, but Alex Mill's philosophy is to stop buying more clothes and start buying the right clothes, i.e. get the staples you need, and then wear them into the ground.
9. Levi's
Few brands are as iconographic as Levi's. Founded by an immigrant from Bavaria, Levi Strauss, the first denim overalls were invented in 1873 for hardworking gold diggers (but like, actual gold diggers). Copper rivets, thick denim, and a focus on longevity and sustainability make this all-American brand an essential in any man's wardrobe. The brand now has a whole array of denim fits, all bearing their 5xx naming convention. There's not a whole lot of rhyme or reason to them, but Levi's offers a helpful explainer guide on their site so you can find the perfect fit. (Our current favorite? The 502 Slim Taper.)
Whether it's a pair of jeans, or your ten-year-old trucker jacket, Levi's has you covered.
10. Gustin
Gustin has a unique business model in that they design their clothing, pre-sell it (as in, you back the design by ordering early), and you get American-made goods at a reasonable price. See, Gustin doesn't make 10,000 units of every shirt they design; instead, they wait to see how many pre-orders come in, and then they start production at their American manufacturing partners, who also happen to craft for higher-priced brands. This keeps their overhead low, and they pass those savings on to the customer, offering prices that are similar to wholesale.
Before landing on their current business, the founders previously sold $250 American-made jeans in boutiques; with the wholesale model they can sell the same jeans starting at $81.
Think of their style as modern rugged with everything from thick workshirts to selvedge denim woven from banana tree fibers.
11. Outerknown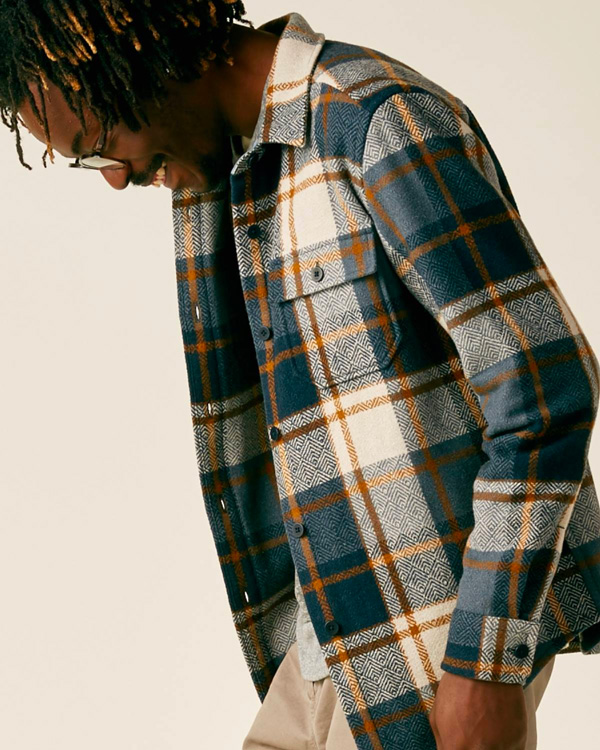 Outerknown was co-founded by pro surfer Kelly Slater with an emphasis on sustainability and quality craftsmanship. The clothing is surf inspired, but in a grown up kind of way that mates comfort with style. Outerknown blends natural fabrics like cotton with tech fabric like COOLMAX to create pieces like the Nostalgic Sweater: modern artistry with a vintage feel.
12. Uniqlo
Uniqlo is your one-stop shop for budget basics. T-shirts, underwear, jeans, even the occasional blazer, they carry it all. Uniqlo stores have a modern aesthetic (think Ikea but clothes), and some even offer in-store jean and pant hemming. They have a number of specialized collections that utilize modern fabrics such as their precipitation-blocking Blocktech, breathable Airism, and Ultra Light lines.
Uniqlo is praised for their quality and comfort in relation to their approachable price.
13. Spier & Mackay
Think of Spier & Mackay as the clothier for the guy who wants the SuitSupply look but isn't crazy about the SuitSupply price. Spier & Mackay offers formal and casual wardrobe essentials like sweatshirts, sweaters, trousers, outerwear, some very nice oxford shirts (and they even offer an extra slim fit), and suits.
I especially appreciate that Spier & Mackay offer various levels of suit quality, allowing you to spring for full-canvas construction if you so desire: this means the suit jacket has a canvas lining from the shoulders down to the bottom, allowing for smooth drape and shape retention.
If you're looking for a little flare, check out their outerwear; they make a kick-ass field jacket.
14. Asket
Asket may be the most transparent company on the list, showing their customers exactly how much each garment cost to make, the degree to which they can trace its origins, and the impact that its manufacturing has. They also have links to descriptions and photos of every factory they use for manufacturing, spreading from Portugal to Australia to China.
Their aesthetic is what I'll call modern minimalist, with trim cuts, muted colors, and subtle surprises like mother-of-pearl buttons.
15. DSTLD
While DSTLD makes excellent cashmere sweaters and hoodies (and who doesn't want a cashmere hoodie?), they're ultimately a denim company. Their name is in fact their philosophy: a distilled vision is one that focuses only on the essentials, and for DSTLD, this means focusing on fit, fabric, and ethical manufacturing. They offer free shipping on orders over $50 and free returns if you're not happy with the fit.
Your best bet is their slim jeans, which are made from heavy 12.5oz denim in their own blend to allow a hint of stretch while maintaining their shape. Andrew is a fan of DSTLD's raw denim as well.
16. Save Khaki
Save Khaki is a back-to-basics company, in that they make American-cut clothing in America. What's American cut? Comfortable, generous, not interested in slim fit.
Save Khaki balances quality with environmental consciousness: they make all of their clothing in America to keep their carbon footprint small (there's a lot less shipping involved in the manufacturing process if your clothing is made domestically), and they use Supima cotton. In the world of cotton, Supima is the best you can get; in fact, it only accounts for one percent of the cotton produced each year.
17. Everlane
Everlane is the OG when it comes to transparency in labor practices and manufacturing impact. Because Everlane's aesthetic is minimalist, their pieces complement your personal style or the occasion for which you're shopping. And when Everlane says they stand by their clothes, they mean it: They have a limited line called Uniform, which they guarantee for 365 days. If your shirt gets a hole, the color fades, or the fabric shrinks, they'll replace it.
18. Gap
Gap is the perfect ratio of quality:price. Gap clothing keeps a simple, consistent aesthetic, with tailored fits, quality fabric for the price, and they run sales frequently.
Gap also does a great job of including the shorter or smaller-framed dude in their size lineup. Their shirts, chinos, sweaters, jeans, and outerwear are solid quality options in the budget space.
Gap holds a special spot for me because it's the first grown-up store I shopped as a teenager. Let me get an amen if you owned a Gap stretch shirt back in 2002.
19. Banana Republic
Banana Republic is the top of the Old Navy, Gap, Banana brand hierarchy, and it's not hard to see why. The suit I wore for my wedding was from Banana Republic, and I'm pretty sure I got more compliments on it than my wife got on her dress (or at least that's what I told myself).
Banana Republic is great for smart casual outfits, office wear, lightweight sweaters (the cotton, silk, cashmere blend is the best), and their Traveler jeans are perfect: just the right amount of stretch with a flattering cut.
20. Bonobos
Bonobos set out to create a pair of pants that actually fit. Now they're sort of the older brother to J.Crew (in fact, they use some of the same models for their advertising). Bonobos clothing is what happens when prep meets the mainstream: Their pants have a curved hem that conforms to your waist; their blazers use time-honored fabrics and patterns but with modern cuts, and simply put, they don't take themselves too seriously. Case in point, check out this giraffe sweatshirt that I'll be ordering right now.
21. Schott
Schott is one of those American brands that's over 100 years old and still making kick-ass leather jackets domestically. What started with a leather motorcycle jacket (that cost $5.50 in 1928) is now a full line of mens and womens apparel, accessories, and miscellaneous goods (and bonus points because they sell Redwing boots).
Schott's look is rugged modern, as they've maintained their focus on motorcycle apparel but updated their line to outfit a guy like me who enjoys the occasional moto piece but doesn't actually have a motorcycle.
22. Frank and Oak
Frank and Oak is a Canadian brand that produces ethically-made casual wear for the man who appreciates sartorial innovation. Frank and Oak uses tech fabrics like Drirelease for increased comfort and breathability, and in order to cut down on waste and environmental impact, they use only natural dyes with a fade-resistant technology in their denim.
Frank and Oak's aesthetic is like Everlane but leans more metropolitan with more intricate prints and brighter colors.
23. Club Monaco
Club Monaco is a Canadian casual clothing brand owned by Ralph Lauren. If Ralph Lauren is the preppy equestrian brand, think of Club Monaco as their laid-back-at-the-summer-cottage cousin. Club Monaco pieces rely more on modern cuts and subtle patterns than they do on bold colors.
24. Mott & Bow
Mott & Bow is a denim company that puts a hell of a lot of thought into a pair of jeans. After their handmade jeans are washed or sprayed with resin, they're cured in an oven, hand distressed, washed with pumice stone, and finished by hand. Notice a pattern here? Each pair of jeans Mott & Bow produces is unique because of the number of human steps required in their production. All good on denim? Check out their heavyweight t-shirts, made from combed, preshrunk cotton.
25. Goodfellow & Co
Goodfellow & Co is Target's in-house smart casual line. Similar to Goodthreads in design and quality, Goodfellow clothing is great for the guy who wants to do a one-stop-shop for summer. With $6 t-shirts, $25 button downs, jeans & chinos under $40, and affordable blazers, you can pick up a few staples without putting a dent in your bank account. Plus, thanks to Target's local store availability, it's one of the best places that offers decent style on a budget that you can easily try on first.
26. Madewell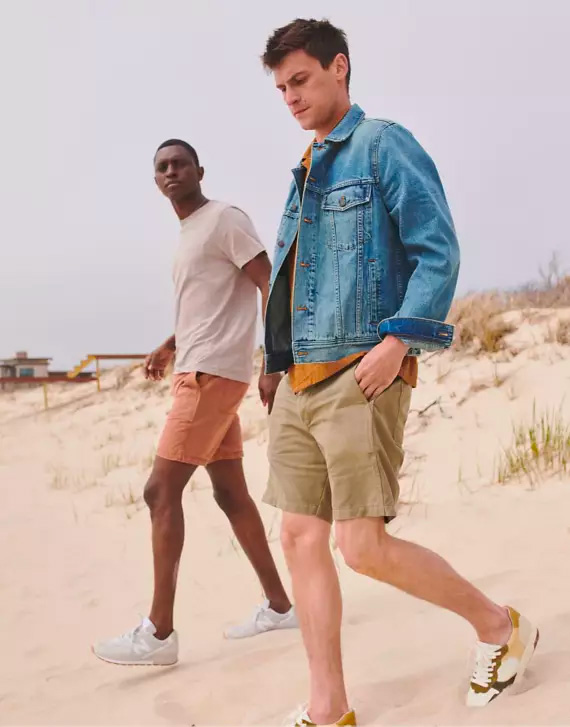 Madewell is the sister brand to J.Crew, with a heavy focus on their women's line. Their men's line is similar to J.Crew's style but with more subtle colors and a casual feel (they don't have a formal line like J.Crew's Ludlow). Madewell offers five different denim fits, casual cashmere sweaters, and a pretty bitchin' in-house sneaker line.
27. Belstaff
Belstaff is a company founded in 1924 rooted in English motorcycle culture. Today, Belstaff sells men's and women's basics, but they're still a moto company producing some of the best (albeit expensive) leather, waxed cotton, and shearling jacket, for which they're known. It's hard to encapsulate Belstaff's aesthetic, but I'll do my best: Beautiful badass. Yes…that's it. Read more about the fascinating history of Belstaff here.
28. Peter Manning
If you're a shorter guy, you know it's hard to find clothing that properly fits your proportions. Luckily Peter Manning has you covered. Peter Manning offers pieces for every season and occasion from khaki shorts to blazers and work suits. Their style is comparable to Land's End, which is a good thing: timeless style with updated cuts and colors in sizes for "not-so-tall" men.
29. Grayers
Grayers is what happens when old-school British prep (think twill blazers and earth tones) meets the contemporary man. Grayers clothing is casual, colorful, and looks intentional without being overly bold. Like Primer, Grayers appreciates that sometimes men prefer to shop a look rather than piecemeal their outfits together, so they offer a look catalog so to speak, allowing you to choose the occasion for which you're shopping as well as pre-configured outfits they've put together for your convenience. Why can't all men's clothing companies do this?
30. Gitman Bros
Gitman was founded in my (and Andrew's) homestate, Pennsylvania. Gitman makes dress shirts. Let me rephrase that: Gitman makes the best American-made shirts money can buy. From classic white oxford to pink gingham, Gitman has a shirt for every occasion or style. If you've got the cash, check out their made-to-order page, where you can customize shirts, ties, and trousers.
31. Faherty
If the beach and the Rocky Mountains had a baby, it would be Faherty. With laid back, chic designs and little touches like organic cotton and fish-scale patterned shirts, Faherty clothing stands out on those summer nights when you're sitting on the deck, having a drink with your friends. Run by a businessman, a lawyer, and a fashion designer (all related and all based in Brooklyn), Faherty is committed to using recycled fabrics, reducing waste, and using Native American artists in their designs.
32. Rogue Territory
Rogue Territory makes the jacket that Daniel Craig wears in the newest Bond movie, and that alone makes them a badass company worth our attention. But beyond outfitting Bond, Rogue Territory has plenty of clout. The company started in 2008 and is owned by a husband and wife team, making bespoke jeans (yeah…custom made jeans, that's a thing), and quickly expanded their line to include various items for men's workwear like trousers, workshirts, and rugged jackets. Oh, and it's all made in America.
Looking for clothing brands that are wallet friendly? Read The 12 Best Stores for Affordable Men's Fashion For The Guy on a Budget