There is a sweater for every occasion and every temperature. Here we dissect the fabric, fit, function, and maintenance of the favorites you may already have and offer brand recommendations for the ones you have yet to buy.
Sweater Types by How They're Worn
Shawl Collar Cardigan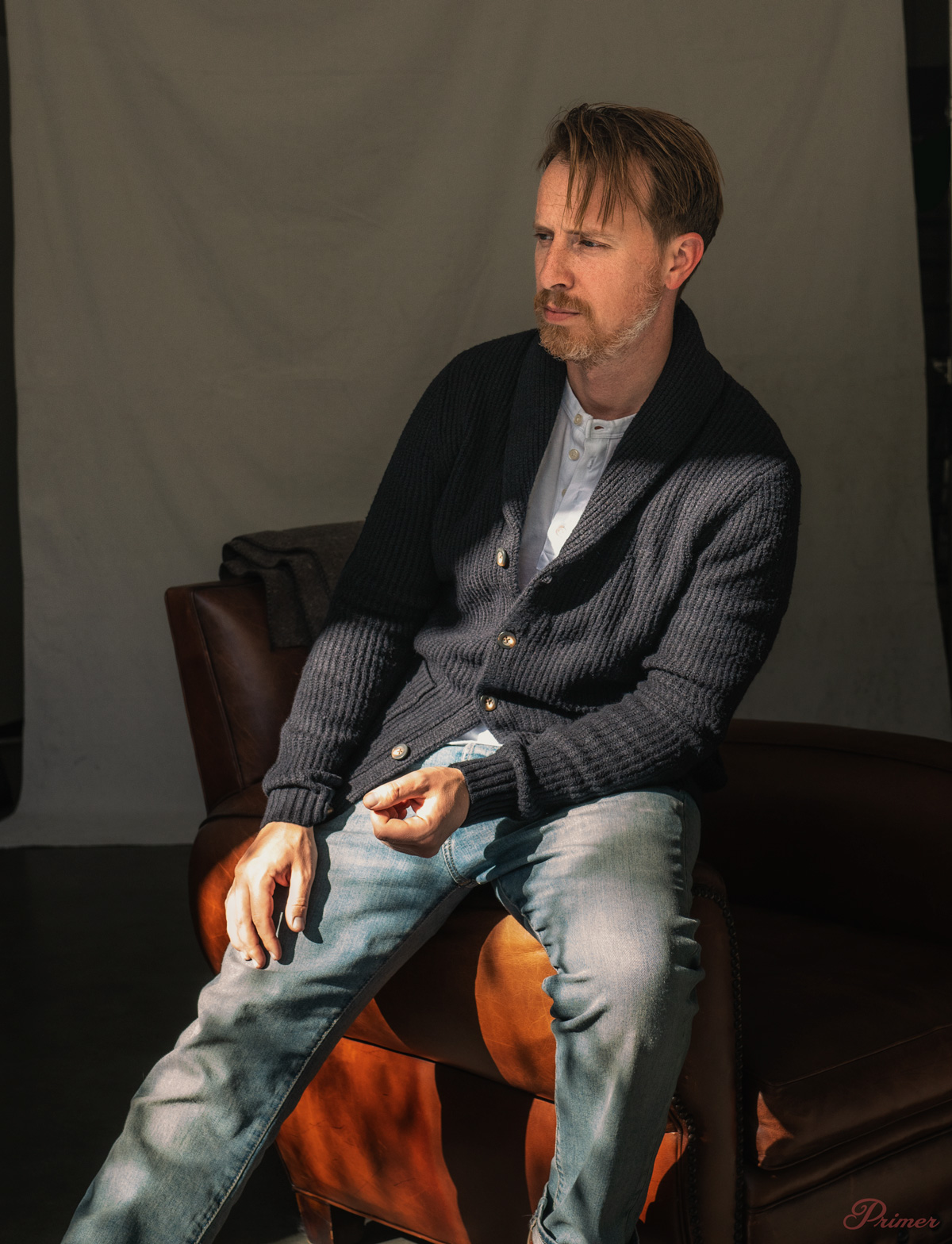 Our personal favorite. Recognized by the extra fabric wrapped around the neck for comfort and warmth. Most common in cardigans, but can be seen in other forms as well. Wear it casually, dressed up, or for comfort as a replacement for a hoodie.
Few items in menswear can be used to replace a dressy item like a blazer or a super casual item like a sweatshirt.
How to wear a shawl collar cardigan:
Shawl Collar Sweater
Shawl collar sweaters are a stylish take on the classic crew neck, offering a beefier silhouette to the neck. Like its button-up cousin, shawl collar sweaters can easily be dressed up or down – worn in place of a hoodie, or in place of a sportcoat.
How to wear a shawl collar sweater
V Neck Sweater
V neck sweaters had a long reign as a go-to sweater throughout the 90s and early 00s. In recent years, our preference is the crewneck for a more minimalist appearance. One place a v neck sweater still holds its own is with a button up shirt and tie in a business casual environment. If you're going to wear a v neck sweater casually, I would personally avoid wearing a crew neck t-shirt underneath to thwart a dated 2010 style.
Crew Neck Sweater
Crew neck sweaters are about as utilitarian as they come, which is one reason we've turned to them more and more over the last few years. They also can be worn casually more easily than a v neck, but do just fine layered over a tie. If v necks have a prep heritage, crew necks have a more rugged vibe. Interestingly, the crew neck first appeared on t-shirts worn by Navy sailors.
How to wear a crew neck sweater
Turtleneck 
This sweater does not get nearly as much attention from most men as it should. Walk around in many retail stores and the men's turtleneck is nowhere to be found, while there are stacks for women. We're not quite sure why this is since the turtleneck is such a versatile piece. It can be dressed up under a suit for a holiday party or worn casually alone for a walk in the park.
For a casual look, bomber jackets look great, but a smart blazer can work just as well for the office. If you're interested but not sure where to start, turtlenecks are easiest to pull off when going for a dressy smart casual vibe.
Mock Neck Sweater
A mock neck can either be a shorter turtle neck, or a sweater with 2-3 buttons at the top, usually left undone for the extended collar to flare off to the side. This creates a stylish collar that frames your face. A button mock neck gives you a ton of options for layering in the fall and winter, with the buttons giving this type of sweater a classic style that pairs perfectly with some well-pressed trousers and dress shoes. These also look sharp when worn casually with a plaid shirt. 
Quarter-Zip
Quarter zip sweaters are just like mock necks, except instead of buttons the collar is fastened with a zipper. The same principles apply: These can easily be worn in business casual, smart casual, or casual settings.
Sweater Hoodie
A sweater hoodie is perhaps the most casual sweater on this list. Designed primarily for layering and keeping you warm, a sweater hoodie is typically a pullover with a slouchier fit. Unlike traditional fleece sweatshirt hoodies, a sweater hoodie can make your favorite weekend layer style a little more intentional. They definitely have a rakish surfer vibe to them. Try one in a chunky knit or stripes for extra style.
Sweater Vest
This is another style that's regularly ignored because it seems too outdated or "old-man-ish," but it's a surprisingly versatile and stylish layering option, especially when temperature flexibility is a concern, because they can be worn under a suit jacket or blazer.
Short Sleeve Sweater
These sweaters are an unconventional choice, but they're becoming more popular. Imagine them less as a sweater without sleeves and more of a thick, knitted t-shirt.
They can be a cool way to retain some heat in the early, warmer weeks of fall.
Henley Sweater
Henley sweaters are similar to mock necks in that they have between 2-5 buttons leading up to the collar, but instead of a collar that fits around the neck, they have a crew neckline. As with all henleys, they offer a rugged aesthetic to your layers.
Cardigan Sweater
A cardigan is any sweater that buttons or zips up the front. It's a hybrid of a sweater, a blazer, and a jacket. Our favorite type of cardigan is the shawl collar (which is why it's first on this list), but there are other styles as well. The traditional smooth, thin cardigan has a close association with Mr. Rogers, which being the man he was, should be a solid reason for any guy to wear one.
The easiest way to wear a traditional cardigan is in place of a blazer in a business casual outfit or as a layer with a suit in a dressed up one.
Rollneck Sweater
A rollneck can refer to two different types of collars. Traditionally speaking, turtlenecks don't fold down onto themselves, the ones that do are rollnecks. The other type is often seen on Irish fisherman-style sweaters and looks like a long crewneck that has rolled back onto itself. Like turtlenecks, these look great when paired with a jacket or coat, but they're also a smart layering option for over plaid shirts. Paired with tailored trousers for the office or comfy jeans for home, these sweaters are a stylish layering choice for fall and winter.
Sweater Types by Knit
Cable Knit
Also known as a fisherman's sweater, this style is knitted using cable needles that raise the fabric above the base layer to create a criss-cross pattern. They're an extremely versatile choice as casualwear, as they can be dressed up to business-casual when paired with pressed trousers and dress shoes, or worn with your favorite pair of jeans and sneakers for low-key drinks.
Rib Stitch
Rib stitch is one of the most common knitting techniques and is more of a category of stitch than one single style. Regardless of style, rib stitch sweaters will create vertical lines in the knitting. The simplest type is commonly used on less expensive sweaters because it's cheaper to produce. It's typically the least elastic and least warm knitted fabric, however, tighter rib stitch fabrics will typically hold in heat better.
Shaker Knit
Shaker is a type of rib stitch that results in prominent vertical "strips" or ribs of stitches, creating a textured sweater that is less chunky than a cable knit. It is considerably lighter and stretchier than other rib stitches.
Birdseye
This is a knit made on a specific type of loom that results in a small, repeating diamond pattern. It offers texture and visual interest in a subtle way.
Guernsey Stitch
Guernsey stitch is a method of knitting that results in a tightly-woven fabric that traps in warmth, making it a popular choice for sweaters. It gets its name from one of the Channel Islands due to its nautical heritage.
Waffle
Waffle knit is a technique that results in a soft, textured fabric that resembles, you guessed it, a waffle, and is breathable but still warm. Due to the texturing, it's best kept to casual wear. It has a great, classic rugged charm and can be worn on its own or layered. It's our top pick for chilly summer evenings.
Marled
Marled yarn refers to a single yarn consisting of two smaller, differently colored yarns that have been plyed together. When knitted, this yarn creates a unique-colored sweater that makes for stylish casual wear.
Sweater Material
Possibly the most important factor in selecting a sweater is choosing the proper material. Too light and you'll be bone cold. Too heavy and you'll be sweating like a pig. Too cheap and you'll be itchy all day. Nailing the fabric is paramount.
Nine times out of ten natural fibers will look better, feel better, and last longer than sweaters full of synthetic material. Look out for acrylic, nylon, rayon, polyester and the like.
Acrylic blends are not the end of the world however, many budget brands offer sweaters that are a mix of natural and manmade fibers (60% wool, for example) so if you find one you like and the price is right, it can be an acceptable compromise.
Natural fibers will cost more but the investment over time will serve you well.
Some of the most common fabrics and weights include:
Wool
Wool is warm and breathable, can have antimicrobial properties, and can come in thin or chunky variations. Probably the most used fabric for sweaters behind cotton. There are many different types which all have varying degrees of softness and warmth. Merino, Shetland, and Lambswool are the most common. Merino is the softest followed by Lambswool and then Shetland.
When you were growing up and your favorite sweater (make that the sweater your mom liked to see you in) was itchy it was because it was probably a coarse wool like Shetland versus a smooth Merino. 
Wool sweaters are sometimes viewed as more difficult to maintain, but many can be washed in the washing machine. Be sure to do your laundry the correct way.
Cashmere
Cashmere is a super soft, fine wool that's surprisingly durable and warm, but it's also one of the most expensive yarns sweaters can be made of. Would you believe me if I told you cashmere is made from the beards of goats? Yep: What the Heck is Cashmere Anyway?
Merino Wool
High-end Merino wool is soft, lightweight, and gentler on the skin, making it perfect for people who normally find wool too itchy to wear. The name Merino refers to the type of sheep it comes from. While it's not as expensive as cashmere, it's still considered a luxury yarn, and included in product names as a point of quality. 
Lambswool
Lambswool comes from the first shearing of a young sheep and is softer than wool sourced from adult sheep, making it less likely to be itchy and uncomfortable when worn next to the skin. It's also generally warmer than other yarns like Merino and can be found cheaper.
Donegal Wool
Donegal wool is produced in Ireland using a specific technique that makes it super soft and flecked with multiple colors. It's extremely versatile because of the wide range of colorways you can get with this type of wool.
Cotton
Cotton is a plant-based fiber that can be less elastic than wool, but it's softer, and is often cheaper.
Supima Cotton
Supima cotton is an extremely soft form of cotton from the US. It's one of the softest and most durable forms of cotton fiber on the market, but this comes with a premium price tag. It's a popular choice with people who want to source their clothes ethically as Supima is a not-for-profit organization.
Acrylic
Acrylic yarn is a synthetic fiber made from polymers to closely resemble wool yarn. Because it's man-made, it's typically the cheapest option. However, it often loses its color, shape, and finish quickly.
Sweater Types by Design
Fair Isle
Fair Isle is a traditional knit resulting in intricate patterns named after one of the Shetland Islands. This unique style first gained popularity when the Prince of Wales wore a Fair Isle sweater in the early 1920s. These patterns are best worn with simple garments to let the fair isle design shine.
Argyle
These traditional patterns use three or four colors in diamond designs, and are often considered loud designs. Saying that, argyle patterns can work in some dressier settings when the colors are more muted, but they're best kept to casual affairs.
Raglan Sleeve Sweater
This style has shoulder seams that track diagonally from the armpit to the neckline. This can be flattering for a man's chest and shoulders.
Ski Sweater
Similar to Fair Isle, ski sweaters typically consisting of two contrasting colors with elaborate designs. They're also closely associated with the ugly Christmas sweater trend, so they're best kept casual with jeans and sneakers.
Sweater vs Sweatshirt: Why isn't a Sweatshirt a Sweater?
Primarily, it's because of how they are made. A sweatshirt is sewn, a sweater is knitted. Sweatshirts are made commonly by sewing together pieces of fabric like fleece. A sweater is knitted with yarn.
Practically speaking, sweatshirts fall on the casual end of the dressy scale, though we've also shown how you can dress one up with a sportcoat for work or how to wear one with a tie.
You can see how we use a crew sweatshirt and a shawl collar sweater in a wardrobe in our guide, A Classic Cold Weather Capsule Wardrobe With A Modern Edge.
Sweater Maintenance
Okay, so you think you've got the style game wrapped up with sweaters? But what happens when you take it off? What happens when it gets dirty? There are certain ways to wear and care for you sweaters to keep them fresh and lasting as long as winter.
How to Wash a Sweater
If you're purchasing quality sweaters and rotating them properly they won't need much cleaning. Most sweaters without stains can do with a cleaning at the beginning and end of the season. Or right after they're taken out of storage and right before they're returned in.
The best advice is to follow the instructions on the care tag. If it says "dry clean only" then do so. If your sweater says "do not dry clean," it's best to wash it by hand. This will most likely be your cashmere goods.
To wash by hand we recommend using cold water. Fill a clean sink or bath tub with enough cold water to soak the garment. Use either a delicate detergent such as Woolite or a capful of dish soap will do. Soak the garment for about 30 minutes or until you think you've gotten the funk out of it.
Rinse gently with cold water and squeeze the garment but DO NOT RING it. Twisting the garment will destroy the fibers and the sweater will never be the same. Instead, squeeze out the water and soap gently and reshape it to its natural form. Lay it flat on a dry towel and pay it dry with another. Then let Mother Nature take over the drying process.
This is certainly more work than dumping it in the washer and dryer, but it will prevent pilling, shrinking, and destroying the fibers.
How to Depill a Sweater
Pilling occurs on knit fabrics when loose fibers get pushed to the surface through abrasion or washing resulting in small undesirable balls of fibers. It can be avoided by caring or the sweater according to its tag's instructions but given a long enough timeline pilling is likely to occur.
When it does, you can use a fabric shaver to remove the balls, or if you're in a pinch, a razor.
How to Store Sweaters
Before and after washing your sweaters they should be stored in a canvas and/or air tight bin or bag where moths and temperature changes won't negatively affect the garment. Never hang your sweaters on a hanger. Gravity and time will destroy the drape of the garment, and leave dimples where the sweater contacted the points of the hanger.
Always fold your sweaters and return them to their bin and/or bag. Keep them in a cool, dry place and be sure to check them for moth larvae under and around the hems after opening them before the season, and before returning them to the storage at season's end.
The Best Stores to Buy Quality Men's Sweaters
Because sweaters are so ubiquitous, it's easy to find them at many price points, unfortunately that also means quality can also be all over the place. As mentioned above, paying attention to fiber content is important, but don't think that applies only to cheap sweaters. You'd be surprised at how many higher-priced brands sell 100% acrylic sweaters for $90.
If you're buying a sweater with long-term style potential, it makes sense to buy one that will last if cared for. It will have a nicer finish and will be softer and more comfortable.
Here are a few brands and retailers we trust:
J.Crew – A range of styles, knits, and fibers that look good when worn casually or dressy. Wait for a sale that's at least 40% off to scoop up some of their higher priced knitwear. Shop their sweaters.
Gap – Similarly, Gap regularly runs 40-60% off deals. They have a large sweater selection during the holidays and often have special promotions. One of my favorite shawl collar cardigans is from Gap and is several years old. It's held up great. Check their current styles.
Banana Republic – Banana Republic is a sister store to Gap that's a higher price tier. They offer quality knits that are dressier with more refined finishes. Their fiber options include sustainable merino wool, Italian merino wool, silk-cotton cashmere, and more. The tan shawl collar cardigan featured at the top was picked up there several seasons ago. Currently, they have over 225 styles.
Uniqlo – The basics-done-right brand offers cashmere, 100% merino wool, and merino-cotton blends for prices that range from $25-$79. Take a look.
LLBean – High quality wool and cotton knits in a range of classic, rugged styles priced from $30-$200.
Lands' End – A modest offering featuring evergreen styles made with Supima cotton, cashmere, and others priced on sale between $30-$100. See the current options.
Amazon – Most of the sweaters from house brands Goodthreads, Buttoned Down, and Amazon Essentials are 100% natural fibers. Lots of options for 100% cotton sweaters as well as Supima cotton, merino wool, and affordable 100% cashmere. Be sure to use the "Popular Brands" and "Our Brands" filters to weed out the riff raff. You can click this link that has the filters in place to see what's current.
For more, check out our essential guide on the 12 best men's stores for affordable men's style.
---
Take the time to choose the right fabric, fit, and function of your sweater and you'll spend the winter warm and toasty, while everyone else is left in the cold.