As Bond hits the big screen once more with No Time To Die – which marks Daniel Craig's final outing as 007 – we take an A to Z look at James Bond's most trusted clothing labels.
When Ian Fleming created James Bond in the book Casino Royale, he left no detail of the spy's world undescribed, from the preparation of his libations and lunches to the labels of his enemies' clothing.
In the nearly 7 decades since Fleming introduced the world to agent 007, any brand associated with the book's subsequent film franchise is almost guaranteed to find overnight success as die-hard and casual fans of the series alike scramble to grab the latest duds and drinks favored by the world's most famous secret agent.
Once upon a time, Sean Connery and Roger Moore would quietly grace the screen in suits from their preferred English tailors – Anthony Sinclair for Connery, Cyril Castle and Douglas Hayward (among others) for Moore – not because of any brand promotion, but because they were the best.
As marketing and movies have become ever more intertwined over the last forty years, clothing brands from around the world have vied for the enviable spot of landing a shirt, shoes, or even a belt in Mr. Bond's closet. Most recently Pierce Brosnan and Daniel Craig have worn Omega watches and top-of-the-line suits from Brioni and Tom Ford, markedly visible both in the films and their promotional materials.
In a way, the Bond franchise is the perfect vehicle for menswear. Bond films place a character who defines cool sophistication in exactly the right settings for whatever he's wearing.
We've hit the Bond archives to discover the major brands that have landed their garments a supporting role in one of the highest-grossing and longest-running franchises in movie history – and they're not all what you'd expect.
The brands of Bond range from English heritage lines and Italian luxury designers to independent, contemporary American labels. One thing, however, unites them all: if 007 wore it, you can be darn sure it's worth taking a look at.
For Bond scholars: how many can you name without looking? For the casual fan, what inspiration can you glean from the Brands of Bond?
A note about
James Bond's Tuxedo Brands
When it comes to Bond's iconic tuxedo, 007 always turned to the masterful hands providing his suits. For Sean Connery and Roger Moore, this was their normal tailor (Anthony Sinclair for Sir Sean, and Cyril Castle, Angelo Vitucci, and Douglas Hayward for Sir Roger), while Brioni and Tom Ford provided dinner suits for Pierce Brosnan and Daniel Craig, respectively. (The Brioni association continued through Casino Royale, so Daniel Craig wore their business suits and tuxedos before making the switch to Tom Ford beginning with Quantum of Solace.)
Acne Studios
Shop on Mr Porter | Shop on Nordstrom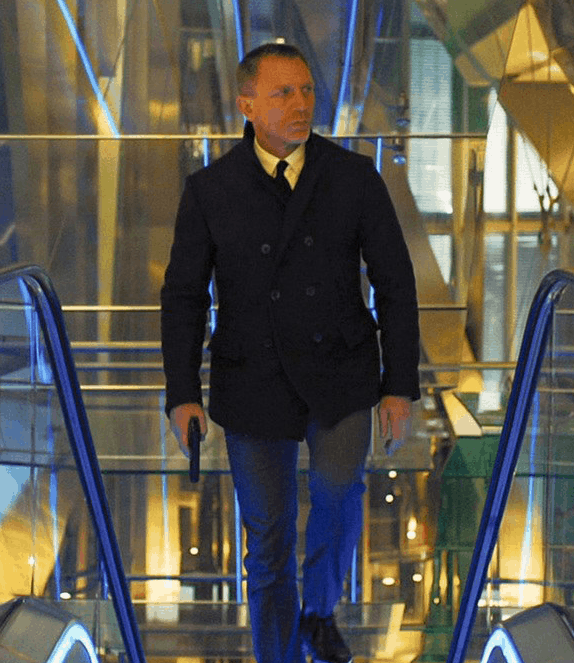 Less than 20 years after this Swedish ready-to-wear brand was co-founded it had a hand in dressing James Bond, contributing a pair of shark gray "Wall Street" trousers to Daniel Craig's pea coat-driven outfit in Skyfall.
Barbour
Shop on Amazon | Shop on Nordstrom
Skyfall's rough final act set in rural Scotland was the perfect opportunity for James Bond to don Barbour's legendary weatherproof outerwear. An olive waxed Barbour "X To Ki To" Beacon Heritage Sports Jacket was slightly modified for the production by costume designer Jany Temime and her team, giving Daniel Craig's 007 a rugged yet tailored look that has become a fan favorite.
Learn more about channeling this whole outfit from Skyfall here.
Barton Pereirra
Barton Pereirra completes Bond's latest looks in No Time To Die with sleek updates to the classic styles of sunglasses favored by Bond over the decades. Barton Pereirra's trio of official 007 shades are inconspicuously named "Courtier," "Joe," and "Norton"  –  and they don't have to be for his eyes only. For more on our favorite secret agent's choice eyewear, check out Primer's deep dive on James Bond's sunglasses in the newest film. 
Billy Reid
Shop on Amazon | Shop on Nordstrom Rack
Another fan favorite from Skyfall remains the double-breasted wool pea coat from Billy Reid with its unorthodox peak lapels, leather detailing, and flattering fit. The coincidentally named "Bond" pea coat's association with 007 has been credited with single-handedly skyrocketing the independent brand's business, and are regular picks in our Nordstrom Rack finds.
Brioni
Shop on Amazon | Shop on Nordstrom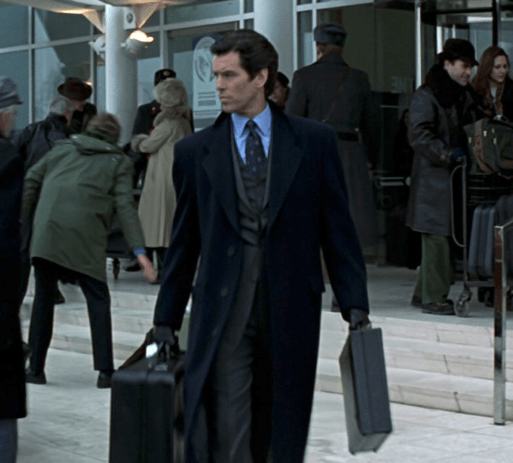 After a legacy of Sean Connery and Roger Moore showcasing the bespoke services of English tailors like Anthony Sinclair, Cyril Castle, and Douglas Hayward, 007's costume team went in a new direction for the '90s by dressing Pierce Brosnan's version of the character in luxury duds from the Italian fashion house Brioni. The association would continue for Daniel Craig's inaugural Bond film, Casino Royale, before Craig's Bond switched primarily to Tom Ford suits.
Brunello Cucinelli
Shop on Amazon | Shop on Mr Porter
Daniel Craig brought his real-life favorite to the big screen, sporting a light brown linen-blend jacket, khaki chinos, and brown leather belt all from this Italian fashion house for a desert scene in Spectre.
Crockett & Jones
With a heritage spanning over 140 years, this British shoemaker provided the derby shoes that were featured in both Skyfall and Spectre, which have become such a 007 favorite that Daniel Craig wore them again in No Time To Die.
Although you might lean toward footwear in more casual browns, Craig is dressed to kill in Crockett & Jones' black "Highburys," pairing them with the iconic gray glen check suit in No Time To Die.   
Danner
Shop Danner on Amazon | Shop Danner
While Craig's Bond relies heavily on Crockett & Jones for his more dressed up footwear, he opted for the Portland-made Danner Mountain Light II in all black while while plowing his way through the Alps in Spectre. With an upper made from a single piece of full grain leather with a waterproof Gore-Tex liner, and Vibram outsole, these things are built like a tank a heavily armored Aston Martin. 
Frank Foster
One of the most iconic aspects of early James Bond fashion remains the distinctive two-button "cocktail cuff" on many of the shirts worn by both Sean Connery and Roger Moore in the role. Although the origins of the unique cuff are disputed, there's no doubt that Frank Foster had a hand in making shirts for both actors, and the London shirt maker to the stars has also claimed to have played a role in developing the design of the cuff itself.
Fred Perry
A quick scene in Thunderball finds Sean Connery's James Bond in a dark navy cotton pique polo shirt adorned with the white "Laurel Wreath" logo of the Fred Perry brand. Perry launched his first tennis shirt in 1952 at Wimbledon, where the British tennis player had won three consecutive championships two decades earlier.
Gucci
Shop on Amazon | Shop on Nordstrom
Roger Moore brought his appreciation of this Italian high fashion house to the role of James Bond, sporting their leather wares and luggage in his first two Bond films until his neighbor, a relative of Salvatore Ferragamo, convinced him to switch.
Jantzen
This American swimwear brand has all but disappeared after disastrous business acquisitions in the 1980s, but it reigned as the supreme swimwear through the 20th century with its iconic "diving girl" logo even adorning the pink, blue, and white pairs of swimming trunks that Sean Connery wore in Thunderball. (Fans of Mad Men may recognize the company for taking offense to one of Don Draper's bold creative strategies in the fourth season premiere.)
John Smedley
Shop on Amazon | Shop on Nordstrom 
Part of the fan favorite Skyfall outfit centered around the Billy Reid peacoat was a black merino wool v-neck by John Smedley, a classic British knitwear brand.
John Varvatos
Shop on Amazon | Shop on Nordstrom
The climactic action sequence in Spectre found Daniel Craig racing around London in a black suede racer jacket from John Varvatos.
La Perla
I'll never forget the chorus of gasps from women in the audience at Casino Royale when a ripped Daniel Craig emerged from the water in a pair of two-toned blue short-inseam "Grigioperla" swimming trunks from Italian lifestyle boutique La Perla. (For any readers who may be interested, the electric green bikini worn by Caterina Mureno as Solange in the same scene was also from La Perla.)
Levi's
Shop on Amazon | Shop on Nordstrom
This old-school symbol of rugged Americana might be a surprising choice for James Bond… until considering the context. Daniel Craig's 007-in-exile compliments his craggy, rugged look in Skyfall with a brown distressed leather flight jacket, designed in the tradition and spirit of 1930s aviation, from the Levi's Vintage Clothing line.
Massimo Alba
Chances are, you'd remember this distinctly rugged suit donned by Bond even had it not been so prominently featured in an unforgettable stunt in No Time To Die in which he evades a car before diving off a bridge in Madera, Italy. Not only is this suit beige, unstructured, and far more dressed-down than your typical 007 suit, it makes even more of a statement with its micro-corduroy material.
That's right – this Bond wears corduroy.    
Matchless
The British motorcycle company proudly announced its association with James Bond when they marketed the "Craig Blouson" based on their sand-colored suede jacket that Daniel Craig wore in Spectre.
N.Peal
After testing the 007 waters with a cool blue cashmere crew-neck sweater in Skyfall, London knitwear specialist N.Peal kicked off a turtleneck revolution for the Bond series by contributing three turtleneck (or mock-neck) sweaters for Daniel Craig to wear in Spectre. N. Peal returns in No Time To Die with a cashmere and Merino army sweater which Daniel Craig handsomely sports in the film's main poster. This time, the brand features their "sailor" (boat) neck sweater as a salute to Commander Bond's earlier nautical days in the Royal Navy before joining the British Secret Service.
Orlebar Brown
Shop on Amazon | Shop on Mr Porter
Perhaps in an attempt to mimic the impact of Daniel Craig's La Perla shorts in Casino Royale, British swimwear brand Orlebar Brown gave Mr. Bond a pair of light blue swim trunks for a brief dip into a Shanghai hotel pools in Skyfall.
Prada
Shop on Amazon | Shop on Nordstrom
Prada needs no introduction, and it should come as no surprise that its wares have been featured in Bond movies. However, while other characters have prominently worn Prada clothing and sunglasses, the only time that Mr. Bond himself donned Prada was in the form of… a belt. Thanks to James Bond Lifestyle, we know that the black belt worn for an action sequence in Quantum of Solace was actually a $270 Saffiano leather belt from Prada… despite that we never even see Bond's belt clearly enough to recognize it as Prada. (Think about that the next time you're dropping $15 on a belt at Target.)
Salvatore Ferragamo
Shop on Amazon | Shop on Nordstrom
After two on-screen outings in Gucci didn't fare well with his neighbor, Roger Moore reportedly switched his preferred Italian shoemaker to Salvatore Ferragamo for subsequent Bond films beginning with The Spy Who Loved Me, often considered his best. (Oh… and his influential neighbor just happened to be Ferragamo's daughter-in-law. What has your neighbor convinced you to wear lately?)
Slazenger
Shop on Amazon | Shop Slazenger
A rare early sighting of a conspicuous clothing brand during the Sean Connery era appeared in his third James Bond film, Goldfinger, as 007 faces off in a golf match against the titular villain. Bond dresses for golf in a burgundy v-neck sweater with Slazenger's golden panther logo stitched over the left breast. Better known for its sporting goods than its clothing, Slazenger made the most of its association with Bond in 2014 when it re-released Connery's merino wool golf sweater for sale on the 50th anniversary of the film's release.
Sunspel
Shop on Amazon | Shop on Mr Porter
Despite only lending shirts to one 007 adventure, Casino Royale, Sunspel's association with James Bond has endured for more than a decade after creating all of Daniel Craig's on-screen t-shirts, polo shirts, and even underwear. The navy Riviera Polo Shirt worn in the Bahamas remains a fan favorite.
Tom Ford
Shop on Amazon | Shop on Nordstrom
James Bond's suave suits and impeccable tailoring are undoubtedly at center stage of 007's style. Tom Ford's luxury brand was tapped by the franchise for the fourth consecutive time to provide clothing for No Time To Die. The American designer began his association with 007 for Quantum of Solace, only two years after launching his brand, and has run the gamut of clothing made for Daniel Craig's Bond, including suits, jackets, shirts, ties, sweaters, cufflinks, and sunglasses. 
For Craig's final turn as 007, Tom Ford takes Bond back to his roots with a sharp gray glen check suit, arguably the quintessential James Bond suit, reminiscent of the ones famously worn by Sean Connery in classics like From Russia With Love and Goldfinger.
Turnbull & Asser
Although this British heritage brand has been contributing shirts and ties to nearly every James Bond actor since Sean Connery originated the role in 1962, the company only recently began capitalizing on its association by marketing some of the shirts and ties that appeared in Dr. No, Tomorrow Never Dies, The World is Not Enough, and Casino Royale.
Zara
An exiled Bond was seen "enjoying death" in Skyfall by rejecting his carefully tailored suits and clean shirts, instead wearing a fun light blue floral-printed shirt from Zara for a night of dangerous drinking games.
Learn more about Zara and 11 other great affordable stores for the budget-minded guy here.
Dive deeper:
What clothing labels do you have in common with James Bond? Let's chat in the comments!