As we bid farewell to Craig's brutish but refined interpretation of 007, we reflect one last time on his influential style.
After fifteen years and five movies, Daniel Craig has officially ended his record-setting tenure as James Bond with No Time to Die. Having rebooted the series with a relatively faithful adaptation of Ian Fleming's first Bond novel, Casino Royale, the Craig era introduced an unprecedented degree of continuity to the series as well as personal stakes that—particularly in the latest film—echoed George Lazenby's one shot as 007 in On Her Majesty's Secret Service.
Whether you think he was the best 007 since Sean Connery or you're eagerly looking for the next actor to fill Bond's bespoke shoes, it's hard to deny the impact that Craig had on men's style. Of course, much of this may have to do with the overlap of Craig's Bond emerging during the digital era and the rise of social media, making the last five Bond movies the subject of such singular scrutiny that, as set photos leaked from No Time to Die, the items Craig wore were swiftly identified and—if still available—often sold out within hours, with replica outfitters taking note and quickly adding copies of the latest screen-worn garb to their stocks.
An aspect that I've particularly appreciated about Craig's style as James Bond has been the accessibility. Sure, brands like Brioni, Brunello Cucinelli, and Tom Ford aren't realistic considerations for most fans looking to cop the style of their screen hero, but I'd argue the sensibilities driving each outfit are more important than the specific brand name.
Each film's costume designer made the most of classic menswear staples like blue polos, shawl-collar cardigans, khaki chinos, and chukka boots to build outfits for Mr. Bond that balance being aspirational and yet still accessible enough to allow any man to feel a little more like 007 without having to wear a tuxedo.
Note: The below descriptions may include some mild spoilers, particularly for the first few films.
Casino Royale (2006)
Costume design by Lindy Hemming
Gray Linen Suit and White Shirt
As Casino Royale follows the rookie agent through his early days as a 007, Bond's wardrobe is hardly what viewers expected after four years of the debonair Pierce Brosnan, who still looks like he was born to wear Brioni suits. When Craig's Bond does first wear a suit, he dresses down his unorthodox light gray linen suit without a tie as his plane touches down at Paradise Island. Not only has he arrived in the Bahamas, he's arrived.
The moment seems like a direct response to M having just criticized him as a blunt instrument, as he strolls from the plane in the gray linen suit's peak-lapel jacket and Persols looking sleek, suave, and appropriately summer-y for a July day in the Caribbean. Moments later, he arrives at The One&Only Ocean Club, having left the jacket in his Ford (perhaps a little too accessible, Mr. Bond) and thus striding into the hotel wearing just the open-necked white short-sleeved shirt tucked into the suit trousers.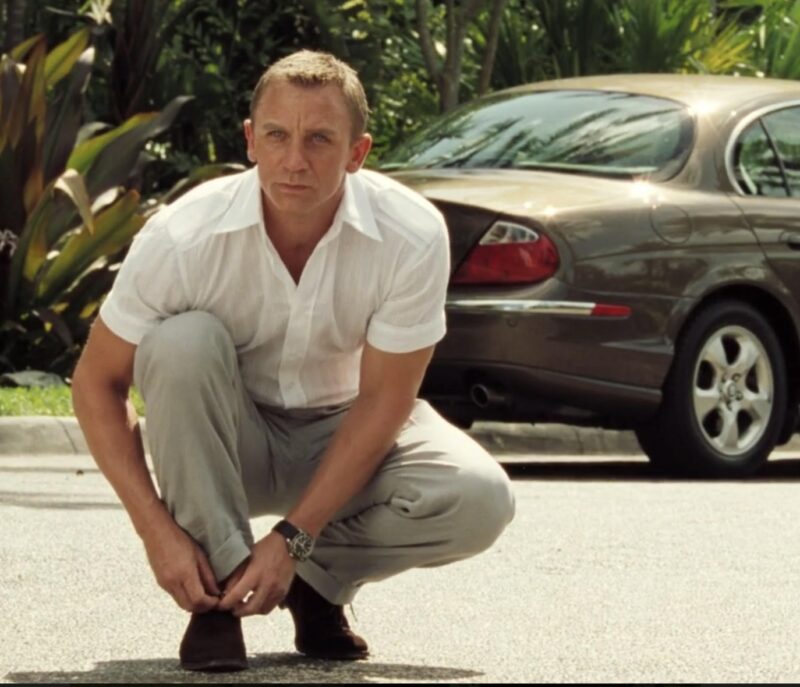 The shirt's light fabric and short sleeves show off Craig's muscular frame, reminding us that he's still the tough and brutal agent who fought a man to the death in a bathroom and blew up an embassy… while still being able to draw curious eyes. The shirt's military-style shoulder straps build up Craig's shoulders while adding a martial dignity worthy of Commander Bond's rank. Apropos the dressed-down nature of his suit and the holiday environment, Bond wears chocolate brown suede derby shoes.
Navy Sunspel Polo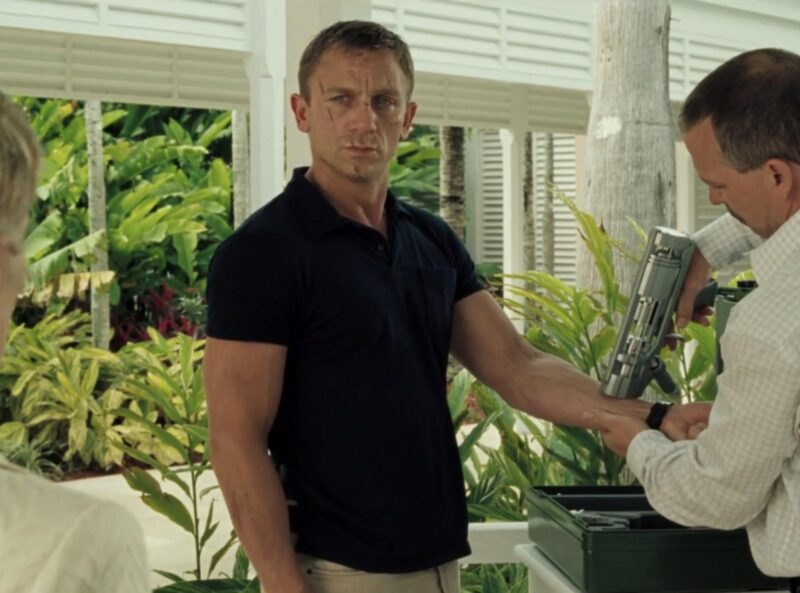 Back in the Bahamas after a jaunt—and a few more deaths—in Miami, Casino Royale debuts what would become one of Daniel Craig's Bond style staples: the navy blue short-sleeved polo. The actual shirt was a decades-old design, pioneered by British retailer Sunspel in the 1950s as the evocatively named "Riviera" polo and noted for its luxuriously soft and comfortably breathable mesh-like cotton fabric that distinguishes it from your dad's old golf shirts.
As described in Peter Brooker and Matt Spaiser's book From Tailors With Love, costume designer Lindy Hemming worked with Sunspel to re-tailor the shirt to flatter Craig's athletic physique. The company wisely capitalized on its early association with the series, and the Riviera polo shirt is still available worldwide 15 years after Casino Royale first hit theaters.
While walking the Ocean Club grounds with M, Bond wears the Sunspel polo untucked with khaki casual pants styled like jeans and more dark brown suede shoes, this time in the form of chukka boots. Craig would press navy short-sleeved polos back into service twice more: once with a navy Harrington jacket and blue jeans for a tactical assault in Quantum of Solace, and again under a tan suede Belstaff jacket in Spectre. Each look is great, but it was this that sent many guys—including yours truly—reaching for the dark blue polos in the closet.
The First Dinner Jacket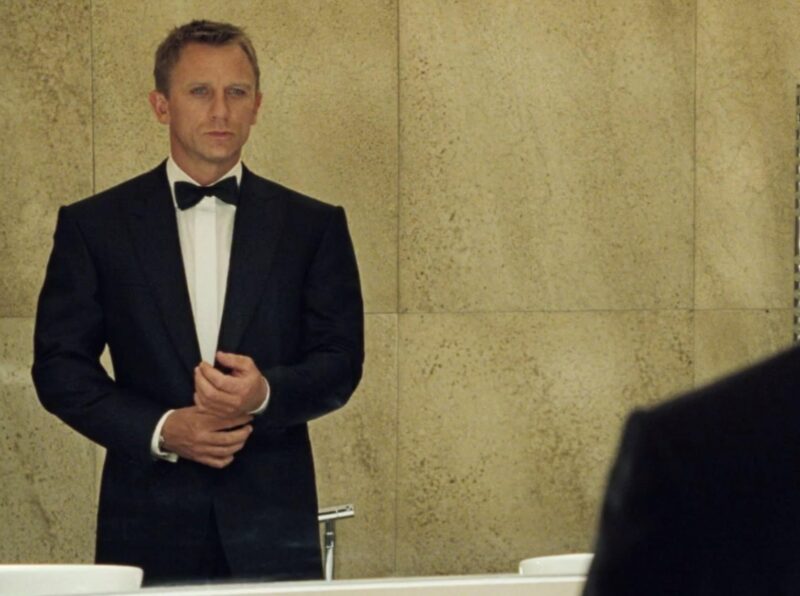 "There are dinner jackets and dinner jackets; this is the latter," Vesper Lynd (Eva Green) declares to Bond, after he discovers a tailored black wool tuxedo awaiting him in his hotel room. The Bond series is certainly aware of the significance of Bond's dinner suit, having promoted it to an indelible part of his image to the degree that—even in an age when less and less men are wearing suits and ties—007 always finds occasion in his missions to slip into at least one black tie kit.
The association began as far as Ian Fleming's first Bond adventure, Casino Royale, in which he described "his single-breasted dinner-jacket coat over his heavy silk evening shirt," and "his thin, double-ended black satin tie." More than a half-century later, the moment was paid tribute on screen as 007 sizes himself up to motifs of the classic James Bond theme song woven into the score.
The Brioni association that began during Pierce Brosnan's tenure extended into Casino Royale, and the Italian fashion house provided the multiple black wool peak-lapel dinner jackets and the matching trousers with silk side-seam striping. Another heritage James Bond brand, Turnbull & Asser, made the black silk bow tie and white hidden-fly double-cuff shirts that Bond cycles through as each is ruined due to poisoned martinis, stairwell fights, and fully dressed showers.
As far back as Sean Connery's movies, Bond's evening-wear rarely included waist coverings like cummerbunds or waistcoats, and Daniel Craig would be no exception to this tradition, wearing only fine white silk Albert Thurston suspenders under his dinner jacket.
Quantum of Solace (2008)
Costume design by Louise Frogley
Shawl-Collar Cardigan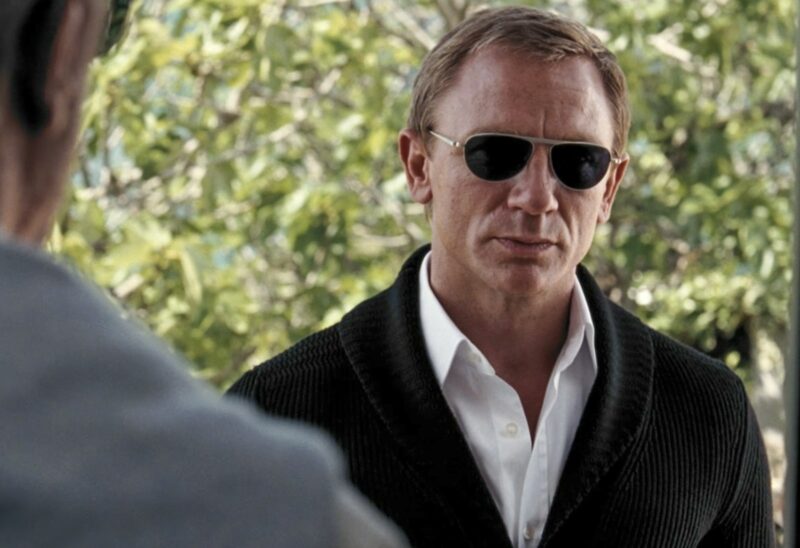 When I started my sophomore year of college in the fall of 2008, I had mentally relegated cardigans to closets of my grandfather and Mister Rogers… two men I had admired, for sure, but not exactly style icons. Then I watched 007 button up a black shawl-collar cardigan in Quantum of Solace, and I realized I had been schooled yet again by the franchise that had doubled my own navy polo collection two years earlier.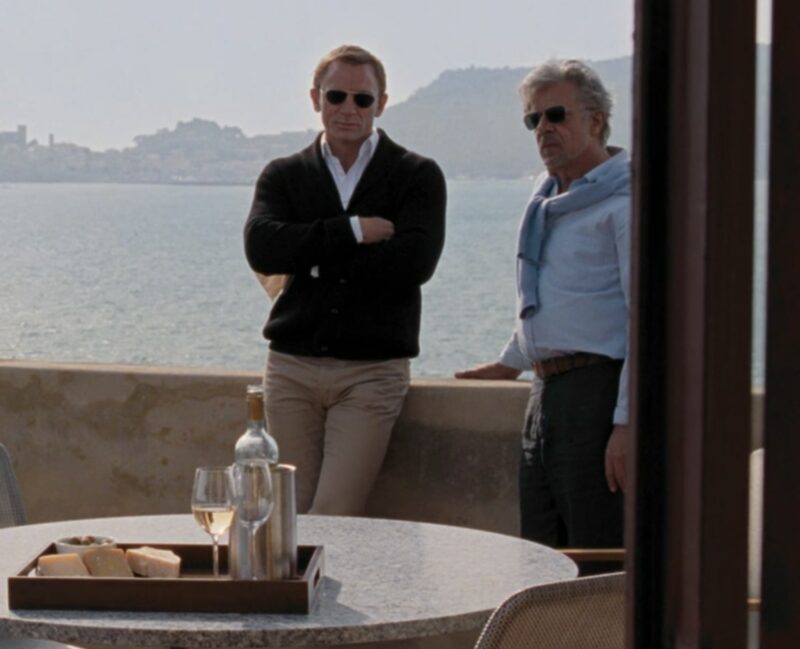 Craig's Bond had indeed been wearing shawl-collar cardigans in Casino Royale, but it's Quantum of Solace that firmly establishes the button-up sweater's staying power. Though he's gone rogue, Bond looks cool and confident in his black shawl-collar cardigan and open-neck white shirt as he cruises up to Mathis' Italian villa, the khaki jeans and brown suede boots invite comparison to Steve McQueen, particularly William Claxton's famous photographs of the actor picnicking on the California coast. His aviator sunglasses are Tom Ford, as are the shirt, cardigan, and most of everything else Bond wears in Quantum of Solace.
Bringing Back the Brown Suit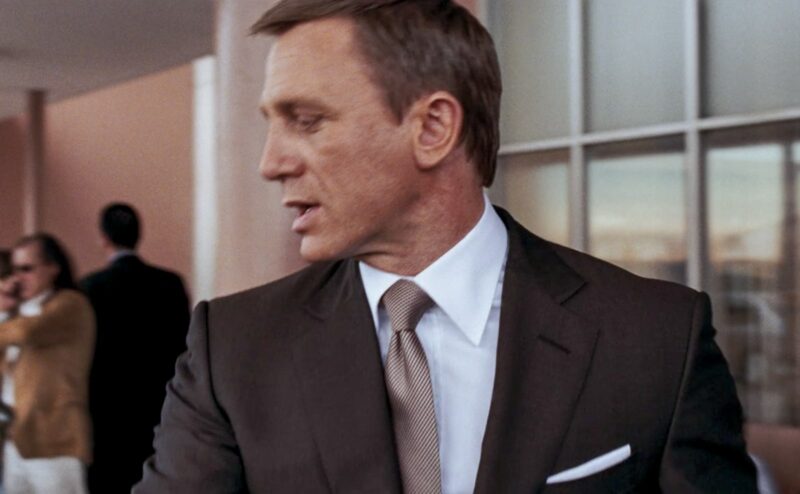 Among his stylish and well-tailored Tom Ford suits in Quantum of Solace, Bond arrived in Bolivia wearing a sharp brown suit made from a cool-wearing mohair tonic, as identified by Bond Suits. I've heard some criticize brown suits as unprofessional or outdated, but Bond's suit here makes a case for modern relevance and fashionability… particularly given how well he can wear it after drinking six martinis during the red-eye flight.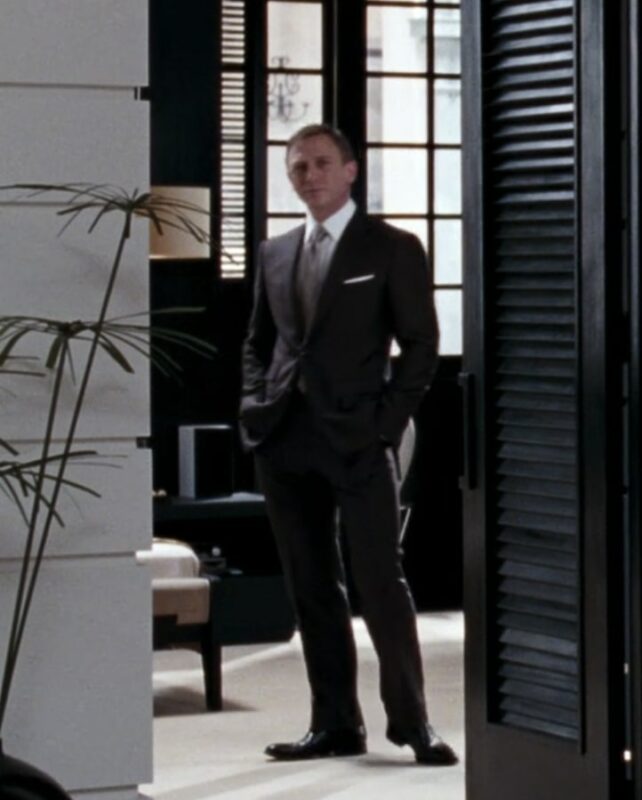 The suit, a Tom Ford "Regency" model, is appointed with all the rakish details one would expect of a model named after the period known for the famous dandy Beau Brummell. The single-breasted jacket has a 3/2-roll button configuration, a curved "barchetta" breast pocket for his white pocket square, a ticket pocket in addition to the two standard flapped pockets, and five-button surgeon's cuffs, of which Bond likes to keep at least one undone.
The rest of Bond's Quantum of Solace suits are similarly cut and styled, all made from more conservative shades of dark blue and gray that significantly contrast against the eye-catching brown worn for this jaunty sequence.
Harrington Jacket and Jeans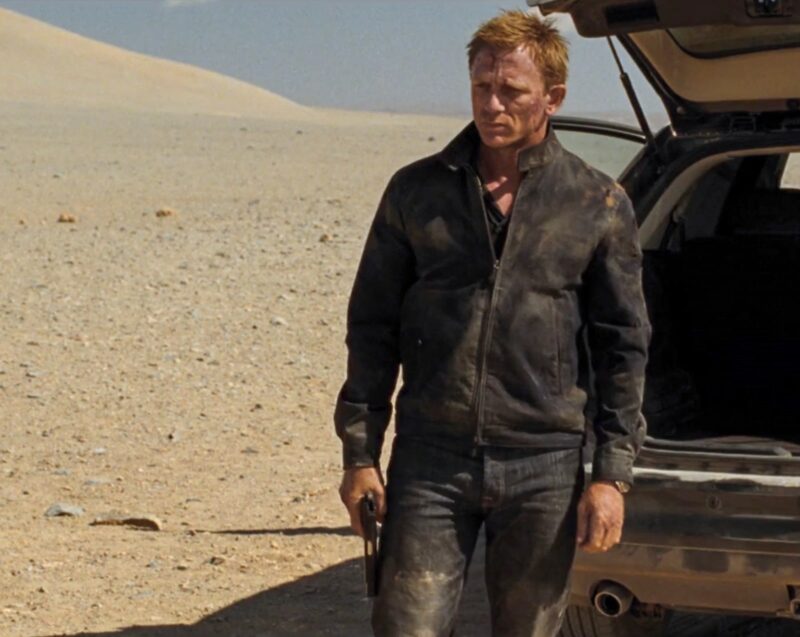 As 007 again goes rogue, he dresses for the night in all dark layers, as he has since Sean Connery's tenure. Bond's outer layer is Tom Ford's variation on the classic "Harrington jacket" as made famous by the Baracuta earlier in the 20th century and whose legendary wearers included Elvis Presley, Frank Sinatra, and—you guessed it—Steve McQueen, who wore a navy Baracuta jacket as the eponymous millionaire in The Thomas Crown Affair.
Rather than just copying how McQueen had worn his Harrington jacket, costume designer Louise Frogley adapted the jacket for how Craig's Bond would wear it, accompanying it with a navy short-sleeved pocket polo, jeans, and brown suede chukka boots that harks back to the casual aesthetic seen throughout Casino Royale for a sense of costume-informed consistency. It's worth noting that, while Craig's Bond had always worn beige-shaded jeans that are arguably dressier than their blue denim cousins, this climactic sequence in Quantum of Solace features the rare series appearance of Bond in blue jeans, albeit a dark wash denim from the California-based fashion house 7 For All Mankind.
The polarizing outfit seems to have as many fans as it does detractors, with most of the latter taking issue with Bond's jeans. Luckily for this group, Craig's following scene would find him concluding the movie in a more traditional dark suit, white shirt, and tie under his buttoned-up overcoat.
Skyfall (2012)
Costume design by Jany Temime
Retro-Inspired Gray Suit in Istanbul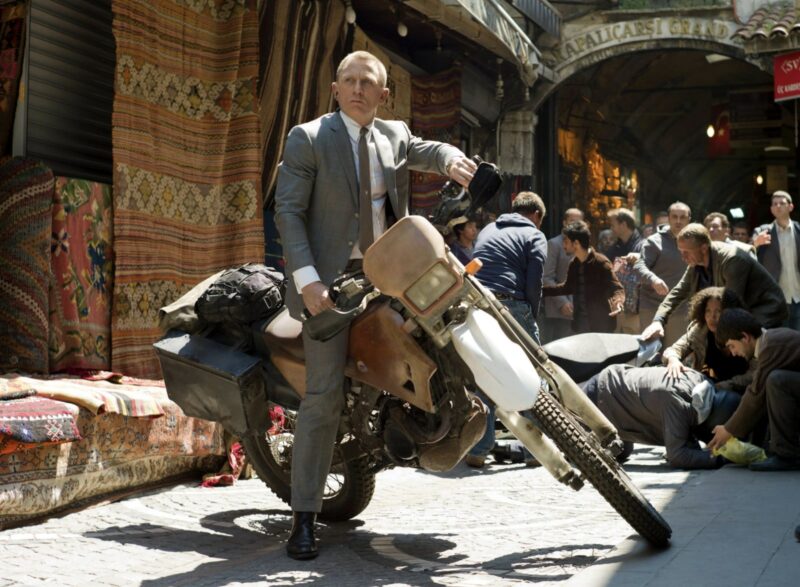 While Skyfall ushered in the era of tailoring often criticized for looking a tad too tight on Daniel Craig, it also delivered a series of classic cloths that echo the sartorial highs of Sean Connery's Bond in the early '60s. Craig's first two adventures emphasized his Bond's youth and relative inexperience, but Skyfall introduces him as a more matured agent driven by Eve Moneypenny's stated ethos of "sometimes the old ways are the best."
Craig makes his on-screen re-introduction during an action sequence that may have featured a polo shirt in the first two films, but he's now dressed in the quintessential Bond image: a tailored suit, subdued tie, well-shined black shoes, and prestigious watch—an Omega, of course. The cloth is a black-and-white sharkskin that presents as a gray semi-solid, recalling 007's suit for his last mission to Istanbul in From Russia With Love. His crisp white shirt has French cuffs and a tab collar—a new style for Bond but consistent with the mid-century fashions that made their return thanks to the slick ad execs on Mad Men.
Bond Checks His Cuff In Skyfall's Train Chase Sequence
In accordance with the experienced, suit-wearing Bond we all know, Craig reportedly improvised a favorite fan-service moment when he leaps into the carriage of a half-destroyed train and—before continuing with the scene—takes a second to adjust his shirt cuffs.
Peacoat, White Shirt, Sweater, and Tie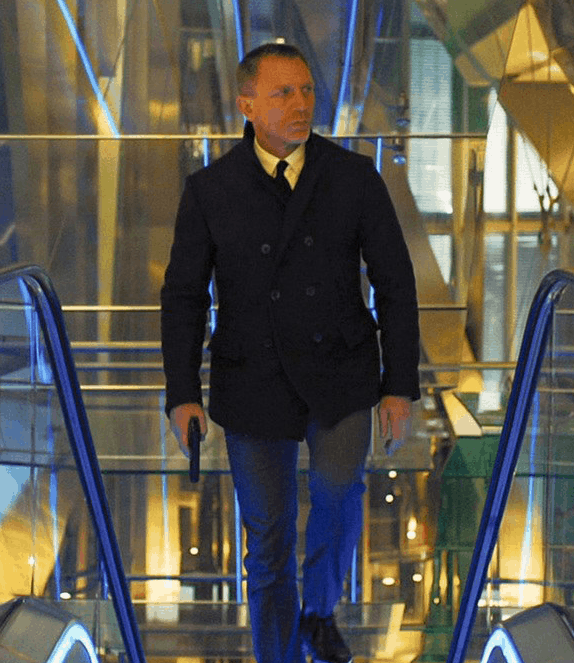 Bond blended sleek style into his disguise as a chauffeur at the Shanghai airport, dressed monochromatically in a white T-shirt, slim black tie, black V-neck John Smedley sweater, and gray woven trousers under his navy Billy Reid peacoat. Casino Royale had "soft launched" several staples of the Craig-Bond wardrobe, including a pea jacket worn during the black-and-white assassination in Prague, but this sequence in Skyfall marked the first time any Bond had so prominently worn this style of coat.
It could be argued that it was long overdue for Commander Bond, a Royal Navy officer and man of action, to pull on this short, heavy wool double-breasted reefer jacket that had originated among sailors. Made in Portugal by the English fashion house Billy Reid, Craig's screen-worn jacket is a more fashionably evolved evolution of the classic naval coat, with details like leather trim and peaked lapels. The hand pockets offer Mr. Bond convenient storage for his Dents black leather gloves as well as his palm print-activated Walther PPK/S.
Waxed Barbour Jacket
Skyfall explores Bond's origins more than any preceding film in the franchise, making it appropriate that he would don a classic British heritage brand like Barbour following his and M's arrival at the family's Skyfall estate in the Scottish Highlands.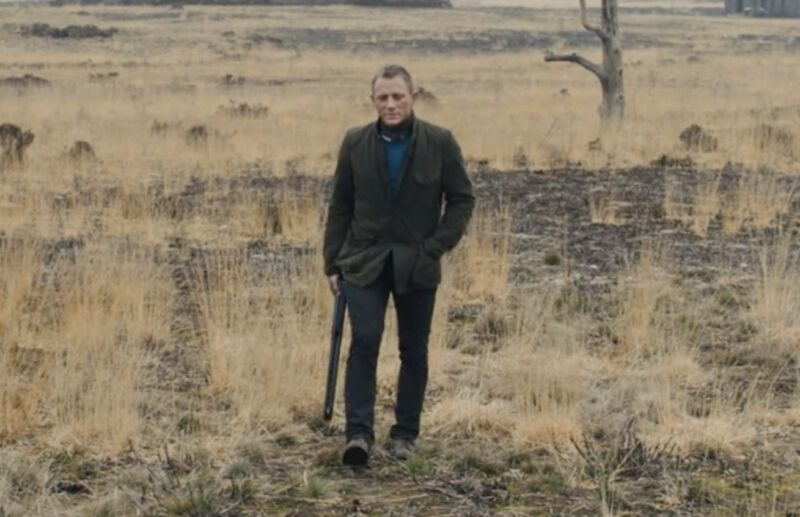 Marketed as the X To Ki To Beacon Heritage Sports Jacket but modified for Craig to wear on screen, this Barbour jacket has an olive waxed cotton shell and Barbour's signature tartan lining inside. Despite the addition of traditional sporting functionality like the throat latch buttons and rear zip-entry poacher's pocket across the back, the jacket effectively resembles a single-breasted sports coat with its three-button front, breast pocket, and flapped hip pockets.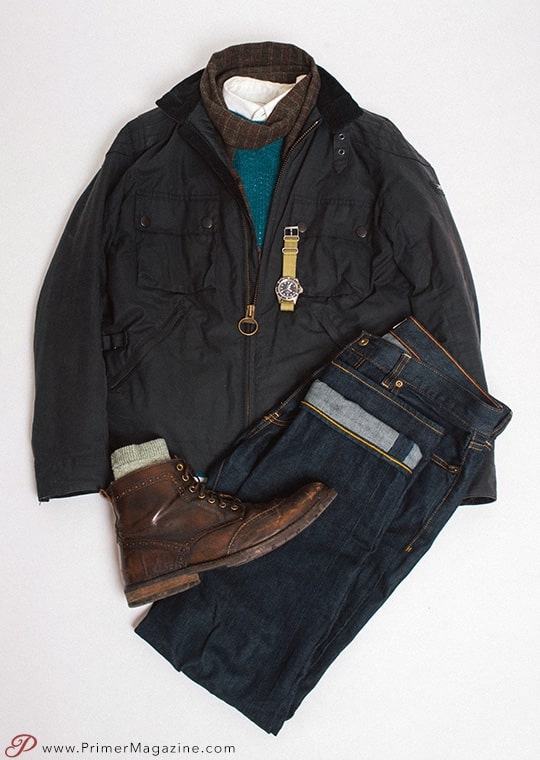 One of the easier Bond outfits for a regular non Double 0 guy to pull off, Primer contributor Chris Scott recreated the style in Casual Style Inspired by Daniel Craig's James Bond
Bond fashionably affects the look of a traditional sportsman under his Barbour jacket, layering a soft teal-blue cashmere N.Peal sweater over a white henley shirt with dark brown corduroy trousers, Crockett & Jones wingtip boots, and a rakish but functional and effective brown scarf to complete the look.
Spectre (2015)
Costume design by Jany Temime
Black Three-Piece Funeral Suit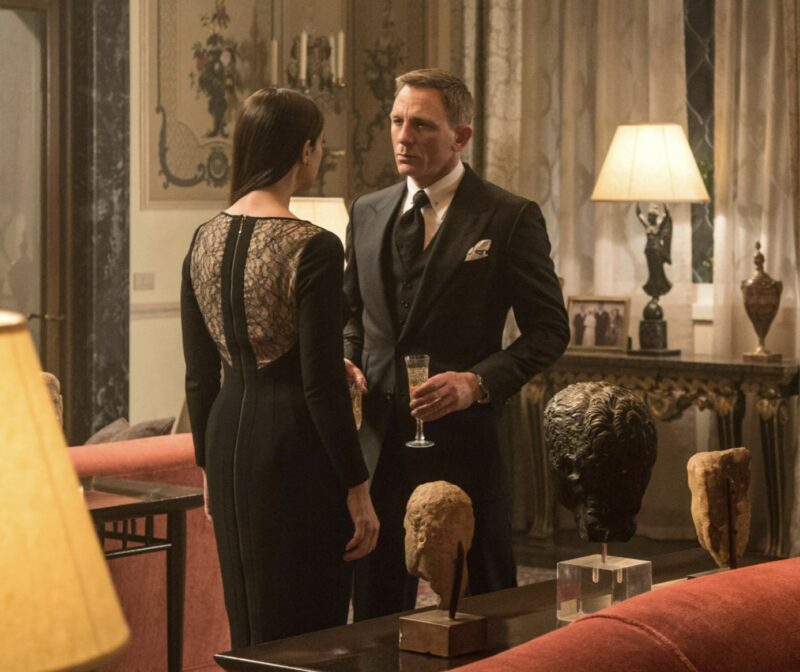 As Primer has illustrated, black suits should rarely be considered when a gentleman's contemplating his next suit purchase. However, when you've got MI6's seemingly limited sartorial budget and the task ahead is to fit in with Italian gangsters at a funeral..?
Bond arrives in style at SPECTRE agent Marco Sciarra's funeral in Rome, behind the wheel of a sleek but experimental Aston Martin DB10 and swathed in layers of uncharacteristic black. The top layer is a military-informed double-breasted greatcoat which, with the dark Tom Ford sunglasses and black leather Dents gloves, gives Bond the look of deadly efficiency. For his visit to Sciarra's widow Lucia, he peels off the coat to reveal a three-piece suit, also all-black, a Tom Ford "Windsor" model that recalls more dramatically styled tailoring of the 1930s and '40s, such as the single-breasted jacket's dramatic silhouette with its heavily built shoulders and wide peak lapels. Black suits are rarely a necessity in a man's wardrobe, but Bond can be granted an exception for both making the contextually appropriate choice of wearing his for a funeral (while essentially playing a character) as well as choosing a more interesting fabric with its herringbone weave.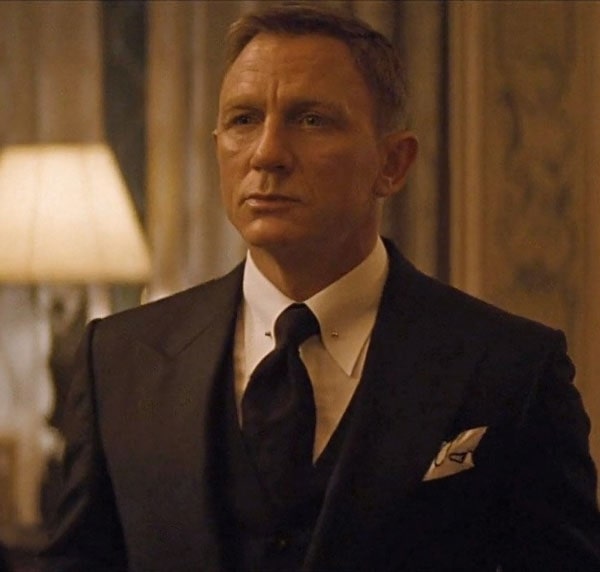 Shirt Collar Types: Primer's Complete Visual Guide
Detailed with the cocktail cuffs that remind us of Sean Connery's distinctive shirts, the white shirt introduces the pinned collar for its one-time appearance worn by 007, though it's appropriate that he only wears this relatively fussy collar as part of a disguise and not part of his regular wardrobe. The cuffs aren't the only Connery connection, as Sir Sean was the only other Bond actor to wear an all-black suit that wasn't a tuxedo—again for a disguise at a gangster's funeral—when he wore a black three-piece suit to a Las Vegas crematorium in Diamonds are Forever.
Tan Suede Jacket and Navy Polo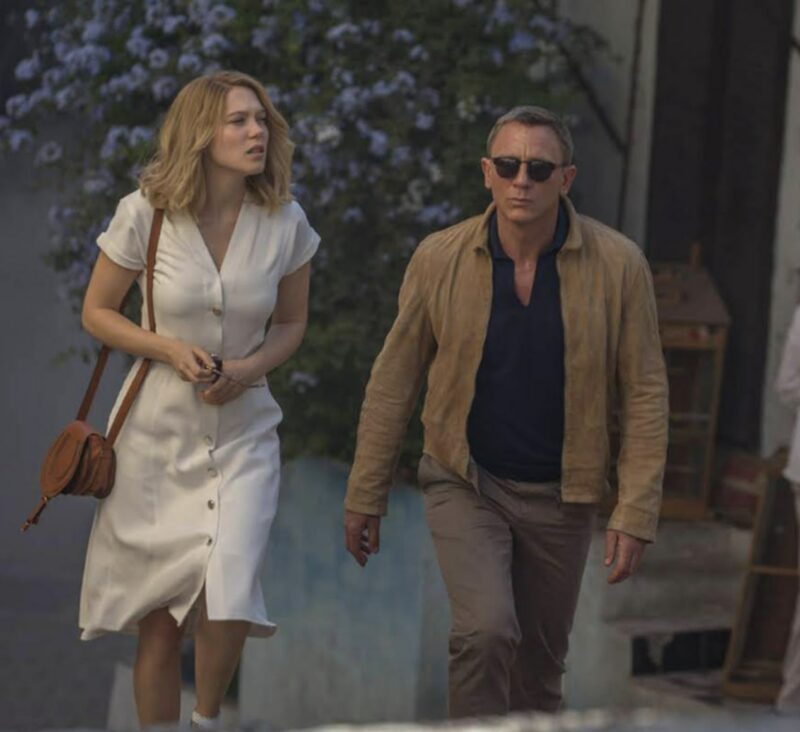 Craig's Bond gave his signature navy polo shirts a noteworthy send-off when arriving in Morocco with Madeleine Swann (Léa Seydoux), sporting a simple but flattering dark blue short-sleeved shirt with a "Johnny collar," a fixed V-shaped neckline with a collar but no buttons to close the placket.
The navy Tom Ford polo adds a nice touch of color to the outfit, which otherwise blends in with his sandy surroundings. His tan suede zip-up jacket was made for Spectre by Matchless London, one of the oldest British motorcycle companies, who capitalized on its sartorial association by producing a commercial version of what would be marketed as the "Craig Blouson".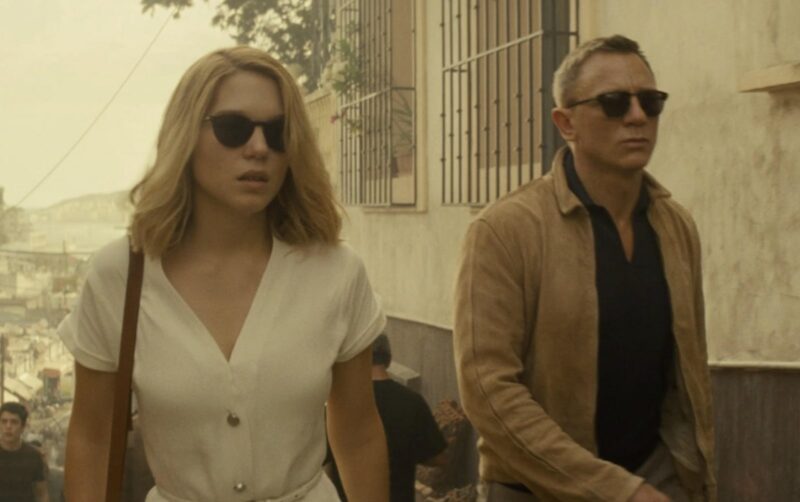 Bond wears light taupe cotton gabardine chino trousers by Brunello Cucinelli, known to be an oft-worn brand favored by Craig off-screen as well. He makes good use of these trousers, wearing them again with a low-contrast light brown linen sports coat and tie once and Madeleine arrive at their next stop. He holds these trousers up with a brown woven leather belt—also by Brunello Cucinelli—which coordinates to the shade of his sueded J. Crew Kenton lace-up boots.
The look could be considered a 21st-century update of Bond's attire from the last time 007 was in Tangier, when Timothy Dalton dressed in a beige bomber-style jacket, navy long-placket polo, pleated khakis, and boat shoes for an action sequence in The Living Daylights.
Dark Suede Racer and Mockneck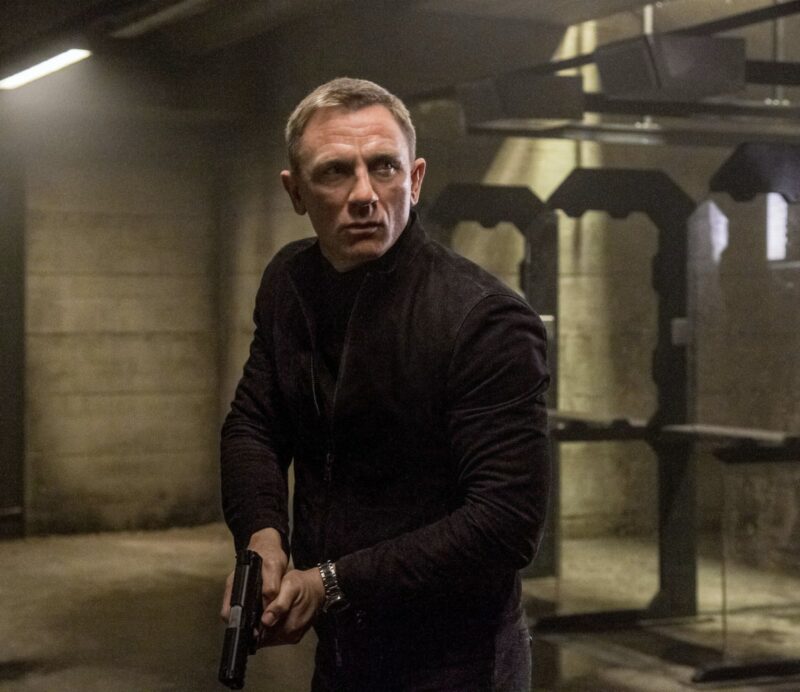 For the action-packed finale of Spectre, Daniel Craig's Bond incorporated the heritage styles from the Bond series and beyond.
Under his tight dark navy goat suede John Varvatos racer-style jacket, he wears a charcoal mockneck from frequent Bond brand N.Peal, featured in much of the film's promotional artwork with a dark brown leather shoulder holster for the famous Walther PPK. The look suggests both Roger Moore's tight black turtleneck worn with a shoulder holster in Live and Let Die and the famous look from Bullitt, starring Craig's oft-cited sartorial antecedent Steve McQueen.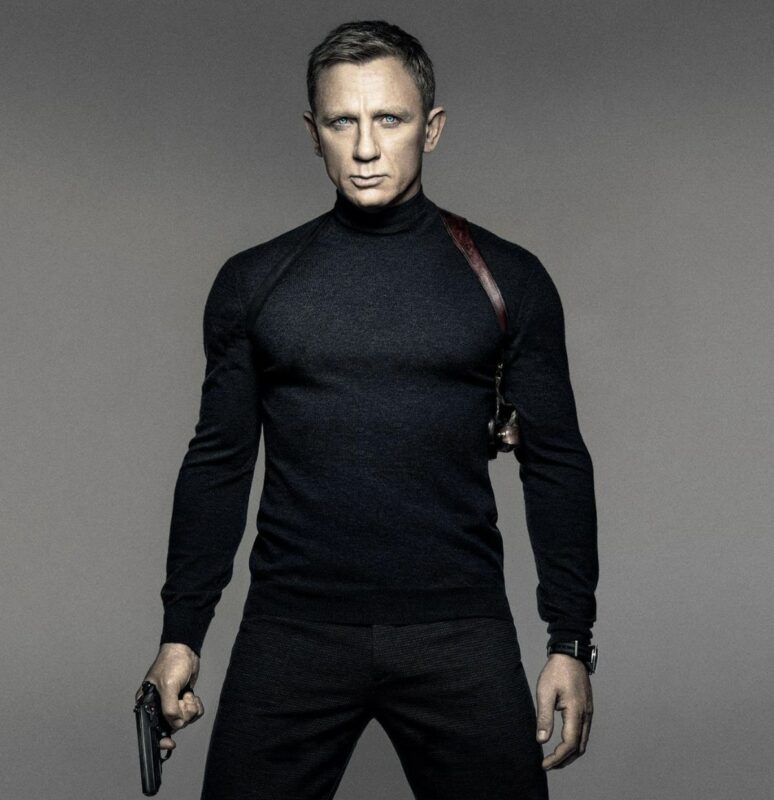 Having presumably "matured" beyond the jeans and jean-type trousers he wore for action sequences in Casino Royale and Quantum of Solace, Bond wears a pair of gray-on-black micro-ticked Neil Barrett trousers. In yet another nod to McQueen's style, Bond wears brown suede crepe-soled chukka boots by Sanders & Sanders, an update of the "playboy boots" that the King of Cool had famously worn on- and off-screen throughout the '60s.
No Time to Die (2021)
Costume design by Suttirat Anne Larlarb
Tan Corduroy Suit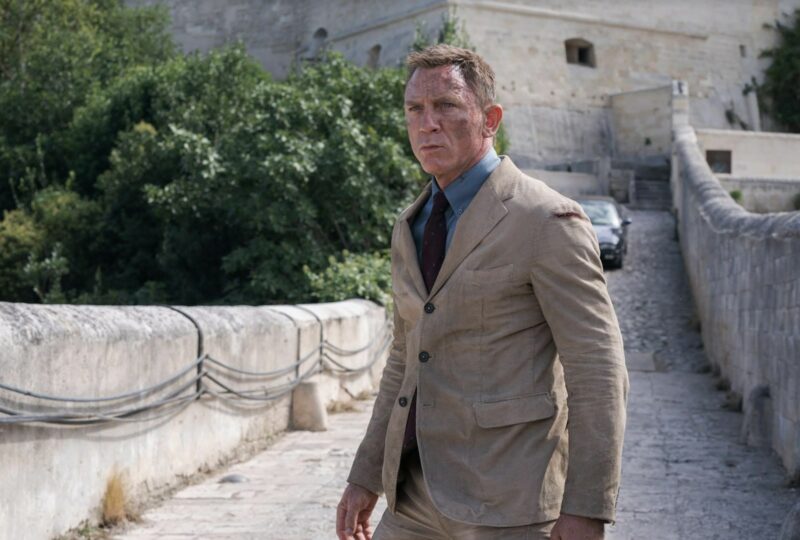 There's certainly nothing unexpected about seeing James Bond in a suit… until you realize the suit is made from corduroy. No Time to Die begins with us seeing the agent in retirement, no longer dressing for business in London or globe-trotting for various missions. Indeed, Bond has little reason to expect that his day in Matera will include any more than visiting Vesper Lynd's grave—recalling Ian Fleming describing Bond's annual pilgrimage to the crypt in the novel On Her Majesty's Secret Service.
Of course, some SPECTRE thugs didn't get the message and transform Bond's mournful visit into an exciting chase that brings out that familiar gadget-laden Aston Martin DB5.
Featured in Bond's first action scene in No Time to Die, the corduroy suit gets plenty of screen time and was also featured in many promotional photos that allowed sharp-eyed Bond fans to quickly identify the Massimo Alba "Sloop Suit" as well as his burgundy "Avery" necktie from Alexander Olch, his brown suede Drake's moc-toe chukka boots, the dove-gray Albert Thurston suspenders, and the rich blue button-down oxford shirt from Brunello Cucinelli, a Craig-favorite brand that had also appeared in Spectre.
More Massimo Alba corduroy would appear in No Time to Die, like Bond's long olive duster coat and the needlecord trousers he wears with it, but my favorite remains this suit that continues the cinematic Bond's tradition of wearing tan suits while in warmer climates, with the corduroy texture adding a sporty rumple that suggests a touch of Ivy and even recalls Robert Redford's corduroy-clad crusading journalist in All the President's Men.
Waxed Garage Jacket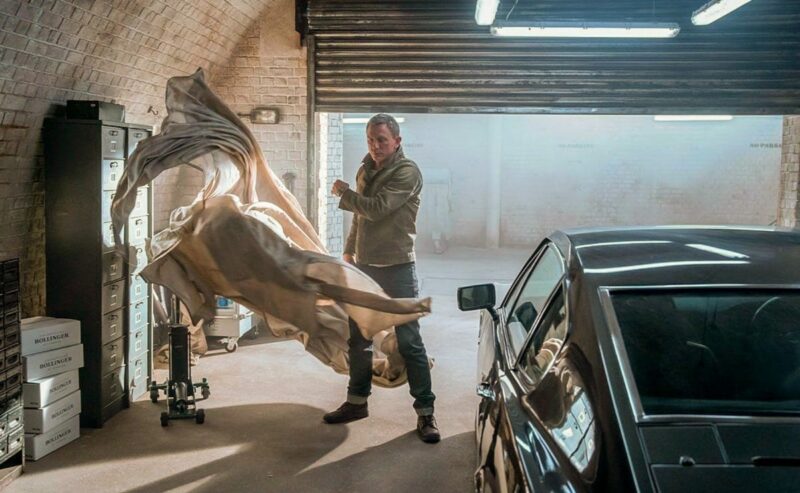 Cut like a trucker jacket but made from a tan weather-resistant waxed cotton, the lightweight Ridgeline Supply Jacket by Rogue Territory (RGT) has quickly become one of the most popular pieces from No Time to Die due to its practicality, affordability, and style. Over the last year, celebrities ranging from Ryan Reynolds to Mae Whitman have been spotted wearing it in various productions, but it was arguably its use in a Bond movie—one of the most sartorially scrutinized franchises of all time—that put the RGT jacket on the map.
It speaks volumes to the RGT's reputation and quality that it remains such a hot item even after viewers may have been dismayed to see it only appear for a few seconds on screen, during a brief but effective vignette in which Bond uncovers his 1985 Aston Martin V8. The rest of the outfit is surprisingly simple, but consistent with the now-retired Bond's approach to dressing: a plain white T-shirt, dark jeans, and work boots.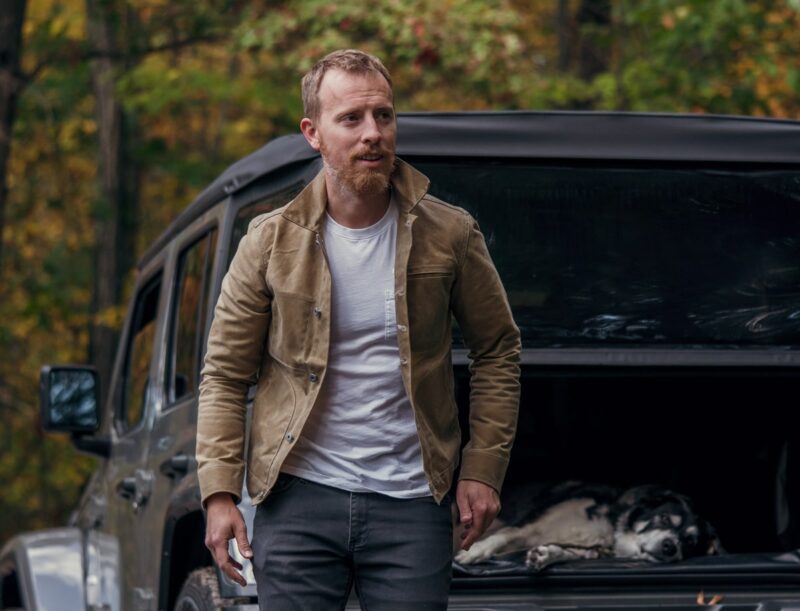 This certainly wasn't the first time a Bond actor in his 50s dressed in casual-wear (think Roger Moore's cringe-worthy velour tracksuit in A View to a Kill!), but Larlarb wisely selected more timeless items that suit Craig's weathered but still active characterization. Though different in its ultimate execution, Craig's outfit also reminded me of a car-related scene in another noteworthy famous finale, when Don Draper steps out of a 1970 Chevelle he'd been test-driving in the last episode of Mad Men, dressed in head-to-toe Levi's denim with a dirty white T and work boots.
Read more about Primer's firsthand experience with the RGT jacket.
Navy Commando Sweater
Bond's navy wool sweater and trousers had been heavily featured in No Time to Die's promotional materials, an appropriate choice given its prominence during the final act as Bond assaults the villain's lair. We see him building the outfit, donning the sweater, trousers, and suspenders—all by N.Peal—over the white long-sleeved henley he had worn under that controversial corduroy duster for his arrival in Norway, not unlike the blue crew-neck sweater he had worn over a henley with his Barbour jacket during a similarly climactic scene in Skyfall, described earlier.
With its patches on the shoulders and elbows as well as the drawstring to tighten the wide boat neck, this navy ribbed wool sweater was inspired by classic military styles, specifically the "wooly pully" issued to militaries on both sides of the pond. It's fitting to see Commander Bond in military heritage wear, particularly given the tactical nature of his mission and No Time to Die's greater focus on his Royal Navy rank and affiliations.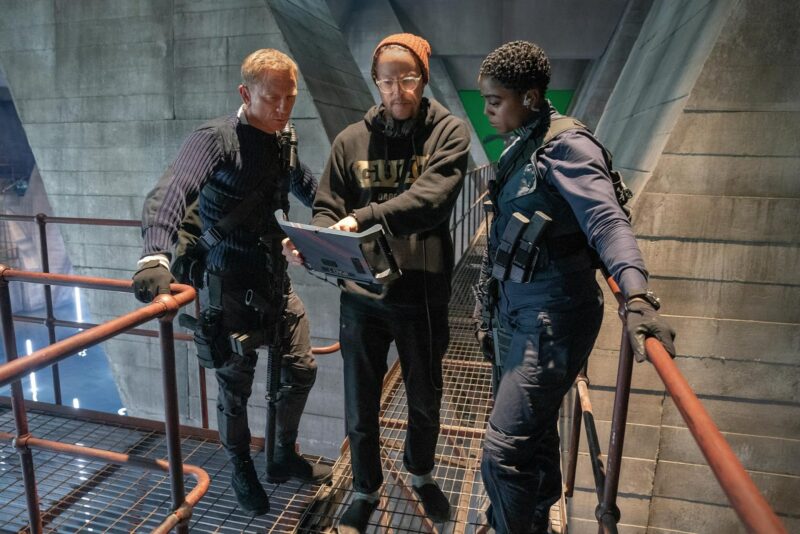 Completing the commando look for his mission, Bond wears a pair of dark gray cotton combat trousers, rigged with plenty of straps, flaps, snaps, and pockets and held up by a set of gray suspenders. As you may expect for a look like this, Bond wears a pair of heavy-duty lace-up tactical boots, made for stealth and resilience by Danner with uppers constructed from hard-wearing leather and nylon.
Read more about the influence of military styles on menswear.
What was your favorite outfit from Daniel Craig's movies as James Bond? Share in the comments!
Read more Bond: