A reasonable, "classic" cut for fuller cut times.
There is strength and safety in standard. Neither flashy or boring. Standard is when tech innovators like Steve Jobs, hard-working miners and ranchers, pop culture icons like Marilyn Monroe and Kurt Cobain, American presidents, and kids at recess are all wearing the same denim model for 149 years. The Levi's 501, while changing with the world around it, has always been there – not always as the on-trend pull – but an icon that never lost respect.
Before now, the last time I bought Levi's 501 jeans was in 2012 when I did Primer's tutorial on the original unsanforized Shrink to Fit model. Since then I've preferred (and still do) jeans with a slimmer leg opening and a taper from the knee down. But there's no denying that in the wake of the comfort-prioritizing WFH era, and Gen Z continuing the fashion cycle by returning to silhouettes of the 90s, fuller cut jeans have reemerged.
I first touched on this in a reader Q&A video:
And I stick to it: I think if you're the kind of guy who reads Primer, that is, a guy who understands the power of how you present yourself, have a desire to appear knowledgeable and competent, and insist on a smart casual wardrobe that is predominantly interchangeable, then you're going to be wearing slim or tapered jeans well into the future. But with changing trends, we're provided the opportunity not just to shift or adopt but to incorporate, giving us more choices. More choices for the types of looks we can create and more choices for the type of person we want to show up as to varying parts of our lives. You can be both a leather jacket guy and navy sportcoat guy. You can be a refined slim, dark denim guy and a casual lightwash straight leg guy.
For me, I found myself in this strange middle land of wanting to experiment with a fuller cut jean, like I mentioned in the video, but in a way that made sense to me and my desire to leave my 10th grade style choices firmly in the past. There is also the concern of practicality with finding a fuller cut jean that is still wearable with a bulk of my wardrobe.
Enter: The Levi's 501
Few companies are still in existence that get to lay claim to being the "original" of the thing they make. Levi's is one of those companies. In 1873, Levi Strauss and Jacob Davis were granted a patent to put rivets on the strain points of work pants. Miners, unsurprisingly need tough pants (or waist overalls as they were known at the time), and the riveted denim work pant quickly became an easy buy.
In 1915 Strauss partnered with the famous but now shuttered American-made Cone Denim. Denim jeans were an essential part of the war effort during World War II, and in the decades following, the 501 took hold in pop culture. Brando, Monroe, Einstein, Dean, Springsteen, Clooney, Depp, and countless, countless others have continually solidified the standard status of the 501.
That's not to say the jeans 19th century miners and James Dean wore are the same 501s you can buy today. The material and finish has changed over the years, as well as almost all production being slowly shifted internationally by the early 2000s, evolving into a ready off-the-rack everyday staple; a long way from the thick and stiff work pants designed to survive tough labor during the California summers inside an 1870s mine shaft. That's for better or worse, depending on where you fall on the comfort-heritage-price matrix.
But more importantly, and perhaps surprisingly, the cut and details of the Levi's 501 regularly get modified to stay relevant with the fashion preferences of the day. Denim gets thicker or finer, legs get moderately slimmed or loosened, available washes come and go.
And in that lies the appeal of the 501: Its defined "straight fit" can act more as a reference marker regardless of the trend cycle you find yourself in. Sometimes you desire something that looks and is made the same way it was a hundred years ago like a pair of Red Wing boots and sometimes you want that thing to slowly change with the times so you don't have to keep up on what those changes are. The 501 has the unique status of being both a safe starting point without being shamed as boring by the fashion elite.
Getting Used to 501's Fuller Cut
Even with that romantic pitch, pulling on my first pair of straight leg 501s for the first time in 11 years was not some a-ha moment like I just found the perfect-fitting vintage leather jacket at a flea market. My first thought was, "shit, these jeans are baggy," and they sat, unreturned for some reason, on a shelf for months.
It wasn't until I stumbled across them while cleaning up, at first annoyed that I was well passed the return window, that I gave them a second chance. This time I instinctually cuffed them, because a standard inseam is always too long, and saw them in a new light. It isn't the room of a fuller cut I don't like, it's the baggy silhouette caused by wider legs with too much break at the bottom. While cuffed to create a no-break look, I was surprised to think, "well these aren't really all that wide at all."
See how more streamlined a wider pair of jeans looks when cuffed or hemmed with a minimal break versus when allowed to bunch on top of your shoes:
And then a funny thing happened. I wore them as a default pull everyday for like a week and a half. Because like the rest of you, the last three years of WFH has caused me to reprioritize comfort and ease of motion. Have you had that experience where you pull on a slimmer pair of pants and for a few moments they feel restrictive until you get used to it, only because you've been wearing joggers for the last 15 hours? I found myself pulling for the straight fit 501s simply because subconsciously they were more comfortable to poke around the house.
A More Casual Style
The cuffed, no-break pant leg let me have the put-together style that feels congruent with my preferences, but, at least at this stage, straight leg jeans still fall more casually than a tapered jean does. But I have awesome distressed t-shirts that can't be dressed up and I have sharp button up shirts that can't be dressed down – I can have a pair of jeans that are only on the casual side of the smart casual spectrum. Especially if it's an experiment in transition and a realization of comfort.
Perhaps cuffing is an illusion, since it does provide it's own sense of tapering, so I'll be curious to see how I feel after I get a pair of 501s hemmed with a quarter to no break. Until then, these lightwash jeans are an easy pull as we head into spring.
Levi's 501 Measurements
I ordered a 32×29 and I'd say they're true to size, though in some other brands like Goodthreads, a 29 generally requires less of a cuff for my break preference.
Leg opening 16"
Knee 16"
Thigh 22"
Inseam 29"
Waist 33"
Rise 12"
Levi's 501 Details & Alternatives
Shown in the photos: Levi's 501 in Unleaded – Medium indigo
Beyond the straight fit, the other two factors that differentiate the 501 from other Levi's options is the rise and the fly. The 501 has a mid-rise that is supposed to sit higher on the waist. Mine fall about 2 inches below my belly button. Wearing mid or higher rise jeans lower on your waist will create that baggy loose fit look I'm trying to avoid. The 501 has the original button fly, which I like on a casual pair of jeans because I find that it lays differently – less flat and streamlined.
If you'd prefer a zipper fly, the Levi's 505 was introduced in 1967 which also features slightly more room in the thigh. The 505 has its own unique history thanks in part to the era it was released, being worn on the album covers by acts like The Rolling Stones and The Ramones, though those jeans appear to have a slimmer fit.
Buck Mason's "Ford Standard Fit" seems to be directly inspired by the 501 and is made of Japanese denim. Some of the brand's jeans are/were made in the US but their website doesn't clearly specify which.
Flint & Tinder's Deadstock Straight Fit is cut and sewn in Los Angeles from deadstock Japanese denim.
If you like the vibe but just cannot deal with the 16" leg opening, the Levi's 502 is a similar jean with a tapered leg opening. For other combinations, check out the Levi's fit number decoder guide.
Used Vintage Levi's 501
Pre-2000's Levi's 501 have a cult-like following among denim aficionados. With different fits, washes, details, quality, and availability of US-made options, many dedicated denim fans eschew buying new 501s. They feature natural wear which they prefer to the artificial distressing found on new jeans and they easily argue the sustainability benefits of continuing the life of a pair that already exists.
Buying vintage clothing requires interest, patience, and a time commitment but some find it incredibly rewarding. I've never gotten into it myself beyond the few vintage jacket pickups I've come across. The number one thing people always say when buying vintage is go by current garment measurements and not what's on the tag, due to the possibility of alterations, shrinking or loosening, or unexpected sizing from a different era. For more, sites like Heddels are a good resource.
Levi's 501 Pros & Cons
Pros:
A generally trend agnostic fit that slowly morphs with the times
Long history and cultural relevance
A comfortable straight fit
Soft washes with stretch available
Lots of waist-inseam-wash combinations for people of many different sizes and shapes
Under $60
Readily available on Amazon, Levi's site, department stores, Kohls, and now available in Target
Cons:
Levi's has an online reputation of inconsistent sizing thought to be caused by the number of different factories around the world that produce them.
Some believe Levi's purchased at different types of retailers are of a different quality but this appears to be an internet myth. A Reddit user provided some context awhile ago, and this belief is likely more the result of different production locations versus an intentional shift in product. To clarify, Levi's does have different lines of products, such as Signature and Denizen which was/is previously found in places like Wal-mart and Target respectively, as well as their Made & Crafted and Premium options. The claim is that a regular pair of Levi's 501 could be an intentionally less well-made pair if bought at a budget retailer. Again, that seems to be a myth.
On top of the straighter fit, the addition of the famous back pocket stitching and iconic bright copper rivets also insist on a more casual aesthetic.
Beyond the myriad other 5xx models Levi's offers with different fit options, they also release things like Levi's 501 Slim Taper which would seem to confuse the whole point of the naming convention. When I get my time machine back from the shop, I'm going to suggest to Mr. Strauss that the numbering system should be more similar to the BMW badging system, in which the first number indicates vehicle size and the second set of numbers indicate the displacement of the engine. How useful would it be if a "Levi's 501" style of model number indicated various fit and style attributes.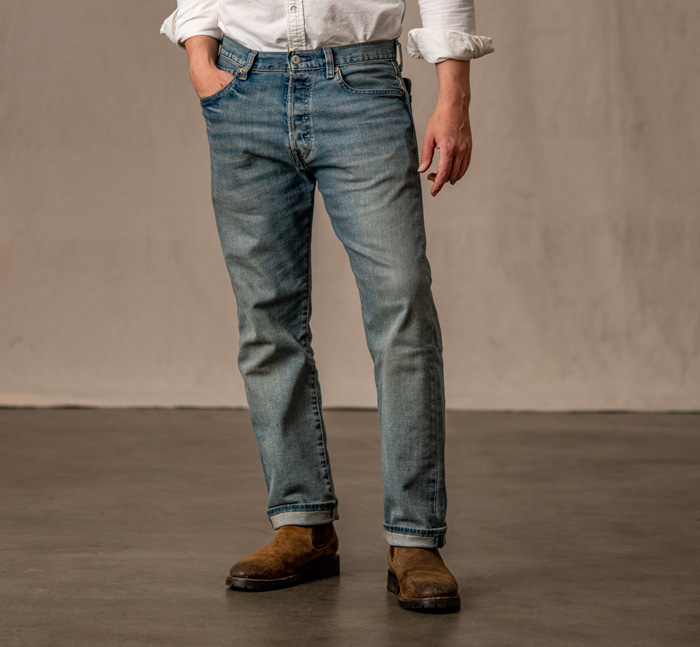 Where to Buy Levi's 501
What are your thoughts on the Levi's 501 and fuller fit trend? Let's chat in the comments below!