Which is more your style?
If you're like me, you still find yourself in this weird middle ground. I'm seeing more people, doing more things, than I had been. But for a holiday season, the social calendar is much, much more manageable than pre-2020.
It's a mix of casual, smart casual, holiday casual, and maybe a sprinkle of business casual things. Work. Seeing friends. Small holiday gatherings. The like.
With a disparate set of people in attendance, there's no reason to re-invent the wheel every time. The following two styles are the perfect blend of casual and purposeful; holiday-appropriate without being comical; and refined but utilitarian.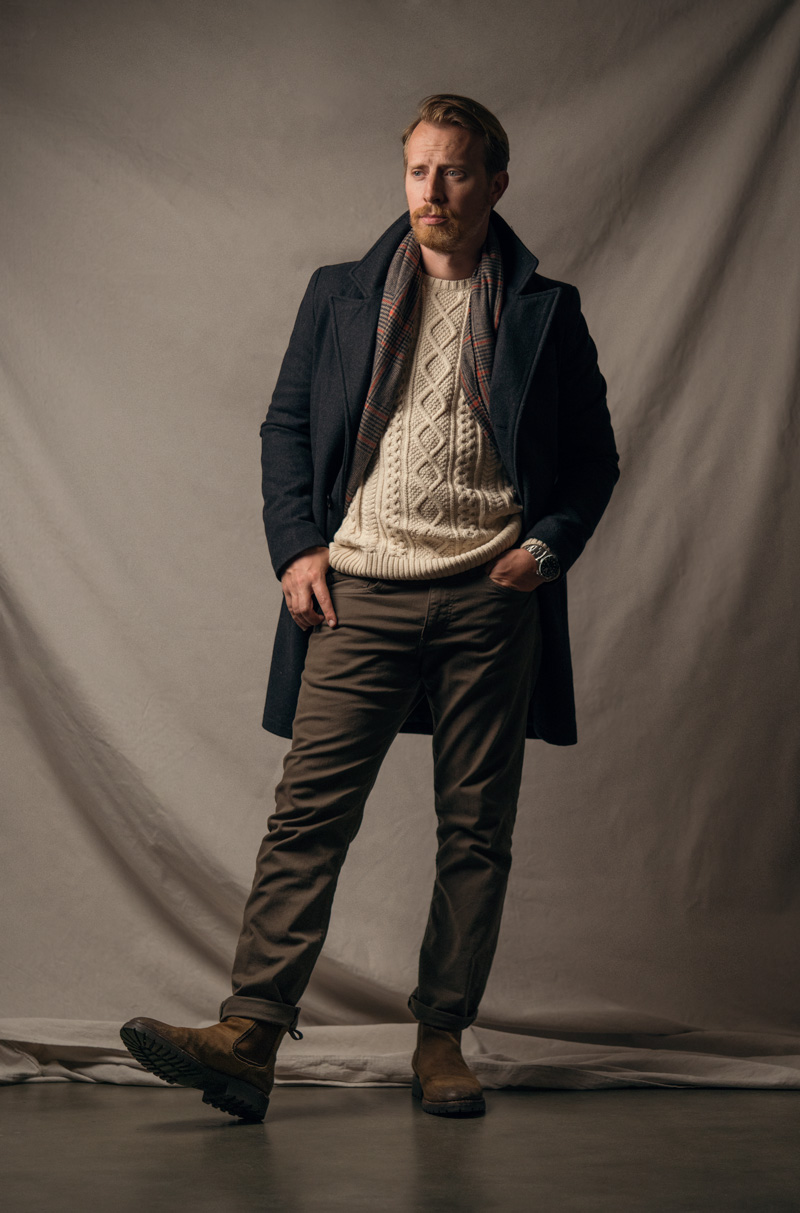 Going to a small get-together at a friend's house? Doing a holiday dinner at a restaurant? Look sharp and feel comfortable as you head into the blowing snow.
This Getup emphasizes an essential aspect of smart casual: Mixing not only dressier and casual elements together, but more traditional with modern.
The topcoat, cable knit sweater, and plaid scarf are all things men have been wearing for over a hundred years. Combine with jean-cut twill trousers in a tapered fit with chunky soled burnished suede Chelsea boots and you're the considered balance of tradition and trend.
Working with a colleague at a cafe for a break from WFH? Or you're meeting your partner's friends and you're not sure how dressed up to be? This brighter style is safe and stylish.
Thanks to fuller cuts becoming mainstream and commonplace, this outfit is somehow both reserved and trend forward. The shirt jacket is almost like a thinner, single-breasted pea coat – perhaps it's the post-2020 answer to the blazer. Comfortable, warm, put-together. Layer a coat overtop as needed for local conditions.
These "ankle cut" corduroy pants from Uniqlo make trying the wider pant style easy. They're inseam is cut to offer no pant break: An essential attribute to distinguish between of-the-moment full cut pants and the baggier, relaxed fit pants common with Dads of yore. Corduroy is such a great fabric that adds texture to any style. Plus, it's warm too.
Swap the Oxford shirt for a plain, colorful t-shirt for a more casual style. Pale yellows, reds, and teals would look sharp.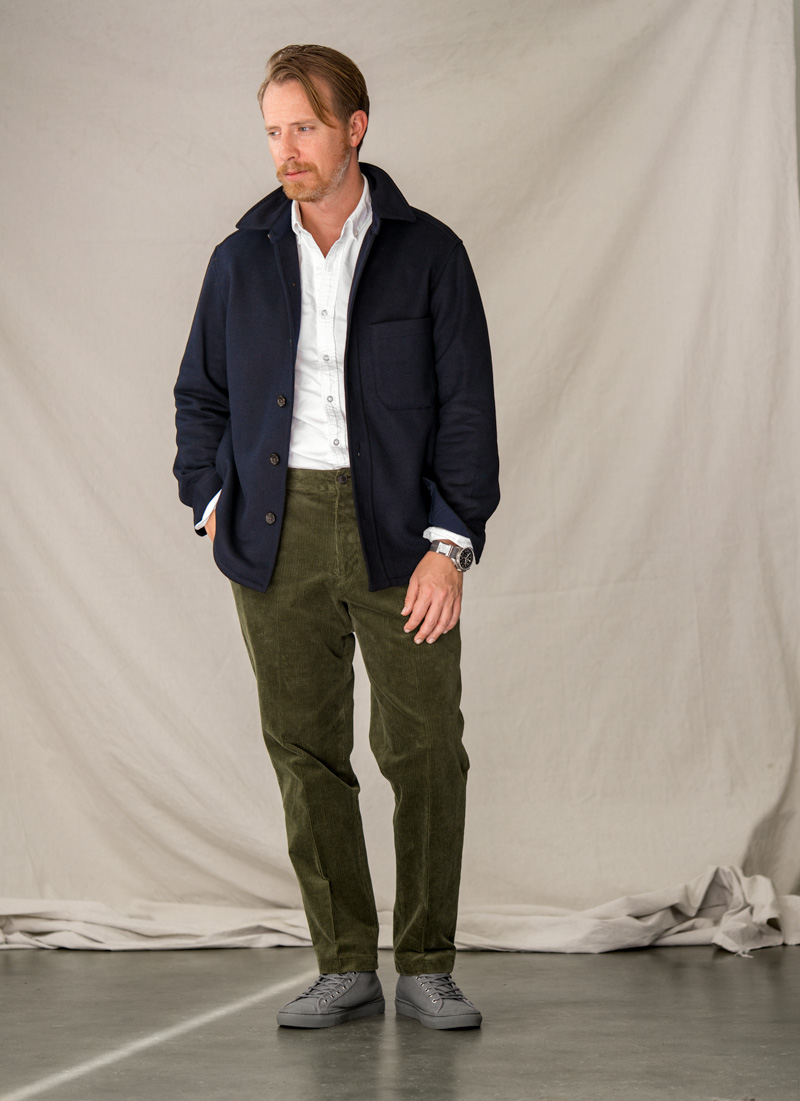 But the outfit is actually solidified with the monochrome hightop sneakers from Nothing New. It grounds the whole look – made of looser fit traditional menswear items – well within the current moment. And it feels cohesive not contrasting.
The one thing that both of these outfits have in common is the footwear: Both the chunky suede Chelsea boots and the monochromatic high tops provide the looks a modern edge.
Thanks to the boot scale, the Chelseas add a bit of rugged refinement, dressing down the topcoat and de-Grandma-ing the chunky knit sweater. The ruggedness of the boots enhances the rugged qualities of the topcoat which has a military origin, and the Irish outdoorsman history of the sweater, counterbalancing whatever other connotations they may also have picked up.
If you've been following Primer over the last year, you already know the chunky Chelsea has become a mainstay for me. It's easy to slip on and off when having to run outside while working from home and is super comfy too.
They have the all-weather toughness of work boots with the refinement of a dressier style. These from Thursday Boots are made of waxed WeatherSafe suede, Goodyear welted with a StormKing rubber outsoles, meaning they'll hold up to the snow and slush of winter. Try that with a thin, leather-soled Chelsea. (Don't actually try that.)
For days requiring less treking through a winter wonderland, Nothing New's high top is more than just a sexy, sleek take on the canvas sneaker. Founded by some of the same folks who started Thursday Boots, and true to their name, Nothing New repurposes 5.6 plastic bottles per pair. Uppers and laces made of recycled plastic, outsoles born from recycled rubber and recycled cork, heel counters made from recycled post-industrial fishing nets. Hell, even the labels are 100% recycled.
But these aren't some do-good sneaker that will begin crumbling with wear: They're assembled with true stitch construction instead of the cement many cheap shoes are made with.
To cap it all off, when you're done with them, you can send them back to Nothing New and they'll recycle them into new sneakers.
Did you like these Getups? Chat with me in the comments!