Getting the perfect fit right off the rack is like winning the lottery. Whether you wear suits or selvedge denim, this guide demystifies the process of tailoring and alterations.
When I was in ninth grade, I went to my first homecoming dance. Two weeks before the dance, I had a date, an appointment for a fresh cut, and a corsage on order from the local florist. What I didn't have was a suit. My dad took me to a small men's shop in the city, and we found a wool, charcoal suit that was almost small enough to fit my hundred-pound frame, and then he took me to meet Sandy: the tailor.
Sandy worked at the dry cleaner. He was a small man, not much bigger than I was at the time, and he was about 127 years old, give or take, but he still had rock-steady hands and a lighthearted sense of humor that shone through his raspy laugh.
I put on the suit, stepped on the stool, and Sandy went to work. His deft hands drew faint lines with his wedge of chalk, then he looked at my dad: "How's this for a nice subtle break?" My dad nodded, and Sandy nimbly slid in three pins before I could say yes or no. Sensing my confusion, Sandy stopped and pointed to wear the slacks met my shoe: "This is where your pants hit your shoe. See this crease coming down? When the pants hit the shoe, the crease breaks. We want a small break, like this." This was the beginning of my sartorial education.
Over the last twenty years I've gone to the same spot for all of my tailoring needs. Sandy's son and sister run the business now, and I'm thankful for the time I had to learn from him about the ins and outs and menswear. Whether it's getting a pair of work slacks hemmed, having an off-the-rack suit adjusted, or ordering a custom suit, you're going to need a tailor at some point. Here are a few lessons I learned along the way.
Things to Know Before You Go to the Tailor for the First time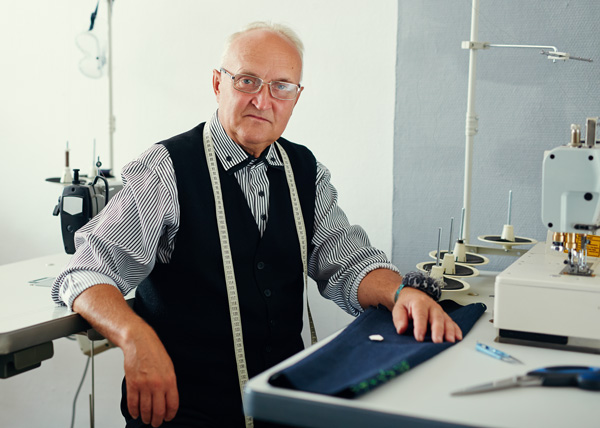 If You Want it, They Can Probably Do it
Before you head to the tailor, get an idea of what you want. Getting an off-the-rack suit adjusted? Grab some magazine clippings, save a few images from the web to your camera roll, and make a list of your priorities. Ask them to show you how the different breaks will look before they stick in the pins. Sleeve length, chest fit, they can adjust all of these.
Just because They Can, Doesn't Mean They Should
Listen to your tailor: He or she knows more than you do. They'll tell you what will convey timeless style vs. what's fashion-forward right now. They'll also tell you what they can't do; for example, it's nearly impossible to adjust the shoulders of a jacket for a reasonable cost.
Some years back, I found what I thought was a perfect navy blazer at a thrift shop (seven bucks!), and I took it to Sandy for adjustment. I asked him to bring the shoulders in a bit because it was just a hair too big. Sandy explained that this would require disassembling the whole jacket, and by the time he tallied up the job, he may as well just make me a custom piece. I gave the jacket to a friend.
New Tailor? Ask to See Some Work
There are probably a dozen tailors within a twenty-mile radius of where you live, and you only need one. If you're trying a tailor for the first time, it's not inappropriate to ask to see some of his or her work, even if you're only getting a pair of pants hemmed. Are the hems straight? Is the stitching subtle and consistent? Remember for you this is personal, but for them it's business. If you don't like what you see, thank them for their time, then tell them you're going to shop around a bit. You won't hurt anyone's feelings.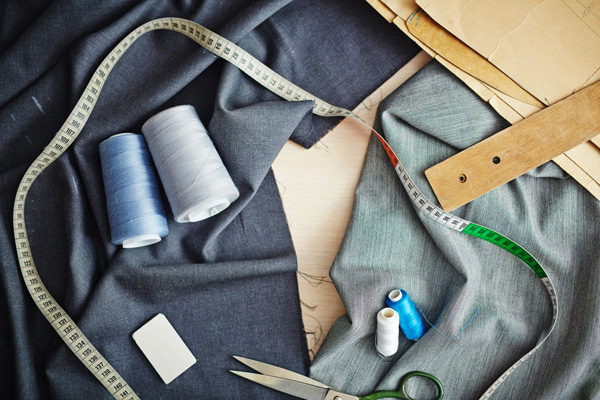 Your Weight Will Probably Change
I'm pretty much always around 160, but my weight fluctuates up down by five-to-eight pounds each year. Winter, I bulk up (which is a euphemism for, I eat more foods with gravy). Spring and summer, I slim down.
If you're like me, then you need to consider your weight when you get your jackets tailored. You want the body of your jacket to be form fitting without being tight. If you button your jacket, and the lapels start to buckle outward, it's too tight. If you're normally a 32 waist, then get your pants in a 32. Don't get the 31 or 30 because you plan on losing weight.
Set a Time Frame and Go Over the Order Together
A good tailor is busy and probably has a small team to take care of the everyday jobs like pant leg and shirt sleeve hems. If you're getting a minor adjustment, it shouldn't take more than a few days. If you're having a piece custom made, work out a reasonable completion date and have them write that date on your ticket.
Before you leave, review exactly what you need done, and make sure that's written down as well.
Years ago I took a sport coat to Sandy to have the sleeves shortened. The sleeves had functioning buttons, and I wanted the buttons to remain functioning after the adjustment. Sandy explained it would be a bit more expensive because in lieu of just sewing in a new hem, they'd have to cut the sleeves and create a new finished edge, and that might also mean moving one of the buttons and it's buttonhole.
I didn't care. At the end of the week I went to pick up the jacket, and someone had made a mistake. They'd rolled the sleeves, sewn them up, and rendered two of the sleeve buttons useless in the process. I looked at my bill, and all it said was "Adjust sleeve length." It happens, but I should've checked the bill before I left that day to make sure my specific instructions were on there.
How to Find a Good Tailor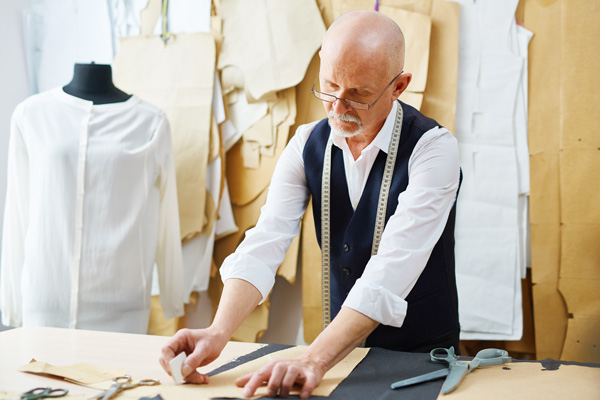 Much like finding a new dentist, you have 2 options for finding a new tailor: Referrals or research.
Referrals: Ask well-dressed guys in your friend group or office where they get alterations done. They'll most likely be excited to share what they've found, the way car guys talk about the reputations of service shops.
You can ask the sales associate of a local place you buy clothes if they have a tailor they use or recommend.
Research: Alternatively, you can head to Yelp and search for either tailors, or the specific alteration you need (e.g. suit alterations or original hem denim alterations). It's important to dive into the reviews and see what kind of alterations this type of place is used for. A seamstress who specializes in gown fittings may cost more or take longer for a simple job.
If you have a favorite pair of jeans that you want to get right and you don't have a tailor yet, see if your city has a denim-specific tailor or denim shop that does alterations.
Many Nordstrom locations also do alterations for reasonable prices and the clothing doesn't have to be purchased from them.
Once you've chosen a place, and if you have the time, take in a single shirt or pair of pants to have adjusted, so you can gauge whether or not you like their work.
A Beginner's Guide – What to Expect When Going to the Tailor for the First Time
Don't bring dirty clothes, but be careful taking brand new items. Wash and dry your new items, so they have a chance to shrink a bit, then see if they still need tailoring. Especially important with cheaper clothes.
If you're getting your hem adjusted on your pants, bring the shoes you will most likely wear with those pants. This is how you will most accurately measure for your desired break. (Explained below).
When the tailor pins the fabric in place, this is where they will cut and sew. Too baggy? Too long? Too short? Speak up now. You're the customer, and they'd rather know now if it's not what you want.
Browse Primer or other places to determine how you want your clothes to fit, so you can intelligently guide the tailor when they ask for confirmation after pinning. If you want pants with 0 break, you will likely need to reinforce this because most tailors are going to err on the side of a more conservative look. You can also show them the Primer photo.
Get your price in writing before you leave the shop.
If you have pants that fit perfectly and get a new pair of pants that needs to be tailored, take the perfect-fit pants with you to show as an example of the fit and length you want.
A week is reasonable for alterations. Any more than that is pushing it.
When you pick up your items, try them on again.
You don't need to tip your tailor, but a holiday card or gift is a nice touch.
If you're not pleased with the work, speak up before you leave the shop. If they offer to take another crack at it, and you don't need the item right now, let them fix it. If they try to explain why you should be happy, smile, nod, and go find a new tailor.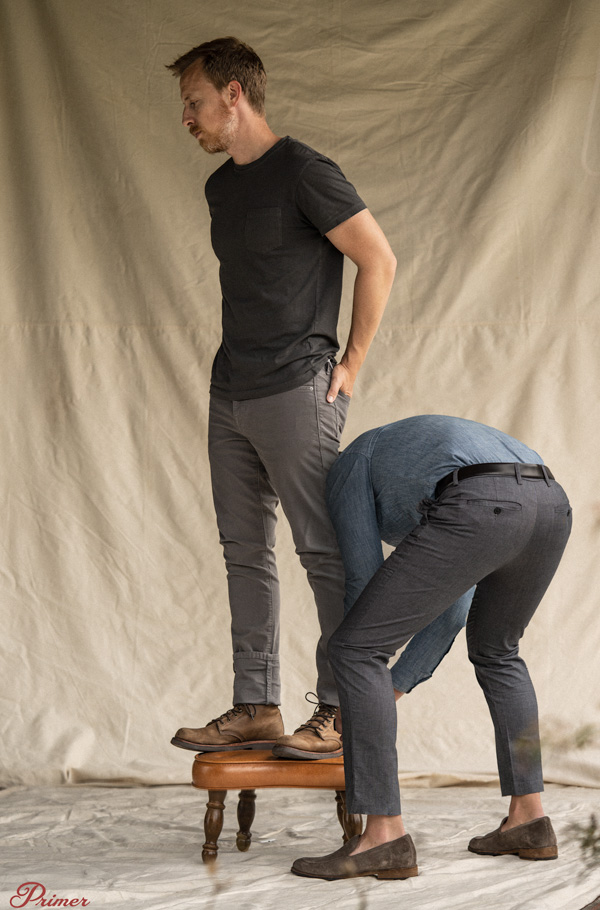 Common Alteration Terms to Know
Hem – To shorten the length of your pants or sleeves (keep in mind that with dress shirts, this often involves removing the cuff, so expect to pay a few more dollars).
Let it out – To release the hem a bit in order to allow for more length or girth.
Take it in – To tighten pants at the waist or a shirt or jacket around the chest (this usually involves removing fabric from the back).
Bring it up – To shorten the length of pants, jacket or overcoat.
Inseam – The seam from the crotch of your pants, down to the bottom of the leg.
Rise – Pants rise is the length from the waist to the bottom of the crotch.
Darts – Folds sewn into a garment in order to improve shape and reduce bagginess; a common, affordable way for a tailor to slim a shirt.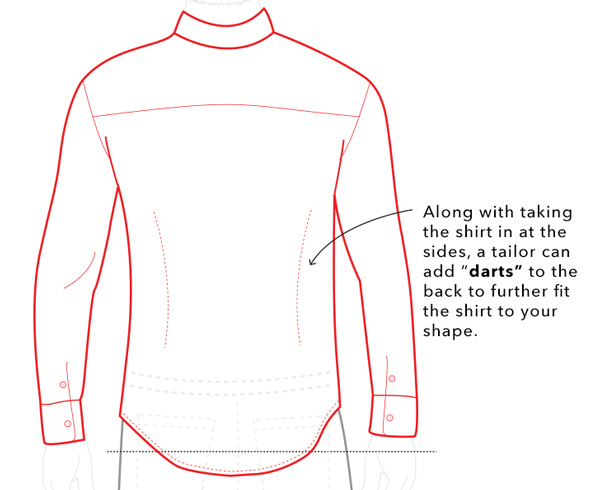 Taper – To gradually narrow sleeves or legs (think about how modern pants are more narrow at the ankle than at the thigh – this is a taper).
Original hem – Cutting fabric from the bottom of jeans, then sewing the factory hem onto the new bottom. (Preferred method.)
Cuff – The end of a dress shirt sleeve, or the bottom of dress pants which have been permanently rolled up between 1-3 inches.
Bespoke – Custom made from start to finish. You pick the fabric, the stitching, everything.
Off-the-rack – Produced in mass quantity; purchased online or in a store.
Made-to-measure – Made in large quantity, but finished with your measurements.
Unfinished hem – Pants that have no sewn hem at the bottom. When you purchase these, it's understood that you'll take them to a tailor for customization. A lot of dress pants come this way.
→ Already know these? Then read 25 Terms Every Menswear Nerd Should Know
The Most Common Alterations You'll Use a Tailor For & Common Prices
Shirt Alterations
Bring in the side to provide a slimmer look. If planning to be worn untucked, be cautious not to bring the torso in too much or else you'll get an hourglass effect. Average cost: ~$18
Add darts: Pleats sewn into the back of the shirt to provide a more fitted look, cheaper than slimming from the sides. Average cost: ~$15
Slimming sleeves: Removing fabric from a shirt or jacket to avoid a blousy or baggy look. Average cost: ~$25
Shirts can be shortened but we don't recommend it, generally. You can only lose about an inch before the button proportions on the bottom look cluttered.
Pants and Jeans Alterations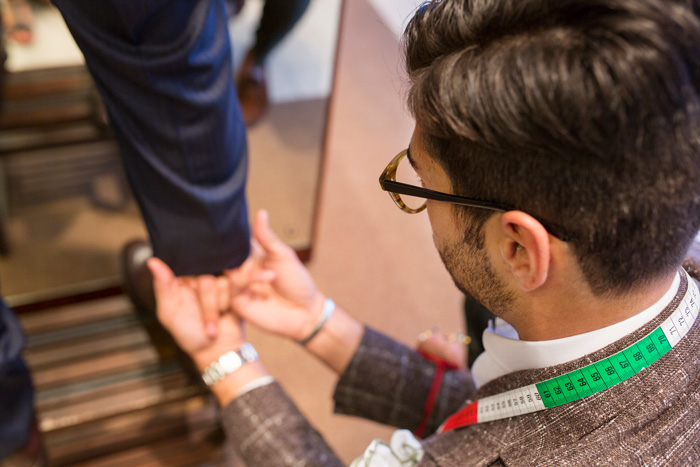 Hemming the legs so they are shorter.
A hem isn't too expensive for a pair of pants; for jeans you'll want a tailor to "keep the original hem." This is done by folding up the original hem and sewing it in place so it looks like a pair of jeans from a store, and not like you cut the bottom of a pair of jeans off and hemmed them. You'll need to know what kind of pant break you want. Dress pant hem: ~$15; Original jean hem: ~$20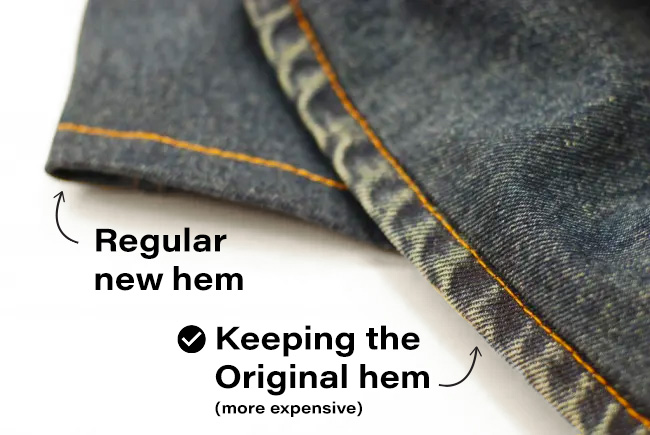 Learn Your Pant Breaks
How long do you want your pants to be?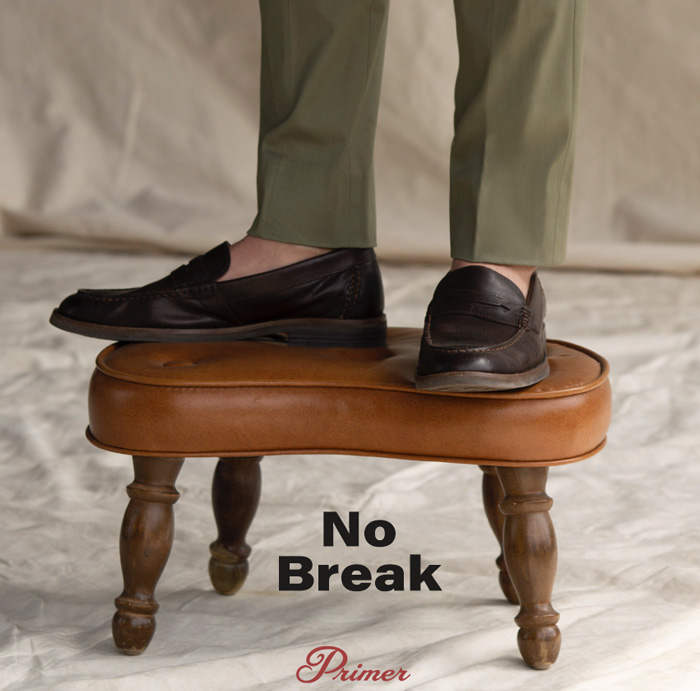 No Break – Barely any contact between the bottom of the slacks and the top of the shoe. This is a rather modern way of wearing suit paints and jeans. Be ready to show some ankle when you walk.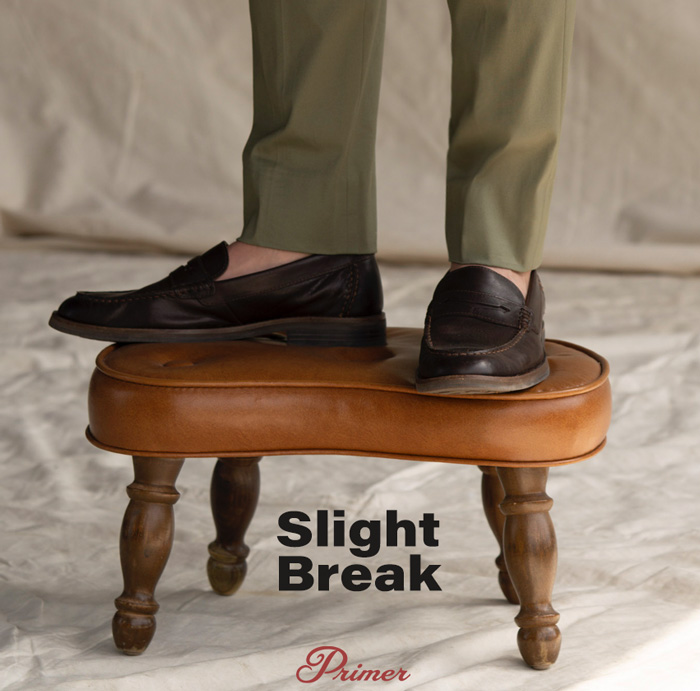 Slight or Quarter Break – The bottom of the slacks lightly rests on the top of the shoe. This look is more style than fashion geared. This is how I personally get my slacks cut.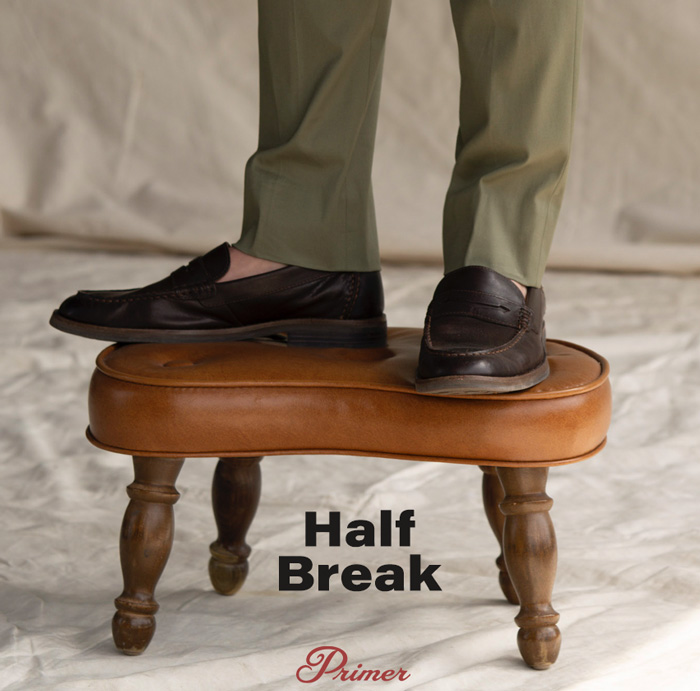 Half Break – A heavier break in the crease, this looks great with a thicker fabric, especially in those colder months.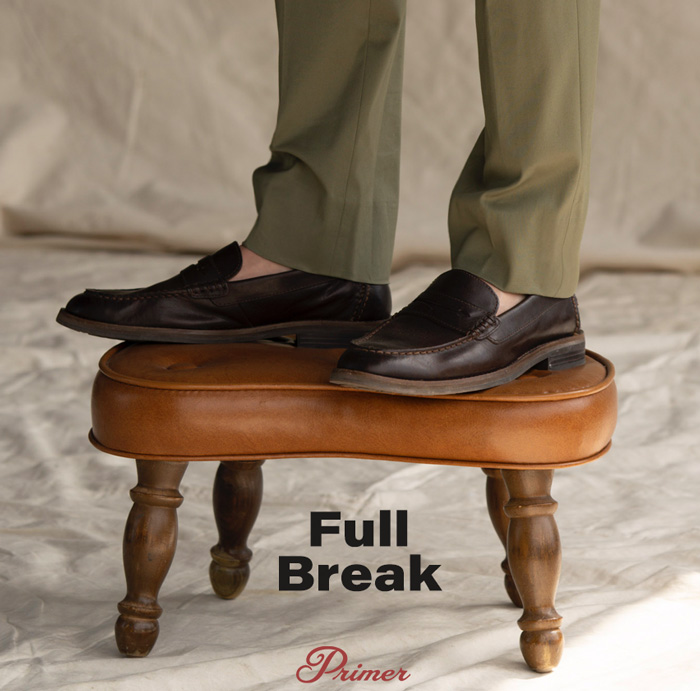 Full Break – Nope.
Bringing in or leaving out the waist.
Pants can generally be brought in or out by about 2-3" around the waist before everything gets wonky. Look on the inside seat of your pants for extra fabric to see how much is available. ~$35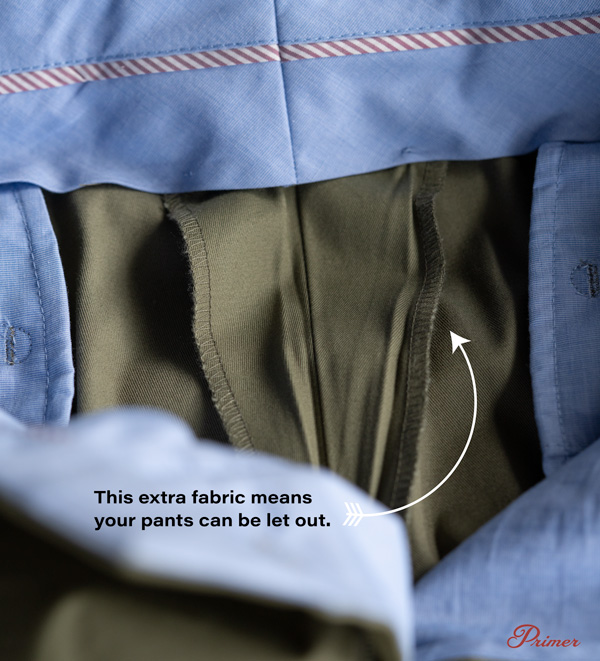 Tapering the leg.
If slim or skinny jeans are too tight and straight leg jeans are too wide, it sounds like you need to get your pants and jeans tapered. This is when a tailor progressively slims the leg, usually from the knee down to a narrower leg opening. For guys who want a modern leg opening but skinny or slim jeans are too tight in the thighs, buying jeans and pants that fit your thighs and having them tapered from the knee down will be a game-changer. ~$20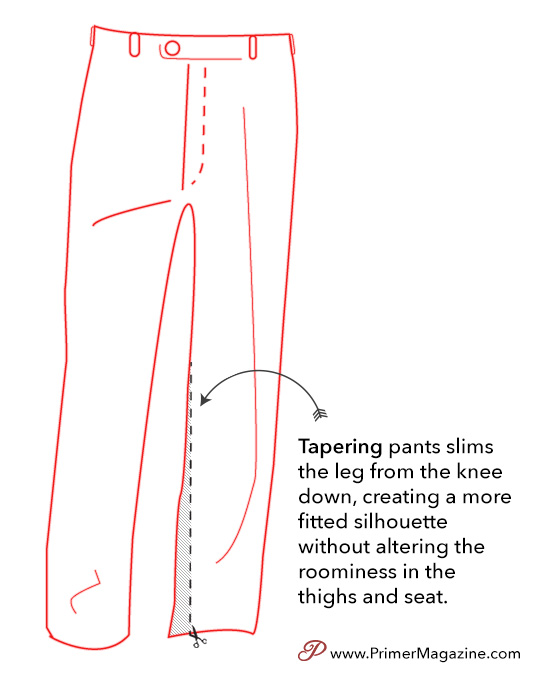 Suit Jacket & Blazer Alterations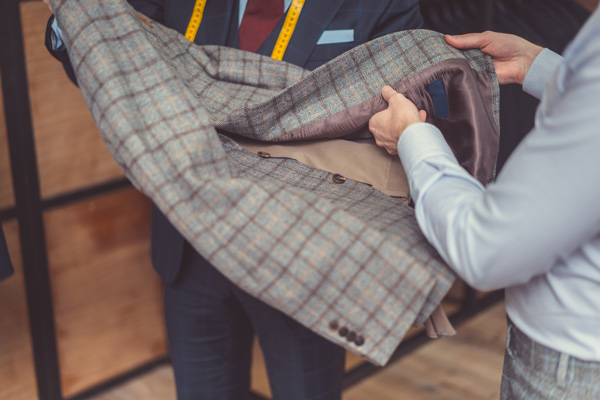 Shortening or lengthening the sleeves. If the buttons are functioning buttons also known as "surgeon's cuffs" you will only be able to shorten them the distance from the bottom button to the end of the cuff, or you will have to pay to move a button and hole which is much more expensive. Non-functioning buttons: ~$30
Bring in the sides. They'll remove fabric from the back, which involves disassembling part of the jacket. ~$35
Going to the tailor doesn't need to be intimidating. Remember that you're the customer, and they want you to be happy. But it's also ok (and good) that they know more than you do. Ask questions, explore your options, and remember that the man makes the clothes, not the other way around.
Essential Guides