From sails to style: The story of the waxed canvas jacket, and how to make the perfect one your own.
Modern winter wear is full of warm and element-fighting tech we can barely wrap our brains around. But there's one time-tested stand-by that's been to subzero and soaked hell and back since what seems like the dawn of time… waxed cotton. Its origins stem from the sailing industry not fashion – at least not at first.
When it comes to investing in a new piece of outerwear, a waxed canvas jacket is a versatile and durable option that can work for many occasions. But what is the history of waxed canvas? Who should consider it, and who shouldn't? And how can you style it to get the most out of this rugged fabric?
What is Waxed Canvas?
Waxed canvas is a cotton fabric that has been treated with a wax coating. The wax is typically made from natural materials such as beeswax or paraffin. The process of waxing the fabric makes it water-resistant and durable, making it an ideal material for outdoor clothing and accessories.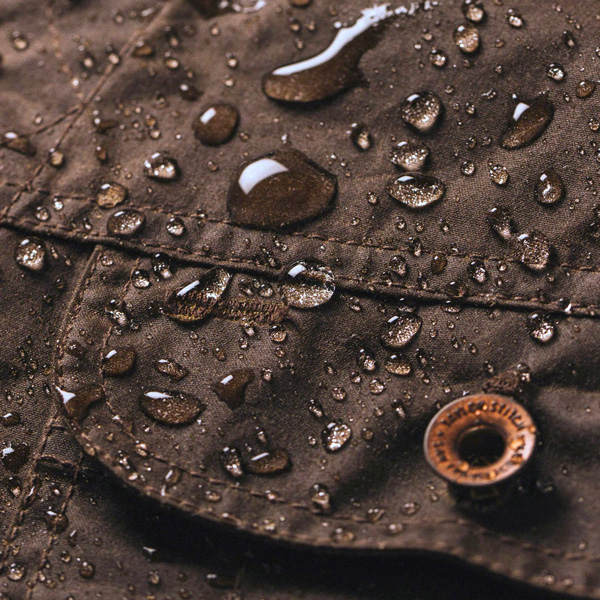 Waxed canvas has a unique appearance that changes over time as the fabric creases and as the wax wears off in areas of high friction, creating a personalized patina. This patina gives the fabric its iconic character and adds to the longevity of the jacket. Like a leather jacket, the more you wear a waxed canvas jacket, the more unique and personal it becomes. It doesn't wear out, it wears in.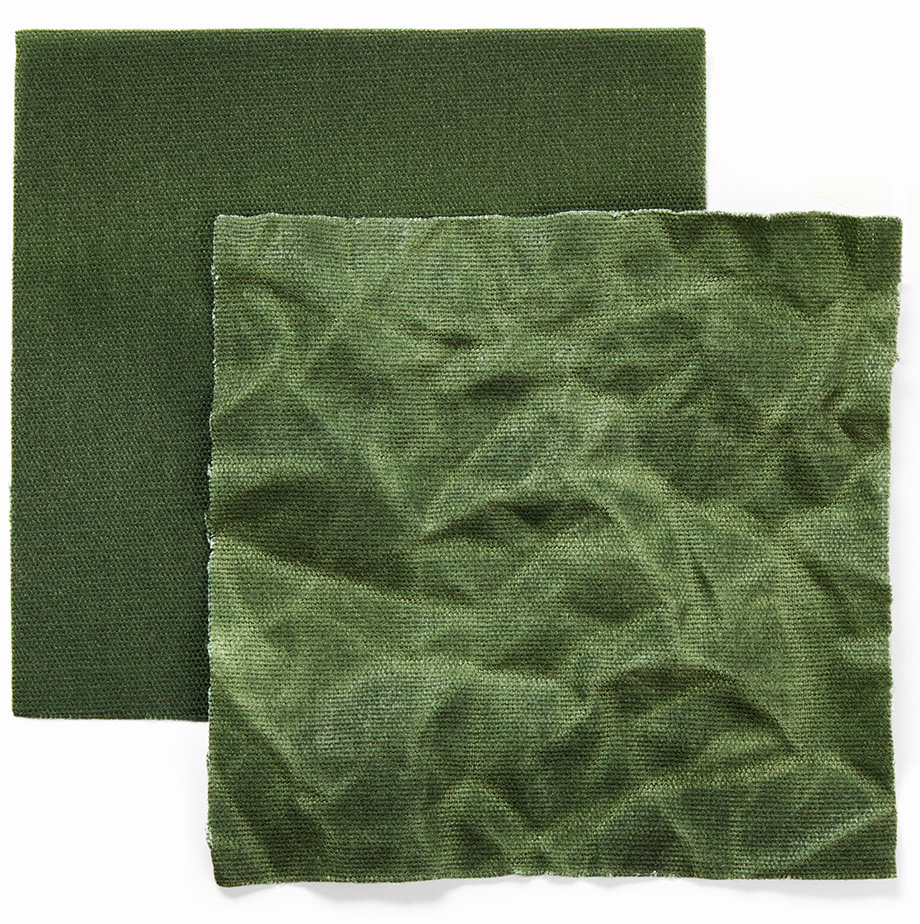 Waxed canvas has a long and fascinating history that dates back to the 15th century. Sailors first discovered that wetting their flax canvas sails with seawater helped them catch more wind, but this made the sails considerably heavier, so the sailors began to experiment with ways to waterproof the sails without weighing them down. They started slathering fish oil and grease on the sails and found that it made them both waterproof and more wind-resistant.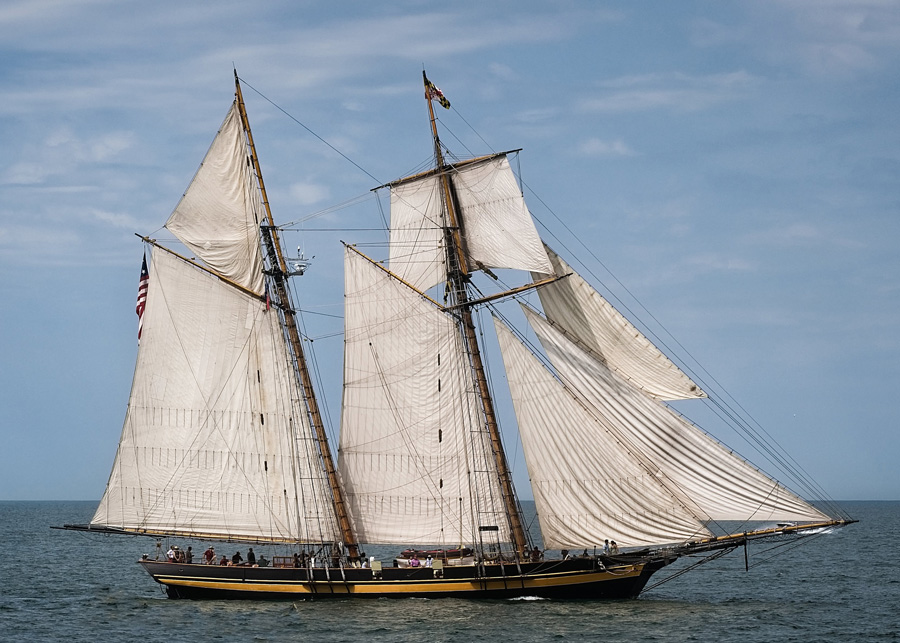 Eventually, linseed oil replaced the grease and fish oil as a waterproofing agent, but it had a major drawback: Linseed oil yellows over time and loses its water resistance in cold weather.
In the 1920s, the British Millerain Company developed a paraffin-based waxed cotton that was both water-resistant and breathable. Unlike linseed oil, this new waxed cotton didn't yellow or crack as it aged.
The History of the Waxed Canvas Jacket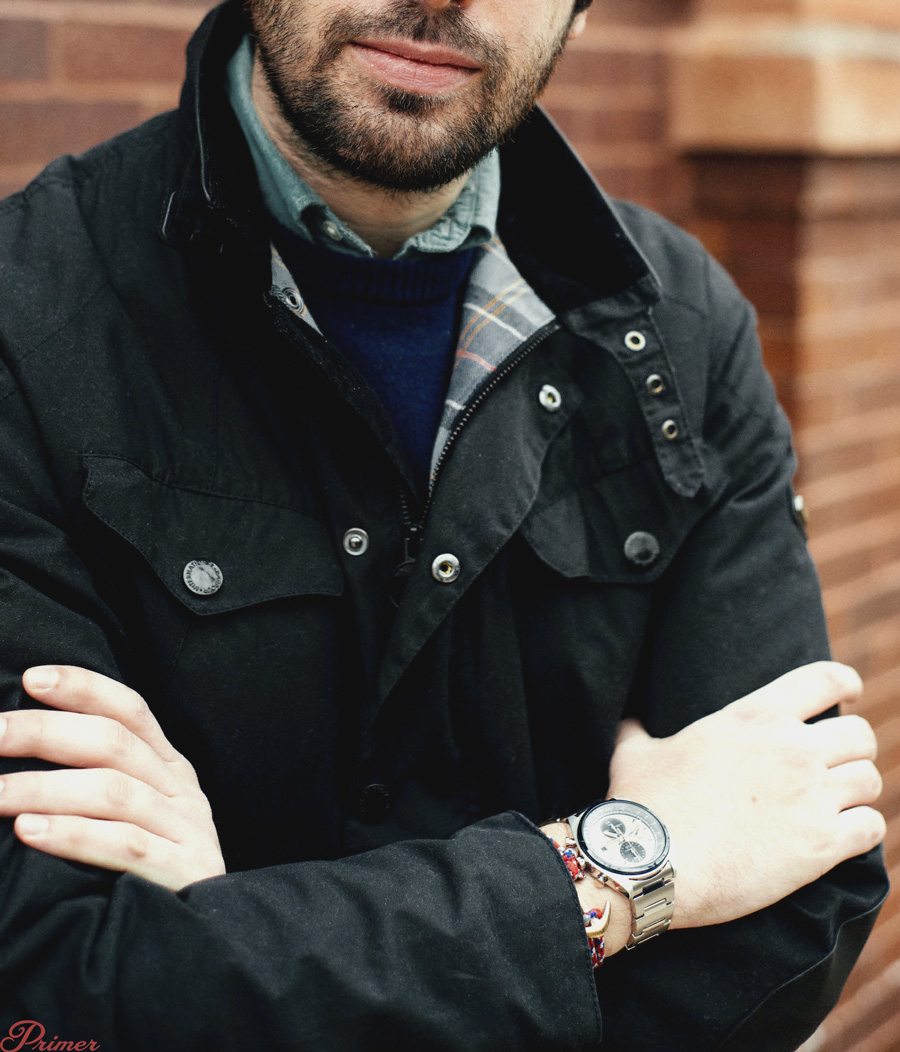 During World War II, the British Armed Forces needed waterproof clothing for their troops, and the two decade old waxed canvas proved to be the perfect fabric as a predecessor of nylon. Its popularity in clothing grew due to its high water-resistance and durability, making it the most popular fabric for the military and spread beyond uniforms and was used in things like tents and duffles.
The civilian use of waxed cotton in clothing began as heavy-duty raincoats, however, it quickly spread to motorcyclists and outdoor sports circles due to its wind- and water-proofing properties.
One of the most iconic uses of waxed canvas is in the production of jackets. In 1936, Barbour created the wax cotton International motorcycle jacket, a part of their full Barbour Suit, which quickly became a classic. From the 1950s to the 1970s, almost every rider in the International Six Day Trials circuit wore this jacket, including Steve McQueen.
Barbour's traditional jackets are still at the heart of the company today and are produced at their factory in the Northern coastal town of South Shields, which they moved to in 1981.
Despite competition from other synthetic waterproof fabrics like nylon and PVC, waxed canvas jackets continue to be popular among doctors, outdoorsmen, and farmers for their durability and water resistance. The legacy of waxed cotton continues on, and it remains a popular fabric for those who need durable, waterproof clothing that can withstand the elements.
The Number 1 Reason Waxed Canvas Jackets are a Smart Style Buy
One of the major benefits of a waxed canvas jacket is that it can be a more affordable alternative to a leather jacket, while still offering similar durability and style. A quality leather jacket can be upwards of $900, but a similarly manufactured and quality-level waxed canvas jacket can give you a similar aesthetic and feel for hundreds of dollars less.
Another advantage of waxed canvas jackets is their water resistance as an upgrade from a denim trucker. While a typical denim jacket is an essential in Primer's book, it won't provide the same level of water resistance as a waxed canvas trucker jacket. This type of jacket can be a great investment for anyone who spends time outdoors, in wet conditions, or someone looking for a one-jacket-does-most option. Whether you're hiking in the rain or commuting on a wet day, a waxed canvas jacket can help keep you dry and comfortable.
For those looking for a warmer weather alternative to a heavy wool peacoat, a thigh length waxed canvas jacket can be an excellent choice. This type of jacket can provide the same level of style and ruggedness as a wool coat, but with added water resistance and durability.
Pros and Cons of a Waxed Canvas Jacket
Waxed canvas jackets are a great choice for anyone looking for a durable and stylish outer layer. However, like any other material, they have their advantages and disadvantages. Here are some pros and cons to consider before making a purchase:
Pros:
Durability: Waxed canvas is an incredibly durable material that is made not only to last but can be re-waxed to be a lifelong jacket. It can withstand tough conditions and will only look better as it ages.
Water Resistance: The wax coating on the fabric makes it water-resistant, making it perfect for rainy and wet conditions.
Style: Waxed canvas jackets come in a variety of styles and colors, making it easy to find one that fits your personal style.
Price: Waxed canvas jackets can be a more financially affordable alternative to high quality leather jackets, which can be significantly more expensive.
Cons:
Washability & Maintenance: Waxed canvas jackets require maintenance to keep them looking their best. This includes potentially needing to reapply wax depending on use and longevity and avoiding machine washing. Waxed canvas cannot be laundered as the water and/or heat will ruin the wax coating. I lost one of my favorite waxed canvas jackets while on vacation and got splashed with paint. In a moment of "it's probably lost anyway so it's now or never" desperation I tried to launder the jacket which completely removed the wax coating. While I could have rewaxed it, the paint never came out.
Weight: Waxed canvas jackets can be heavier than other materials, which can be a drawback for some people.
Color Fading: Over time, the color of the waxed canvas jacket may fade or darken, which can change the look of the jacket. In my view, that's a feature not a bug, but something to be mindful of.
Odor: Some people find that some waxed canvas has a distinct smell, which may take some time to get used to.
Overall, the pros of a waxed canvas jacket far outweigh the cons, making it a great investment for anyone looking for a stylish and durable jacket that can withstand tough conditions.
How Much Should You Spend on a Good Waxed Canvas Jacket?
The price of a good waxed canvas jacket can vary greatly depending on the brand, quality of materials, and level of craftsmanship. Entry-level jackets can cost as little as $100, while high-end heritage or designer jackets can cost upwards of $1,000. Some of our top picks below, including options made in America, ring up around the $250-$300 price tag.
As with any investment piece, it's essential to consider the quality, longevity, and manufacturing ethics of the jacket. A well-made waxed canvas jacket can last for many years, making it one of the few actual worthwhile investments for any wardrobe.
Styles of Waxed Canvas Jackets
Waxed canvas jackets come in a wide variety of designs, making them a versatile choice for any personal style. Here are some of the most popular styles of waxed canvas jackets:
Trucker Jackets
Waxed canvas trucker jackets are a classic style that can be worn in many different situations. They have a boxy, cropped fit and are often seen in colors like browns, black or olive green. These jackets look great paired with a white t-shirt, jeans, and a pair of boots for an enduring look.
Thigh-length Waxed Canvas Field Jackets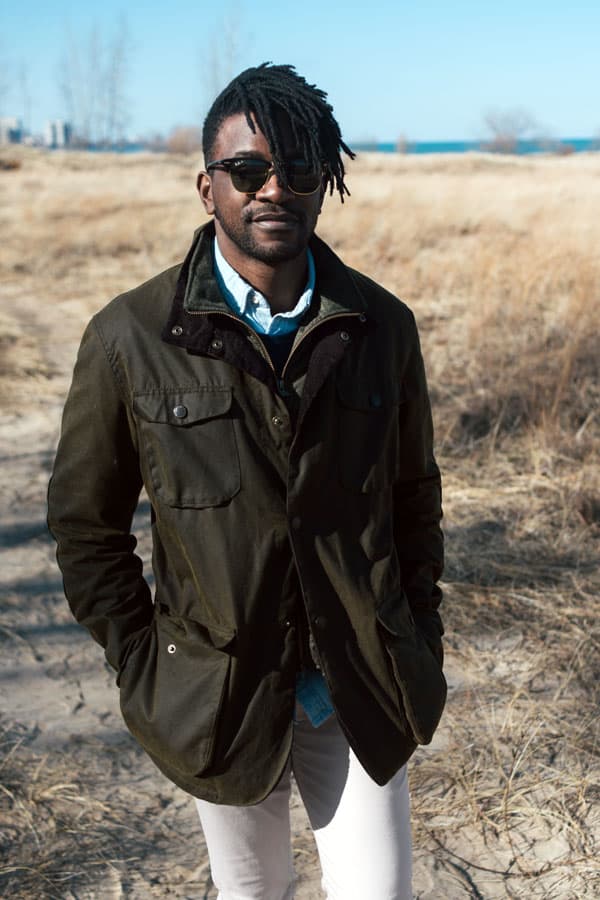 Thigh-length waxed canvas jackets are a great option for those who want extra coverage and warmth. Many thigh-length waxed jackets have their history and aesthetic rooted in English countryside sportsmanship and outdoors. They are a classic choice for those who want a functional, traditional yet stylish jacket for everyday wear.
Waxed Canvas Motorcycle Jackets
Originally designed for motorcyclists, this type of jacket is now worn by people of all walks of life due to its durability, water resistance, and style. The motorcycle style is instantly recognizable with its snap chest pockets and often has a belted waist. They can come in 3 lengths, ranging from cropped, waist, and thigh. Unlike the English sportsman style, the motorcycle jacket has a more rugged and utilitarian aesthetic similar to a leather jacket.
Waxed Canvas Rain Jackets
Waxed canvas rain jackets provide excellent protection from the elements, in a classic, traditional style versus the tech-forward appearance of modern-day rain coats. These jackets are often lightweight and come in a variety of colors.
Waxed Canvas Bomber Jackets
Bomber jackets are a popular style that has made a comeback in the last decade thanks to less bulky designs. Waxed canvas bomber jackets are a great option for those who want a bomber that is both stylish and functional without being the standard nylon of most bombers. They come in a range of colors and often have a slimmer fit.
The Second Most Important Question to Ask When Choosing a Waxed Canvas Jacket
When it comes to choosing a waxed canvas jacket, there are more decisions to make beyond just the style of the jacket. One important factor to consider is whether you want your jacket to be lined or unlined. Many waxed canvas jackets come with lining, often made from flannel or other cozy materials for added warmth. However, some jackets are unlined, giving you a lighter, less hot option more akin to a denim jacket that's great for warmer climates or for people who like to layer.
Waxed canvas jackets like the Rogue Territory or Flint & Tinder jacket (below) offer both lined and unlined versions. Blanket lined and flannel lined jackets are popular choices for colder climates, and they offer a comfy feel that's perfect for the colder months. Sizing up on a lined jacket will also allow layering but may not offer as streamlined of a silhouette when worn with just a t-shirt.
Famous Brands that Make Respected Waxed Canvas Jackets
Beyond Barbour mentioned earlier, there are several reputable brands that make high-quality waxed canvas jackets. One of the most well-known is Filson, a company that has been producing outdoor gear since 1897 and their waxed canvas "tin cloth" jackets come with a lifetime guarantee.
Less town and country than Barbour, the British Belstaff company began in 1924 making motorcycle helmets and then transitioned to a focus on waxed cotton in the world of motorcycling. The company has changed hands from the Brits to the Italians in 2004, to the Germans in 2011, and then back to the UK in 2017, but the brand still delivers some of the most iconic waxed cotton motorcycle jackets and boasts David Beckham as one of its spokesmodels.
Their style is more diversified now and includes knitwear, hats, boots, and leather jackets, but they will always be known for their motoring waxwear.
Other brands that make respected waxed canvas jackets include Flint & Tinder, Taylor Stitch and RRL. These companies are known for their attention to detail and commitment to quality craftsmanship.
Modern waxed cotton outerwear is no longer relegated to workwear or vintage-style motorcycle garb, and since waxed cotton fabric has a penchant for toughness, water-repellency, and warmth, it's now used in everyday cold-weather outerwear.
Best Waxed Canvas Jacket Picks
Here are some of the best waxed cotton jackets that will up your style quotient and your ability to weather the elements.
Flint and Tinder Waxed Hudson Jacket
Inspired by men's hunting jackets, the Hudson has British waxed cotton tradition woven right into it since it uses Millerain waxed fabric, the first name in British waxed cotton.
The fabric is waterproof and rugged, and the soft, flannel lining treats you well even in the harshest weather imaginable. Two large drop-in pockets and a single front flap pocket ensure easy small item and document storage.
Upcountry Waxed Jacket
Bean's does down with a sophisticated look and a rugged waxed fabric. The box-stitched Upcountry gets a healthy dose of DownTek 650 that also repels moisture, so the jacket does double duty to keep the elements at bay.
It's also a hip-length cut for more coverage. Two patch pockets and two slash pockets mean quick and easy gear access, while the corduroy collar lends a refined touch. This one will look perfect with trim jeans and well-kept pair of these.
Flint & Tinder Wool Lined Waxed Trucker Jacket
Whoever said trucker jackets can't be worn past fall? This USA-made waxed cotton version says otherwise thanks to its tough exterior and wool-lined interior. Thick 8.25-ounce wax-infused sail cloth not only looks vintage, it will wear even more handsomely with age. The body lining uses soft recycled Japanese blanket wool, and arms get quilted polyester. The cut also happens to be roomy without making you look like a barrel-chested Paul Bunyan, so you can layer when things get really bad. One of our best field jacket picks.
It's reputation has also earned it some on-screen credits, Pedro Pascal wears it while playing Joel in "The Last of Us."
Fjällräven High Coast Wind Jacket
The Swedish outdoor clothing company knows a thing or two about getting their customers through some bitter cold and wet months, making the Fjällräven High Coast Wind Jacket just about perfect for wet and windy weather.
Its no-nonsense look with three zippered pockets works with both jeans and slacks, and the light fabric is wind resistant and quick drying, making this jacket a perfect packable for daytrips. It even has an adjustable hood for even more protection.
Goodthreads Moto Jacket
Our budget Amazon pick might not benefit from waxed cotton, but it's worth mentioning based on both price and style points alone. Emulating the likes of Belstaff, this moto jacket has the right silhouette, coloring, features and hardware to make it a sophisticated steal. The thick 100% cotton gets coated for weather-resistance and even has a fancy blackwatch plaid flannel lining for warmth. Add in a neck strap, six exterior pockets, brass hardware, a heavy-duty zipper and snap placket to keep out the elements, and you have yourself a recipe for warmth, style, and impressing for way, way less. Read our full review.
Tin Cloth Jacket
Filson's American-made Tin Cloth Jacket is a beast that's just as capable for a rough-weather day in the city as it is taking on wood-chopping and bushcraft duties. As thick and rugged as the day is long, the 14-ounce cotton oil finished fabric is like armor against brush, thorns, and other unpredictable nasties, while the wool lining on the collar takes care of your tender neck that's chill-susceptible.
Big pockets on the front and a roomy cut means there's ample room for one of their zip-in wool liners and for big arcs of movement like reaching for that whiskey after a cold day in the field. Their own Filson paraffin-based wax can be reapplied every year or as needed for renewed protection.
Rogue Territory Ridgeline Supply Jacket
The Rogue Territory Waxed Ridgeline Supply Jacket, as worn by Daniel Craig in the 25th James Bond film, "No Time to Die," and Ryan Reynolds in, "The Adam Project," is a prime example of modern waxed cotton canvas at its best. The American-made jacket is made with 100% 10-ounce American waxed canvas, providing unparalleled toughness and water and wind resistance. It is unlined, making it a unique option for outerwear that doesn't need to be constantly taken on and off.
It is a permutation of Rogue's selvedge denim trucker Supply Jacket, featuring a more streamlined style without chest patch pockets and vertical seams on the front. The final effect is more akin to a leather moto jacket, but at a fraction of the cost. The jacket has patch handwarmer pockets, a unique welt left chest pocket with a slit opening, and a right internal chest pocket with exposed stitching on the exterior. The field tan color of the jacket is perfect for its scenes in "No Time to Die," and "The Adam Project" and Craig and Reynolds wear it enviously.
Tom Beckbe Tensaw Jacket
The Tensaw has it all including a waxed cotton shell, a contrasting Alabama red clay-hued twill lining, refined Bedford corduroy-lined collar, and gusseted underarms for movement.
The Tenshaw also sports two large snap closure bellows pockets at the hip, two welt handwarmer pockets, and a single hidden internal pocket for valuables. The big brass zipper also gets companion brass snaps in the full-length storm flap that laughs at the rain. Oh, and this one's proudly made right here in America.
The Field Jacket
This field jacket has all the makings of outerwear that brilliantly bridges the gap between chilly fall and mild winter with its 9oz organic cotton waxed canvas fabric, twill lining, and a corduroy detailing at cuffs and collar.
A zippered chest pocket and hand warmer pockets are at the ready, and the simple cut means it's primed for town or country. Throw it on over one of these, and you'll be warm, stylish, and ready for work or recreational beer tasting.
Orvis Field Coat
Orvis is known for their hunting and field clothing, having been around since 1856 out of Vermont. This waxed cotton field coat is the modern interpretation of their venerable stand-by, and it's just as good for urban jaunts as it is for the rigors of the outdoors. It's a more ruggedized version of the trusty field jacket with the addition of wax. The iconic shoulder shooting patches and elbow patches are reinforced for long life, and the collar and cuffs are lined with soft corduroy for your more delicate side. Big pockets for gear and cold hands, and a contrasting red lining ensure warmth, and there's even a rear-entry waterproof game bag in case you really do use this in the field.
Barbour Bedale
First produced in 1980, this jacket was designed with equestrian practicalities in mind, featuring a shorter length than other Barbour jackets, a relaxed fit, rear vents, and a nylon inner that provides greater water resistance. The Bedale is perfect for both country and city style and is compatible with removable hoods and liners to suit any weather. The jacket features moleskin-lined hand-warmer pockets, and a corduroy collar.
Belstaff Fieldmaster
The Belstaff Fieldmaster Wax Jacket is the perfect combination of practicality and style. This classic piece is a shorter, belt-less version of their famous Trialmaster jacket and boasts a signature silhouette with four front popper fastening patch pockets. Featuring a full front zip fastening and button overlay, this jacket provides optimal protection against the elements. It's perfect for casual and intentional outfits alike and the regular fit, mandarin collar, and buckle fastening ensure maximum comfort. The waxed cotton construction and signature slanted pocket provide extra protection from nature, and the jacket is water repellent to ensure that you stay dry in any weather. Belstaff's designs are known for being practical yet stylish, and this jacket is no exception.
What Dress Codes Does a Waxed Canvas Jacket Work Best for?
A waxed canvas jacket is a wide-ranging piece of outerwear that can work for both casual and semi-formal dress codes. It's an ideal choice for a smart casual outfit, as it's less formal than a sportcoat but still provides a polished look. A waxed canvas jacket is also ideal for outdoor events, such as concerts, festivals, and camping trips. As mentioned, it can be a financially more affordable alternative to a leather jacket, offering a similar range of ways to wear it.
What Kinds of Outfits Does a Waxed Canvas Jacket Work Well for?
A waxed canvas jacket works well with a variety of outfits; it pairs perfectly with jeans and a t-shirt, but can also be dressed up with a button-down shirt and chinos for a smart casual look. For a more casual outfit, it can be worn with joggers or shorts. The rugged nature of the fabric makes it an excellent choice for days including outdoor activities, such as hiking, camping, or stints near bodies of water.
How to Style a Waxed Canvas Jacket in Outfits
Styling a waxed canvas jacket is easy. The key is to keep the rest of your outfit simple, so the jacket can be the focal point. A classic combination is a waxed canvas jacket paired with a white t-shirt and dark-wash jeans. For a more dressed-up look, you can wear a button-down shirt and chinos, with the jacket acting as a casual blazer. Here are a few examples to illustrate:
Minimalist Smart Casual with Waxed Canvas Jacket & Dress Pants
Or, Swap the Pants for Denim, Sneakers for Boots, and Add a Button Up Shirt & Scarf
Classic Casual with Plaid Shirt, Dark Denim, and Suede Boots
Rugged Casual with Waxed Canvas Motorcycle Jacket & Denim Shirt
Casual Waxed Canvas Jacket with Thermal, Jeans, and Boots
Winter Ready Waxed Canvas Jacket with OCBD, Sweater, & Scarf
Dark Evening Casual with Waxed Cotton Jacket, Dark Crew Neck, & Black Jeans
Blue & Brown Tones with a Navy Waxed Canvas Field Jacket and Jeans
Put-Together Casual Outfit with Cashmere Sweater & Waxed Canvas Jacket
A Prep-inspired Holiday Outfit
Casual Minimalism with a Waxed Canvas Trucker & White Pocket T-shirt
Business Casual with a Tie & Waxed Canvas Jacket
Sportswear Heritage with Motorcycle Jacket & Gray Crewneck Sweatshirt
How to Clean a Waxed Canvas Jacket
Proper care and maintenance of waxed canvas is essential to ensure the longevity of this highly specialized textile. Unlike other fabrics, waxed canvas cannot be washed or dry cleaned as it will ruin the finish. Instead, a periodic cleaning with a damp cloth when required is sufficient to keep the jacket clean.
When cleaning the interior of the jacket, antibacterial sprays, warm water with mild soap, or even a spray made of cheap vodka can be used to remove odors. However, for exterior jacket stains, scrubbing with a rag is not recommended as it may leave scuffs and change the fabric color. Instead, any dirt on the top of the fabric can be brushed away with an old t-shirt or plain weave dish cloth.
How to Re-Wax Your Waxed Canvas Jacket
Re-waxing is a key part of exploiting the fabric's capabilities, as well as providing longevity. Under normal use, waxed cotton should be re-waxed about every couple of years. If you don't wear it often, it can be re-waxed less frequently. If your coat shows light spots, it's probably time to at least spot treat wax, if not re-wax the entire coat. But redoing all of it doesn't take that long and is definitely worth your while.
All that's required is the wax, rubber gloves, no-lint paper towels, a firm plastic bristled brush, and a hair dryer. Instead of just any wax, try to use the same type of wax the manufacturer treated your coat with so the blending is right, and the protection and appearance remains even. If you're unsure of the type, contact the manufacturer directly, and they should be able to provide you with the information, if not the actual wax (Filson provides a tin of their wax with each garment and sells extras for $10 each).
If you want to wax or re-wax your jacket, here are the four steps to follow:
Clean and prep your jacket: Do not use soaps or detergents. Soak the entire jacket in cold water or hose it off completely. Avoid spot cleaning as it will lighten certain areas as the wax is washed out.
Apply the wax: Once the jacket is dry, lay it out on a table and use your hands to work the wax into the jacket. The heat from your hand helps loosen up the wax. Paraffin melts at about 100 degrees and your body heat will loosen it and your hand will work it into the fabric.
Heat the applied wax: Heating the wax will melt it into the cotton fibers, completely saturating the fabric. Use a heat gun or a hair dryer on full blast to work in the wax.
Dry, wipe and wear it: Once you're satisfied with the re-waxing, hang the jacket to dry overnight. In the morning, your jacket will feel a little greasy. This is okay; you're just feeling the excess wax. On a molecular level, once it soaks in you'll have oil on top because the oil is wicking out of the jacket. If you don't want that, you can wipe it with a dry cloth.
Some waxes for cotton jackets to consider: