Starting Time:
Building an Outfit Around a Fossil Hybrid Smartwatch
I was really young when Warren Beatty's "Dick Tracy" movie was first released but I remember watching it on VHS as a kid and thinking his two-way radio watch was the coolest thing I had ever seen. And now we are here, in what is ostensibly the future, and we have watches that can do more than just make phone calls. They can control music, monitor your heart rate, remind you to get up and move your ass a bit when you've been sitting too long. And I've found myself wholly uninterested. Four year old me would be very disappointed in my blasé attitude to the smartwatch of the future. I'm just one of those people that is too dedicated to my analog and mechanical watches and if I'm being honest it's solely for sartorial reasons. I like the look of an analog watch and that's all there is to it.
For people like me Fossil has released a series of Hybrid watches based around their Q smartwatch platform. These watches have the look of an analog watch but the guts of a smartwatch with all that entails. They'll count your steps, queue up your digital assistant and start playing music on your phone with the press of a button. Like I said we're living in the future. But for those of us a bit stuck in the past, the Q Commuter is a good way to stick your toe into future without fully committing.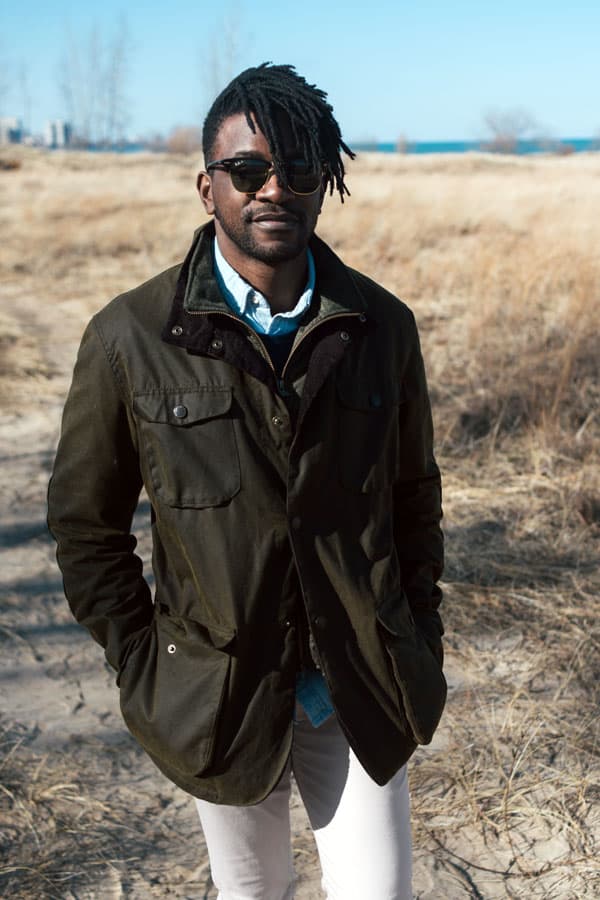 Shop the Look:
Jacket
Fossil Q Commuter Watch
Navy Sweater
Slim Chinos
Denim Shirt
Sunglasses
Sticky Collar Stays
Chukka Boots
When you take the Commuter out of the box the first thing that hits you is the blue watch face. It's absolutely striking in-person and it seems to catch light in a way that's alluring but not distracting. The color is paired well with the orange hand of the subdial and white standard watch hands with orange tips. Gives it a nice look that makes me think of summer and it would look great on an orange and blue NATO strap.
Coming in at 42mm the Commuter is thankfully a bit smaller than some of the other Fossil hybrids I've seen but it's still a big watch. The internal components make the case a whopping 13mm thick so if you've got small wrists you may want to steer clear.
The selling point of this watch is obviously the smart functionality and this is used in a few different ways. The defining feature of the Commuter is the oversized subdial that's equipped with a counter that shows what percentage of your daily step count you're at, and whether the primary dial is displaying the date, an alarm, or a second time zone.
For example, if you assign one of the pushers to show the date, the primary hands will point at one part of the dial which has a chapter ring with 1 through 3. Whatever number it's pointing to is the date.
The Commuter has three buttons two of which are like chrono pushers and another that is in the crown. The crown itself is cosmetic and does not spin but instead houses a button that can be assigned.
Jacket: Shown: Barbour Ogden Waxed Jacket, $429 Similar: Taylor Stitch Rover Jacket, $149 / Fossil Q Commuter Watch: Blue, $155 / Brown, $155 / White, $155 / Navy Sweater: French Connection, $44 / Banana Republic, $45 / J.Crew Factory, $34.50 / Slim Chinos: Calvin Klein, $30 / J.Crew Factory, $34.50 / Bonobos, $98 / Denim Shirt: Target, $25 / Sunglasses: Ray-Ban, $153 / Sticky Collar Stays: Fashion Anchor, $15 / Chukka Boots: Clarks Buschacre, $65
Everything on the watch is assigned through the Q app which is available for iOS and Android. Pairing was a very easy process and assigning functions is a cinch. However, there is no way to set the watch without the Q App. It's completely tied in to the app functionality. I personally assigned a button to start or stop music, go to the next track, and to cycle through the date and second time zone functions.
This watch gets its Commuter name from its ability to give an estimation of how long it will take to drive to a favorite location. Hit an assigned function button and it will give you an estimation of how long it will take to get there. However this only allows for one location. I think the feature would be more useful if it could use context clues like time of day to determine how long it will take to get to a specific location. For instance in the morning it could display the time to get to the office and at night it will display how long it will take to get home. An idea for a future update possibly.
The nuts and bolts stuff are pretty straight forward. The lume is decent so if you wear it all day it will suck up enough light to tell the time well into the evening. The battery is user changeable and is estimated to last about six months so not bad for a smartwatch.
The most useful feature I found was the activity tracking function. Having a reminder there in front of me that I need to get up off my butt for a bit was more effective than checking the step tracker on my phone.
The question is: Is all of this enough to get me to switch over from my old school dumb watches? Not quite yet but this is a step in the right direction. I could live without some of the smart functions. Being able to control the music more easily when I worked out was nice but not a game changer. And for a heavy workout I wouldn't wear a watch like this anyway.
The activity tracker really was the most useful feature for me. It made me get up and move around and I had a constant reminder of what I needed to do on my wrist. So if the look of a FitBit is a sartorial dealbreaker for you, a hybrid watch like this may fit your bill.
When it came to styling this watch, I went with a look that will be great for the transition to spring when we're all hopefully a lot more active. More opportunities to go out and get your steps in! As I write this here in Chicago we went from torrential downpours and 30 degrees this morning to sunny and 50 this afternoon.
Dressing for that weather can be difficult and this is where layers come into play. You can subtract and add a sweater or jacket as the day progresses. Add in a few spring colors to break the up the monotony of earth tones, black, and navy from the winter and you've got a look that will work well into May in most places.
The ruggedness of the olive-brown waxed jacket, denim shirt, and classic Clarks act to balance out the lighter shade of the pants – an easy tactic to employ if you're new to lighter pants and feel a little out of your element.
Click here to check out the other watches and outfits in our Starting Time series. 
What's your experience with smartwatches? Would you wear one? Do you have one you'd recommend? Chat with us in the comments!