Stylish enough for the office, tough enough for extreme conditions, smart enough for life.
Thanks to G-Shock for believing in Primer's mission of building sophisticated and durable men, we're honored to partner with them on this post.
---
When we go camping I wear a beater watch. When I go to work, I wear a nicer watch. When I need to rock a suit, I wear another watch. I love watches, but the truth is that lately I've found myself wondering if life would be a little simpler with one watch.
Sell the lot, get one watch, and call it a day. The problem is versatility. I wouldn't take a "nice" watch camping. I wouldn't wear a smartwatch with a suit. And I don't even really like wearing my vintage timepieces out of the house because they're so special to me.
I'm pretty sure the answer is the newest G-Shock model, the MTGB2000D-1A.
If you'd asked me a year ago who the G-Shock watches were for, I'd say they were for guys who are Navy SEALs, astronauts, firefighters, and extreme outdoorsmen. But the truth is that there are over 200 different G-Shock models, everything from the retro-vibin' digital to a G-Shock for kids.
And with the MT-G line, Casio has recognized that a badass watch can still be a handsome watch. And that's worth my time.
The G-Shock line isn't new. It's provenance hails from Japan in the 1980s when Kikuo Ibe (a horologist) and a squad of engineers set out to create a watch that could withstand more than just the elements. The climactic moment came when Ibe developed a modular system, wherein the actual watch movement (the part that ticks and all that) is housed in a module that "floats" within larger modules. This allows the watch incredible shock absorption and durability. Think of the gyroscope you played with as a kid. The middle part that spins no matter which way you manipulate the outer rings…yeah, that's the watch movement: it keeps on spinning.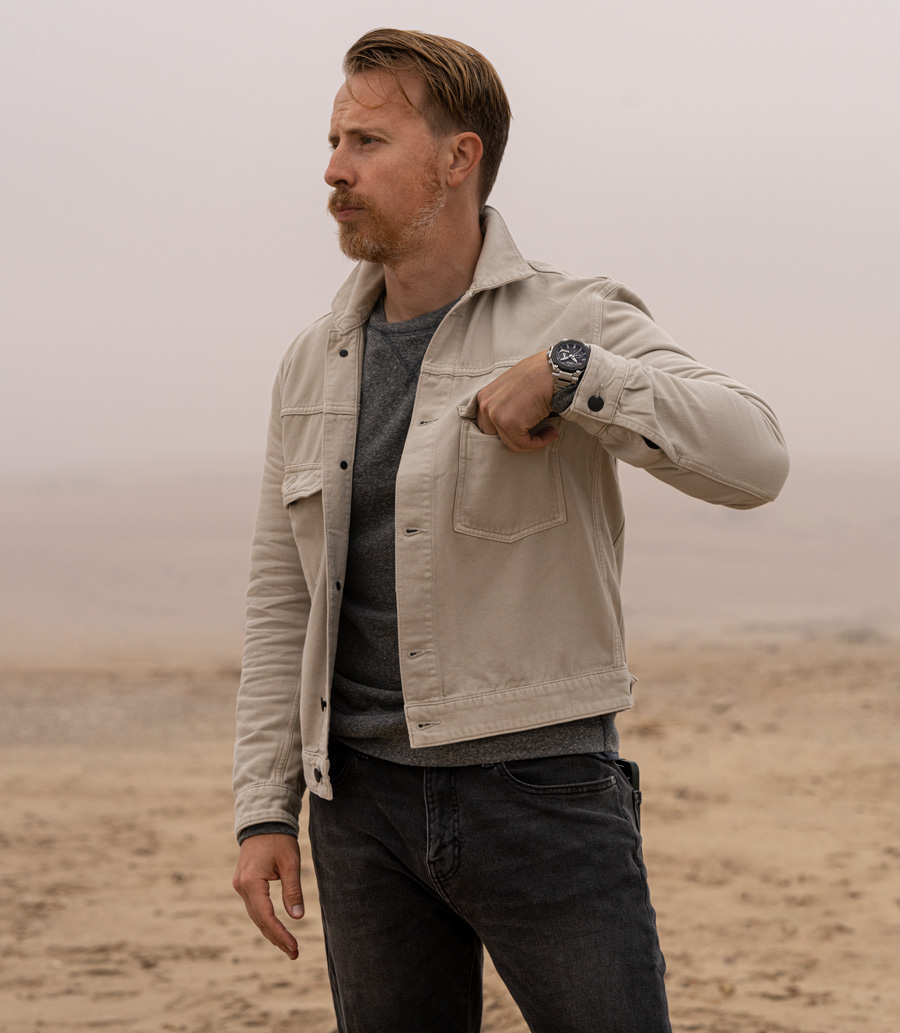 The MTGB2000D-1A strikes a balance between robust materials, radical technology, and rugged good looks. To start, Casio has made this model fifteen percent lighter than its predecessors. Instead of making the watch out of solid metal, they've used metal casings and fine resin. This gives you the dress aesthetic while increasing shock absorption.
The innermost module is protected by a carbon monocoque case integrated into a stainless steel frame, which reduces weight and enhances strength. The crystal is sapphire (meaning you're not going to scratch it). The lume is powered by Neobrite (basically that means it's bright as hell in the dark when you need it to be), and of course, like many high-end analog G-Shock's, it's Triple G tested.
This means that G-Shock has put this watch through the ringer for shock absorption, G-forces, and vibration resistance.
But what's really cool is with the G-Shock Connected app, your watch can automatically adjust the time depending on the time zone you're in, tell you the charge status on your battery, hell, it can even help you find your watch if you lose it and vice versa. (Lose your phone? Your watch can send it a signal to sound an alarm…even if it's on silent). And if you're out of range of your phone, the watch can receive a radio signal from up to six different calibration sites around the world, which will automatically keep your watch adjusted to atomic time.
Want to swap in a canvas strap for summer? G-Shock has developed a new slide-lock mechanism that makes it easier than on previous models. You won't need to worry about changing the battery anytime soon – it's charged by the sun. And obviously you have the classic watch features: stopwatch, countdown timer, alarm, date and day calendar (guaranteed accurate until 2099).
So what sets the MTGB2000D-1A apart from the rest of the G-Shock line? It's a sleeper. See, G-Shock watches can all take a beating, and they're all packed with futuristic technology, but most of them yoke their form and function. They're badass and they look like it. The MTGB2000D-1A isn't just a watch that you can wear while diving, or camping, or into combat (yes, it can handle all of those). This is also the watch that you wear to your cousin's wedding this fall; you wear it to your performance evaluation with your boss, and you wear it when you grab drinks with the fellas on Friday after work.
Simply put: The MTGB2000D-1A is a handsome watch. The letters on the forged metal bezel aren't painted; they're etched and done in black ion plating and is subtle. The black on silver contrast of the chassis is understated with a mix of brushed and polished finishes. And the peek of blue around the dial and red day-indicator hand give it a pop of color that whispers instead of screams.
You probably don't need everything that the MTGB2000D-1A can do, I mean really, does anyone whose job title doesn't include a rank or the word "rescue"? But if you're like me, and you need a camping, Walktober, formal, business casual, feelin'-it watch, then the MTGB2000D-1A might be right up your alley. Can one watch suffice? Yeah, and this is the one.
Get the Look
What do you think of this look? Chat with us in the comments!