With 15 outfit examples to get you started.
Black jeans are a versatile and essential item in any person's wardrobe – they provide a solid base for any outfit and can be dressed up or down depending on the occasion. Similarly, brown boots are our go-to boot color. But the traditional fashion rule says that black and brown should not be mixed, which is not only outdated – when it comes to black jeans and brown boots – it's just flatly bad advice.
Can You Wear Black Jeans with Brown Boots?
The reality is, as long as you're doing it on purpose, it looks amazing. Black and brown is a natural combination that we find in nature, and so obviously it's going to look really good as clothing.
The easiest way to make an outfit with black jeans and brown boots more cohesive is to not have your boots be the only brown thing in the outfit. While not a hard and fast rule, as you'll see in the outfit examples below, it does make it much simpler.
To make this combination work, it's important to choose the right shades of black and brown that complement each other, rather than clash. For example, dark brown works well with black, but some lighter or more saturated browns can be more challenging.
The cut and fit of the jeans and boots are also important. A slim, tailored, or tapered black jean paired with a brown boot creates a modern and stylish look, while baggy jeans and chunky actually-for-work boots can appear bulky and less purposeful.
What Kind of Boots Go with Black Jeans?
When it comes to choosing which brown boots to wear with black jeans, there are several boot styles that looks great. Some of the popular choices include:
Chukka boots: These ankle-height boots are usually lower profile and can be dressed up or down. They are perfect for a smart casual look.
Rugged boots: If you're going for a more rugged style, then a pair of brown service-style boots can be an obvious choice. They're usually 8-10 inches in height and have varying levels of tread thickness.
Dress boots: Generally made with soles and styling commonly found on dress shoes like cap toes, broguing or wingtips. Dress boots add a balance of ruggedness and sophistication to an outfit.
Chelsea boots: Toeing the line between the chunkier rugged and dress boots, the laceless Chelsea boot offers a sleek silhouette to ground your style, creating a more refined foundation. Chelsea boots can have a dressier sole or a chunkier sole.
The key is finding a style that matches your personal aesthetic and appropriateness of the occasion you're getting ready for.
When to Avoid Black and Brown?
Generally speaking, the more formal your destination and outfit becomes, the less appropriate it is to mix black clothing with brown footwear. As you begin getting farther away from the black tie dress code – which demands black shoes with a black tuxedo – and your aesthetic becomes more casual, the more acceptable it is to wear black with brown.
How to Style Black Jeans with Brown Boots
Minimalist Style Outfits
The minimalist style is all about simplicity and versatility. To achieve this look, you want to focus on a few key pieces and let them do the talking. Here are some outfit ideas to help you achieve a minimalist style with black jeans and brown boots:
Black Jeans and a Button-Up Shirt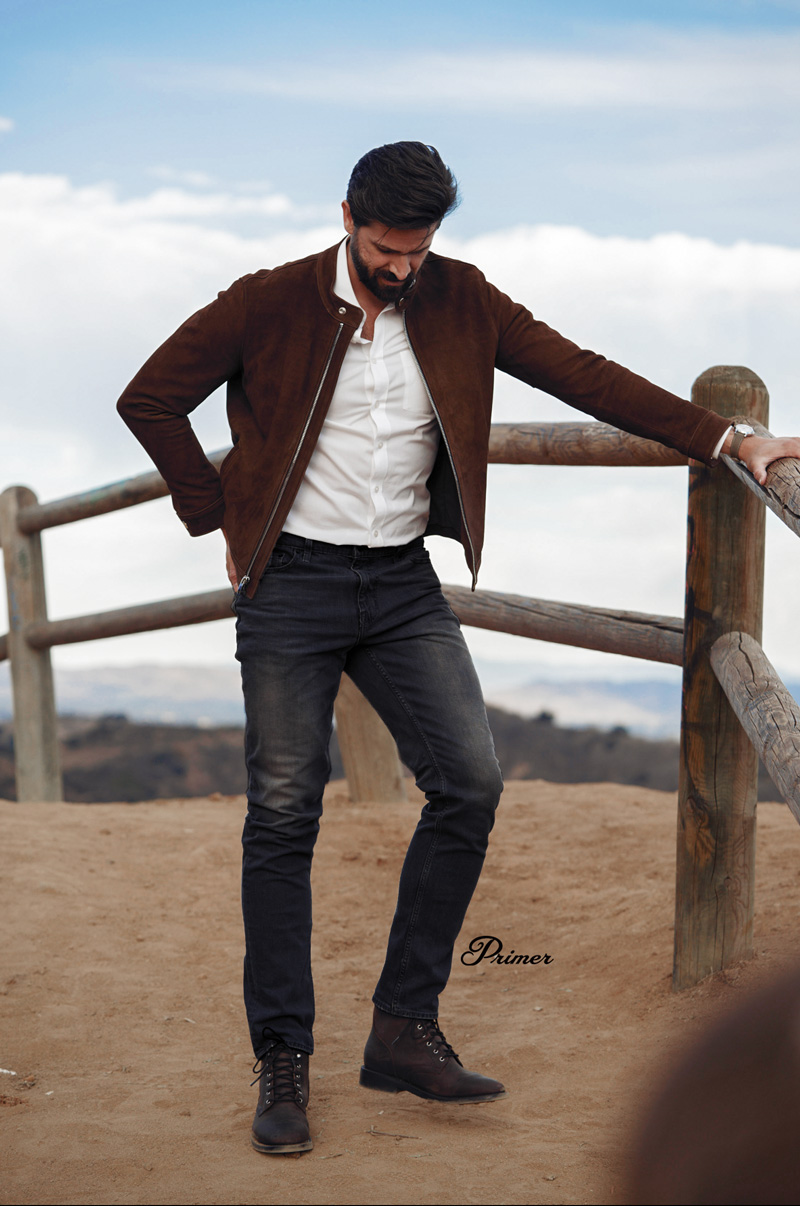 Dress up your black jeans and brown boots by pairing them with a button-up shirt. Remember, the key to achieving a minimalist style is to keep it simple and let your clothing do the talking. So, opt for classic pieces and focus on fit and quality.
Black Jeans and a White T-shirt
Pair your black jeans with a crisp white t-shirt and brown ankle boots. This look is simple, effortless, and can be further dressed up or down depending on the occasion.
Black Jeans with a Raglan T-shirt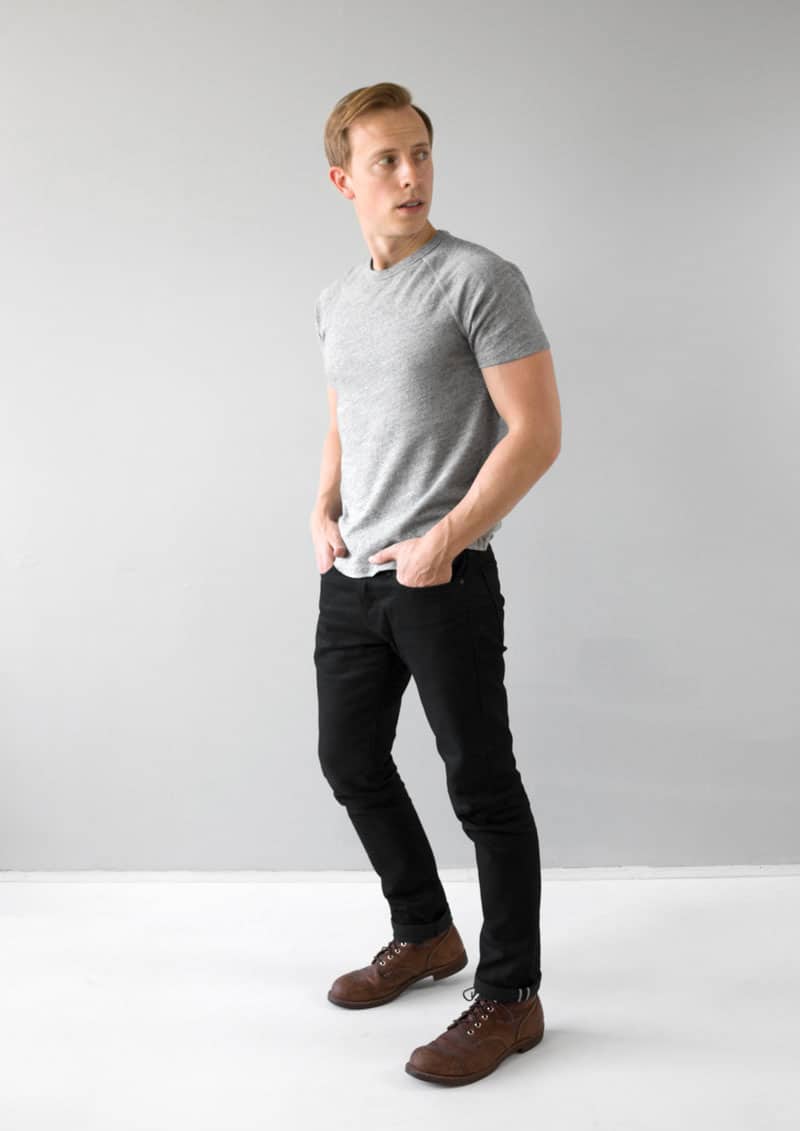 One way of nailing a minimalist style is paying a closer attention to the details of the pieces you buy. For example, with such a simple outfit – a gray t-shirt, black jeans, and brown boots – the details of the raglan sleeve on the t-shirt stop the outfit from looking like you woke up and pulled a fresh marled gray Fruit of the Loom from the pack.
Black Jeans and a Tan Waxed Canvas Jacket
Add a trucker jacket to your black jeans and brown boots for a casual and easy evening outfit. Paired with a charcoal gray pocket t-shirt, this minimalist style keeps you looking sharp even in the worse-case scenario of being under-dressed.
Black Jeans and a Denim Trucker Jacket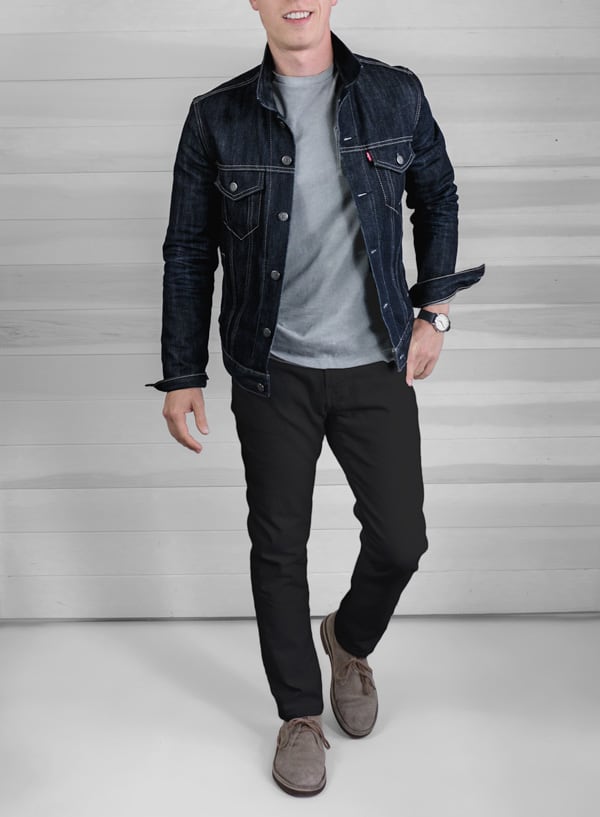 Swap the waxed canvas trucker for a blue denim jacket. It's a smart companion to black jeans because it allows you to avoid the blue denim on blue denim look usually associated with the Canadian Tuxedo.
→ See more minimalist outfits and read about building a minimalist aesthetic in your wardrobe.
Rugged Style
The rugged style is a mix of outdoorsy workwear and modern casual, with a focus on practicality, item endurance, and comfort. Here are some outfit ideas to help you achieve a rugged look with black jeans and brown boots:
Black Jeans and a Plaid Shirt
Combine your black jeans with a plaid shirt and brown boots for a classic American look. Layered with a shirt jacket and henley creates a wonderfully structured, masculine style.
Black Jeans and a Hoodie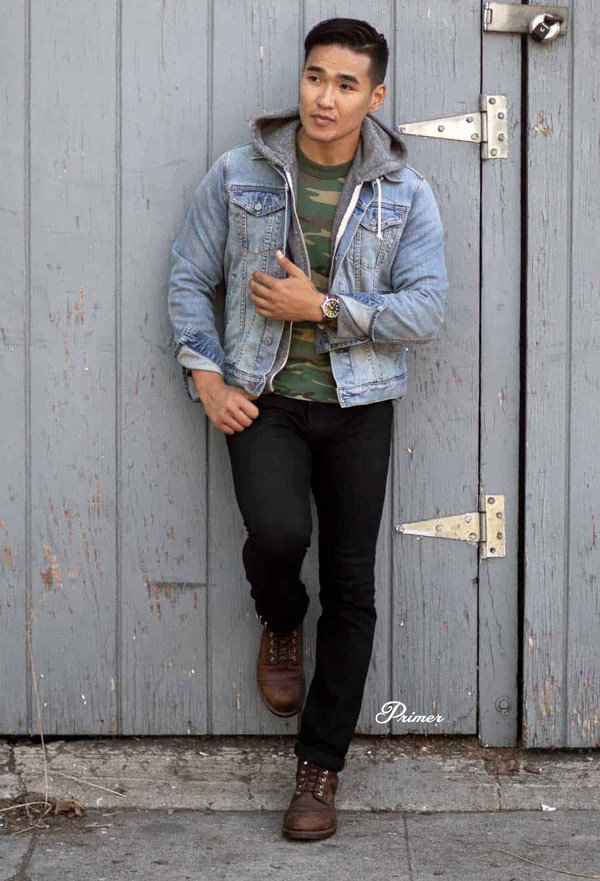 Add a hoodie to your black jeans and brown boots for a more relaxed rugged look. Layer it under a denim jacket for a warm outfit that works in spring and fall.
Black Jeans with a Sherpa Jacket
It helps if you have some items to go with the black jean and brown boot combo that aren't black or brown, like this rich blue denim jacket with an off white Sherpa collar. It is neither black or brown – the navy and cream connects both the black and brown items together to feel cohesive.
Black Jeans and a Leather Jacket
A leather jacket is practically next of kin to black denim.
Brown suede looks amazing with black jeans, and brown boots are the preferred choice over black in this ensemble to create intentional balance.
Black Jeans with a Flannel Shirt and Henley
Smart Casual Style
The smart casual style is all about balancing sophistication and relaxation. It's a great strategy for those who want to look put-together, but still appropriate for our increasingly casual world. Here are some outfit ideas to help you achieve a smart casual look with black jeans and brown boots:
Chukka Boots, Olive Jacket, and Denim Shirt
Black Jeans and a Blazer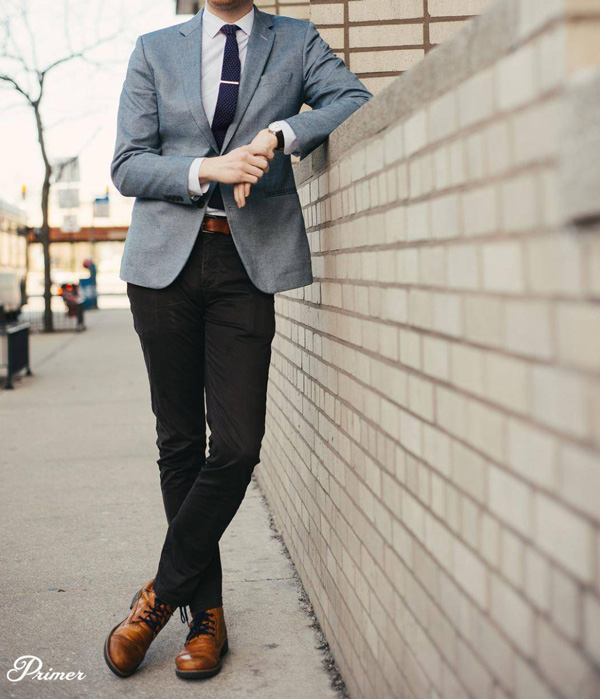 Add a blazer to your black jeans and brown boots for a more polished smart casual look. This outfit is great for a a client meeting, an evening at a nicer restaurant, or a work function.
Black Jeans with a Textured Sweater
The texture of the shaker knit sweater adds quite a bit this outfit. What separates this look from the other leather jacket outfits is the more refined/dressier feel from the sweater that makes an easy evening smart casual outfit.
Black Jeans with Chelsea Boots
When it comes to the smart casual style, focus on comfort and sophistication. Opt for clothing that is both style-oriented and practical. Don't be afraid to mix and match different levels of formality to create a look that is uniquely you.
How to Make Black Jeans and Brown Boots Look Better
Experiment with different fits: Black jeans come in different fits, including slim, athletic, tapered, and straight leg. Try different fits to find the one that works best for your body type, and creates the silhouette you're looking for. Focus on not having too much baggy, excess fabric bunching up on your boots. This could make the choice of wearing black with brown look unintentional since the baggy jeans may look sloppy. Read more about how pants should fit.
Add texture: Adding texture to your black denim and brown boots outfit with a leather, suede or denim jacket, or a sweater can help make them stand out. A trucker jacket works especially well with black jeans, as it adds a rugged edge.
Keep brown tones somewhat consistent: Wearing a brown watch or belt or leather jacket with brown boots is a key to making the mixing of black and brown purposeful, but that doesn't mean you can just take any brown shaded boots and any brown shaded accessory or jacket. Mixing tones and shades can absolutely work but the father away you get from the same color, the more understanding is needed to determine if it is cohesive or clashes.