What happens to American-made selvedge denim in the wake of this legendary fabric mill shutting down?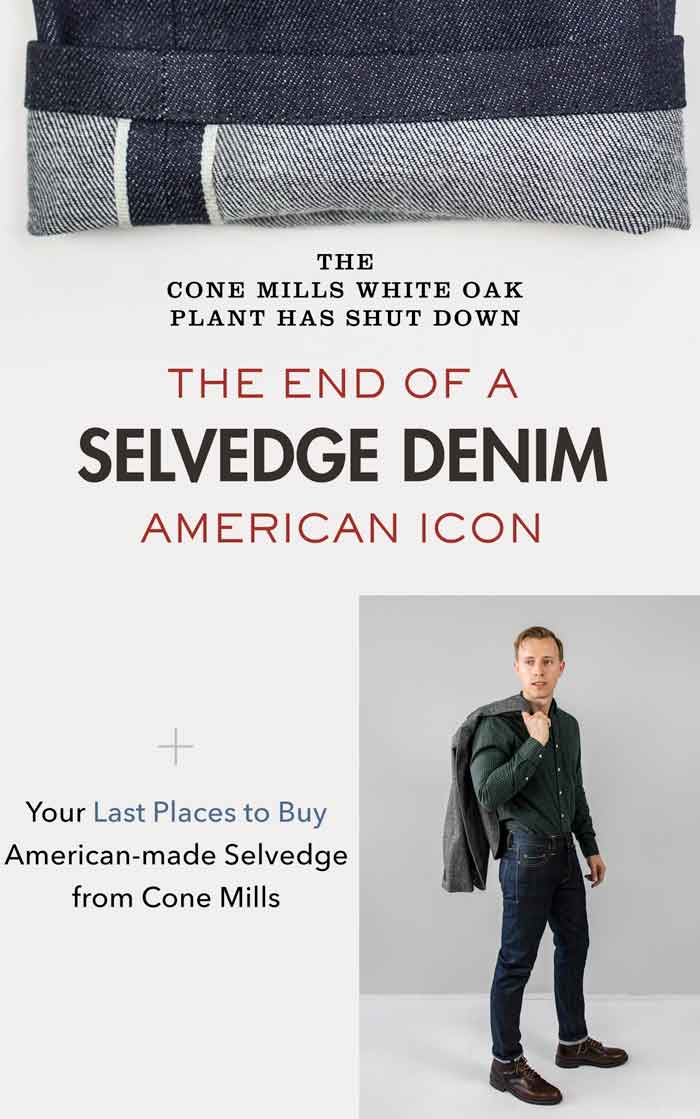 Inside the peculiar and insular world of selvedge denim aficionados, something is amiss.
Those in the know are mourning. Others are buying up all the selvedge jeans they can from a single, legendary source. Why?
In December, the Cone Mills White Oak plant stopped production, and when it did the world of American-made denim was forever altered. The White Oak plant was the last remaining selvedge denim factory left in the United States producing at scale. While Cone Mills continues to operate mills in Mexico and China (leading to some deceitful attempts to cash in on the American mills' prestige by brands like Uniqlo), when we refer to Cone Mills in this article we are speaking specifically of the American-made denim from White Oak.
Don't feel uninformed if you haven't heard of Cone Mills; it's the domain of serious denim aficionados. The story of how Cone Mills became legendary begins with the handshake deal of a century. And how it met a tragic, inevitable end is worth knowing for any guy who appreciates his favorite pair of quality jeans.
Origins of a Legend
Before selvedge became a passion of the denim-obsessed, with their insider language of nep, slub, and twill, it was the hard-working fabric of blue collar Americans for more than a century.
Cone Mills is at the very heart of that history.
Founded in 1891 in Greensboro, North Carolina, the Cone Mills plant made tough-as-nails workwear for an era in which most Americans couldn't afford to buy more than one pair of jeans a year.
The company got their big break in the early 1900s with an informal handshake deal that made them the sole denim provider of a little brand called Levi Strauss & Co. The so-called "golden handshake" ensured the mutual success of both organizations for decades, when Levi's started cutting costs, opting for more efficiently produced but less prestigious denim from elsewhere. It was at that point that the selvedge edge disappeared from Levi's – that little white strip on the outseam that has become synonymous with higher quality and, of course, higher price.
It's important to note, however, that in the early years selvedge denim was not a fashion statement. On the contrary, denim was meant for hard work and needed to stand up to the exacting standards set by Levi's, as well as Lee and Wrangler – all of whom used Cone Mills denim at various points.
Cone Mills in the 21st Century
In the stonewashed denim craze of the 80s & 90s, Cone Mills occupied a no man's land between average consumers and serious denim aficionados. On one side: the average working joe was unlikely to shop for Cone Mills-produced denim. That guy wanted jeans that looked and felt vintage at a fraction of the price and effort of making them that way.
High-end denim connoisseurs weren't paying much attention to Cone, either, as the dark rich selvedge denim Cone was known for was at odds with the light acid wash trends of the day. Experts found themselves more and more entranced by Japanese, Italian, and even Chinese denims that were more willing to break the mold with new cottons, colors, and weights. Trusty Cone? It was considered too expensive or too much work to break in, and insiders cast it aside for not being interesting enough.
But in the last 10 years, Cone Mills denim has experienced a profound – and unexpected –  revival.
The famous Draper X3 looms that make Cone's selvedge denim are being written about all over the internet. The fabric is more closely analyzed and lauded for things like its "loom chatter," the small imperfections that give the denim a character unrivaled by other mass-produced versions. Cone Mills denim has been, in short, blowing up.
How did people come to love this tough, unyielding fabric?
For starters, after decades of increasingly disposable jeans from major manufacturers, consumers have come to appreciate the toughness, durability, and build quality of denim producers like Cone.
Add to that a darker wash that imparts more visual character and selvedge was perfectly placed to catch the colossal wave of "Americana" style that started roughly 10 years ago and is still rolling today. Americana devotees recognize the Cone Mills quality and story as perfectly aligned with their style ethos and its popularity has soared.
Who can blame them? When you look at denim from Cone Mills you are looking into the past. You are transported to an era when the choice to support American businesses was not such a body-blow to your wallet, and when people took the time and energy to make a pair of jeans their own.
All of this makes Cone Mills' closing of the White Oak plant surprising and saddening. In the same way boot lovers talk about Horween leather, Cone Mills White Oak denim has become synonymous with heritage and quality. Perhaps all that prestige simply wasn't paying the bills. Maybe Cone has finally fallen to the market forces that have brought down other classic American brands. Whatever the case, it's a loss to denim lovers and casual consumers alike.
Perhaps the most (and only) positive element of Cone's untimely shutdown is the newfound appreciation for the mill's signature denims. Cone Mills truly stuck to its guns amidst the myriad pressures of the fashion industry.
Get 'Em Before They're Gone
In Cone's twilight hours, you have a last chance to snag a choice pair of blue jeans made from their historic and high-quality denim. You may even want to get two pairs, because you might not go back.
Did you know indigo has a smell (a tiny bit like corn) and that it comes away on your hands when you touch your brand-new denim? Denim from Cone Mills is an essential part of any fashion education and is more like a living, breathing thing than your run-of-the mill mall jeans. And because of the rarity and urgency, maybe you can justify the expense.
Where You Can Still Buy Cone Mills Selvedge Denim
If you can appreciate the historical significance of Cone Mills denim, but not necessarily the looser retro-style fashion it sometimes entails, then these jeans from Flint & Tinder would certainly be a good choice. A zip fly and stretch denim bring this pair of pants to the 21st century, while a classic selvedge edge serves as a reminder of the heritage of the fabric on your lower half. A slim tapered fit with a medium-low rise that's cut and sewn in Los Angeles, CA makes these our top choice for the modern guy.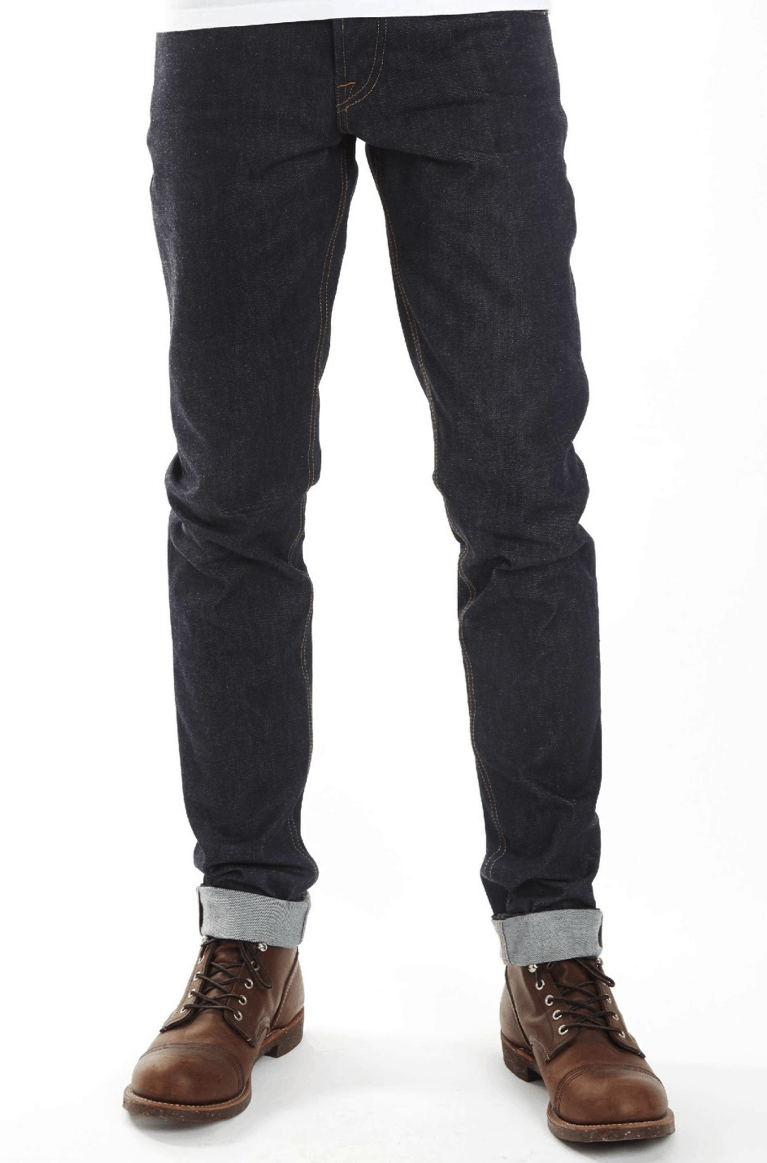 Bravestar Selvage has been working out of L.A. for some time now, making made-to-order selvedge jeans. As with many such brands, Cone Mills provided much-needed startup fabric at a fraction of the cost of shipping from Japan or some other famous denim-producing nation. Bravestar had a countdown to the mills' closing on their website and many of their other Cone Mills products have already sold out. The panic is tangible!
The relatively new Regular Taper cut has a regular top block and an obvious taper. But most importantly, the jeans come from Cone Mills denim with an indigo warp (outer layer) and a brown-tinted weft (inner layer), this means that as the denim fades, a brownish thread will show through, giving you a more rugged-looking dirty fade to your denim.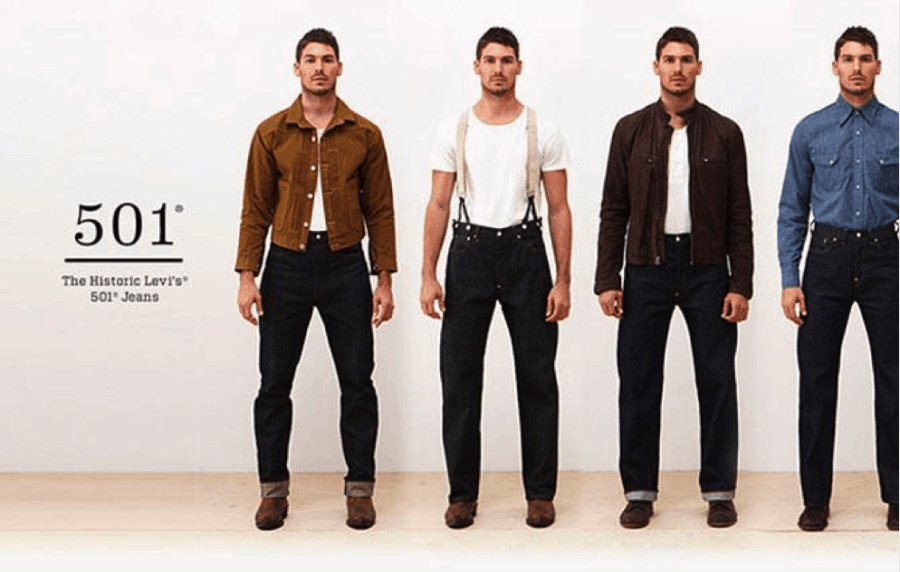 For the most historically authentic Cone Mills experience, look no further than Levi's Vintage Clothing. With year-specific reproductions of the major 501 variations, you can expect different denim, thread colors, and cuts; all of which are based on original pieces from the Levi's archives. The 1915 model onward use Cone Mills designed to match the color and character of the fabric used in that specific year. While all of the currently available models can be found on the Levi's website, even the experts agree to try and snag a pair when they're on sale, which they periodically are.
I myself bought a pair of the 1947 501s and the 1966 501s, (both on steep sale) which come in a slim-straight and straight-tapered fit respectively. The former is to dress like Marlon Brando from The Wild One and the latter to dress like Steve Mcqueen did on a daily basis. Each of the 501s has a unique character, but to get an authentic fit, be sure to buy them rigid and shrink them to fit.
Do you own a pair of Cone Mills selvedge denim? What do you think of the plant closing? Let us know below!