Your new favorite jeans cost less than $50 and will fit you perfectly.
Rarely does the company that invents something become the beloved version for everyday shoppers and snobs alike, while maintaining a very affordable price. But this is the case with Levi's. Considered the go-to starter pair for raw denim by denimheads, the Levi's 501 Shrink-to-Fit jeans are a smart investment whether you're frugal or snooty.
Most jeans that you find in stores have been created with denim that was "sanforized," a process invented in the 1920s that limits post-wash shrinkage to only 1%. Prior to this, and still true for raw denim today, a pair of jeans would shrink 7 to 10% after the first wash, and continue shrinking slightly on subsequent washes. This means you have to account for the shrinkage when buying raw jeans, requiring a sizing up of several inches.
Why go through all the hassle? Well, raw denim has a few other unique properties. When cared for correctly, raw denim shapes and molds itself to the wearer's body, resulting in a pair of jeans that not only fit your measurements, but also your unique shape.
Ever try on a pair of jeans that fit great in the waist and inseam, but were too baggy in the thighs or too tight in the calves? That's because everyone is unique, and the shape and sizing a brand's designer decided on may not work for your body. Raw denim takes all that out of the equation.
Prior to sanforization becoming standard, getting the perfect fit caused folks to do some pretty eyebrow raising things just for their jeans. Famous myths on the web include dragging a fresh pair behind a car and dropping them overboard behind a boat.
Among denimheads, the process of wearing in a pair of raw jeans is a part of the charm. As the denim shrinks and conforms to your body, it also develops fading and whiskers with a more natural appearance than those bought pre-distressed at a store – a point of pride among those devoted to the practice. There's a whole glossary of terms for specific types of distressing including "whiskers" on the tops of the thighs, "honeycombs" on the backs of the knees, and "stacks" on the ankles.
Raw denim like my 501 StF's are stiffer than typical jeans. This creates less loose movement in the denim, allowing "stacking" or more breaks at the end of the pant leg without the fabric flapping in the motion.
My Shrink to Fit's were my first adventure into raw denim and I have been very impressed with how great they look and fit, compared to how much I paid. Traditional Levi's 501 Shrink to Fit jeans can be found for around $40 online on sale, and in many stores. The 501 offers a classic straight fit, which keeps us stylish in these slimmer times, while also accommodating everyday items like boots.
For those unconvinced, the care process may tip the scale into the downright dirty. Raw denim producers recommend not washing the jeans for up to 6 months after the initial sizing wash to allow them to complete the fitting process, a gross-sounding proposition.
However, you may be surprised at how unsmelly your jeans remain, but there are a few remedies for those who can't bear it anymore. The most common recommendation for sour jeans is to place them in the freezer overnight – the cold kills the smell without causing the shrinking and fading a full wash will incur.
As with all jeans, raw denim should be washed in cold water (except during the shrinking process) and inside out to preserve the indigo. Diehard denimheads even suggest throwing on your jeans and sitting in the tub to maintain the size and shape when they need a cleaning.
I'd say for those with less conviction to use a washer with cold water and line dry, while limiting cleanings to only when it's absolutely necessary, whether that's 6 months or sooner.
There's a breaking in process with raw denim, just as there is with a proper fitting pair of shoes. The raw denim may feel stiff or tight in some areas for a few days, but it will loosen up as the denim learns to fit your body.
If you search how to shrink your 501s you may get overwhelmed as I did while researching it. There are a lot of very dedicated folks who take this very seriously – many of whom contradict each other in the process. But I actually found it to be quite straight forward when doing it myself.
A commercial for Levi's Shrink to Fit jeans starring a young Stanley Tucci
I first learned of the concept a few years ago when I came across this post on Thighs Bigger Than Your Head. I chose to follow Levi's recommended process with a few of Tommy's practical tips thrown in and am super pleased with the results.
Where to find Shrink to Fit Jeans: Pick up a pair on Levi's site or on Amazon.
Proper Sizing
The most important part of the process is correctly sizing up to accommodate the shrinking. Levi's instructions offer a table that explains how many inches to add based on your normal size. Fair warning, you may not be the size you think you are due to "vanity sizing," a common practice among retailers over the last few years that puts smaller sizing labels on clothing that is not accurate if checked with a measuring tape.
| | | | | |
| --- | --- | --- | --- | --- |
| Waist | Size Up | | Inseam | Size Up |
| 27-36″ | 1″ | | 27-34″ | 3″ |
| 38-48″ | 2″ | | 36″ and up | 4″ |
| 50″ and up | 3″ | | | |
Based on this table, I sized up 1 inch in the waist, and 3 inches in the inseam. You can see in the before and after photos just how dramatic the shrinking process is.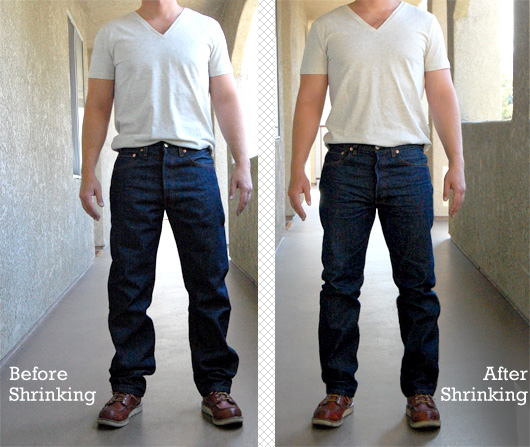 Hot Bath
When unsanforized denim comes into contact with water, it shrinks while drying.  So, we need to get these puppies wet. Plug your bath tub and turn the hot water all the way on (obviously be careful, it's hot). We only need enough water to submerge the jeans all the way. Once you get to that point, turn your jeans inside out to protect as much of the indigo dye as possible, and place your jeans in the water, making sure they get completely wet.
You can see how the deep indigo comes off in the water. Don't worry, it shouldn't stain the tub. It left no trace when I drained the water.
Hang Dry
After an hour of soaking, pull your jeans out of the water and hang them by the shower head with a pants hanger. We want as much of the water to drip off as possible.
The inky water left over.
Towel Dry
After your jeans have stopped dripping, lay them flat between two towels on the floor. I was concerned that the wet dye would come off on the towels so I used blue towels. The towels did get some blue on them, but all of it came out when they were washed.
Walk along the towel to push as much water out of the jeans as possible. Turn the jeans right side out, and repeat the towel walking.
Wear Dry & Fitting
Now you should have a very damp but not soaked pair of blue jeans. The key to not over-shrinking is using your body as a guide. So, throw 'em on and wear them until they're dry. "Wear soaking wet jeans until they dry? I don't even like getting out of the pool." I can hear you saying, but mine dried in less than an hour except for the thicker spots, and it really wasn't that uncomfortable.
This is really the secret to getting your jeans sized the right way.
Don't sit on any light couches or chairs while the denim is wet, you might transfer some dye.
Wear them with pride
Now comes the easy part. Wear your jeans often, with pride. They'll shrink, conform, and distress to your body and life. After some time, you'll have your new favorite pair of jeans, and they cost you less than a meal for two at a decent restaurant.
Tips for maintaining your jeans
Wear them as much as possible
Limit the washing to only when it's actually needed. Use Febreeze or the freezer method for killing odor until then.
The more you wear them, the looser they'll get. Getting them damp, or a full wash, will tighten the fibers again.
Pick some up on Levi's, or on Amazon.