Rediscovering what is work appropriate in a modern, more casual world.
Recently, we received a question from a Primer reader that I suspect resonates with a lot of our readers:
I've followed you for about 7+ years and greatly appreciate the content you provide. Especially The Getups!!
With many of us going back to the office after taking a year + in pajamas, T-shirts, sweatpants while working from home, many of us have slacked in building a fresh business casual look. Many of us need to get back in the swing of dressing appropriately and comfortably.
I myself could greatly use a different kind of The Getup. One which would allow me to quickly order 3+ outfits for working casual and comfortable in the office again and of course with budget in mind! Something I could look at and just buy! Can you help?
Thanks for your great work with Primer Magazine!!
– Brady Lanter
Hey Brady! This is a great question, especially since so many guys across America (and beyond?) can relate. The zoom tuxedo (shirt and tie on top, gym shorts on the bottom) won't fly when you have to return to the office.
At the same time, there's no denying that our sartorial culture has shifted: If I'm capable of working from home, I'm probably also capable of working without wearing a tie. Even in offices where a suit had been the norm, the dress code is loosening. So now what? Nobody wants to break the bank on a back-to-work wardrobe, so throwing together a collection of items that allow for multiple outfits, while still watching the budget, is what Primer is all about.
It's fall, and that means it's time for saturated earth tones, layering, and roasting marshmallows. This season we're leaning into pieces that have a soft hand, work-appropriate comfort, and versatility that will carry well into winter and spring.
Here are a few pieces and outfit combinations to consider as you head back to the office this fall.
What is a Capsule Wardrobe?
A capsule wardrobe is a small collection of thoughtfully chosen pieces that all work together and that you love to wear. It reduces wasteful spending on items you won't wear that often in favor of investing in favorites that offer a true mix-and-match versatility.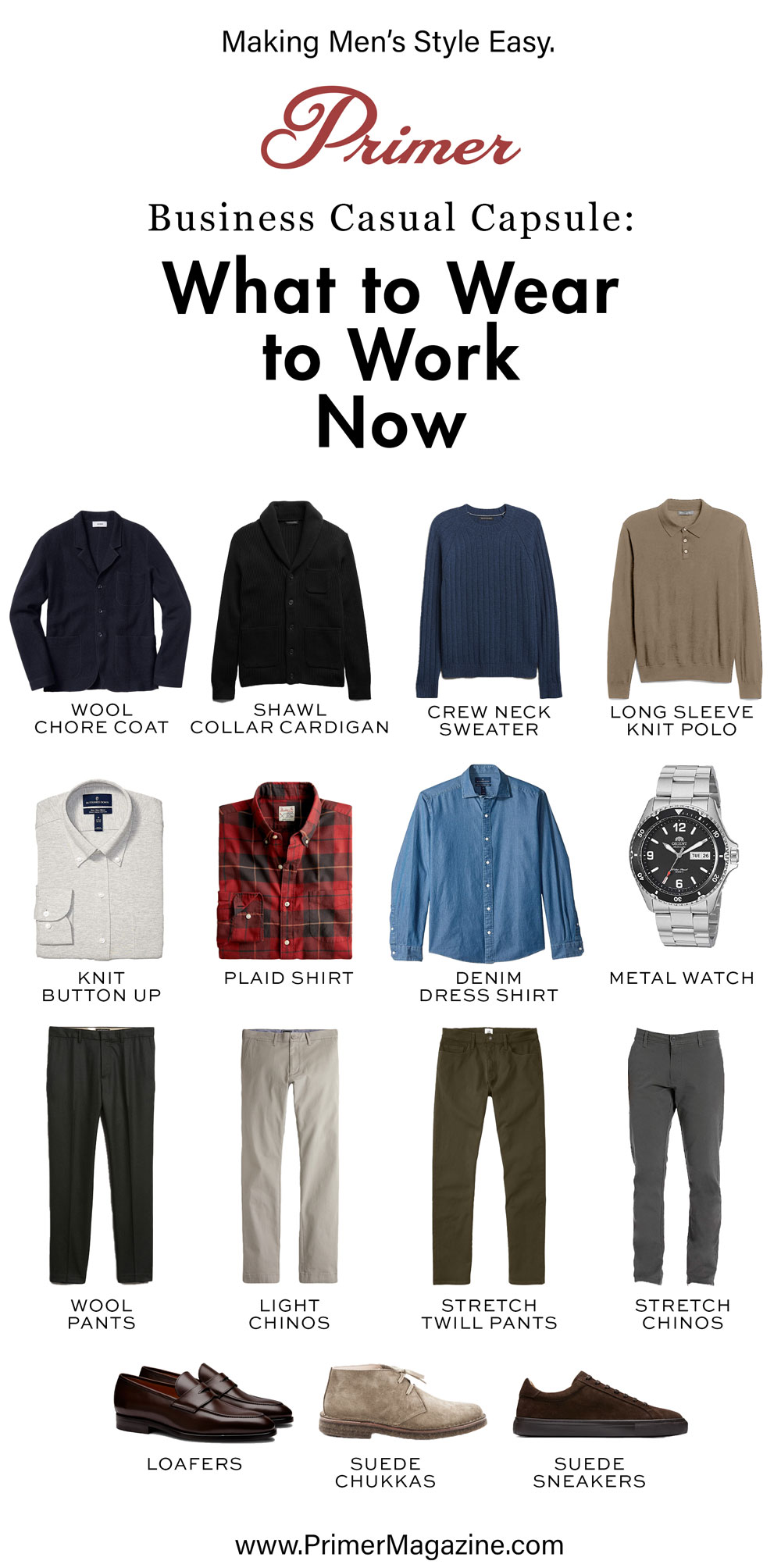 Business Casual Items
Wool Chore Coat
While the navy blazer is an office staple, it doesn't do much when you're up against the elements. The boiled wool chore coat gives you the versatility of a blazer with a more casual-focused utility of a jacket. Boiled wool (also called felted wool) is washed at an extremely high temperature, then dried before it is made into garments. This pre-shrinking process allows the fibers to tighten, creating a wind-resistant finish that's still breathable.
It's a more rugged and casual alternative to the traditional sportcoat, and so a perfect addition to the modern business casual capsule.
Shawl Collar Cardigan
The shawl collar cardigan is a fall staple. It pairs just as well over a t-shirt with jeans as it does with a button down shirt and chinos. On mild days, wear this in lieu of a jacket (throw a scarf on with it for a little extra panache). This one from Banana Republic is made from 100% Supima cotton, which is the softest cotton you can buy and accounts for less than 1% of the cotton grown globally.
Crewneck Sweater
For a dash of deep color, grab a wool crewneck sweater. This one from Banana Republic is made from 80% recycled wool and has a wide rib and raglan sleeves, giving it a very 80s prep vibe. Throw it on over a button-down shirt, and you're set.
Pique Button Up
The pique button up shirt is the curveball you didn't see coming (and neither will anyone else). You have dress shirts. You have polo shirts. This is…both? Soft pique cotton that feels like a casual polo but looks like you just stepped off the plane from a trip to Milan. This shirt mates sneaky comfort with understated modernity.
Knit Polo
If you're feeling old-school, you can't go wrong with a classic knit polo. You get the comfort, but you still have the collar to make it work appropriate. When we were kids, the polo was what your dad wore to office golf outings: baggy, blousy…dumb. But the knit polo has seen a revival in fabric quality and cut alike. This one from Banana Republic has a trim cut and is made from 100% merino wool.
Denim Dress Shirt
The denim shirt, like a good pair of loafers, has never gone out of style. It's the perfect casual shirt for a night out, and it's a secret weapon in the office. If your vantage point on denim shirts has only been western wear, we're gonna open up your world.
While you can rock a denim shirt with a tie, it looks better with an open collar, buttoned down (so as not to appear overly rakish). Pair it with your chore coat or shawl cardigan and a pair of twill pants for a look that's fall chic.
Plaid Shirt
The right plaid shirt can be handsome and smart, not lumberjack-y. This vibrant red-hued plaid adds a dose of fall color to your outfit while still being incredibly easy to pair thanks to the black and beige shades. Part of J.Crew's broken-in cotton line, it's super soft for all day comfort, cut in a trim, modern work appropriate silhouette. It's available in slim, tall, and classic fits for every body type.
Wool Pants
If you need that extra dose of dressiness (or if it's cold outside), reach for wool pants. Wool pants have flattering drape, they allow for comfortable mobility, and they convey formality (unless you want to dress them down with sneakers for a great smart casual look).
Light Chinos
As a school teacher, I wear chinos everyday. I can't wear jeans, and wool slacks are frankly overkill (unless it's especially cold outside). I just picked up a pair of these J.Crew chinos in mushroom, and it's the perfect color for fall. It's khaki, but with a slight grayish hue, making them ultra versatile. They match every shirt I own and pair well with a sweater and loafers or chukkas.
Twill Pants
Twill is a step up from jeans in formality, and a side step from chinos. It's the fabric (basically brushed cotton) that most men forget exists. This pair of twill pants from Flint and Tinder are made from pre-shrunk 8oz. fabric, making them heavy enough for fall but light enough for spring (so don't pack em' away in December). The moss color is rich, saturated, and perfect for fall combinations, which is why they're featured in our guide to smart casual. And since they're made by Flint and Tinder, the quality is guaranteed.
Stretch Chinos
For an essentially neutral base, try these Dockers 360 Stretch chinos. The steelhead tone will complement any color you want to wear up top and will look extra slick with a navy chore coat. These are perfect for a guy like me who has to rock a tucked shirt on the daily because the flexible waistband (which you can't actually see) allows for maximum comfort. Oh, and if you're worried about those pesky shallow pockets that chinos tend to have, these have a hidden pocket on the side. Check Primer's feature on them.
Loafers
If you're not required to wear a suit, leave the captoes at home. Instead, opt for the versatility of a loafer. Depending on the outfit, a pair of loafers can fulfill your casual and business casual needs. This pair from SuitSupply are made from soft calf leather, with a full leather lining, leather sole, and a Blake stitch (this means they're lightweight and have a short break-in period).
Chukka Boot
I've said it before, and I'll say it again: There's just something about a chukka boot with a crepe. It's the ultimate in comfort and can show up as formal or as casual as you'd like. You can't go wrong with Clark's, but if you want something original for this season, check out this pair from Astorflex. They have a slightly lower-cut ankle, Italian leather, and an all-natural crepe rubber sole. While I would ordinarily default to the dark khaki, I like the stone color for its ambidexterity: match em' with brown, match em' with black…basically match them with anything.
Suede Sneakers
Brown leather sneakers work well in summer, but they're essential to fall. Brown leather sneakers are to fall what Bean boots are to winter: They tie an outfit together and set the tone for the day. Casual Friday? Brown leather sneakers. Drinks after work? Brown leather sneakers. Presentation for the board of directors? Ok, maybe wear something else. The point is that for a laid-back fall look, brown leather sneakers will marry business casual with athletic like no other piece. If you want minimalist chic, check out this pair from SuitSupply in calf suede with flat laces.
Metal Wristwatch
For a modern, all-purpose time piece, you can't go wrong with a diver. Orient offers one of the best values on the market: The quality is top notch, the aesthetic is simple (meaning you can dress it up or down), and the 41.5mm case means it won't look like a grandfather clock sitting on your wrist.
16 Example Business Casual Outfits Made from the Capsule
Save them to a Pinterest mood board or to an album on your phone for easy access on those blurry mornings when you don't know what to wear.
→ Follow Primer on Pinterest for more style moodboard inspiration