Looking for a pair of affordable pants that can not only be dressed up or down but are actually comfortable too?
I originally discovered these Dockers when I ordered them with a gift card provided by Amazon.
For the first 99% of my life, my go-to pants were jeans. They're casual, they're rugged, they're the starting-point of the young male uniform. And up until about 10 months ago, I believed what every bro who doesn't want to wear anything other than casual clothes espouses: "They're comfortable."
But a funny thing happened while living through a once-in-a-century quarantine that completely wrecked our relationships with our wardrobes. We actually started prioritizing comfort. And what I found out, just by what I would groggily reach for morning after morning, is that I actually didn't think jeans were my most comfortable option.
The pair of pants I've worn the most are stretch chinos. And of the couple pairs I have, the ones I wear the most are awesome for 3 reasons:
They're the cheapest, $39 on sale
They fit and stretch the best; also available in straight and Big & Tall sizes
Most importantly, they have a little hidden zipper pocket:
The worst part about chinos, fixed
I can already hear some of you saying, "yeah, sure, I hear you, but I have cracks on my phone and a lost set of keys because of how everything slides out of the straight pockets on chinos." Agreed. It's mega annoying. Which is why I was delightfully surprised to find this hidden zipper pocket next to the right pocket after they arrived. Big enough for at least my iPhone 12, it addressed the only outstanding downfall of non-jeans.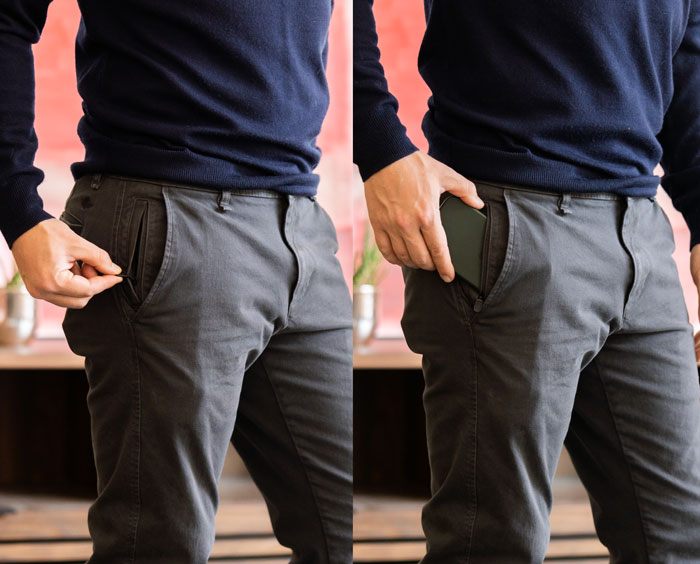 Best budget stretch chinos
These are the Dockers "Ultimate Chino" in slim fit. I ordered them from Amazon but they're also available at other places like Macys and Target. I was excited to find them because I actually had a very similar pair a couple of years ago but that model/line was discontinued, which is a frustrating and frequent problem with Dockers. Those were the Smart360 Flex Weekend Chinos; these are the Ultimate Chino with Smart360 Flex.
Are they the same or are there differences? Unclear. And that's the exact problem both Dockers and their parent company, Levi's, have. Constantly releasing, renaming, discontinuing. I'm all for branding and naming, but between the Ultimate Chinos, Alpha Khakis, Alpha Chinos, Downtime Khakis, Easy Stretch Khakis, and Comfort Khakis, it's impossible to know what the heck the differences are unless I dive into the tiny little text under the description.
In any case, I have found these. And I like them. Buy them before they change their name and/or discontinue them.
Check them out in the "Steelhead" color:
How to wear them
Beyond the comfort, I just like how universal they are. Another great example of what we call a "chameleon" item here on Primer. They're as casual or dressed up as the other things you wear them with, and that makes them a top pick when trying to build a painless smart casual wardrobe.
For me, I prefer either no, or very slight, break in the pant legs. The pant break is the amount of folds and creases at the bottom of your pants caused by excess length. As always, there's no right or wrong, only how you like to wear them with your style. I prefer a shorter length because it allows me to dress them up like dress pants and not have a bunch of extra fabric stacks, keeping my silhouette tailored. (You'll notice break is measured while standing straight up, so even with little or no break, you'll still have folds when your legs are in other positions, providing a natural look.)
One of the reasons I like to order my pants on Amazon is often a wider availability of inseams. To have no or minimal break on a pair of pants I need a 29″ inseam. Most stores stop at 30″. You can always have a tailor hem them, which I wholeheartedly endorse, but why spend an extra $15 if you don't have to?
Do you have a favorite pair of affordable slim chinos? Chat with me in the comments!