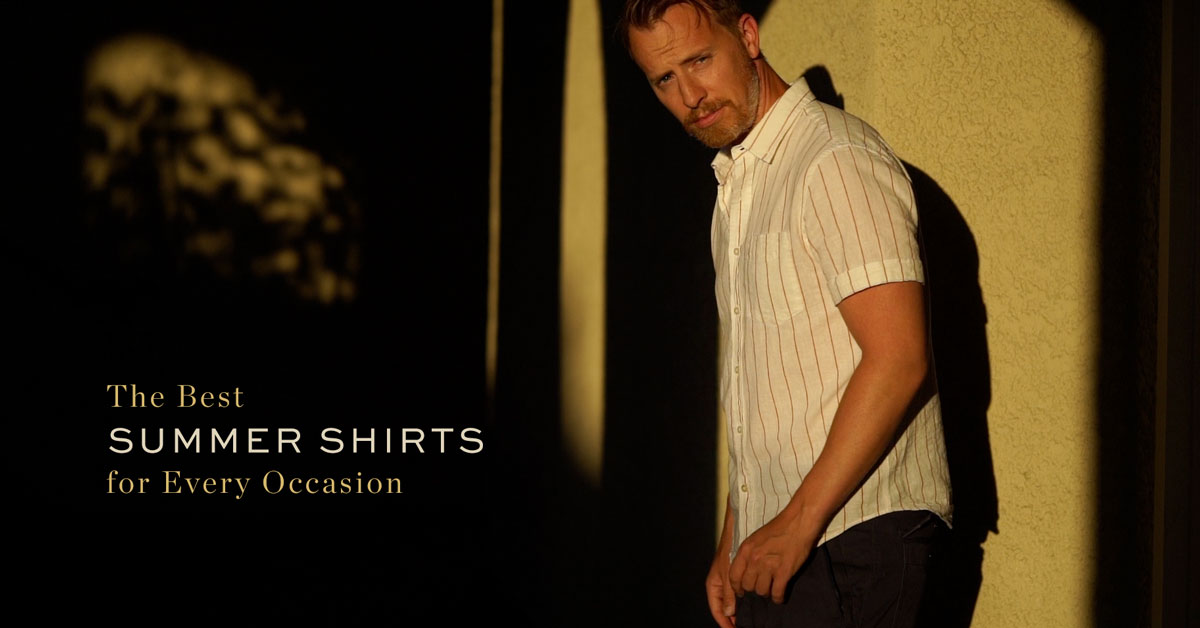 These summer shirts make great style effortless, no layers required.
Choosing the right shirt for any given day in summer can be harder than it sounds. We know it calls for light fabrics, a style that can look sharp without layers, and a loose, breathable fit. But despite the endless forecasts of sun and the weekends brimming with outdoor plans, it can still be tricky to pick the perfect summer shirt when the options feel limited.
If you're anything like us, you probably find yourself pondering over a plain white tee or a bold Hawaiian print more often than you'd care to admit – and while both certainly have their place in the ranking of 'best summer shirts,' they make wildly different impressions. So to break down the best shirts to wear in summer, it's best to start by considering the occasion… And you might just find that curating a versatile summer wardrobe isn't so tricky after all.
We know that summer days can look pretty different city to city, let alone state to state. Which is why we've selected seven of the most stylish shirts that will see you through the sunny season, whether you're parked at your computer, partying in the sun, or just about anything in between.
The best summer shirt for smart occasions
Life post-pandemic is more about comfort than it was before, so when it comes to choosing smarter outfits you won't want to feel stuffy – especially in the warmer months. A light linen short-sleeved shirt with a sophisticated stripe, like this one from Banana Republic, is the perfect choice.
Whether you're dressing for a summer wedding, or a smart casual office setting that doesn't require a tie, the spread collar and cotton-linen blend will help you beat the heat without losing the smart status your dress code requires. Even better? This shirt is cut 1" shorter than usual through the body, ensuring a perfect relaxed fit that still looks sharp when worn untucked.
The best summer shirt for dinner plans
The enemy of any good summer outfit is the dreaded sweat patch, and never is it more unwelcome than on date night. The easiest way to combat the incriminating darker under-arm areas? Focus on fabrics. And when it comes to picking the lightest, and most breathable fabric that's guaranteed to leave you sweat-free this summer we're loving this linen camp collar style. It has long sleeves,s but trust us on this one: the lightweight linen and flattering open neckline work hard enough to make this laid-back style a perfect choice for hot weather.
Pair with smart casual trousers or well-fitting above-the-knee shorts and you'll be the best dressed man in the room while still being relaxed and comfortable.
→ Mango
The best summer shirt for days out
Picking the best shirt to wear to a BBQ, or a fully itinerized vacation day can be easier in theory than in reality. You want to make a good impression, but you know it's ultimately going to wind up smelling of smoke and sunscreen. The 70% cotton blend of this Vatpave summer shirt brings the lightness you need while still allowing the bold print to stand out without feeling saturated: the best bit is, there's a pattern to suit almost anyone.
It's a little more laid-back than your Banana Republic option since the print is louder and more overtly summery, but the spread collar and slightly loose fit in the body make this the ideal breathable option for a warm day outside when you want to keep cool without looking scruffy.
→ Amazon
(Provided)
The best summer shirt for casual offices
A knitted polo shirt combines the best aspects of both smart and casual dressing. The collar and button-up neckline hint at something refined, while the short sleeves and loose body bring the comfort we crave in our off-duty wardrobe. And while anything knitted might not sound like the obvious choice for summer, when it comes to polos they can actually be a cooler choice than your regular cotton.
Technically, most polos are made from a 'knitted' fabric, but rather than the slightly rough feel of the usual pique fabric, a knitted version will feel soft and sleek against your skin. Plus, if you opt for a 100% cotton version, it will be less likely to show you up with visible sweat stains. So you can keep up the pretense of sophistication while still feeling comfy at your desk this summer.
The best summer shirt for relaxed evenings
Nautical styles are a year-round go-to, but they really shine come summer. The simple stripes emulate a beach-side feel even if you're in the city, so when the evenings cool down – or the weather just isn't playing ball some days – reach for a long-sleeved Breton top. Inspired by the harbors of Northern France, it's a style that was designed by maritime workers, made popular by artists, and has since become a timeless representation of relaxed coastal vibes.
This premium cotton style is the perfect day-to-night throw-on that you can wear with chinos, jeans, or shorts depending on the temperature and the dress code. Plus, the quality means the fabric won't pill and the shape of the neckline won't distort.
→ Amazon
(Provided)
The best summer shirt for a day at the pool
The luxury feel of lounging by a pool should be accompanied by an equally resplendent shirt. The cool tone, tailored-but-not-tight fit, and spread collar of this short-sleeved Harbor shirt from J.Crew conjures a sharp and sophisticated James Bond vibe. So you can kick back and sip your poolside Gin & Tonic in style – just like Bond – no stress in sight.
→ J.Crew
The best summer shirt for off duty days
When it comes to running errands in the sun, it can be easy to throw on the nearest top and go get it over with. But this summer we say, why not be prepared? Dress in something you'd want to be seen out in and you can keep it on as your day's plans progress.
It might just sound like a plain t-shirt but trust us on this one: the simple addition of a pocket detail can make all the difference to your summer basics. The pocket t-shirt has over a century as a bastion of style under its belt. It feels more interesting and somehow more rugged than a plain white tee, can lend itself to any color or pattern you choose, and catches the eye so you'll feel like you've put in some effort, without losing any of the casual comfort of your favorite crewneck tee.
→ Everlane (Provided) / J.Crew Factory / Amazon