How to wear and care for linen, the easy way.
Every summer, menswear sites go full ham for linen.  We get why–this lightweight fabric not only looks great, it's simultaneously breathable and durable. But those same linen enthusiasts make it sound like you need a doctorate in fabricology (not a thing) to wear linen without looking more wrinkled than a Shar-Pei. Let's dive into what makes linen perfect for staying cool when it feels downright tropical outside, and separate flax from fiction.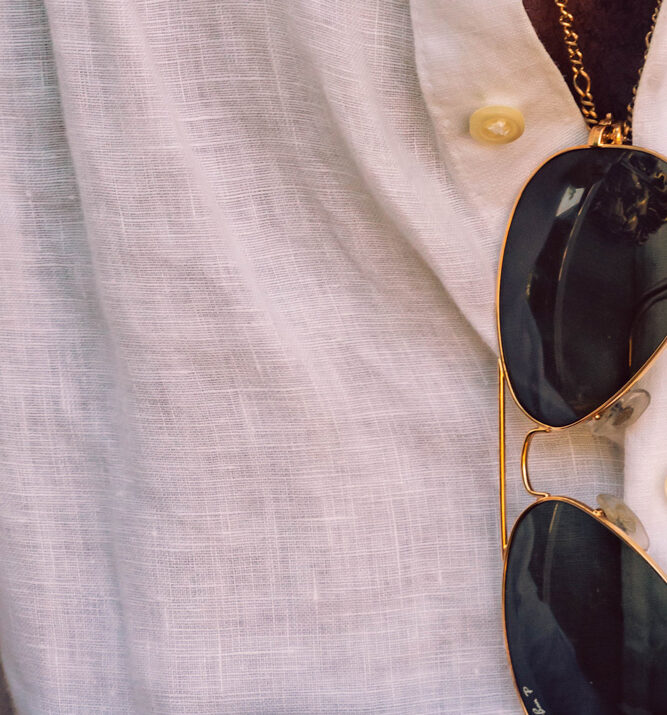 Revised and expanded 2023
What is linen?
First, a brief history of the fabric: Linen is derived from the fibers of the flax plant, originally grown and woven in Egypt, where it was used extensively. The ancient Egyptians prized linen — in fact, priests were only supposed to wear garments made from flax. Luckily, today you don't have to be a pharaoh to be able to afford a summer linen wardrobe.
Typically used for textiles like drapes and bedding (hence the term "linens"), the majority of world linen production wasn't used for apparel until the 1990s. But today it's everywhere you look, at least in the summer.
Linen clothing is priced fairly high when compared to cotton or synthetics due to the higher cost of production and relatively limited quantity available for use. As a result, many guys tend to opt for linen blends (often linen-cotton), which substantially lowers the price while also decreasing wrinkling. Buying a blended fabric also diminishes the primary advantages of linen, so it's not necessarily the best choice.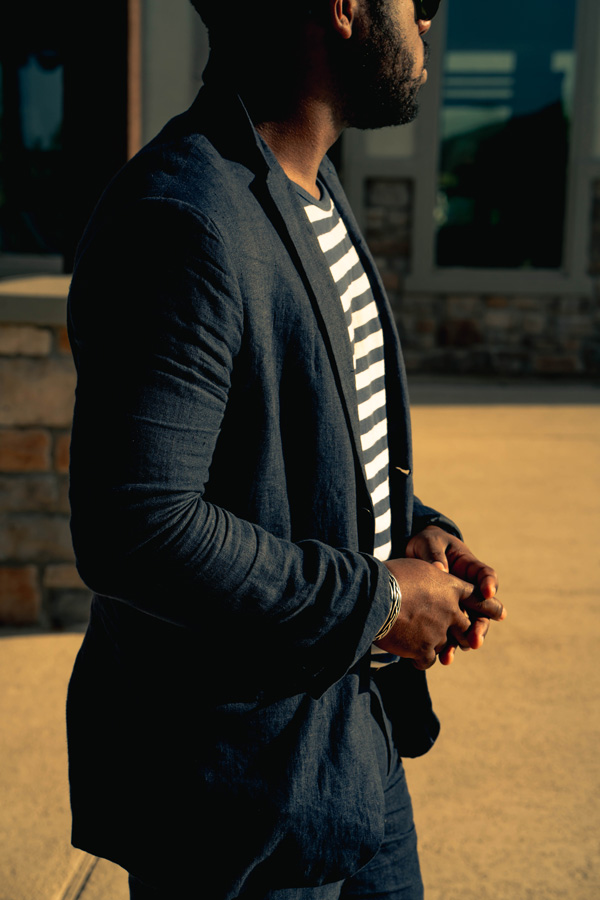 Given linen's popularity, unparalleled breathability, and accessibility, you really should give it a shot. As we've mentioned above, yes, it wrinkles–probably the number one objection that most people have. But that can often be a feature of wearing linen in the summer, not a bug.
So take a deep breath, and put down the iron. The bar to wearing linen (and wearing it well) really isn't set all that high. Here's our user-friendly guide to everything from linen shirts and shorts to linen suits and jackets.
Linen vs. Cotton
How are linen and cotton different? While both are derived from planet fibers, there are a number of key differences.
Texture
Linen is crisper and stiffer to the touch until worn in, while cotton is typically soft and comfortable from the first wear. While linen is a strong fiber due to its structure, cotton fabric is strengthened by spinning multiple fibers into a yarn.
Absorbency
While cotton is lightweight, it absorbs far more water than linen–meaning that when you start to sweat in cotton, you'll be wearing a damp shirt for a while. Linen's hollow fibers wick and shed moisture, so it won't feel damp as quickly as cotton. Linen also gets stronger when it's wet, even if it looks more transparent. This is a big reason why linen is worn in the hottest, swampiest regions the world over.
Insulation
The hollow fibers that make linen so good at moving moisture away from your body are also great at regulating temperature. Linen's breathability allows for greater airflow and a welcome "cooling" sensation in summer. Cotton isn't as good at moving heat, but it's a pretty good insulator–unless it gets wet.
Cost
Due to the lengthy production process, linen is more expensive to manufacture and buy. Cotton goes through a less intensive process, making it typically more affordable.
Other considerations
Linen is often touted as being antimicrobial/antibacterial, meaning that something about the fabric prohibits the growth of microorganisms. We found a lot of claims about this, but not a whole lot of proof–let us know if you want to conduct a science experiment in your closet.
How to Wear Linen
Due to its moisture-wicking properties, linen is suitable (pun intended) for a wide range of uses. Linen suits for men are practically designed to help you feel cool at a summer wedding, both in comfort and in style.
When even tropical-weight wool and silk blends feel too heavy and restrictive, a linen suit jacket feels almost like wearing nothing. And in terms of versatility, it beats other fabrics by a mile. Wearing a linen shirt (short or long sleeve, depending on the occasion) helps you stand out–in a good way. You can dress one up with chinos and loafers, or down with a pair of slim shorts and some espadrilles.
On the other half of your outfit, linen pants can be just as cool (if not cooler) than shorts, without exposing your legs to the sun (or running afoul of a more restrictive dress code).
However and wherever you wear your linen, just pay attention to fit.
Historically, linen garments have been cut on the looser/baggier side, both due to different trends and to optimize air circulation. As a result, many of the clothes you'll come across won't fit the way you might be used to. There's nothing wrong with a more relaxed fit, especially in the summer. Just adjust according to the formality of the occasion. A looser linen shirt as part of a smart casual outfit or beachwear is fine. For a linen jacket or suit you plan to wear to a formal event, go with a slimmer silhouette.
Even when worn more casually, your clothes should never dwarf your body, just drape off of it. If your new clothes don't fit quite right, perhaps consider going to a tailor; if you aren't totally happy with a new piece, you probably won't wear it.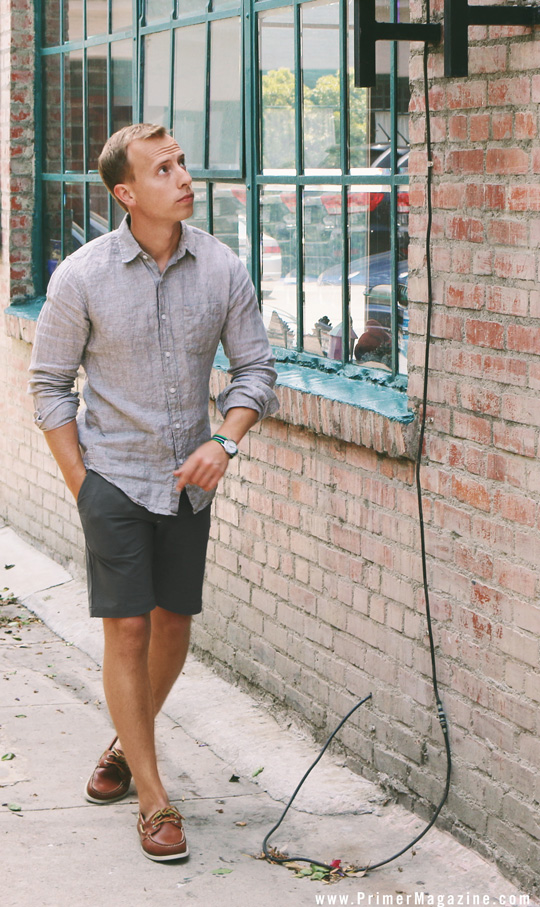 The downside of linen's relatively more open weave: unlined linen garments can be somewhat transparent, especially when wet. Plan accordingly when wearing white linen pants–choose a pair with a lining, and maybe don't wear bright red underwear that day.
But other than the occasional (and totally avoidable) wardrobe malfunction, there's one major hurdle to successfully incorporating linen into your summer (and even year-round) wardrobe.
How to Keep Linen From Wrinkling
Bar none, linen's biggest issue is that it wrinkles easily, and more aggressively than any other material.
One approach is to iron or steam the crap out of your linen garments, and covertly carry a travel steamer everywhere, attacking each crease with extreme prejudice. Or you can take the easy, breezy approach. Many people, us included, think that linen's wrinkles have their own kind of beauty. There's something about a perfectly worn-in linen shirt that denotes a relaxed, carefree attitude, which is especially appropriate for summer.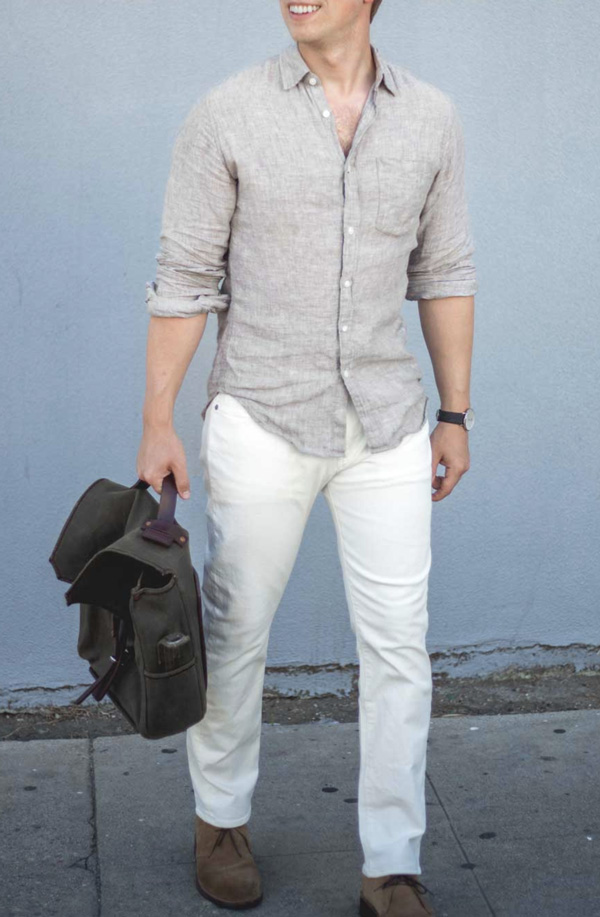 The one place you want to try to curb wrinkles is in your work wardrobe, where "relaxed" can be read as unkempt or sloppy.
The 3 Easiest Ways to Get Wrinkles Out of Linen
When doing laundry, remove linen garments from the washer/dryer immediately. The longer they sit, the more they'll wrinkle. In fact, pulling it out still slightly damp and then laying flat to finish drying can be all that's needed.
A garment steamer works wonders to de-wrinkle most clothing, not just linen items. I pack this travel steamer every time I leave town.
The "spray and stretch" works on hard wrinkles as well as places where linen curls, such as collars or button plackets. Place the item on a hanger, spray the wrinkles/curls with a water bottle, then gently adjust/stretch/work the fabric until it hangs without the wrinkle. Let dry, and you're good to go.
How to Keep Linen From Wrinkling While Wearing or On the Go
There's a simple equation that causes wrinkles in any fabric: folds + movement + pressure = wrinkles. Linen is especially susceptible to this due to how it's woven.
As we mentioned, the "embrace the wrinkles" philosophy views creases that are from normal wear and use as totally acceptable, even attractive. Lines that arise in places where your body bends–the elbows, around the waist–are natural. Linen shorts and pants will crease along the front and back. Hit those with a quick burst of steam and be on your way.
Here's what you should avoid–huge, all over wrinkles from neglecting your linen garments. Improper washing, hanging, and/or never ironing/steaming your linen can take you from "fashionably rumpled" to "walking hamper" REAL fast.
While minimizing wrinkling is fine, if that's your preference, some people take it a little too far by starching the heck out of their linen items. Starch keeps your clothes crisp and smooth, true, but it also makes them stiff and, well, starchy–kind of the opposite of what we're going for with light, breathable linen that moves with you.
The general rule of thumb is, if you leave the house mostly wrinkle-free any wrinkles that show up from natural wear and movement are completely acceptable. It's when there's a giant vertical crease on one side of the shirt because it sat in the dryer too long that it becomes undesirable.
Does Linen Shrink?
While linen is an incredibly strong and forgiving fabric, you have to be careful when tossing items in a hot dryer. There is a high potential for shrinkage, up to 15%! The dryer can also cause  garments to become stiff and crinkly. And if you leave a piece in there too long, it can acquire some stubborn creases.
There's an easy solution: wash linen items in cold water only, and tumble dry only or use a drying rack (or lie them flat on a clean, light-colored towel).  This should minimize shrinking to 5% or even less.
Shrinking Linen to Fit
The good thing about the dreaded linen shrinking is that you can use it in your favor. If a shirt is too big, rather than taking it to your tailor, try deliberately shrinking it. I've successfully shrunk several of my J. Crew Factory linen shirts a half or even a full size to reduce excess length.
Here's how you do it:
First, wash in warm water. Let the garment air dry, then see if it still fits. Avoid using heat to dry  in the first round because you could over shrink it. If it still needs to be sized down, you can wash it again in hot water, and then putting it in the dryer on medium heat. The old carpentry axiom of "I cut it twice and it was still too short," applies here. Shrink in stages.
If your linen clothes feel a little scratchy at first, give them a chance to break in. The more you wear and you wash your linen apparel, the softer it becomes. The fabric will also develop a nice subtle sheen, and as it becomes smoother, it will no longer wrinkle quite as easily. Even cheap linen will retain high levels of durability, and should become more supple over its lifespan.
So while linen has its quirks and special care instructions, it's still a material well worth the investment. If you're still on the fence, you could try a linen blend. But despite the extra TLC involved, linen still has a number of advantages over the other popular summer fabric, cotton.
Ultimately, we could write thousands of words on this topic, but it's not just what we say about linen. It's how it looks. So feast your eyes on the full spectrum of linen looks for inspiration, from smart casual to dressy. But first, a few affordable linen picks to get you started:
Linen Picks
Best Affordable Men's Linen Shirts
Men's Linen Shorts
Linen Pants
Men's Linen Suits
Men's Linen Outfit Inspiration
What's your favorite way to wear linen? Share your top picks in the comments.