Look forward to dressing sharp when it's sweltering.
Fall and winter are fun to dress for because they have their uniforms: tweed suits. Wool pea coats. Leather jackets. Flannel shirts.
Dressing for hot weather can often feel like a pull-out-all-the-stops function above all else kind of affair. Dressing well has its place, you think, but when it feels like 100% humidity, that place can't be next to the AC all day.
But that kind of black and white summer style thinking isn't necessary. There are a few longstanding style pulls that ensure you're comfortable, and they're also damn handsome too.
But don't take my word for it, Primer style contributor Daniel Baraka not only has an eye for classic menswear that feels effortlessly contemporary, he also has the intense hot weather expertise to make it practical.
"I grew up in the Congo, in central Africa. The rainforest climates in the Congo create these conditions that are a mix of intense heat in the summer paired with really oppressive humidity," Daniel tells me. "This can make tricky conditions to dress for. And so linen became the response to these conditions, mostly because the loosely woven fabric was super light."
Enter: The White Linen Shirt
A white linen shirt has 3 important characteristics: The loose fit allows for really good airflow, the white color reflects the heat of the sun instead of absorbing it, and the loose weave makes it light to wear on a long, hot summer day.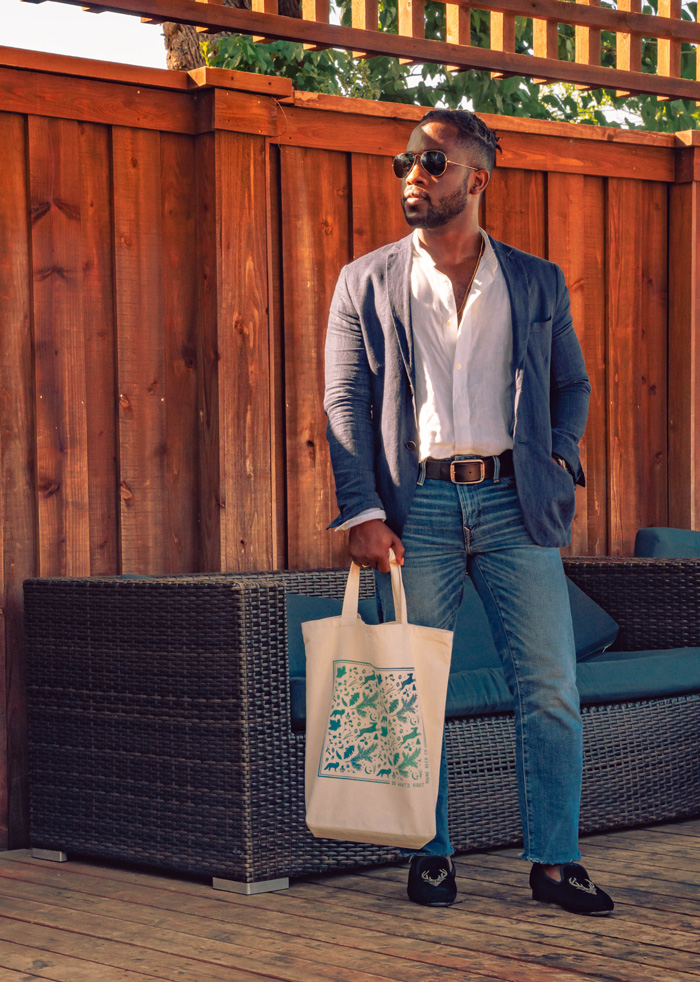 "These three conditions put together make it the most essential shirt you could have in the summer. Today, I'm in the humidity of Texas or the dry heat of California in Joshua Tree. I still wear linen shirts on most days in the summer weather."
The white linen shirt is the humid locale's own versatile version of the white OCBD. Daniel drives the point home, "You could dress it up with some jeans or you could wear some dress slacks, some shorts. I have worn it at the pool with swimming trunks. And just wherever it is worn, it has this relaxed look, that makes you the coolest guy in the room."
If you have even the slightest experience with linen your first thought may be the wrinkle maintenance on a linen shirt just makes the whole thing not worth it. But the craziest part of the linen shirt aesthetic is the fabric's texture, and the innate wrinkling that comes with it, is a feature not a bug.
Perhaps a strange analogy would be what I discovered after buying my Jeep: A muddy Wrangler actually looks better than a clean one. A linen shirt with natural wrinkles created from the movement of your body looks sharper, more rakish than a perfectly pressed one off the ironing board.
The important bit there is that it is the wrinkles created from wearing the linen shirt that are key – a linen shirt with a giant crease down the front from hanging it wrong isn't the same thing.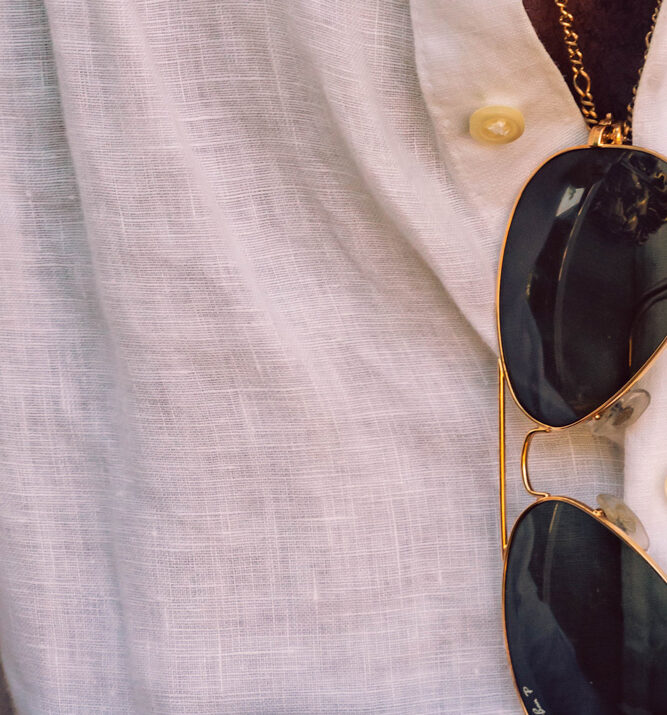 "I always iron my linen shirts after I clean them and I will iron the collar, the button plackets, the sleeves and the body of the shirts. And this allows it to form creases as you wear it, where your body normally folds or at the elbows or as you're twisting and turning, which adds character to the fabric," Daniel explains.
If you're not much of the ironing type (like me), a steamer comes in as an easier close second. Start the day with a quick pass of the steamer and get to it.
The shirt Daniel is wearing also features another summer style staple: The band collar, also known as a Mandarin collar, is a button up shirt without a collar. It's a style as old as button up shirts but has grown in popularity in the last decade. Ditching the collar that's hugging your neck is one more step in hot and humid comfort.
"Its like the perfect middle ground between the casualness of a henley and the formality of a regular buttoned down," Daniel says. "And it sits easily under a jacket, or a linen coat or overshirt."
Talking to Daniel about the band collar, he admits to a style hack I just fell in love with: "This was originally a shirt with a collar. There's a trick I learned young – I cut collars off shirts if the collar becomes worn, or I want to wear them in the summer." This is the ultimate way of having sustainable style, taking an item that can't be worn a specific way anymore and altering it to extend its life.
How to Clean a White Linen Shirt
As always, refer to an individual item's care tag instructions. In general, you'll want to wash on cold in a gentler cycle. If the linen is pre-washed you can place in the dryer on low heat, but you should remove and hang it while it's still slightly damp.
If your white linen shirt begins to yellow, OxyClean offers impressive results for whitening laundry.
Not all linen is created equally, nicer linen generally found on more expensive shirts will be easier to care for. I've had wallet-friendly linen shirts and suits from H&M over the years that were virtually impossible to get wrinkles out of; as well, cheaper linen tends to be rougher to the touch off the rack, though may soften with wear.
White Linen Shirt Picks
Linen Shirts with a Band Collar
Linen Blend Shirts
Opting for a shirt made of linen blended (usually) with cotton can take out some of the ease with which it wrinkles and can make care a little less involved, though you're sacrificing some of the innate benefits of a 100% linen shirt.