A guide to the must-haves of men's summer style.
Every guy has been there. He takes an interest in dressing better, joyously begins wearing cotton oxfords and selvedge denim. He learns the rakishness of layering with sweaters and outerwear. Then something unforeseen and terrible happens. Summer comes.
Dressing well in the heat can feel so intimidating it seems impossible. As the rising mercury steals away our layers and textures and multitude of fabrics our advances in personal style come to a grinding halt. How can you dress well when first and foremost you have to dress to stay comfortable?  How can you build multiple outfits if the only items you can wear are shirts, shorts, and shoes?
The secret, as with most of men's style, is in the details. The following 15 men's summer fashion items can be mixed and matched in endless combinations ensuring your sartorial skill doesn't take a 4 month summer at the beach.
1. The Polo That Fits
You're no stranger to the polo shirt, also known as a golf shirt or tennis shirt. Your mom had been dressing you in these for as long as you've been fit to go out in public. You've spent your life seeing middle-aged guys wear these tucked into dress pants. And you've probably eschewed them as you've started caring about your personal style, assuming they're for prep school kids and old guys on the golf course.
And, if you're basing that on what you've seen other guys doing, you'd be right.
But the reality is the polo shirt can be one of the sharpest and most versatile shirts in your wardrobe if you focus on getting the fit right.
The polo actually has a fascinating history. In the early days of tennis, players (unfortunately) had to wear a full on regalia while on the court. Long sleeved button up shirts, ties, and flannel trousers(!?). As with all great change, it took a trailblazer to finally bring some sense to tennis attire. René Lacoste, seven-time Grand Slam champion, got fed up with how impractical and uncomfortable the uniform was and designed a short sleeve, knit pique cotton shirt with a collar and placket, and a "tennis tail" – a shirttail that was longer in the back to keep it from untucking. Lacoste first debuted his shirt at the 1926 US Open, and in 1927 began sewing a crocodile patch on the left chest after journalists began referring to him as "The Crocodile." After retiring in 1933, Lacoste went full-press into clothing merchandising.
By the time Ralph Lauren showcased his polo shirt as a central figure in his new "Polo" line in 1972, the shirt became standard casual menswear.
The secret, though, to not looking like an old man is to focus on the fit details. I'm not prescribing a "tight" shirt, a proper fitting polo based on the guidelines below will have any gentleman, regardless of weight or shape looking sharp.
A common mistake young guys make is trying to size down to achieve proper proportions which can lead to a shirt with some of the details right but is overall too small. Look for a different brand, fit, or consider cheap alterations by a tailor. I also personally avoid tucking in my polos in all but the strictest business casual environments, in which case I would opt for a tucked in button up instead.
2. The Not Pique Polo
When an outfit is limited to only a shirt, belt, shorts, watch, and shoes, it's easy to get caught in an uninteresting, boring loop that makes you feel like you're a different Big Box sales associate, depending on the color of the day. To counteract the negative ill-fitting look imparted on us by two decades of corporate uniforms we have to hammer in hard on the details.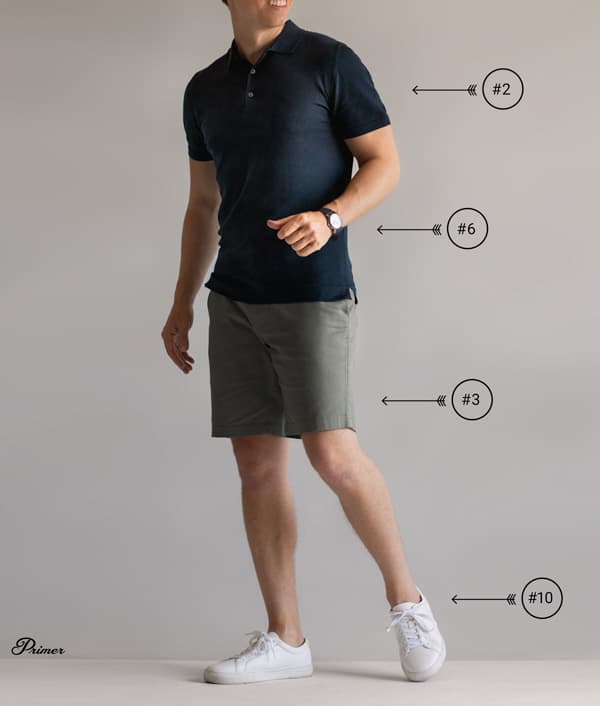 The soft, luxurious cotton-silk blend polo shown here from H&M is a subtle aesthetic alternative to your run-of-the-mill pique polo. First, the smoother cotton versus the texture of a pique polo can have a surprising dual effect. If pairing with casual shorts and tennis shoes the smooth cotton can play almost like a t-shirt, tapping into the overall casualness.
However, paired with slim, dressier shorts and penny loafers, a smooth cotton shirt now enhances the dressiness in a way a pique polo can't. A knit like this can also be dressed up for a great looking summer business casual, stay tuned for the Getup!
3. The Fitted Flat Front Short in Multiple Colors
If you're only going to buy one item on this list, it's the fitted flat front short. So many guys are still stuck wearing baggy, long cargo shorts from the likes of American Eagle and it's the single biggest thing holding them back with their smart summer style.
I included the baggy cargo short on my list of 11 Out of Style Trends You Should Phase Out of Your Wardrobe seven years ago, and they were already YEARS out of style at that point. Yet, I still receive comments on that article from guys who refuse to let go of this 90's style staple. Look, I get it – if you carry a ton of crap with you and you need the cargo space, have at it, function over form. But if you're actively trying to dress well for summer events, they've got to go.
Shorts have become slimmer and higher for well over two decades. And while there are plenty that are too high and too tight as you start approaching the fashion end of the style spectrum, there is a great middle ground that will give you a fitted silhouette without compromising comfort or showing too much leg. Don't be afraid of seeing an inch to two of leg above your knee cap: It creates a more put-together, intentional look. When done correctly, it won't look too tight or too short.
Shorts come in different inseams these days, take a few pairs in the 7-9 inch region to the fitting room and see what works with your body. If you've got monster quads, many slimmer models may not fit you; that doesn't mean you default to baggy shorts that don't fit, it means you find a different brand, or consider having them slimmed by a tailor. The cost of that, especially when buying affordable shorts in the $15-$30 range would be negligible – another $10-$15 at most. But what is the result? Crazy-good fitting shorts that you'll be able to wear for multiple seasons.
Once you find some that fit, go hog wild and buy them in multiple colors. Again, with a limited number of items in our getups, any difference in detail, be it color or pattern, will create a drastically different look paired with the same shirt and shoes. Both Amazon's Goodthreads and J.Crew Factory offer shorts inseams from 5 inches to 10 inches.
4. Some Kind of Loafer
Jay Butler, $195 / Minnetonka, $83 / Florsheim, $120 / Sperry, $63
Can't wear boots because you're wearing shorts. Can't wear sneakers because wherever you're going needs to be a smidge dressier than that. What's a guy to do?
The answer comes in several flavors. Whether it's a traditional penny loafer, preppy boat shoes, driving moc, or dress loafer, a slip-on leather shoe is an absolute summer essential.
The loafer rose to sartorial prominence during the nation's obsession with New England Prep style in the 1960's. Once the domain of old men, or d-bags, or old men d-bags, the loafer has been within the everyman's style for over 30 years, so don't be afraid of them. No one is going to call you Mr. Harvard if you wear them, they're going to call you that annoying guy who is always so well-dressed.
Wear it casually with a t-shirt or dress it up with slim fit chinos (#12) and a button up shirt. They're perfectly acceptable footwear in most summer business casual settings, and definitely my go-to for any summer date or jaunt. Once you've trekked around in them for a week or two they mold to your feet and become beyond buttery comfortable. Make sure you always wear them sockless. In this domain, they're being worn the same way as sandals, and I know you know that you should never wear socks with sandals.
5. The Linen Shirt
So much of summer style has only two goals: Be comfortable, don't be uncomfortable. When the heat and humidity come in like a tidal wave, you have to start thinking strategically about not only what you'll choose to wear but what it's made out of. Linen is one of the best warm weather fabrics because it's thin and breathes very well. On humid days, ditch the thick cotton and incorporate a linen shirt, pants, or if you're near sand or water: both.
The thing is, linen wrinkles A LOT, like… just from putting it on. Don't get frustrated – it's part of the package. You only need to steam it when the wrinkles turn into creases. Use your best judgement and you'll be fine.
The outfit photo above also illustrates a great point: Just because it's summer doesn't mean you have to wear bright, flashy colors all the time. Surprisingly by sometimes choosing muted neutrals you'll stand out in a crowd. It's also proof that wearing clothes in subdued shades diminishes the preppiness of it, if that's a concern for you.
6. The Canvas Strap Watch
Timex, $34.30 / Braithwait, $125 / MVMT, $168
Sweat can do some nasty things to your wardrobe. And I'm sure you've experienced the stankiness that appears once you've been wearing a metal, or especially leather, watch strap all summer. The leather starts rubbing off and smells like a high school gym locker.
Reaching instead for a canvas NATO or Zulu strap watch will give you a washable solution that also adds texture, detail, and a pop of color to the rest of your outfit. Originally invented by the British military to provide an extra layer of security for keeping a watch on in tough conditions, the slip-thru design offers an easy way to swap out straps depending on what you're wearing for the day.
Read more about NATO and ZULU watches in our watch strap guide.
7. The Weekend Bag
By the time summer rolls around we're all ready to get the hell out of Dodge. Every man needs a great weekend bag so he can swing home on a Friday, grab some gear and his partner, and hit the road.
Your luggage doesn't need to be ugly and the best weekend bags balance cargo space with size. For as low as $40 you can get a great-looking bag that easily carries everything you need for a weekend trip.
We recently posted our guide to the Best Weekend Bags Under $150, head here for the links and watch the video!
Subscribe to Primer on Youtube
8. The Fitted Short Sleeve Shirt
Amazon, $27.40 (similar)
There's an absurdly false style rule perpetuated on style forums across the internet that you should never wear a short sleeve button up shirt. This couldn't be further from the truth, and by casting them aside you're limiting your summer wardrobe even more.
This myth was started with good intentions – if you remember the 90's and onward were flooded with short sleeve button up shirts that were not only too baggy and boxy, the sleeves would be way too big and would jet off at an angle.
I wouldn't want to look like this either:
Read our How an Untucked Shirt Should Fit – A Complete Guide to Button-Ups, T-Shirts, & Polos to learn how to get the right fit.
As with everything with your personal style, the focus to making this look sharp as hell is by honing in on the fit. Of primary concern is the looseness of the shoulders and the bagginess of the body. Similar to my polo guide above, you want a sleeve that hugs the upper arm – but is not tight – landing about half to three fourths of the way down. The body should glide down the side of your torso, offering enough room for movement and comfort but without any excess for billowing.
9. The Wild Card Shorts
To keep things fresh with your summer wardrobe I like to include something I call The Wild Card Shorts. These are a detour from your other flat front shorts mentioned above. While the fit should remain the same, by having a pair of shorts that experiments with texture, material, or pattern you can build entirely different getups with the same shirt and shoes. The ones shown above are a linen-cotton blend and it's the lighter color and texture of the linen that accentuates the button up shirt.
10. The Smart Sneaker
New Republic, $69 / Nothing New, $95 / Nike, $110 / Sperry, $39.99 (similar)
Second only to the loafer in versatility and style is the smart sneaker. I've mentioned a number of times how your footwear choice is really the defining variable in whether your outfit is more casual or more dressy. Imagine the outfit above with the driving mocs – especially with the linen, it becomes a very dressy ensemble.
But with the gray canvas sneakers, the outfit is grounded as well-dressed casual. To take an extra step away from just sneakers towards intentionality, I swapped the athletic laces for a set of leather ones that I picked up at Target for $5. It's a cheap upgrade with a huge effect.
Just like with the boat shoes and sandals, let your ankles witness the world by going sockless. If sneakers without socks sound miserable, pick up some no-show socks that sit below the shoe opening.
There are plenty of classic sneakers to choose from, start your search with Sperry Sneakers. .
11. The Short Sleeve Henley
Amazon, $21.90 (similar) / Buck Mason (shown)
Sometimes you just want to wear a t-shirt. There's nothing wrong with that; but instead of choosing some standard screen printed tee, go for something with a little more dimension.
A short sleeve henley provides the comfort and heat control of a t-shirt, but the button placket makes it so much more. Just as with the polo and short sleeve button up, fit is paramount. You're looking for one that looks trim without being tight. Follow the fit rules outlined for the polo above.
12. Slim Fit Chinos
J.Crew, $79.50 (similar)
While you may hear chinos and think dress pants, worn with a properly fitted silhouette, they can be worn casually as shown here. Paired with the henley and the canvas sneakers, the look remains completely casual, while offering temperature control on cooler days or in the evenings. They're also perfect for lunch or dinner while at the beach or to a casual bar that you wouldn't want to wear shorts to.
Be extra mindful of a leg opening that's too wide, this simple detail can kill the whole look.
13. Sharp Dressed Sunglasses
As with the cargo shorts, sport shades by the likes of Oakley, et. al, have a superior place when performance is a concern. But when you're heading out to brunch with your date or going to an outdoor summer work function, endurance needs to take a back seat to form. Luckily, if you don't like making choices, there are only two primary forms the "dress" sunglass comes in. Aviator, preferably square versus Maverick's tear drop, or the Wayfarer / Clubmaster. If any of these feel too old school for you, there are plenty of modern takes that slim or tweak the design. A great place to look for these versions are modern trendy places like Warby Parker or surf and skate places like PacSun, which sell performance and lifestyle shades.
14. The Summer Scent
Dolce & Gabbana Light Blue, $110
Putrid: No word better describes the agony of sitting in a car on a scorching day with a dude wearing a strong winter cologne. "Wait, what's a winter or summer cologne," you say? It all comes down to the notes. Deep, rich scents like wood, leather, and tobacco are best for fall and winter, where the dry cold doesn't enhance the strength. Lighter, airy notes like orange, lemon, greens, vanilla, and honey are fresh and crisp but don't become overpowering when heat and sweat are added. When you swing by the cologne counter start your search with Dolce & Gabbana Light Blue, a fresh, citrus-y cologne.
15. The Webbed Belt
When you have a solid color shirt and a solid color pair of pants, you need to introduce some visual variety. Taking a cue from the NATO strap watches, you can employ a webbed, surcingle, or cotton belt, which can lighten a look with a solid color or add depth with a pattern like stripes. Be careful though: You don't want to get too matchy-matchy with your watch strap and belt, they should both complement the outfit, not each other.
What are your summer style essentials? Chat with me in the comments!