Many of us have a tendency to stick with what's often stocked and served most commonly at local watering holes and social events, but there's just so much whiskey out there that's not only affordable but delicious too.
We love great whiskey. The good news? There's a lot of great whiskey. The bad news? We're usually only trying one at a time. So if you're just getting into this delicious libation how do you know which is the best whiskey?
Most guys get their start with the major whiskey (or whisky) players like Bulliet, Jack Daniels, Jim Beam, Johnnie Walker, and Jameson. And they're major for a reason: they have a long, storied history with great flavors and loyal fans. (The distilleries and brands behind those actually produce many of the bottles on this list as a part of their small batch or mid-tier offerings.)
But once you're ready to try something beyond these, it can be an intimidating landscape of cool sounding names, beautiful designs, and strong opinions from those around you.
That's why we've put together a list of the best whiskey under $100. Any one of these whiskies will be a positive stop on your whisky discovering journey. Buy them as a gift for a whiskey aficionado, order one for your boss on a work retreat, or bring one as a host gift, and you'll be met with an impressed face of surprise for your knowledge of the good stuff.
While any of these whiskeys are great for anytime you want them, we've tagged them to help frame how we think about them:
Cocktails: For mixing into classic or new cocktails.
Host Gift: As a gift to bring to a dinner or party at someone's home.
Special Occasion: For celebrating a special occasion or sipping slowly to elevate a social gathering
Work Retreat: For a casual drink during a work retreat or low-key social occasion that makes a good, but not elaborate impression with those you share it with.
Whiskey Lover Gift: As a gift for someone who appreciates quality whiskey.
Bar Cart: For display on a home bar cart and drinking slowly and casually.
Vacation: An easy pour for a couple of days away from it all.
Completely New to Whiskey? Check out our visual guide to whiskey and learn the differences between bourbon, rye, scotch, wheated, Canadian, and Irish whisky.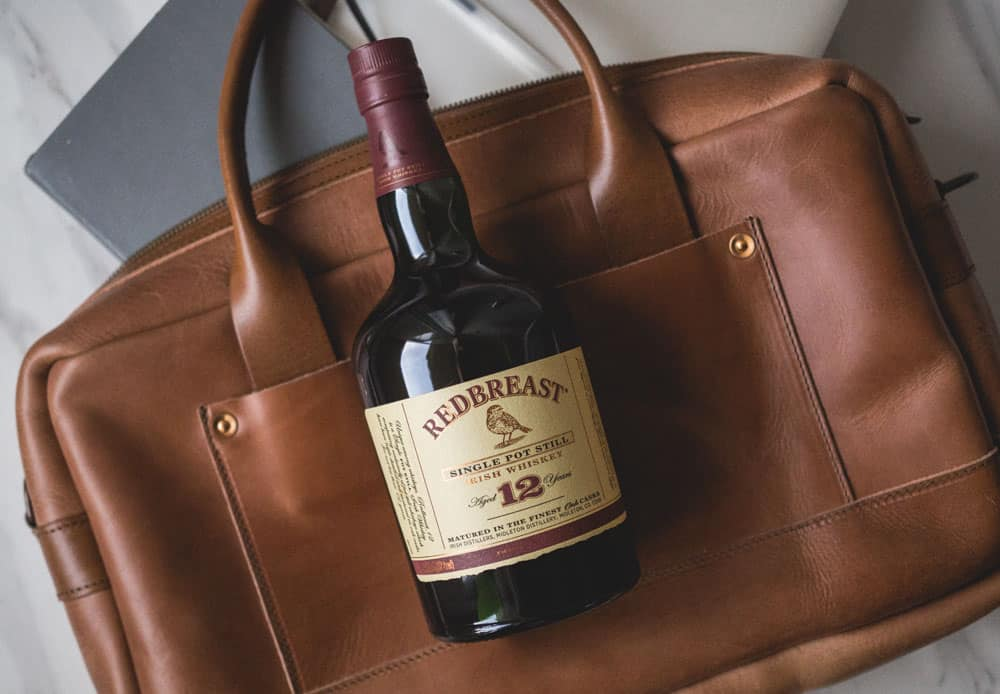 Redbreast 12-Year Old Irish Whiskey $65
96 points, Whisky Advocate
Good for: Special Occasion, Whiskey Lover Gift, Vacation
Don't let the rather unassuming robin on the label or the single pot origin fool you. This is no whiskey for a simpleton. Midleton Distillery uses both malted and unmalted barley in a single pot and triple distills it then ages it in wonderful Oloroso Sherry casks. The result is smooth and complex at the same time. It's grassy and smoky on the nose, while on the palate, hints of white grape juice, cinnamon, and honey combine for a long finish. It's an Irish Whiskey at a more sophisticated level.
Blanton's Single Barrel Bourbon, $65+
96 Points, Wine Enthusiast
Good for: Whiskey Lover Gift
A must-try for whiskey aficionados, Blanton's Bourbon captivates the senses with its bold, robust flavor. It has become increasingly hard to find in recent years due to popularity and if you do find a bottle, its price may be inflated. Revel in the warm embrace of caramel, accentuated by hints of orange peel and a lingering touch of vanilla on the finish. Presented in a distinctive shaped bottle adorned with a horse jockey cork, Blanton's is suitable for any occasion. Experience this trailblazing Bourbon with a chunk of ice or in a refreshing julep, and savor the delights of one of the original specialty Bourbons.
Monkey Shoulder Scotch Whisky, $37
93 points, Wine Enthusiast
Good for: Cocktails, Host Gift
This blended whisky is a tribute to the hardworking malt men who shoveled tons of barley in long, grueling shifts, painstakingly turning grain into liquid gold. Combining several Speyside single malts, Monkey Shoulder balances warm vanilla, orange zest, and winter spices (think cinnamon, nutmeg, and cloves), with a silken, almost creamy texture. It's designed to be mixed, so try a splash or two in your favorite whisk(e)y cocktail.
George Dickel Rye, $22
95 points, Wine Enthusiast
Good for: Cocktails
As one of the oldest Tennessee distilleries, George Dickel is known for marching to the beat of its own drummer — during Prohibition, its Cascade Whisky was sold as a medicinal spirit. Here, Dickel applies its signature twist to a rye sourced from the same distillery that makes Bulleit and other well-known whiskies, using a unique charcoal filtration process to mellow some of the rougher characteristics of your typical rye. The result: golden hued, herbaceous, and complex, with aromas of spearmint, dill, and oak over a foundation of vanilla and caramelized sugar. The smooth, sweet taste softens into a dry-spicy finish with just a wisp of smokiness. Enjoy neat, or use it as a base for a killer Manhattan cocktail.
Read The Fascinating History of Whiskey in North America
What's the difference between rye, bourbon, and Canadian whisky? A couple hundred years.
Basil Hayden's Kentucky Bourbon, $39
93 points, Wine Enthusiast
Good For: Bar Cart, Host Gift
Time with Basil Hayden's is like an adventure that gets the adrenaline going and then settles you in for the night. It's aged 8 years but seems to have more experience under its sleeve thanks to spice and sweetness rolled into one. Pepper and honey jumped out at us, and it was never overly-spicy but just enough to keep us coming back for more. The rich brown color and its ability to coat the glass enhance the experience, and the price is seriously enticing enough to keep our small home bar stocked with it year-round.
Greenspot Single Pot Still Irish Whiskey, $59.99
95 Points Wine Enthusiast
Good for: Whiskey Lover Gift, Work Retreat Sip
Founded in 1805, Green Spot Whiskey evolved from William Mitchell's practice of maturing whiskies and marking cask blends with colored paint spots. In 1933, it was rebranded as John Jameson & Son 10 Year Old Green Seal before assuming its present name.
Produced by Midleton and bottled by Mitchell & Son, Green Spot is a Single Pot Still whiskey, sharing its lineup with Redbreast, Midleton, Jameson, and Powers. Aged in ex-bourbon, refill bourbon, and ex-sherry casks, it offers fruity and spicy notes with a touch of citrus zest. This rare and approachable whiskey is one of the best values in the market today: With only 1,000 cases made annually, this 100% pot-distilled Irish whiskey is an exceptional choice under $100. For an upgrade, consider Yellow Spot, priced around $115.
Hibiki Harmony, $84.99
91 Points, Wine Enthusiast
Good For: Whiskey Lover Gift, Special Occasion
Tracing its roots to the time-honored tradition of shochu, Hibiki Harmony is a testament to Japan's rich distilling heritage. Expertly blended from Yamazaki and Hakushu whiskies and partially aged in plum barrels, Hibiki delivers a harmonious fusion of sweetness and tartness, boasting a remarkable array of fruity nuances from the nose to the finish. Splash your Hibiki Harmony with a touch of water to unleash its full potential, as the Japanese have done with shochu for generations. This exquisite whiskey retains its signature mellow, vanilla-laden character without the constraints of an age statement.
Highland Park 12-Year Single Malt Scotch Whisky $60
Gold, International Wine & Spirits Competitions 2017
Good for: Bar Cart
Widely considered to be one of the best single malts for the money, Highland Park 12 is a brilliant combination of mild smoke and brine with the right amount of sweetness in the form of honey and fruit. The result is a whisky whose drinkability and intrigue rest at the top of the heap. Highland Park can brag as one of only two Orkney Isle distilleries in existence, and its briny peat is used in careful amounts so as not to dominate the drinking experience. For less than $100, you can experience one of the best single malt whiskys around.
Four Roses Small Batch Bourbon, $35
91 points, Wine Enthusiast
Good For: Cocktails, Bar Cart, Host Gift
Close your eyes, take a sip, and then another. This is the part where we tell you the price, and then you go out and buy ten bottles. Four Roses Small Batch is that good, and could easily be your go-to bourbon whiskey if we had to choose one to settle with all the time because it's so well-balanced and delicious. Caramel, vanilla, dried fruit, and the smallest hint of citrus soothe you sip after sip. Four Roses Small Batch Bourbon is so smooth, you'll wonder why you don't crack it open each and every night. And at this price, you can.
Teeling Whiskey Small Batch Irish Whiskey, $38
91 Points Whisky Advocate
Good For: Vacation
Forging its own path in the world of Irish whiskey, Teeling Small Batch Irish offers a unique twist by blending malt and grain whiskeys, initially aged in ex-Bourbon barrels, and then finished in Central American rum casks. Hailing from County Louth, Ireland, this trendsetter delivers a full-flavored profile at 46% ABV without chill-filtration, setting it apart from its contemporaries. The result: a vibrant whiskey with enticing aromas, perfect for sipping neat, Teeling Small Batch Irish also shines in cocktails and hot toddies, making it a versatile and impressive addition to any whiskey collection.
Eagle Rare 10 Year Old Kentucky Straight Bourbon Whiskey, $53
Gold Medals, San Francisco World Spirits Competition & World Whiskies Awards
Good for: Bar Cart, Host Gift
The bottle is tall and bold, and what's housed within doesn't shy away. Drink this one on a brisk evening, and you'll forget all about the weather as soon as the notable spiciness and orange peel of this reddish-brown, dark honey colored whiskey dance on your tongue. For us, we prefer the purity of drinking it neat because it is a rich experience that makes no sense of the wallet-friendly price.
Knob Creek Straight Rye Whiskey, $30
3rd Place Best Rye Whiskey – 2015, International Whisky Competition
Good for: Cocktails, Bar Cart
Introduced in 2012 by the distillers at Beam Global, Knob Creek Rye provides a spicy, full body when enjoyed neat, while providing a present, flavorful foundation when used in a cocktail thanks to its 100 proof. Along with the spice provided by the rye, vanilla and caramel notes end in a peppery finish.
Drinking great whiskey demands a chill ambiance: Put on Primer's Intro to the Blues playlist for the perfect low-key but not melancholy mood.
Sazerac Rye, $23
93 points, Wine Enthusiast
Good for: Cocktails
Most know Sazerac as a cocktail, but this whiskey distilled by Buffalo Trace is worthy as a standalone spirit, even though it's designed to be at the heart of a Sazerac beverage. Sazerac Rye bears strong honey and rye malt flavors with an undertone of vanilla, and the finish is both spicy and sweet. It's hard to believe it's only been aged for six years. Sazerac Rye is one of those whiskies that's priced like a mixer but tastes like one that never requires ice or entry into a cocktail. A full minute after we're done, it's still on our tongue.
Nikka Coffey Grain, $75
92 Points, Whisky Advocate
Good for: Whiskey Lover Gift, Special Occasion
To be clear, in Nikka Coffey Grain whisky, the term "Coffey" does not refer to coffee, but rather to the Coffey still used in the production process. Pioneering the world of Japanese whiskey, Nikka presents a captivating single-grain whiskey crafted in their remarkable Coffey stills. Exhibiting a luscious, syrupy texture with floral undertones, Nikka Coffey Grain Whisky's profile is reminiscent of bourbon rather than scotch, delivering an extraordinary experience at an accessible price point. Distilled from corn, wheat, and unmalted barley in a continuous still, this grain whiskey showcases a velvety vanilla essence accompanied by delicate notes of caramel and a spicy, herbaceous finish for an invigorating twist.
Laphroaig 10 Year Old Islay Single Malt Scotch Whisky, $50
92 points, Whisky Advocate
Good for: Bar Cart
Some say this peaty, smoky Islay is an acquired taste, but we say it's one of the best whiskies on earth and one that belies its price point. Sure, its flavor can be polarizing but don't ever call it a slouch. The peat fires that are used to dry the barley for the malt impart powerful punches to the nose and palate, but the kind that will awaken you and make you wonder about breaking up with the lightweights.
Read Getting Started With Scotch Whisky: Everything You Need to Know
Scotch might be a sophisticated drink, but learning to love it is surprisingly simple thanks to this crash-course guide.
Michter's US #1 Single Barrel Straight Rye Whiskey, $39.99
93 points, Wine Enthusiast
Good for: Cocktails, Bar Cart
After the Pennsylvania-based distillery declared bankruptcy in 1989, the brand was resurrected in Kentucky, where it now has three locations, including a distillery in Louisville. In the early 2000s, other Kentucky distilleries produced whiskey to Michter's specifications, but the brand started producing its own Kentucky-made whiskey in 2015 after years of investment and experimentation at its distillery in Shively. The rich orangish-brown color of Michter's rye whiskey coats the glass, and its nose brings rye, spice, and caramel. The sweet and spicy flavor finishes long and peppery, making it enjoyable neat or with a small hint of ice.
Russell's Reserve "Small Batch" 10 Year Bourbon $40
92 points, Wine Enthusiast
Good for: Bar Cart
From the mind behind Wild Turkey comes something more complex and totally unexpected. The Russell's Reserve Small Batch Bourbon is the brainchild of Master Distiller Jimmy Russell and his son Eddie Russell. 10-years of aging imparts a serious maturity and the right amount of woodiness to the sweet and spicy flavors. Orange peel and caramel emerge, and then the finish is spicy and sweet, along with the tiniest bit of clove. This one will make you go back to more than a few sips just to see what you'll come across as you re-journey.
How Our Best Whiskey List Was Selected
To compile our list of the best whiskeys, we turned to the expertise of two passionate whiskey lovers: Andrew Snavely, the editor and founder of Primer, who has been exploring the world of whiskey for 18 years, and Amos Kwon, an aficionado of cars, cigars, watches, tech, style, and whiskey, who has written for publications such as Primer, Gear Patrol, Askmen, Inside Hook, and Fatherly.
We relied solely on our first-hand experience and tasting notes to determine which whiskeys deserved a spot on our list. From rich and smoky to mellow and fruity, these whiskeys were carefully selected based on their complex flavors and exceptional quality. So, whether you're a seasoned whiskey drinker or just starting out, these top picks are sure to impress your palate.
What Are the Differences Between Whiskey Types?
Whisky is a distilled liquor made from a fermented grain such as barley, corn, or rye that is aged in oak barrels. To better understand the different types of whiskey, it's important to know how it's made. The process begins with malting, where the grain is soaked, laid flat to sprout, then dried and heated. Next, the grain is mixed with water in a mash tun to create a mash. Yeast is then added to the fermentation tank, turning the sugars into alcohol. The result is then heated in a still until the alcohol separates from the water as a gas. Finally, water is reintroduced to the alcohol, which is then aged in wood barrels. The inside of the barrel is often charred with fire to provide even more flavor.
The primary difference in the flavors of whiskey types is which grain is dominant. For example, rye is the dominant grain in rye whiskey, corn in bourbon, and barley in scotch. Rye whiskey tends to have a spicier taste, while bourbon produces a sweeter whiskey. When barley is dried by burning peat in some scotches, the whisky takes on a smoky flavor.
Additionally, It's also important to note that depending on which country the whisk(e)y is produced in, it generally determines if the spirit is spelled whiskey (USA, Ireland) or whisky (Scotland, Canada, Japan). Whiskey has an alcohol content of 40% to 60%, and the proof of a whiskey is calculated by multiplying the percent of alcohol by volume by 2.
Bourbon is a popular type of whiskey that must be made in the US with at least 51% corn and aged in new charred oak barrels at no more than 125 proof. Wheated bourbons replace rye with wheat, resulting in a sweeter, nuttier flavor. Tennessee whiskey is similar to bourbon but undergoes an extra step known as the Lincoln County Process, where it is poured over sugar maple charcoal before aging, resulting in a mellower, smoky flavor.
Rye whiskey is made with at least 51% rye and is spicier than bourbon. Canadian whiskey is a lighter, sweeter style that blends well with mixers and is made with mixed grains, primarily corn.
Scotch whiskey, with its more complex variations, is defined by law as a product of Scotland that must be matured in oak barrels for at least three years. Speyside scotches are known for their fruity finish, Islay whiskies are smoky and have a pungent medicinal tang, Highland scotches are medium-bodied and aromatic, and Lowland scotches have a lighter profile and little to no peatiness.
Irish whiskey is made with barley and dried in kilns, resulting in a smooth, light spirit.
Japanese whiskey is a relative newcomer that has gained popularity in the last several decades, with malted barley as the primary grain and a flavor profile similar to scotch.
Understanding the differences between whiskey types can help you make informed decisions when selecting and ordering your next glass or bottle.
Help get the word out about great whiskey, and share this list!
And, if you have a bottle you enjoy, keep the list going in the comments with the price and what you like about it.