If your definition of a great watch is handsome design, build, and accuracy you might be surprised to find that you don't have to spend a whole months rent to get one.
Any journey through the world of menswear is going to yield some interesting finds. For instance: You might have worked your way through the basics of denim, sneakers, shirts and the like, but what's missing? A great watch on your wrist, that's what.
You've seen flashy watches on screen and in the wild for years on the wrists of style legends and icons, and that can be a bit intimidating. It only follows that a stylish, sharp watch is expensive, right? As it turns out, there's a great watch brand at every price point, and you don't have to drop thousands of dollars on a watch from a supremely expensive company like Rolex or Omega. It'd be nice some day, sure, but let's start small and work our way up.
Classic, name brands have also made it their specialty to craft standout watches that blend affordability, utility and style points to pair with any outfit.
In fact, finding a durable, stylish watch is easier than you might think, especially if you keep a weather eye out for the best men's watches under $200. That price point is more than manageable, and that's where our favorite watches hit the sweet spot.
Orient Bambino IV Leather Dress Watch
Orient's Bambino leather dress watch is, quite simply, a classic. That's probably because the famed Japanese brand has been making watches since 1950 on the dot, a golden era in design. As to this watch, it's all clean lines and rose gold accents.
It's also the rare watch you can rock with a suit or a T-shirt in equal measure. Better still: The price tag. It's hard to find a more handsome and refined watch under $200 than this one. At a Goldilocks-sized 41mm, this automatic watch gives you the aesthetic and mechanics of a much, much higher priced timepiece.
Timex MK1 with Fabric Strap
Get the good looks of a Hamilton Field Watch for 1/5th the price. An evolution of the original Timex Camper that was designed (but not used) as a one-piece disposable watch for the military and worn by MacGuyver in the original 80s show. It features an in-house m905 quartz movement with a handsome vintage face. But don't let its old-school vibe fool you, it still features Timex's Indiglo to make pitch black time checking as easy as pushing in the crown button.
Citizen Eco-Drive Stainless Steel Watch
Citizen Eco-Drive manages to pack plenty of bells and whistles into one of the more ingenious watches on the market. The Eco-Drive is aptly named, too. Although it sounds fancy, it's actually more simple than you might expect. Whether you're wearing the watch or not, it's working in the background, harnessing light from any source – natural or artificial – storing it in a rechargeable lithium-ion shell that then powers the watch. Insanely cool, right? As an added bonus, the bold, crisp dial is highly accurate, while the contrasting leather strap is handsome and sure to stand out on any wrist, with any outfit.
Skagen Hagen Minimalist Watch
You'll also find a sleek, minimal watch on our list of highly affordable timepieces. The Skagen brand itself takes its elegant design cues from the clean Scandinavian aesthetic, and is named after a fishing village of the same name, believe it or not. The resulting watches, like this unique mesh strap timepiece, are more than distinctive as a result. Mesh watch bands were originally developed for divers as an added form of protection from ocean wildlife (see: Omega's Seamaster Ploproof). Thankfully, Skagen's own edition is a much more affordable alternative.
The all around minimalist design makes it a versatile choice for a guy looking for a watch that can easily be worn dressed up or down.
Seiko Stainless Steel Watch
Versatility is the name of the game when building your watch collection. Every guy needs a durable stainless steel timepiece, and Seiko over-delivers. Seiko's expertise dates all the way back to the 1880s, when founder Kintaro Hatori opened a watch shop in Tokyo. Impressively,  the current CEO is his great-grandson. Seiko's are widely regarded in watch circles thanks to their accurate, durable, and affordable made-in-house watch movements. They're one of the only watch brands that have a price range from $50 all the way to $75,000.
While James Bond is known for his Omega and Rolex watches, he has also donned Seiko a number of times over the decades.
Bertucci A-2T Vintage Watch
It's easy to think most guys looking for the best watch under $200 are looking for classy looking timepieces that will hold up. But there are some who aren't looking for refinement, they're looking for a watch they don't have to baby.
If this is you, welcome to the Bertucci A-2T, one of the internet's most-loved beater watches. The T stands for titanium, providing lightweight durability with it's unibody design. This field watch also doesn't have spring bars. It's strap bars are fixed, meaning no chance of losing your watch while working due to a popped spring bar. It features a unique 4 o'clock position screw-down crown that doesn't dig into your hand when your wrist is bent.
If titanium isn't important to you, Bertucci also makes models out of stainless steel so you can save some cash. 
Timex Expedition Chronograph Watch
If you've learned how to use a chronograph watch and want to get in on the fun, this Timex Expedition Chrono is a nice place to start. Think of it like a training regimen before you invest in another chronograph watch in the future (cue movie montage). For when time is of the essence, the three sub-dials can track minutes and seconds, as well as 1/20th of a second for calculating distance traveled or speed. Blink and you'll miss it, right? The hits keep coming in terms of functionality: It's easy to read in the dark thanks to Indiglo technology, a treatment which illuminates  the face when daylight falls. And although it might not seem like it on paper, the contrast between the brown leather strap and black dial looks terrific, too.
Casio G-SHOCK Quartz Resin Sport Watch
Take your outdoor adventures a step further with a famed watch from G-SHOCK. The G-SHOCK line came to life after a Casio engineer dropped and broke a pocket watch, hence the shock-resistant design (and brand name). The humble digital watch has made a style comeback in recent years, too. And helpfully, G-SHOCK has never strayed away from making one that's remarkably tough and reliable no matter what. If you want proof, just know that plenty of first responders and law enforcement officers trust these watches in grueling conditions.
Seiko 5 Stainless Steel Watch with Canvas Strap
With a design mix of equal parts vintage pilot watch and modern field watch, the canvas-strapped Seiko 5 is the starting point for many men who go on to have an insatiable watch hobby. It features a 21 jewel automatic movement with see-through back and is protected by Seiko's proprietary Hardlex crystal, which won't shatter under pressure.
It's also a great watch to make simple upgrades to when you get bored. Watch forums are filled with examples of the Seiko SNK809 with leather and stainless steel straps that completely change the look and feel. Put your trust in this affordable watch, and you won't be let down. 
Timex x Todd Snyder Mod Watch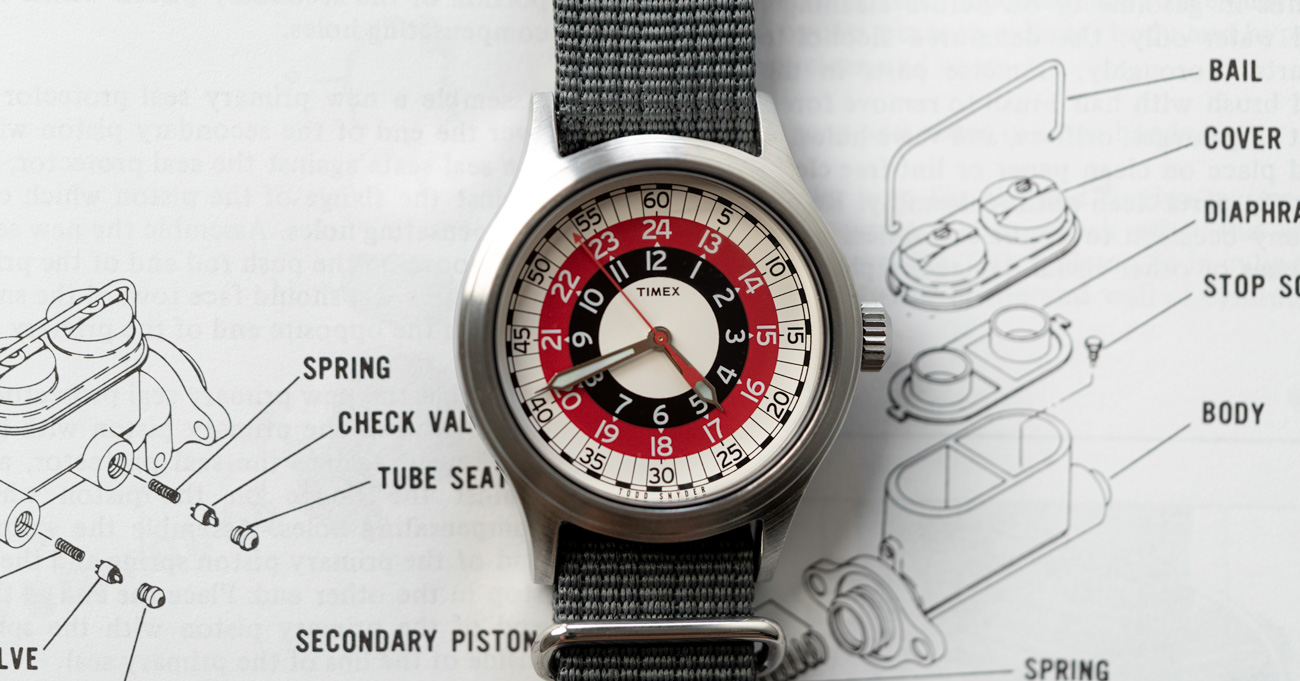 With a cultural emphasis on either class or function, it's easy for watch designs to start blending together. Every watch collection deserves a little color and fun and you can even get distinctive style with a budget under $200. Timex and Todd Snyder have proven that quite handily over the years with stylish watch collaborations aplenty. It's Snyder we've got to thank for this Timex archive-inspired watch. The bullseye design provides a splash of refined color to the wrist and the middle-of-the-road 40mm size will look properly sized on any gentleman.