40 years later, digital watches are finally getting their due thanks to their 80s retro styling. Oh, and they're still dirt cheap.
Digital watches are not what they used to be. Technology and features have grown, as well as the level and variety of styles. Our own love for digital watches has been percolating for decades, but it didn't start out that way. Serious watchmaking was threatened by the tsunami-like arrival of analog quartz watches that emerged in 1969 with the introduction of the Seiko Astron. Digital didn't hit until a few years later, but it took time for prices to come down and for acceptance to grow. 
A high-end digital watch is really what started it all. Almost a half-century ago, Hamilton Watch launched the brand Pulsar and came out with the world's first digital watch. The 1972 Pulsar P1 had a heavy gold case and bracelet, a red LED readout that could only be seen with the push of a button due to energy consumption, and it would also drain your checking account of $2,100 ($12,968 today). Everybody wanted one, but it was so exclusive that no one could afford it. (Hamilton has re-released the P1 as the PSR, at a still unattainable price.)
Then, the preponderance of digital watches glutted the market, and prices came down as the technology changed from battery-draining LED displays to more affordable LCD screens. Through the '80s, digital watches became ubiquitous and were almost seen as throwaways due to their low price point and nerdy aesthetics.
One of the first indications that digital watches for men could, in fact, be cool was their presence in the James Bond 007 motion pictures. Roger Moore actually donned the pricey Pulsar P1 in 1973's Live and Let Die, and other digital and analog/digital watches followed from the likes of Seiko, especially, the now famous Seiko G757 Sports 100 watch worn by Roger Moore in 1983's Octopussy.
The unique horseshoe-shaped case sets it apart from pretty much every other vintage digital watch out there, and it's highly coveted in horological and cinematic circles. Casio released an homage watch of sorts, named the AE1200WHD-1A or "Royale" that aesthetically nods to the G757 with similar functions, albeit slightly less polarizing in style than the Seiko version. It also happens to be geek-out cool at an affordable $20.
But not everyone saw digital watches as nouveau horological style accessories, despite the fact that 007 wore them. Oddly, time heals all wounds, and what was once a style-less bargain watch has now become a member of the modern style quotient – and its numerous permutations have grown exponentially.
And while digital watches have come up in price, functionality, and design, their popularity has been mitigated by the presence of the smartwatch. Thankfully, smartwatches are less about style and more about convenience, health and fitness tracking, and text messaging while the digital timepiece is more of a modern style statement.
But smartwatches did something to help digital watches, as well, and that was to make non-analog timepieces cool. Smartphones have contributed to the growing popularity of digital watches for the style factor, too, since most users look to their phones to perform technical functions that digital watches once handled.
Moreover, now that almost fifty years have passed since the digital watch was born, it now has a vintage ethos that imparts a special style of its own. No, you won't see Rolex or Audemars Piguet making one anytime soon, but that doesn't mean a digital watch can't be stylish. They're reliable, easy to read, and finally widely accepted in the pantheon of men's style.
We've chosen some of our favorites that span a wide range of prices and looks.
The Best Digital Watches to Start With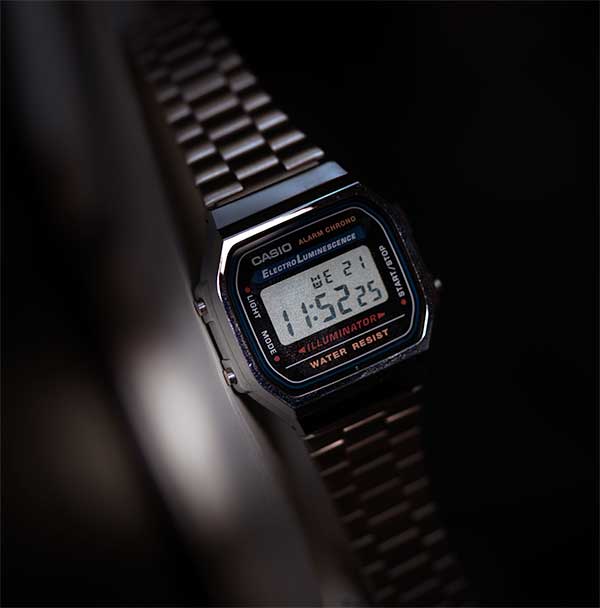 You don't have to drop $100 on a nice steel digital watch when you can get this Casio that has a silver-coated case and a stainless steel bracelet. The octagonal case has shrouded lugs that unify the bracelet nicely, so no one will know it cost you barely more than your work lunches. The stopwatch, alarm, calendar, and backlit features make it practical, and you could probably even pull it off with a blazer and jeans.
Not everyone can pull off a fully gold watch, and this Timex digital timepiece just so happens to meld the contrasting worlds of LCD and a golden hue in perfect harmony. The slim 10mm case has a crisp italicized digital display with bright Indiglo illumination. The four function buttons stick out just enough to make them easy to press, and the expansion bracelet makes it a cinch to wear for wrists up to 7" in diameter. Just don't pinch those hairs. There's a reason Timex is the start of our best watches by price guide: They're dirt cheap and will last. Also available in silver.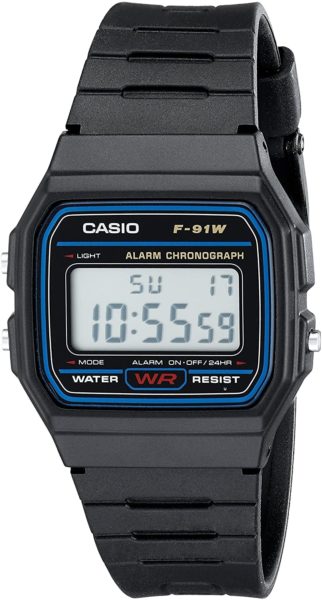 It's hard to find a better cheap digital watch. For about the price of three cups of Starbucks Cappuccino, you can get a great beater watch with this digital bargain. The resin case and strap are tough and no-nonsense, and it even provides a mineral glass window, day/date, stopwatch, calendar, and water resistance. Hell, this unassuming wristwatch is so inexpensive, you might just want to grab a couple for backup.
If you want your digital watch to stand out a-la Gordon Gekko, then this gold and black version is all you. The gold resin case and strap emit a far more opulent feel than the materials might indicate, and the contrast will turn heads. The bold statement watch has an alarm, stopwatch with splits, day/date, and LED backlight. You just have to decide collar up or down.
Costing a bit more than the previous selections gets you the same precise digital functionality as the others but with a decidedly more stealthy look. Like spec ops accountant, you're likely to make everyone within sight of it wonder what you do for a living. The black resin case and bracelet combine well with the negative LCD screen. An outfit like this is a required pairing.
The red digital display and the antiqued copper-hued stainless steel case and bracelet make it look like you just stepped off a spacecraft from the Predator movies. The Re-Run is certainly an attention grabber that looks unlike any other modern digital watch we've come across. Functions include calendar, dual time, alarm, countdown timer, and lighting. The mystery factor is immeasurable.
Known as the Full Metal 5000, this digital watch doesn't mess around. It combines the chunkiness of the tough G-Shock line but adds refinement with a solid stainless steel case and bracelet. It's hefty, sophisticated, and bold, all at once. The solar-powered quartz watch has a crisp LCD display, two-way Bluetooth time-sync, and Multi-Band 6 Atomic Timekeeping tech that adjusts the time automatically all over the globe thanks to radio signals from up to six different transmitters. The 49mm case means it's likely not going to fit under a dress shirt cuff but looks good with just about everything else.
The bold Computron from the '70s has its second coming in the form of a new blue LED and stainless steel version that feels like horological time travel of the best kind. The same angled window is present as was in the original, and the chromed stainless steel case and bracelet are bold and bright. Push button actuation shows the time, and there are also day/date and dual time zone functions.
If you want an affordable, rugged, military-style digital watch without the thickness and diameter of a hockey puck, this slimmed-down model checks all the right boxes. The 45mm resin shock-resistant case manages bumps with ease, and the 200-meter water resistance means it can manage shallow dives without a hiccup. Stopwatch, backlight with Afterglow feature, timer, hourly chime, auto calendar to the year 2039, and an alarm make it seriously utilitarian, and no one will ever call this minimalist watch gauche.