Crisp, comfortable – and at over a hundred years old – timeless, the pocket t-shirt proves just how stylish simple can be.
With almost everything being postponed or cancelled for the foreseeable future, our everyday style has dropped the pretense in exchange for comfort.
But comfort and casual does not equal schlubby. It's possible to have sharp, timeless summer style with just a pocket t-shirt.
Wait, what?
Well if you think about, few things we wear today are as timeless as the pocket tee. First invented in the 19th century, t-shirts saw rapid expansion when they were given to US military service members during World War 1.
When they returned stateside in 1918, their government-assigned undershirts had become standards as they got back to work at home.  The t-shirt rushed into mainstream clothing with the one-two punch of Marlon Brando and James Dean prominently wearing them in A Streetcar Named Desire (1951) and Rebel Without a Cause (1955), respectively.
Chest pockets were added in the '50s and '60s, and style icons like Steve McQueen, Paul Newman, and the celebrities that emulate them, have embraced the pocket t-shirt ever since.
The pocket itself isn't deep enough to be very functional. Large enough to stow a pack of cigarettes in the decades when that was a thing, these days the pocket may get sporadic use for stashing sunglasses or a parking lot ticket.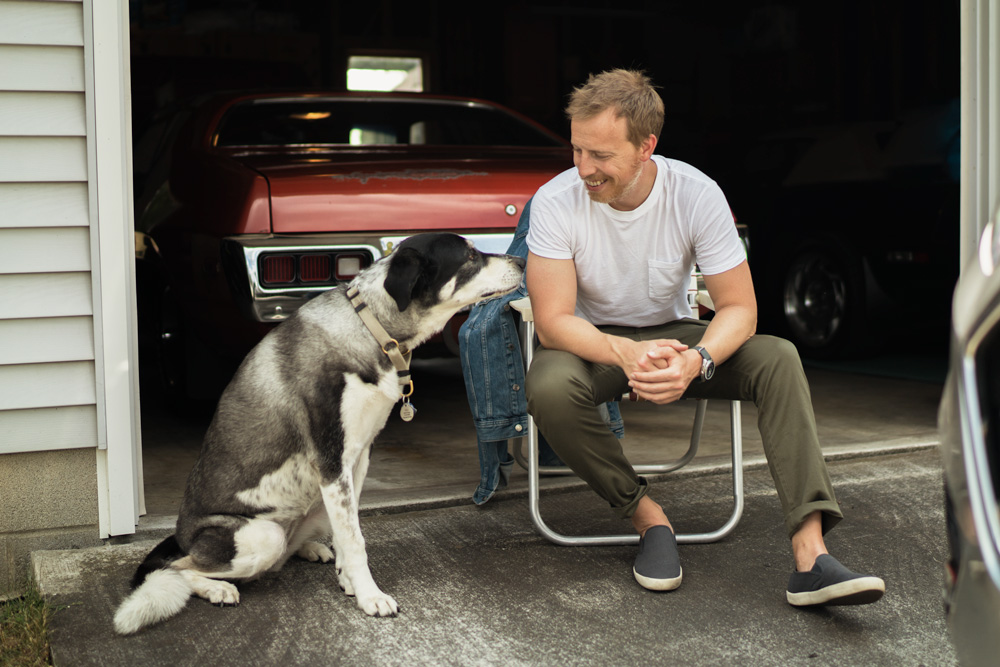 Tap out your shorts in favor of your favorite stretch tapered chinos and you'll have all-day Saturday on lock. The trick to looking great in casual pants vs looking like Casual Friday circa 1993 is focusing on a slim fit that tapers toward the leg opening. I prefer minimal pant break for a cleaner look.
Don't confuse slim as a pant style prescription: Slim is relative to your body, so that may mean an athletic fit or other looser (but still tapered) fit is in order. The best way to know is try on a few options. Ordering fashion items from Amazon is great for that if you have Prime because it comes in 2 days (or less) and you get free returns. So I order several and only keep the pair that fits.
Bring a denim trucker jacket along for when the sun dips out in the evening. With a style heritage just about as long as the t-shirt itself, you'll have a hard time believing these everyday style picks would have you looking sharp in 2020, 1920 and every decade in between.
Primer Partner
Pouch Underwear
Sheath Boxer Brief Save 20% with 'Primermag'
Unlike the pocket tee however, there is one pocket that serves a huge functional purpose in the heat of summer: Pouch underwear. Remember the noticeable change in comfort and confidence when you switched from tighty-whities to boxer briefs in high school? Sheath's pouch design separates the elements of the male anatomy, both from each other and from the legs.
The result? Less heat, less crotch rot, less friction. And on a humid 100 degree summer day that is literally everything.
Click here to try your new favorite underwear with a 100% guarantee, Primer readers save 20% with code 'Primermag' –
Slip-on Canvas Sneaker
The canvas sneaker, or more formally known as a plimsoll, is the summer laceless shoe for the guy who leans more rugged Americana than the rakish Spanish espadrille.
Around for just about as long as the sneaker itself, slip-ons have been made famous by brands like Vans, Sperry, and Converse and the surfers, skaters, motorcyclists and other rebels-with-or-without-causes that live in them.
Read more: The Sneakers We're Wearing This Summer – 18 Picks
About the Car
This is my father's 1974 Plymouth Roadrunner that he ordered new from the dealer in fall of '73. You may recognize it from my piece about my experience buying my 1978 Corvette. It may seem surprising to us now, considering what we think of as family cars or daily drivers today, but my parents bought it for just those reasons. While they ordered it from the dealer to get the exact collection of features that they wanted – AC, power steering and brakes (not standard), burnt orange with a white stripe – he says they never viewed it as something they were going to keep for 46 years.
But boy am I glad they did. I'd love to do a more in-depth piece about this car in the future, it's very unique. It features factory-placed badges of the Looney Toons Road Runner and the standard horn even goes "meep meep".
More Ways to Wear a Pocket Tee
Special thanks to Sheath Underwear for supporting Primer's mission and partnering with us on this Getup. See why professional athletes and fighters trust Sheath: Save 20% with code 'Primermag'.
Do you like this post? Please share it!