Great style CAN be simple. How to wear a pocket t-shirt 5 different ways.
The predecessor to today's tee became military issue somewhere around the Spanish-American War. The plain white pocket t-shirt entered pop culture style after GI's from World War II brought their government supplied underwear Stateside. Quickly, what we now consider a "basic," became a benchmark for masculine Americana; whether by the dramatic Marlon Brando, who famously wore one in a Streetcar Named Desire in 1951, the racecar driving Steve McQueen, the working man Bruce Springsteen, rebellious James Dean, or the fashion-forward music artists of today.
Though intended to be worn as an undergarment, young boys and men alike would regularly play and work in cheap t-shirts to keep their nice clothing from getting dirty and worn. It didn't take long for guys to decide the simple, buttonless jersey cotton t-shirt was more comfortable than other options. Several decades of cultural evolution later, and the t-shirt is the most common form of shirting in America.
The white pocket tee has remained fashionable through wide swings of voguish trend. Regardless of whether things are tight or baggy, colorful or monochrome, intricate or functional – the white pocket t-shirt has endured as a go-to for guys. As t-shirt culture became not only expected but assumed, many men hoping to improve their personal style now push back on the t-shirt as lazy. At Primer, we're not against t-shirts, but we suggest that when a guy is starting out with dressing better that he defaults to a shirt with buttons and only wears a t-shirt when doing so with intention.
What follows are 5 of my takes utilizing the timelessness and comfort of a white pocket tee for intentional style, spanning preppy to urban.
I'm excited to partner with RibbedTee for this post whose pocket tee, with a wide scoop neck and slub texture, adds a modern and intentional touch to each of the looks. Thanks for supporting the brands that sponsor Primer!
Timeless & Classic
Perhaps only slighty less of a timeless staple is the cotton khaki pant. Paired here with the white t-shirt, tortoiseshell sunglasses, and leather sneakers, what would seem on paper to be boring ends up being a classic look that can take you from brunch to bar to band and everywhere in between. It's important the chinos are slim and tapered to completely thwart any sense of business casual drone, and I cuffed the bottoms to show a little ankle, amplifying both the modern trend and summer feel.
The Adidas Stan Smiths have become my go-to summer shoe. They look great casually but also dress up well with darker clothing for the evening.
Monochrome & Modern
Go to any trendy bar in Los Angeles and you'll see some variation of this Getup. Slim black jeans have often been relegated to certain cultural subgroups, but within the last 5 to 10 years they have emerged as a stylish alternative to blue denim that provides a different look and mood. The scoop neck of the t-shirt also lends to the more urban, evening style. Black with tan? Hell yeah. You could also opt for darker brown boots like a beat up pair of Wolverines and throw on a blue denim jacket for a more weathered style. Read more in our ultimate guide to styling black jeans with brown boots.
Casual Americana
Doing a hard swing the other way, pairing the t-shirt with slim gray denim, Red Wing boots, our fav American Optics Pilot sunglasses, and a chunky metal dive watch, we get an equally smart, albeit, less fashion-forward look that is stylish and purposeful. American-made aviators and work boots emphasize the cultural history of the white pocket tee, and by choosing the textured slub cotton scoop neck, it appropriately makes us look like we should be sitting in Silverlake 2016, not Smallville 1955.
Simple Summer
As we always say on Primer, when your layering options are limited in summer, the key to dressing well falls in the details. Trim fit linen-cotton shorts with a 9" inseam (Read more about how your shorts should fit), the slub texture and scoop neck give a current edge to a simple look. The green canvas watch provides a touch of neutral color to the wrist, and the camp mocs sand a few layers of Prep off of regular boat shoes. The Oakley Latches have a classic silhouette but don't feel as standard as a pair of Wayfarers.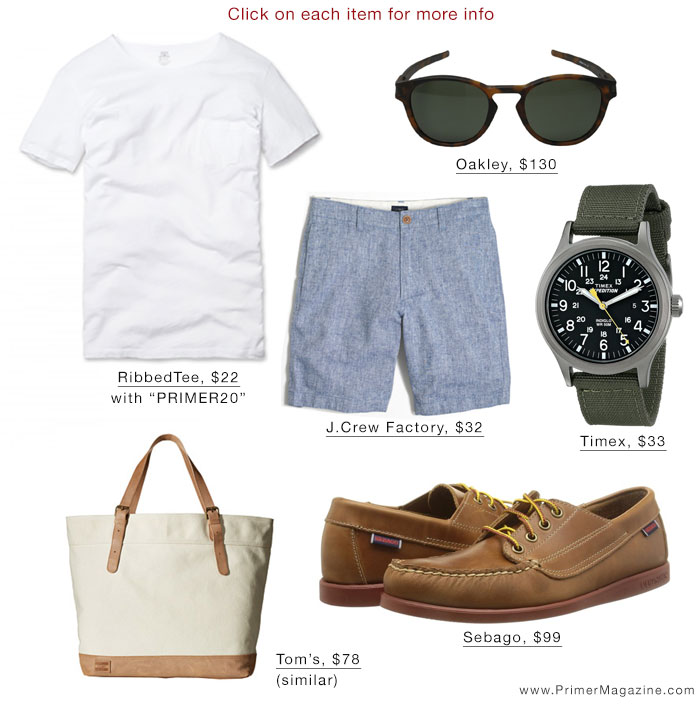 Layered Prep
The scoop neck might amplify this look the most. With a regular crew undershirt you'd run the risk of looking like you just unbuttoned your shirt on a hot day, but with the draping neck and texture of the tee, it's a clear addition to the outfit, not a default undergarment. The fitted denim shirt adds a twist to the essential "blue oxford, olive chinos Getup," and our swapped-in boot laces on our frugal Levi's canvas sneakers contribute a dressier base than standard sneakers alone. Along with the denim shirt, the Brathwait rose gold NATO watch (one of my absolute favorites) gives a standard uniform a splash of class.
Which one is your favorite? Chat with me in the comments! Make sure to follow Primer on Instagram, @primermagazine!