A straight-forward framework for anyone to build a personal style that feels authentic.
When it comes to dressing better, it's not just about learning a set of instructions of how to combine specific clothing pieces into "the right" outfit. The purpose of the mission is to cultivate a "personal style" that captures a snapshot of your character, cultural alignments, and values.
It's more than just knowing the rules of good dressing—it's like understanding how shutter speed, aperture, and ISO work in photography is one thing, but using those tools to craft a picture that stirs emotions and narrates a story in just one image is quite another.
Why is personal style crucial? Clothing is our silent conversation with the world. It's how we align with certain groups and ideals and how we set ourselves apart from others. It's our visual voice in society. Regardless of how much stock a man places in "fashion," what we wear is a statement of self-perception and a signal to others of who we are – and you've definitely already experienced it.
We showed up in middle school wearing one thing, and started seeing other things we wanted to copy. We went to high school and the process started again. Then freshman year at college; then again once a new friend group is adopted. Then again when you start working or move to a new city or start dating a new partner.
But if this sounds like an "artistic" endeavor you just do not have the time to dedicate to figuring out, don't get overwhelmed. The framework can be incredibly easy, mostly passive, and still rewarding.
I chatted with Daniel Baraka, a style contributor for Primer, who knows a thing or two about creating a personal style that is classic, enduring, and uniquely his. Our framework breaks things down into:
The 3 Stages of Personal Style Development
1. Learn the Rules
"In the first stage, it's very important to find inspiration. Inspiration can be found in a brand's lookbook, current season or any past season, a movie character, or a certain era in history," says Daniel. Choosing a category of clothing that resonates with your personal identity, like streetwear or formal wear, is crucial.
"I think of clothing as a language, and everything you wear is sending a message. When you're first starting, you're just learning the rules, so you copy other people's styles," he explains. "Essentially, you're kind of copying someone else's message, copying full outfits from a movie character or a certain brand, because at this stage you're just not good enough to come up with your own 'sentences'."
Finding Your Template: Aligning with Archetypes
"Once you pick a category that works for you and speaks to who you are, you want to learn the rules of that universe," Daniel says.
Start by identifying the archetypal looks that resonate with you. This could be the refined sophistication of James Bond, the New England prep of the Ivy League aesthetic, the sprezzatura in dressed-up smart casual of European menswear, or the gear-oriented rugged casualness of a retailer like Huckberry.
These archetypes serve as templates for you to build upon; starting places from which you learn to build your own personal style on top of.
Start thinking about the specifics of what makes these styles tick—observe the cuts, the fabric choices, what colors are used and how they're mixed. "You start with the basic rules, like understanding silhouette, whether you're going to tuck in your shirts or not," Daniel explains.
You want to understand how the sweaters, t-shirts, jackets, pants, proportions, and other common things of the sort work within this aesthetic.
Curating Your Lookbook: Building a Visual Library
Construct a personal lookbook composed of images and looks from various sources that call to you. Clothing brand websites, style websites, social media influencers, and movie and TV shows can be treasure troves of inspiration. Include your own looks that you create and like within your visual library.
Capture and store these in whatever platform works best for you, whether that's simply an album on your phone, a Pinterest board, or a more elaborate setup in an app like Notion. This visual library will become your go-to resource for style experimentation.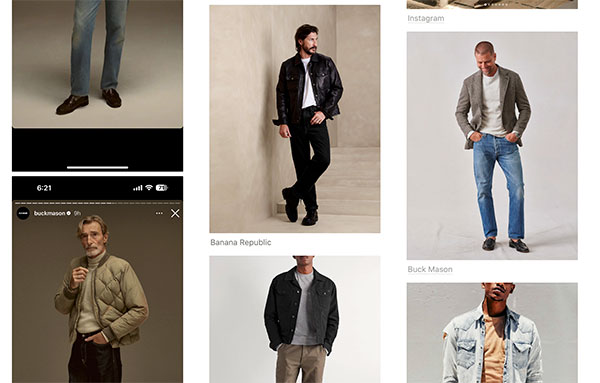 Take note of how the outfits in your visual library match colors, play with textures, and what they do to make a look distinctly their own. It's not just about just copying an outfit but understanding the "rules" and reasoning behind each choice. By doing this, you're dissecting the "recipes" of style that work, which you can later modify to suit your needs.
Primer, with our 15 years of outfit inspiration, articles, and detailed guides is an endless resource for inspiration if you find our style aligns with yours. Check out our Getup series for broken-down outfit ideas or our full Men's Style section for more.
Practice Makes Perfect: The Trial Phase
Experimentation is key. Begin by imitating the outfits you've collected in your lookbook. Review what you've saved when making purchase decisions for a specific occasion or shopping sales.
"At this stage, I would suggest sticking to as low contrast as possible in patterns, colors, and styles unless the style you've picked is big on contrast," says Daniel, "Start investing in very, very strong basics that are within that universe. You want to start with the basics because these are the items you're going to turn to the most."
Mix and match these inspired choices with your current wardrobe, and don't shy away from asking for feedback.
The goal is to practice until what you wear feels less like a costume and more like a second skin—a true reflection of your burgeoning personal style.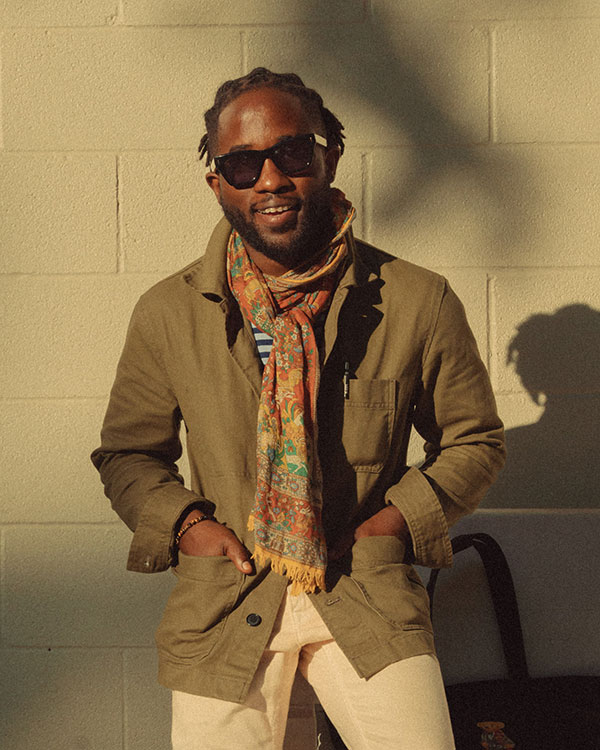 Once you're comfortable with the rules of the universe you've chosen, you can move on to the second stage:
2. Break the Rules
This stage is characterized by experimentation within the chosen aesthetic, mixing dressy clothes with casual ones, or blending different eras. It's about exploring all four corners of your style universe and pulling together adjacent or disparate elements to see what resonates with you personally.
Experimentation, by definition, means sometimes you will not get it right.
Daniel points out, "This is where designers like Ralph Lauren are such masters, mixing countryside clothing with city clothing, or mixing the casual with the formal. This is where you mix different aesthetics within the universe in ways the images in the lookbook might not have done," Daniel says.
This stage allows for a deeper exploration of the chosen style, focusing on specific aspects one loves and making bold choices, "Like for me, I loved velvet slippers. I wore them as everyday shoes, even though they were traditionally meant for formal indoor wear," he says
Perhaps you add a tinge of western to preppy, or combine enduring menswear classic pieces with younger, trend-forward fits.
"And then once you start to play with things around you, you see what works for you and what doesn't. Then you create your own rules. You start making your own sentences. This is where the magic happens."
Daniel continues, "When I found my love of wearing velvet slippers as everyday shoes, I moved to the third stage: personalizing the rules."
3. Personalize the Rules
Personalization is the pinnacle of style development. "When you're personalizing the rules, essentially you're saying, 'this is something that I do,'" Daniel notes. It's about consistency and making statements with your style choices, even if they initially seem eccentric. He shares an example of his own, "Like this outfit I have with the orange scarf, striped shirt, and olive jacket – It's not for everyone, but it works for me."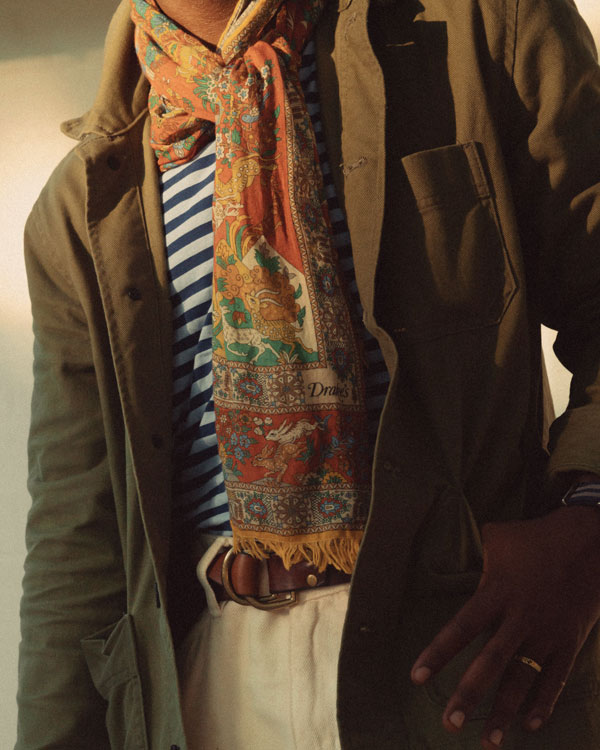 These become your signature moves, akin to a chef's unique take on a classic dish.
Now, you're comfortable wearing things that used to feel off-limits or not 'you,' simply because you were concerned about others' opinions. As you've grown more confident in your personal style, what once seemed like a bold choice has become just another part of your everyday wardrobe.
Ideally this process continues:
"Eventually, you go back to the first stage, where you've created your own universe. There are rules within that universe, but now you can break those rules to keep clothing exciting. And once you break them again you're starting to mix maybe two genres of things that you've come up with, the cycle continues, thus keeping clothing fun and exciting," concludes Daniel.
And essentially that's the point of this whole thing: to have a personal style that feels true and representative of you, and keep life a little bit more interesting.
"Remember, everything you wear sends a message."