Looking for style that is simple, clean, and put-together? Look no further than the Scandinavians.
Scandinavians – defined as the people of Sweden, Norway, Denmark, and often including Finland and Iceland – are known for their high-ranking happiness levels, enviable work-life balance, and the ability to endure the coldest and darkest winters on Earth. They're also recognised as some of the planet's best dressers.
And though to the lay-person, snowsuits and wooly hats might immediately spring to mind when you think of getting dressed for these snowy locales, the chances are you've probably found your own wardrobe influenced by true Scandinavian style more than once.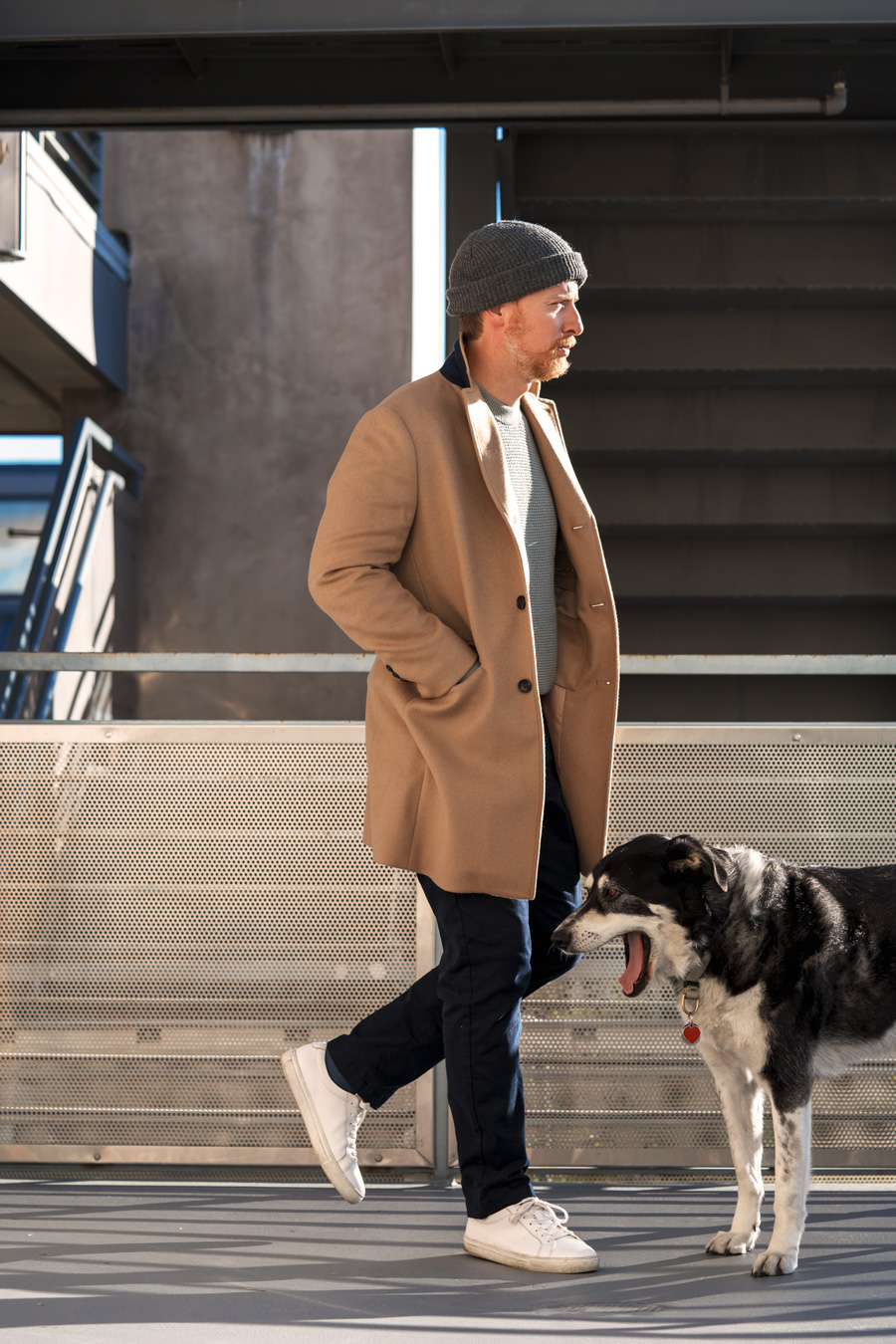 What is Scandinavian men's style?
Scandinavian men's style is founded in two principle concepts: minimalism and functionality. From the pieces themselves to the way they're paired, the Scandinavian wardrobe is the perfect example of less being more. It focuses on pieces that deliver function – warmth, comfort, movability – without ever going over the top.
Everything is stripped back to the basics of what is required to fulfill that function. Loose shapes, muted tones, and a distinct lack of branding are the defining elements of Scandinavian style. In a world where everything is over-done and over-produced, this kind of minimalism can sound restrictive, but trust us: it's anything but.
In a region known for its social democracy and focus on personal happiness, it's only natural that Nordic fashion and design would be equally accessible and laid back, too. After all, these same qualities that make Scandinavian society so globally appealing can often be seen to translate into their flair for creative design.
But only since the 1990s have Nordic brands and designers really developed the reputation they deserve. Suddenly, highstreet brands like H&M and COS alongside high-end designers like Acne and Filippa K were doing for Scandinavian fashion what IKEA did for flat pack furniture.
It might be too easy a link to make but, from an outsider perspective, it could be observed that the long days in summer and long nights in winter have influenced Scandinavian style. Consciously or not, the climate has driven the Scandinavian need to combine functionality with a fashion-forward edge. And by ditching the frills favored by the likes of Parisian and Milanese designers, they have succeeded in becoming one of the number one destinations in the world when it comes to style.
Scandinavian design outside of men's style
It's not just fashion that the Scandiavians get right. All kinds of design, from homewear to architecture, is aced by the Nordic countries. Scandi interior design goes back as far as their fashion clout, if not further. But if you're not sure where to start with the clothing aspect you might find their interiors a useful source of inspiration.
It all begins with a kind of minimalism so stripped-back that verges on brutalism, only with softer edges and warmer tones. Basically, imagine removing everything from your room. Then keep the wood panels exposed and the walls a plain, muted color. Add accents of grays and metals, and look to the attractive yet functional lines and curves that already exist.
That's the bare basics that make up an effortlessly stylish Scandinavian home. And the same concept applies to Scandi dressing.
How to incorporate Scandinavian style into your outfits
The key to Scandi cool is effortlessness – but it's not one of those styles that actually requires a lot of effort to get right. Pulling off Scandinavian men's style can, fortunately, be as simple as it looks. And you don't need to be blonde, chiseled, and over 6 feet to pull it off.
The relaxed trend focuses on layering knitwear and big overcoats with dark pants or jeans in the winter, dark tailoring with accents and leather shoes for formalwear, and classic denim and loose silhouettes, whenever possible. It centers around pieces that likely already exist in your wardrobe, so you can bring elements of it into less focused outfits. But unlike more obvious trends like workwear or skater style, the scaled-back Scandi look rarely feels costumey or over-the-top.
A clean and natural look
The neutral tones and no-frills cuts of Scandinavian attire make the perfect comparison to their interior design. Clean lines, quality construction, and earthy tones like greens, browns, and blacks with accents of white and lighter grays all reflect the relaxed lifestyle of the Nordics. The style is often influenced by the shapes and colors found in nature, which is adopted by many Scandinavians in the way they style their homes and wardrobes.
In fact the Swedish have a lifestyle concept called 'lagom,' which literally translates to 'moderate' or 'in moderation' and centers around finding a more manageable, balanced way of living with less. And it's this lack of extravagance that actually gives Scandi style its truly luxury feel.
Color and pattern
Though 'clean and natural' is a leading factor in Scandi style, that's not to say there's no fun involved. Color and pattern make up a large part of the style often with warm tones like mustard and pleasing geometric prints addings accents to a look. Though darker and more muted tones are favored due to the quality of light in the far North that isn't well suited to the whimsy of bold tones, a single bright or patterned piece as an accent will work easily into your Scandi-inspired look.
You won't find large graphic prints, neon tones, or clashing colors in a Scandinavian wardrobe, but that doesn't mean there's no room to experiment with bolder pieces that suit your personal style.
Fit is key
Scandi style is all about the fit. Rarely will you come across anything skin-tight, or even slim-fitting in a Scandinavian wardrobe. But when we talk about baggy or oversized clothing in a Scandinavian context it's not the slouchy, almost scruffy casual style you might be used to.
Here, it's all about the fresh lines and straight silhouettes. Every piece comes with an element of structure. And since Scandi style embraces clean designs without bold logos or branding, the strikingly simple shapes have room to take center stage.
Simple, neutral accessories
Scandinavians aren't known to be passionate accessorizors – but when they do it, they do it well. Minimal (are you noticing a theme, here?) silver jewelry, chunky knitted scarves, and warm hats like beanies are the most common examples of Scandi accessorizing.
However, as lovers of casualwear, a plain baseball cap and a classic pair of sunglasses in black or tortoiseshell could easily fall within the bounds of the Scandi look. So if you do love to accessorize, use it to bring your own flair to a Scandi-inspired outfit. After all, you don't have to take this easy style of dress too literally.
Examples Of The Scandinavian Menswear Aesthetic
An overcoat paired with dark pants and a simple beanie makes an easy winter Scandi look.
Soft staple pieces define Scandinavian mens' style.
Scandi style is all about layering. An overcoat with knitwear and leather shoes is an easy take on a formal look.
Scandinavians love a casual look, but keep it simple with minimal colors and no logos or branding. It's all about fresh, clean styles.
Functional sportswear in muted tones can be dressed up with smarter pieces.
It's cold out there, so knitwear is a key player in Scandi style. Sweaters, beanies, and scarves in muted tones always look great.
Subtle patterns work with the muted colors of a Scandinavian wardrobe.
You can work colors into a Scandinavian look – just make that your focal piece and make sure it works perfectly complements the rest of your outfit.
Look to layering for an easy take on Scandi style that will work with the rest of your wardrobe.
The best Scandinavian menswear brands to have on your radar
You don't have to look exclusively to Scandinavian brands to nail the look – Japanese brands Comme des Garcons and Uniqlo do it very well. But with such a wealth of talented and high-quality Nordic designers on the fashion scene, why wouldn't you stick with it?