Love sneakers, but not sure how to dress them up? Here's how to put your best foot forward.
Special thanks to Thursday for sponsoring this piece!
Every stylish man has had a sartorial stumbling block at some point in his life. Maybe it's figuring out the middle ground between collared shirts and crew neck tees. Or finding the most flattering pair of shorts–not too fitted, not too baggy, but just right.
Other guys trip over their feet…or at least their footwear. It should be easy, right? Dress shoes are for work and more formal occasions, boots are for dates and bad weather, and sneakers are for working out and keeping it casual.
Right?
Not quite.
Just because the shoe fits doesn't mean you have to wear it.
A few readers have reached out expressing frustration that when they try to wear sneakers in a dressier way it never seems to have the same refinement that their inspiration has.
Do you relate to this:
You've tried every pair of sneakers in your closet but you always feel they make you look too underdressed for where you're going
When you wear sneakers with an evening outfit you feel like a grandpa wearing his old trainers with his suit
You try to wear your office pants with your go-to sneakers and you look like you got dressed in the dark
Or you copy an outfit exactly, but on *you* it looks sloppy or lazy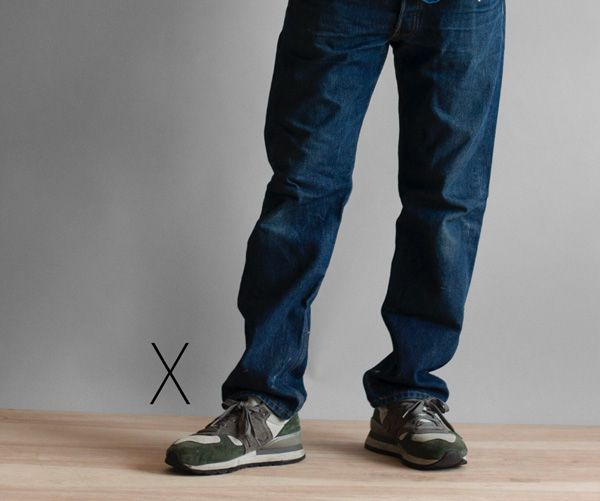 If you've all but given up on trying to wear sneakers in a more intentional way, fear not: There are some easy – but important – tricks to remember to nail that perfectly casual but still put-together style.
My own personal style is most easily summed up as smart casual, and it's a look that we like to offer as one of the most flexible, customizable styles for guys.
One of the key components of smart casual is that there's plenty of room for creativity. You have the freedom to mix dressier and more casual items, and bend the rules to suit your own tastes. If there was a spectrum from casual → business casual → dressed up, smart casual is actually its own side branch.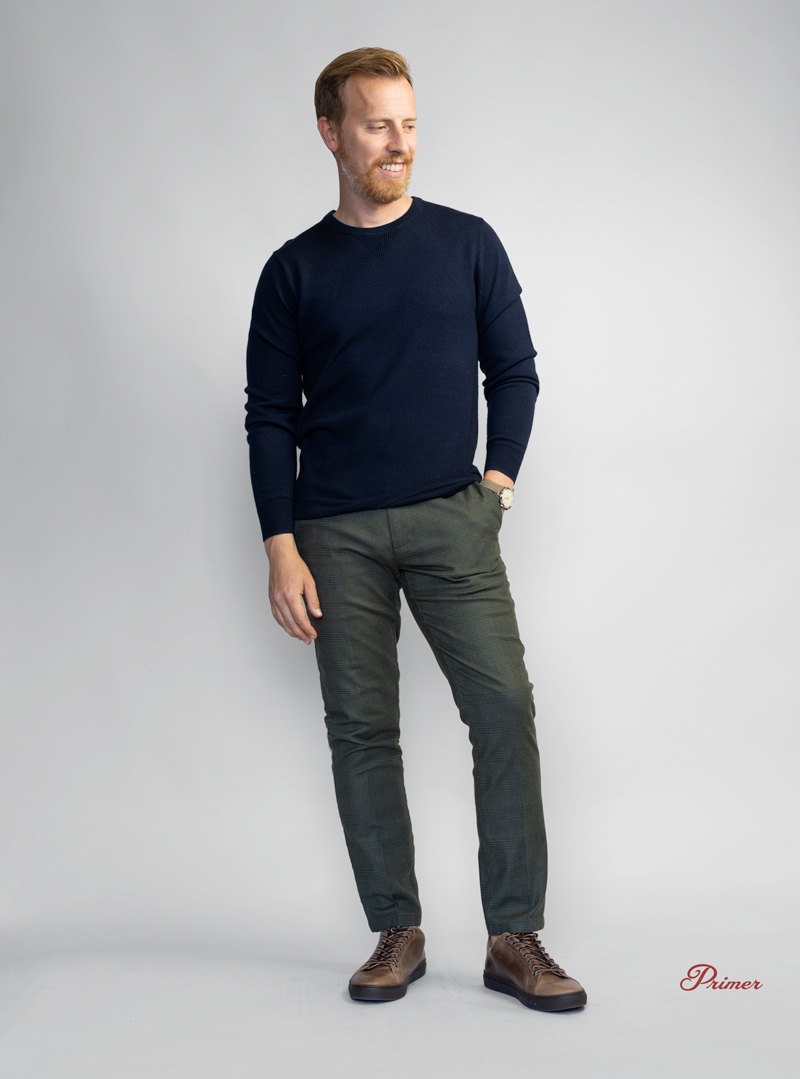 Where the traditional three are dictated by social expectation (a button down and khakis are mandated by your biz casual office), smart casual is defined by how the overall outfit appears together. Mix the right bomber jacket, button up, dark jeans, and sneakers together and you'll be the best dressed guy in a room full of too-big sportcoats.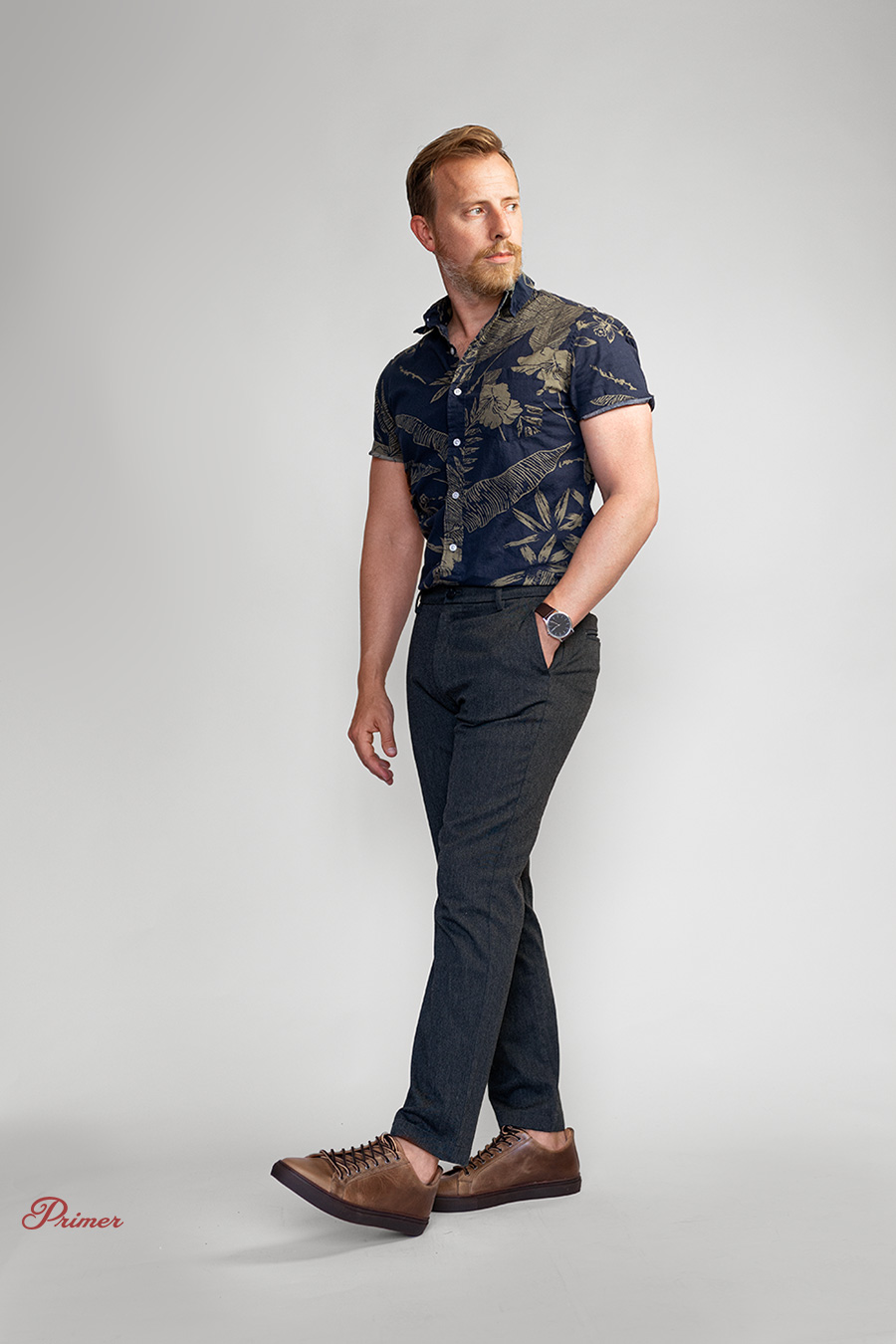 However, that doesn't mean that the bulky, worn out, used-to-be-white-now-they're-grayish shoes that you wore to play basketball (in college) will pair well with some crisp dark gray jeans and a tailored shirt for date night. We're bending the rules, not ignoring them entirely.
→ To find the right sneakers and nail a smart casual look, keep these guidelines in mind:
1. Pants first, then shoes.
This isn't just a common-sense dressing tip. Before you even pick out your kicks, look at your pants. Especially your jeans. Choose a streamlined silhouette–even if more relaxed fits are coming back, too much extra fabric isn't what you're going for.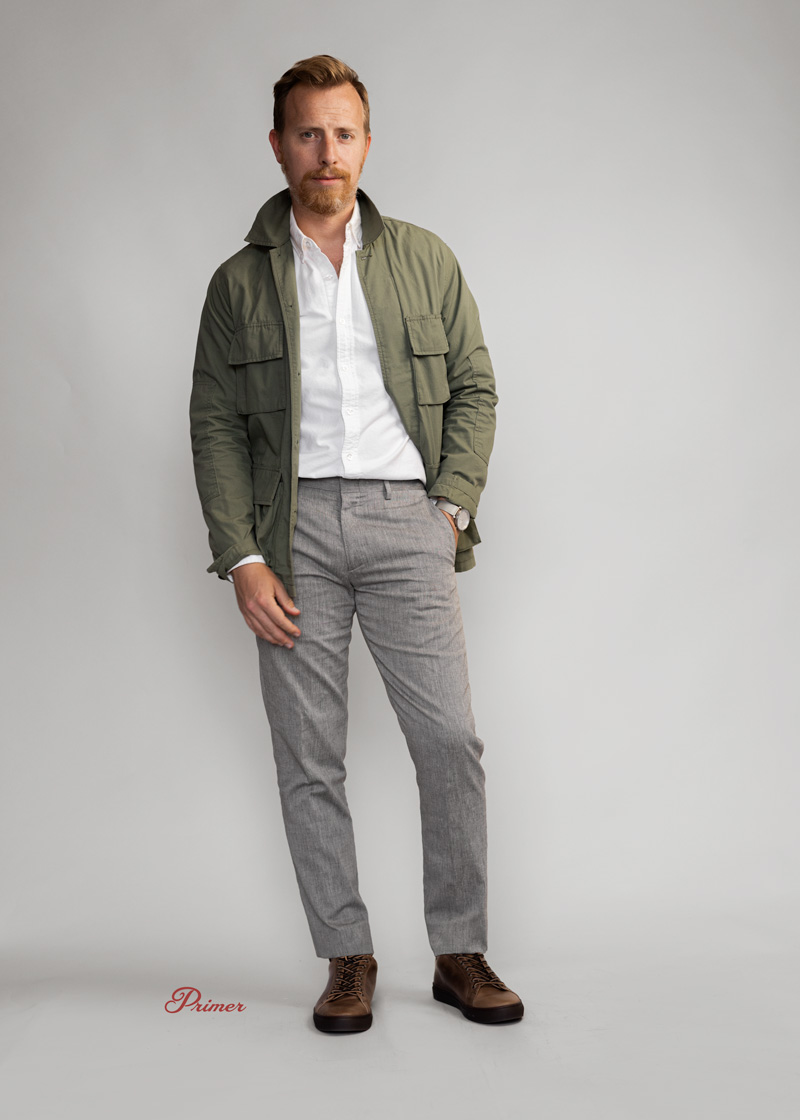 2. Focus on length.
Lengthwise, your pants should never bunch around your ankles. If they do, take them to the tailor and ask for "no break" or at most a subtle break (where the pants begin folding on the shoe). The more casual an item of clothing (jeans, T-shirts, sneakers), the more fit and tailoring can influence how "nice" it reads.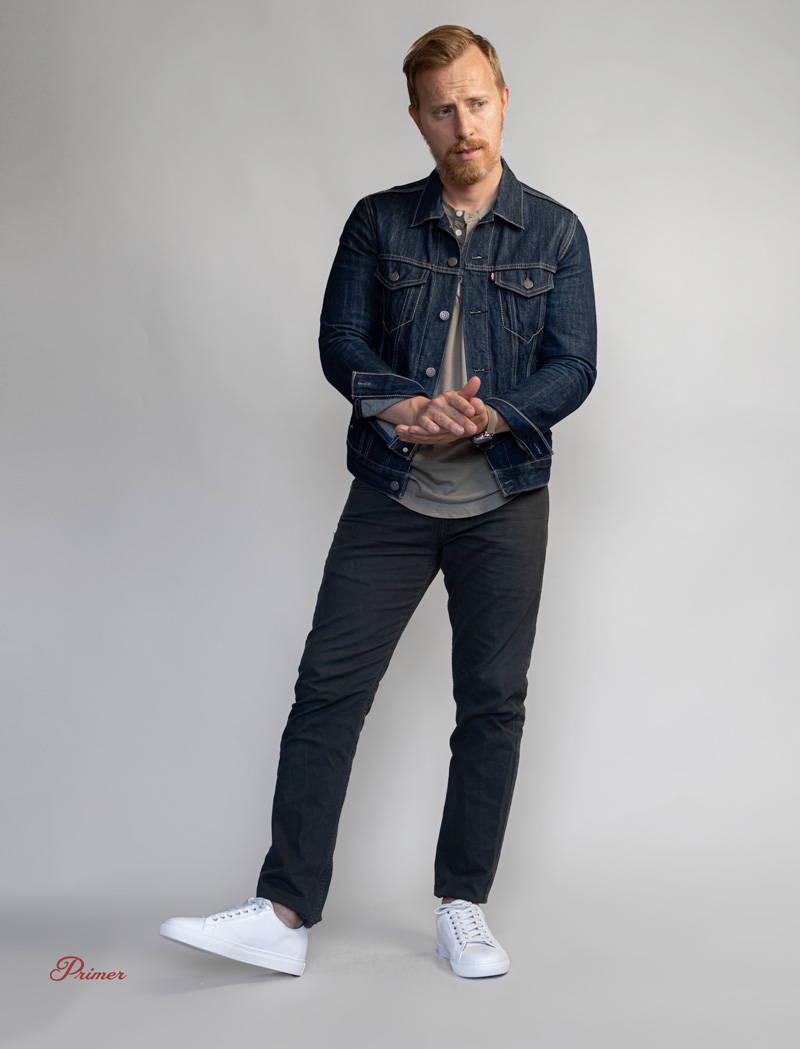 If needed, employ a cuff.
Ever wonder why so many outfit photos on Primer have cuffed jeans? It's because the pants, when combined with those specific shoes, are too long, causing a baggy break that takes all of the air out of the intentional, put-together style we're going for.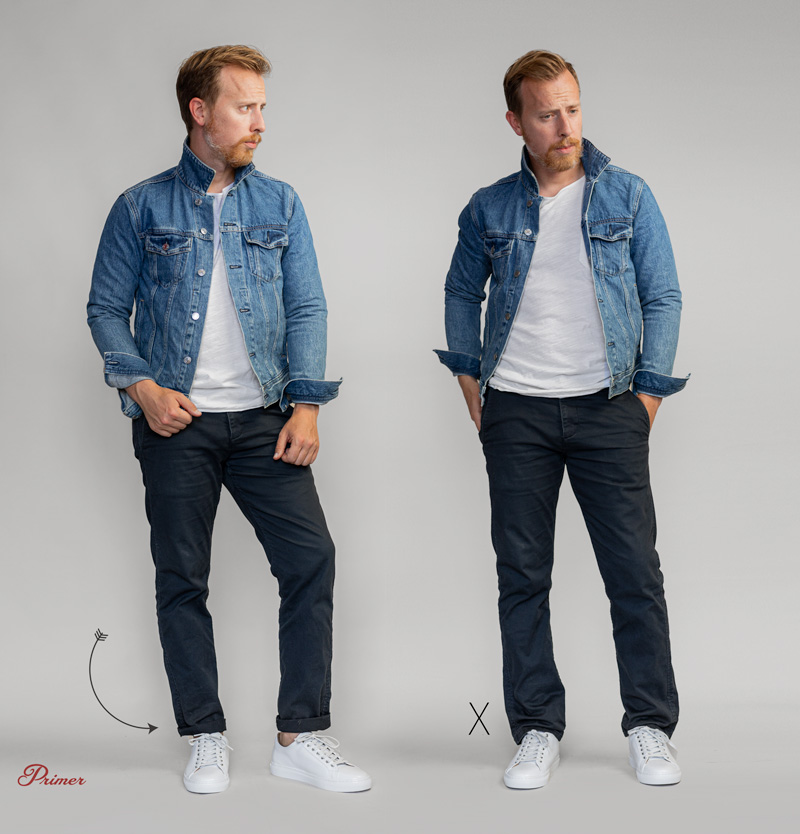 It's impossible to have pants hemmed to the perfect length for all of your shoe options. A pair of boots will hit different than loafers. A small cuff allows us to maintain the ideal pant length silhouette.
3. All gym shoes are sneakers, but not all sneakers are gym shoes.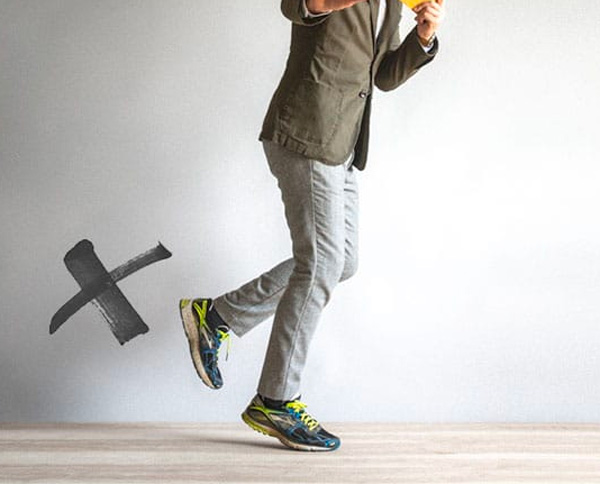 Wearing sneakers in a smart casual way isn't the same as athleisure. While your sneakers of choice may have comfy, supportive footbeds and sensible rubber outsoles, that's probably where the similarities end. The smart casual sneaker would look out of place in the weight room, just like a basketball shoe looks out of place with a herringbone blazer and twill pants.
When unsure if a sneaker is too athletic or not, go for retro styling like the Adidas Stan Smith, Vans Authentic, and Nike Killshot.
4. Imagine it's a dress shoe: Sleek, low profile, high quality leather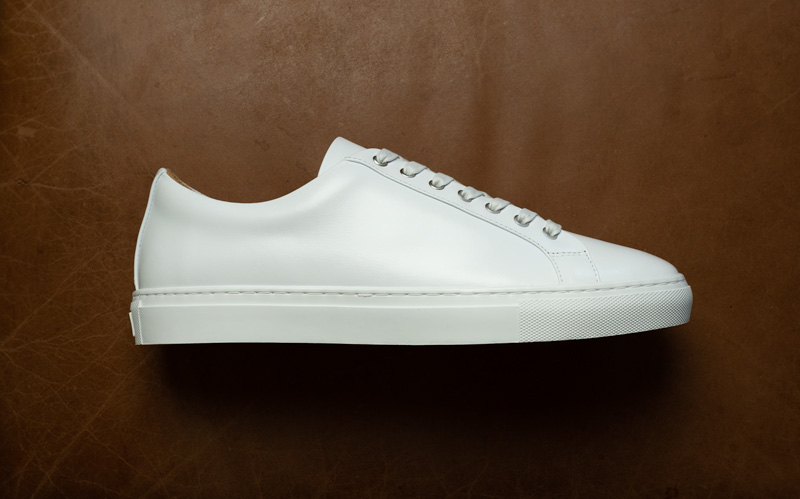 Just like we're applying dress pant fit criteria to smart casual pants, evaluate what makes your dress shoes read as more formal. Dress shoes aren't bulky or boldly colored, so if you want to elevate your sneakers to smart casual, look for a low profile. A shoe with a clean design and simple lines is easier to pair with dressier items of clothing.
5. Materials matter.
Darker rinse jeans look more pulled together than a faded light wash pair. A slub cotton tee is a step up from an ordinary, thick Hanes Beefy Tee. And sneakers made with higher quality leather (like full grain and top grain) will just look finer than cheaper pairs. Beyond that, well-made shoes will wear longer and age better than shoes made with cheap components.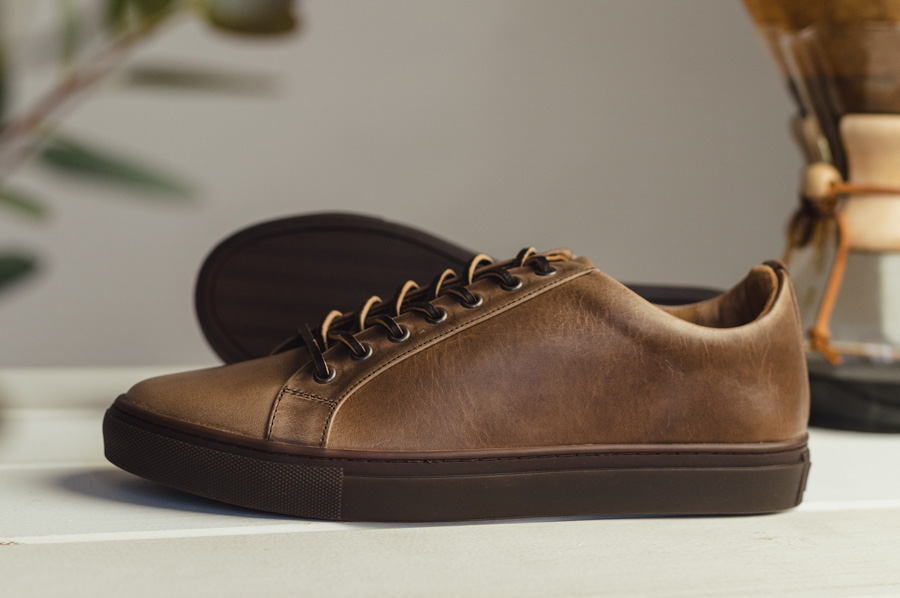 Keeping that in mind, our pick for the easiest sneaker to wear with smart casual clothes is the Premier Low Top from Thursday Boot Company. It's available in ten different colors, but we're focusing on the white Nappa leather and natural Horween leather options as the most versatile and easy to style.
Some quick smart casual sneaker troubleshooting:
If you're a little unsure of when you can wear white sneakers, don't fret–they're much easier to pull off than you might imagine. There's just something that always feels fresh and modern about a pristine pair of white leather sneakers (as long as you keep 'em clean).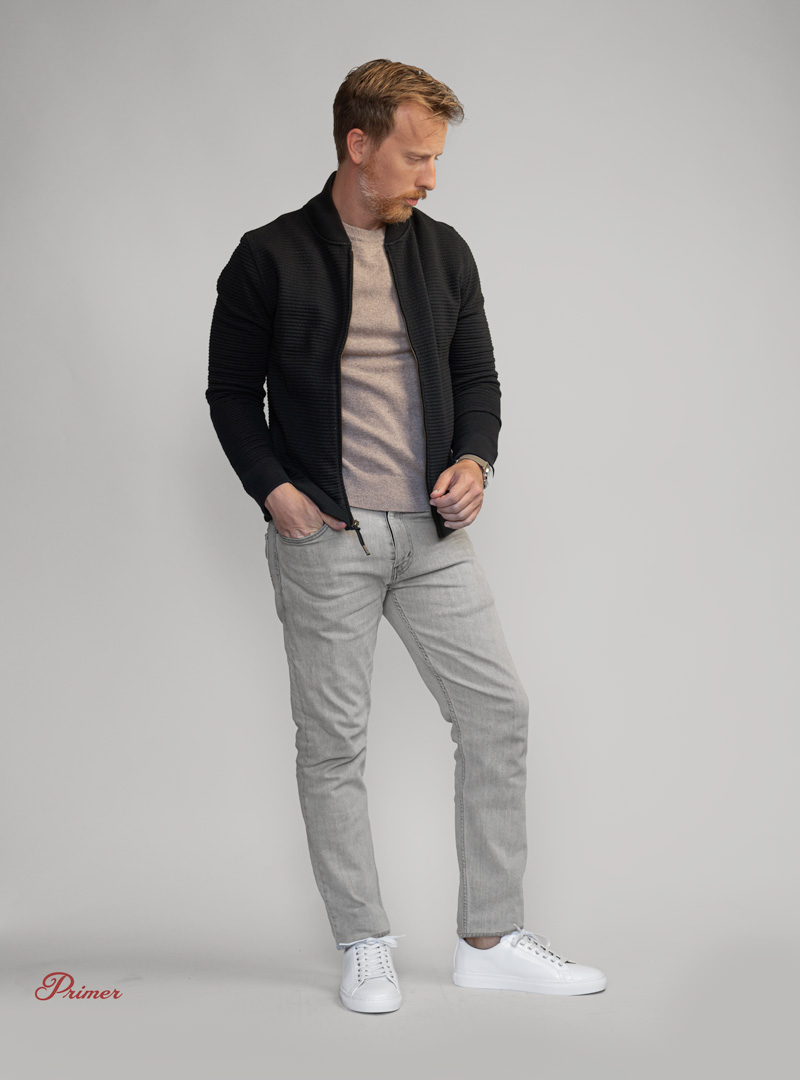 And if you've heard that you shouldn't mix black with brown–we've long been correcting that misunderstanding. Black pants and black shoes can blend together. There's no visual "break" for the eye. The contrast of these two neutral colors creates an effect that's sharp yet still understated.
Both colorways feature:
A sleek, minimalist look (to complement rather than distract from your outfit)
A supportive yet unobtrusive sole (the comfort of a gym shoe without the bulk)
High quality leathers (that will acquire an attractive patina with wear)
The Premier Low Top checks all the fit and fabric boxes of a dress shoe, but with the style, comfort, and ease of a sneaker. Which means you *could* wear it casually, with a simple T-shirt and jeans, but you could also pair it with the dressier elements of your wardrobe without feeling like you're wearing the outfit equivalent of a mullet.
Like the other members of the Thursday Boot Company family, the Premier Low Top is more than just a good looking shoe. Its features include:
The white sneakers are made with Nappa leather, which is top-shelf–full-grain leather tanned to produce a softer, more supple material.
The Heritage leather options include Horween leather from the famed American tannery. It's used to make some of the finest leather goods in the world like NFL game balls, long-lasting wallets, and your new favorite smart casual sneakers. More rugged than Nappa, Horween's Chromexcel leather handsomely displays natural grain and character. (And it smells divine.)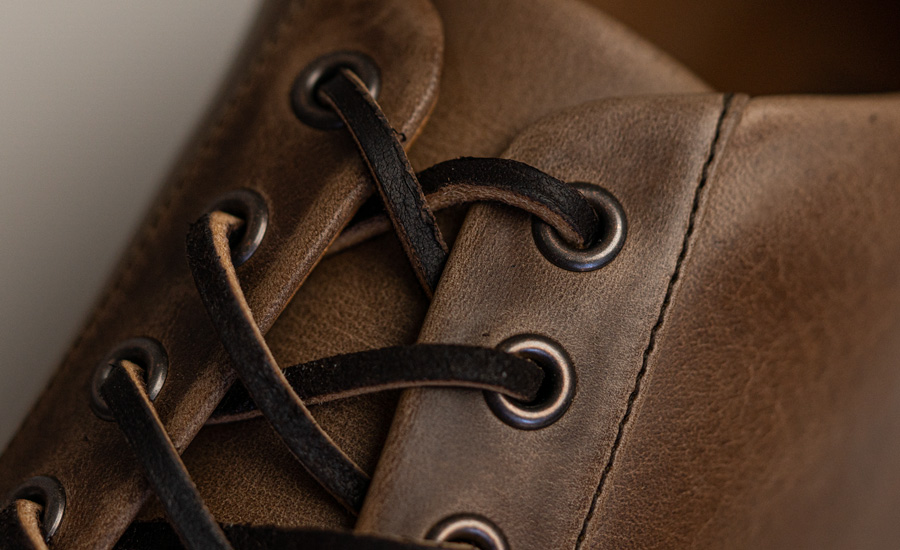 Vachetta leather insoles–sturdy, durable, used on Louis Vuitton and Coach handbags–will mold to the shape of your foot after only a few wears.
Sheepskin lining so soft you might be able to skip socks.
Slim yet shock-absorbent footbeds cushion your feet for outstanding comfort.
The bottom line is that Thursday uses the same leather tanneries and factories as high-end brands, but with a much (much) lower markup. So you're getting the same features and benefits that a $300 shoe offers, without the premium cost.
Just like Thursday's approach to boots, they've analyzed all the fashionable and functional elements of great sneakers and figured out how to make them in a way that's sustainable and affordable. That's why we wanted to feature two versions of the same shoe–both to highlight a brand we stand behind and point out the difference that high-quality materials and craftsmanship will make in helping you incorporate sneakers into your smart casual wardrobe.
If you've been working from home for the past year, you've probably gotten used to wearing slippers, flip flops, or even going barefoot to your home office. A pair of sneakers that blends style and comfort will help you transition back into dressing for the world beyond your front door.
What's your favorite way to upgrade your sneakers to smart casual? Let us know in the comments!