Essential summer style simplified.
Summer is here, and that means it's time for shorts, that piece of clothing that you've struggled to get just right since you were in high school. Men's shorts have seen some serious changes in the past two decades in terms of appropriate length and width, but there are some timeless dos and don'ts that every man should know.
Yes, you can look good in a pair of shorts no matter your build or height. And as always, you don't have to go broke to look smooth this season. If you're on a budget, three pairs of shorts can get you through the summer. Read on to find out which shorts to snatch up and which ones to leave on the rack.
How Men's Shorts Should Fit

What is an inseam, and why should I care?
One of the most important factors when shopping for summer shorts is the inseam. The inseam of a pair of shorts is the length of the seam between the bottom of the crotch and the bottom of the shorts. Unlike pants which come in a wide range of fits like slim, skinny, relaxed, and so forth, shorts are primarily offered only by inseam length.
A good rule of thumb is to have the bottom of your shorts rest one to three inches above your knee, and this typically means you'll be between a 7-9" inseam.
How to Measure the Inseam on Shorts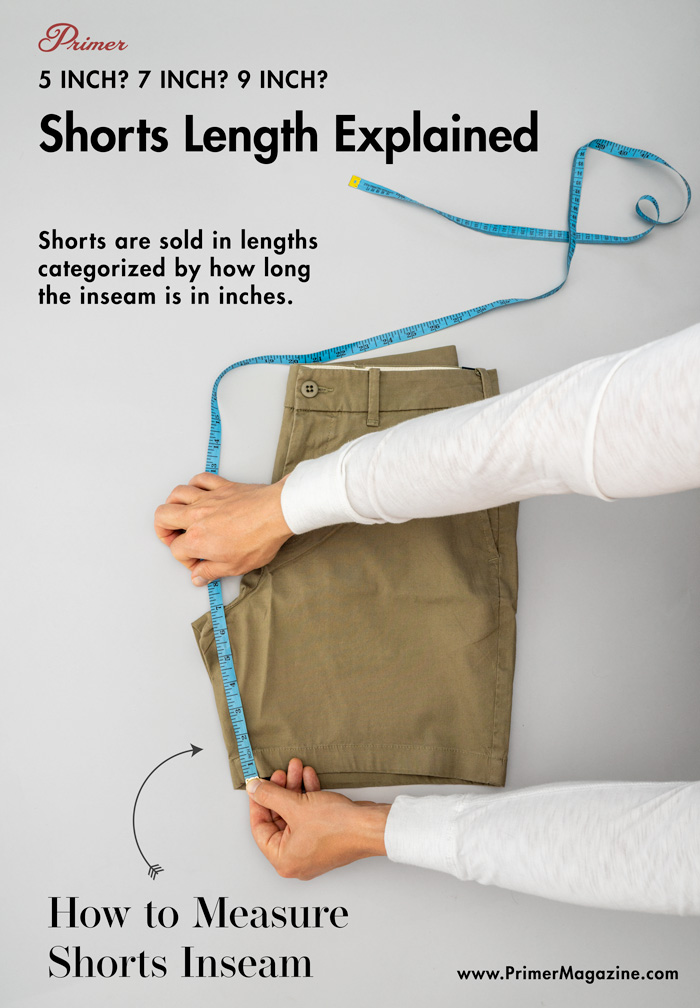 However, don't get stuck on specific numbers: A lot of this comes down to the length of your legs. I'm 5'9", and I have a long torso and short legs, so I find that a 7" inseam suits me because it's proportionate to my body. For a taller guy with longer legs, the 9" inseam might be the better bet. Anything under 7" and you're risking showing more than just your legs. Anything longer than 9" and you're risking looking like a skateboarder from 1996.
The bottom line here: There is no one-size-fits-all, so try them on. Start with a 7" or 9" inseam and figure out what looks right on you.
The inseam length of your shorts should be based on your body and shape, to achieve a look similar to: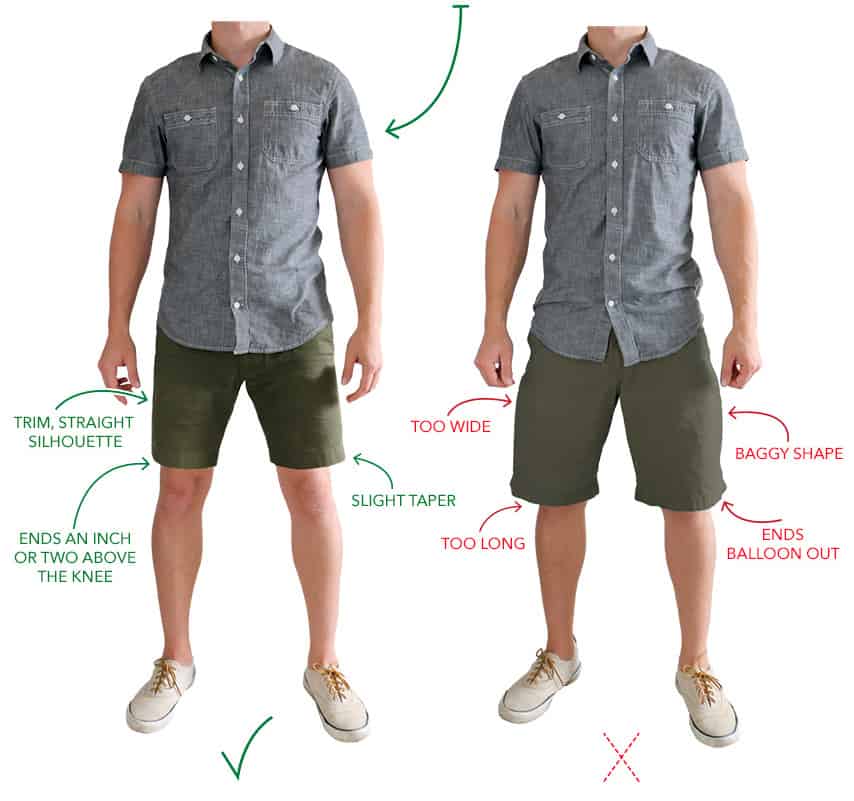 How slim should my shorts be cut?
How slim or loose your shorts should be comes down to the shape of your body and specifically your legs. If you have slim legs, you probably need a slim pair of shorts. If skipping leg day is anathema to you, and your quads are epic, then you may need shorts that are cut a bit wider.
To be clear, don't go to the extreme either way: if your shorts are so tight that onlookers can see the outline of your package, then they aren't fitted; they're too tight. Grab a bigger size or find something wider cut. If your shorts are so loose that they don't move with your legs, then they're probably too baggy.
A quick litmus test is the pinch the excess fabric on the outside of your leg. If there's more than 1.5" of slack, the shorts are probably too big for you.
Since shorts aren't offered in different fits, other than inseam, the only other variable you can alter is the waist size. If the shorts feel too baggy, confirm that the waist is as fitted as possible. Similarly, if you're wearing the right size but the shorts feel too tight, you can size up in the waist to get more room everywhere else.
More of a watcher than a reader? Watch our animated guide! Subscribe to Primer on Youtube – 
Essential Colors, Fabrics, and Patterns for Men's Shorts
Because summer is a time of sartorial simplicity, it's important that each item you wear has intentionality behind it. Fall and winter are great times for style because layers and thicker fabrics are easier to create sharp looks with. In the summer, often times we're limited to a shirt, a pair of shorts, and shoes. There's no room for frivolity, so in the case of shorts, that means considering your best options for colors, fabrics, and patterns.
What color shorts should I buy?
Your best bet for a versatile smart casual summer wardrobe is to pick colors that are easily matched, which means nothing overly bright or saturated. The colors below are all excellent choices, but if you're on a budget, you can't go wrong with navy, British khaki, and charcoal. These three can easily carry you through a summer. Take a look at our graphic to see how just the color of your shorts can alter the whole look of an outfit.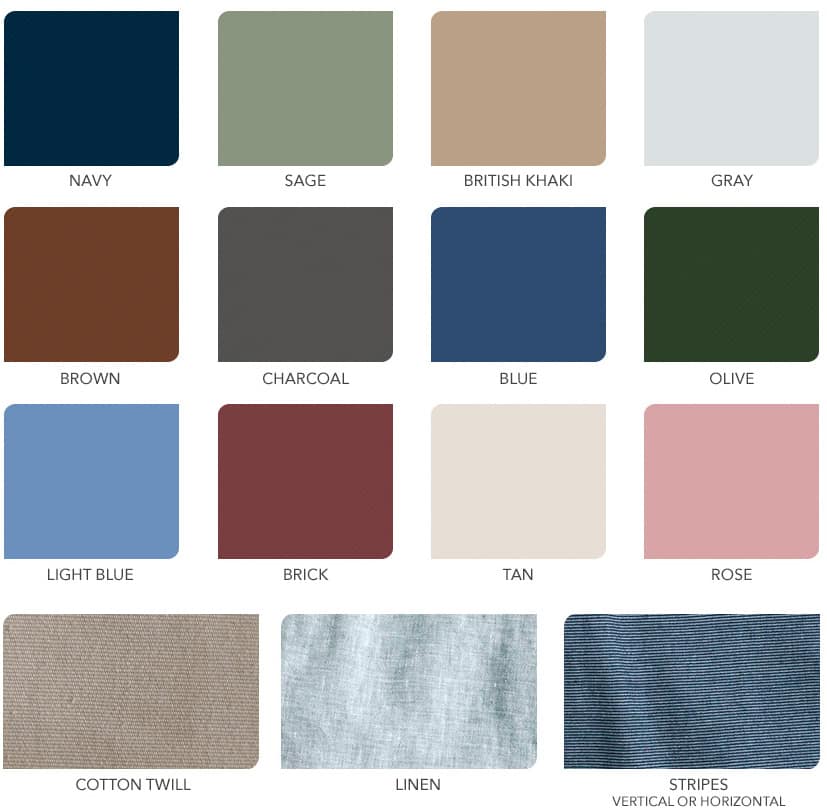 When your outfit is comprised of only a few items, the color of shorts can completely alter the look: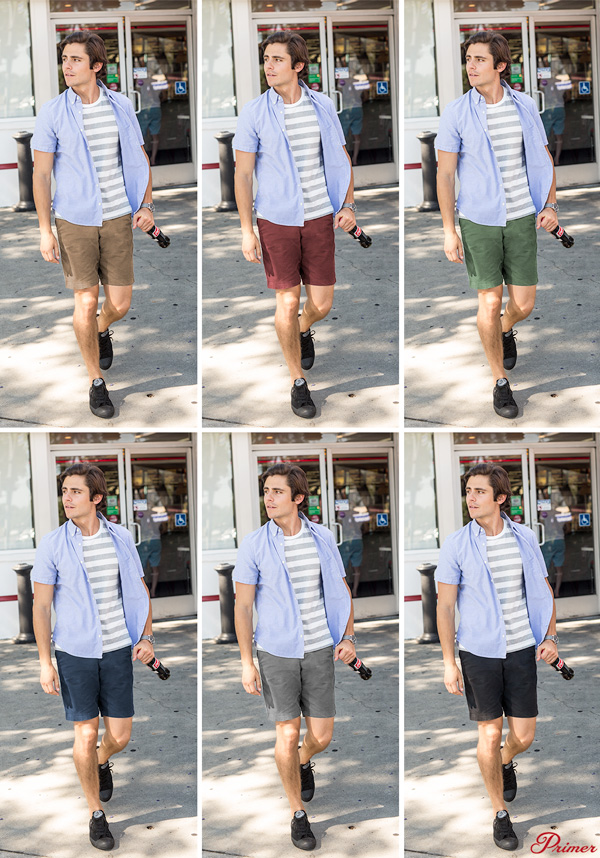 What's the best fabric for shorts?
Cotton is classic: it breathes well, and it's just comfortable. But if you're seeking better air flow and a more eye-catching drape, consider a pair of linen shorts. Linen is lightweight, cool against the skin, and it wrinkles in a way that looks outstanding (Wrinkled cotton: sloppy. Wrinkled linen: chic).
Linen shorts are the perfect vacation choice because the last thing you need to worry about is busting out the iron; give them a five-minute fluff in the dryer and then let the wrinkles form where they may. Seersucker, ripstop, performance fabrics, and different fabric blends (think lightweight golf shorts) are also great options to add some texture to your outfit. It's a big reason they're one of our 15 men's summer style essentials.
Patterned Shorts or Solid Colors?
Start with at least one pair of solid shorts: navy or gray/charcoal should be your top choices. If you want to introduce a pattern, keep it subtle. Light stripes (like a subtle seersucker) are a great pattern for shorts because they can add a little flavor to a solid t-shirt or polo. And while there is nothing wrong with a fun pattern (like little whales or flamingos) don't make it your go-to pair. You want a fun pattern to be a once-in-a-while piece.
Should I Tuck My Shirt In When Wearing Shorts?
The short answer is no. The long answer is that tucking your shirt into your shorts really comes down to the length and type of your shirt as well as how dressy you need your outfit to be. Tucking your shirt into your pants is pretty common; hence, no one really pays attention to it either way. But when you tuck your shirt into your shorts, it intentionally changes the tone of your outfit, especially when it's sweltering outside.
The Shirt Tucking Rules for Shorts: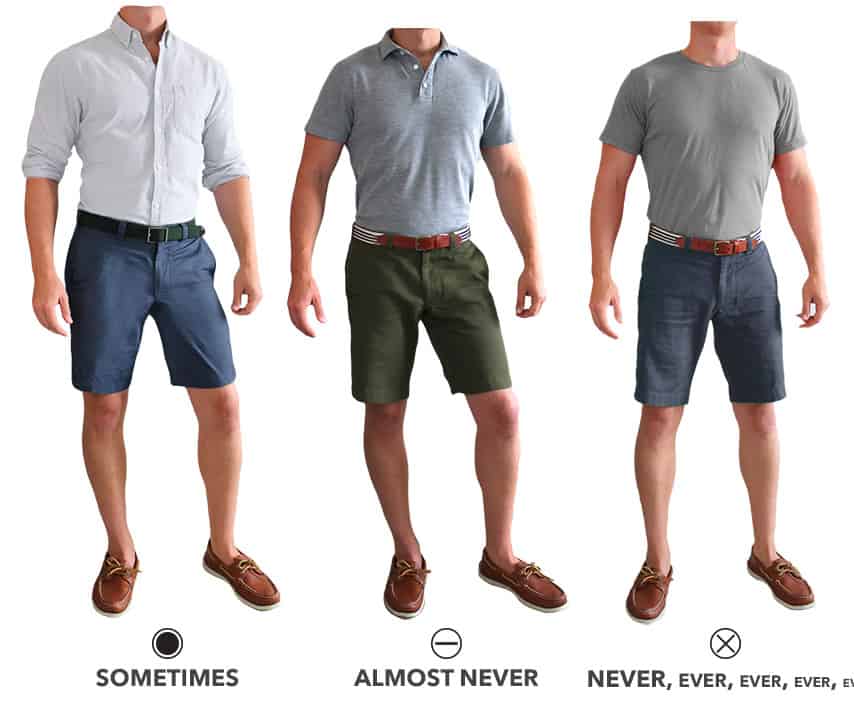 T-Shirt
In general, it's just a bad idea to tuck in your t-shirt regardless of whether you're wearing shorts or pants. T-shirts are casual, so the very idea of tucking them in goes against their intended purpose. As trends go, the tucked-in t-shirt is increasingly showing up on the runway and with social media fashion influencers, but that's fashion, so unless you're physically on a runway or going for a more advanced fashion-y look, just leave it untucked.
If you just read that and were completely disconnected from the idea of "fashion" then that's even more reason you don't want to tuck in your t-shirt. The only people besides the fashion forward who tuck in their t-shirts? Old dads. So either way, tucking in your t-shirt is not the way to go.
Polo
Polos are designed for an athletic aesthetic, so tucking them in really doesn't make a lot of sense unless you're on the golf course or old enough to say you watched the moon landing in real time. Of course this can pose a challenge for guys with shorter torsos. If you don't like the look of tennis tail of untucked pique polos, an alternative would be to choose a jersey polo with a flat (t-shirt-like) bottom, or knit polo that has a band on the bottom, which would remain untucked but offers a neater, more put together appearance
Read more: 4 Tricks for Wearing Polos If They Make You Feel Like a Dork
Button Up
As for tucking in a button up, we could go either way. And this really comes down to the length of the shirt and the occasion to which you're wearing it. If it's a shirt you'd ordinarily wear to work (meaning you'd wear it with pants), then it's probably been cut long in the body; hence, untucked would look unkempt or baggy. If the shirt has been cut on the shorter side (which many companies are doing now for the sake of versatility), then leave it out.
If you're going to a bbq, roll up the sleeves and leave the shirt untucked. If you're going to lunch meeting, roll up the sleeves and tuck it in. Notice in both of those scenarios we told you to roll up the sleeves. Yes, you can wear a long-sleeved shirt with shorts, but it's hot outside…roll em' up.
What Shoes to Wear with Shorts
Shoes are the rudder of your outfit: they determine which direction the outfit is pointing on the spectrum of casual to dressy, and you probably already have quite a few of these options sitting in your closet. Keep in mind that regardless of which shoes you're wearing, your feet are probably going to get sweaty. A pair of no-show socks or a quick sprinkle of Gold Bond can go a long way to keeping you dry.
Types of Men's Shoes to Wear with Shorts
Super Casual Shoes with Shorts
For the most casual look, stick with a nice pair of sandals ("nice" meaning they're intended to be stylish, not for hiking) or sneakers (said sneakers should be made of canvas; your basketball or running shoes are for playing basketball or running).
Smart Casual Shoes with Shorts
If you want to step up the dressiness of the outfit a bit, then a pair of espadrilles (or Toms) are a good-looking and economical option. A pair of white leather sneakers or boat shoes (especially if you'll be…on a boat) are also appropriate choices.
Read Primer's full guide to the summer sneakers we're wearing now.
Business Casual Shoes with Shorts
For a more formal occasion (a work event or a first date), your shoes need to set a dressier tone. Nisolos, driving mocs, suede venetians, or penny loafers are all excellent choices. Personally I prefer driving mocs: they're insanely comfortable; they look elegant with almost any outfit, and they make for a great conversation piece: "Oh the tread on the back? They're driving shoes. They were originally invented for wealthy Italians who didn't want to wear out the soles of their shoes while driving…" See?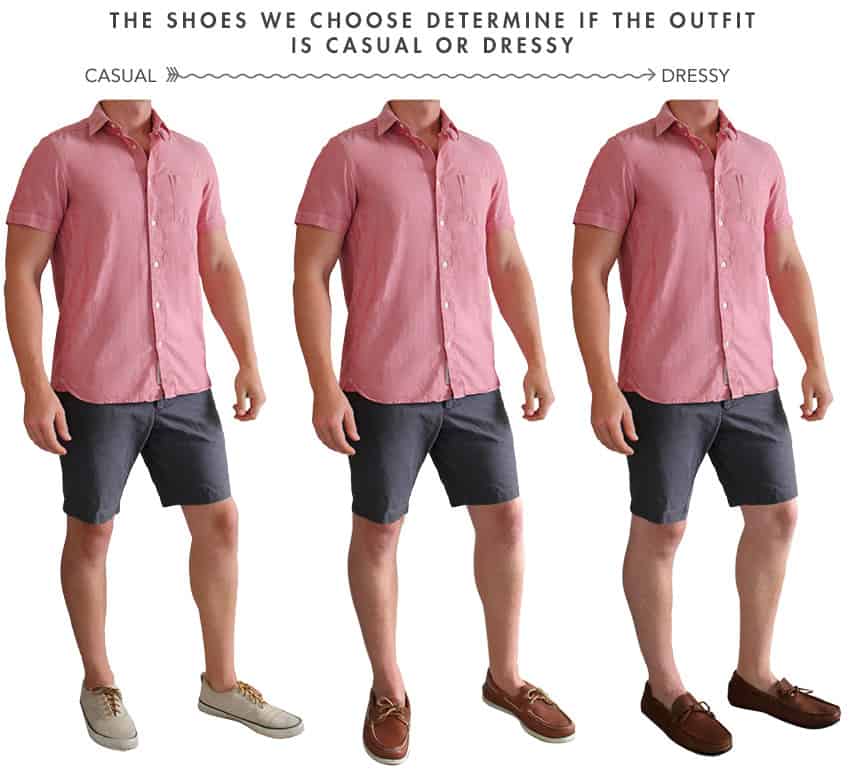 The shoes we wear with shorts determine if the outfit is casual or dressed up.
Summer Accessories to Wear with Shorts
With a limited clothing palette, create a polished look with these additions.
Accessories should complement your outfit, not distract from it. They should also be functional (with the exception of a leather bracelet if you're really feeling yourself that day). Think classic, timeless looks.
A 38-40mm watch with a simple face, Wayfarer sunglasses, a woven belt – these accessories are inexpensive, serve a purpose, and will complete pretty much any casual summer outfit you can throw together while adding in another layer of texture or shine. And remember, subtle doesn't mean boring. You don't need people staring at your saucer-sized gold watch; you want them looking at your summer outfit as a whole package.
The Best Men's Shorts to Start With
Our picks based on quality and fit, including some budget options from the best stores for affordable men's fashion.
Men's Summer Outfits with Shorts
Here are a few outfits you can throw together this summer. You can see our full collection of outfit inspiration in our Getup series or view all of our summer style features.
Like this post? Please share it!