3 Tricks for Making Summer Outfits Out of Your Favorite Fall Looks
By Stephen Albertini
The fall is always a great time for fashion. The benefits of cool weather give you almost unlimited layering options with essentially the entire color spectrum at your disposal, and you can fully take advantage of all the great jackets, boots, and accessories your favorite brands have to offer.
But what happens when the temperature rises and your layers come off? How can you keep that same rugged fall look without suffering from heat stroke in the middle of summer? Here are a few tricks for keeping your outfit fall cool amidst the summer heat.
Swap Dark Colors for Light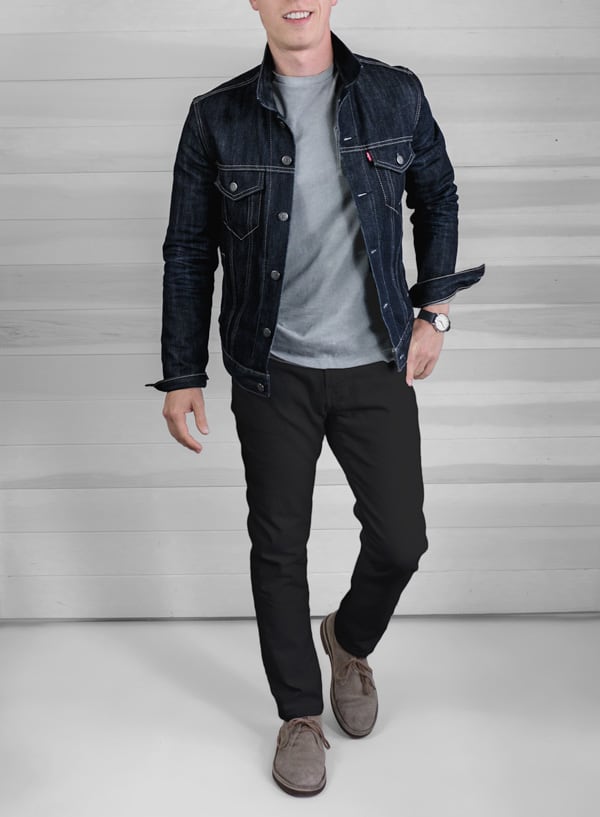 Trucker Jacket: Levi's, $69 / Washed Pocket Tee (similar): Target, $12 / Amazon, $15  / Slim Black Jeans: Levi's 511, $39 / Desert Boots: Clarks, $55 / NATO Watch: Timex, $30 – Read our ultimate guide to styling black jeans with brown boots
Trucker Jacket: Amazon Goodthreads, $45 / Washed Pocket Tee (similar): Target, $12 / Amazon, $15  / Slim White Jeans: Levi's 511, $56 / Desert Boots: Clarks, $55 / NATO Watch: Timex, $30
One of the best parts of summer is the ability to lighten up your wardrobe. Bright and light is always appropriate when the temperature climbs, so take advantage of this seasonal glitch when trying to recreate your winter looks. Check out our 5 Secrets to Dressing Well Without Layers piece for some more bright and bold options.
White jeans can feel risky (magnet for dirt, not much protection from visible perspiration), but can pay off in a big way when paired with the right pieces. Swap out your dark denim for white or a great light wash on a summer night out. A good light jean is a must-have for any season, especially summer.
Love your dark denim jacket in the fall? Opt for the light wash option in the summer as a catch-all jacket for any outfit combo. Black, navy, and other dark colors certainly aren't a no-go in the summer–there's a time and a place for everything, of course–but use lighter colors to both reflect that summer heat instead of absorbing it, as well as using it to brighten up your wardrobe during a fun time of year.
Reconceive the Whole Look with Heat Safe Alternatives
If you're like me, you often have ideas about what you want to wear to specific events. You may have a new pair of jeans or a great new shirt that you can't wait to break out, and this weekend presents the perfect opportunity. You meticulously plan it out in your head from the shirt to your footwear. But what happens when the temperature just isn't conducive to this ideal outfit? How do you adapt to the weather but still keep your overall aesthetic?
Take the above dark fall style for example. You love the way the denim and grey and black all work together seamlessly. It's simple, yet classic.
If we zoom out and think about what the outfit's style is conveying as a whole, there's no reason why we shouldn't be able to recreate this look, regardless of the temperature:
Trucker Jacket: Levi's, $69 / Washed Pocket Tee (similar): Target, $12 / Amazon, $15  / Slim Black Jeans: Levi's 511, $39
Here you can drop the jacket and go with a blue chambray shirt. It gives you the same texture, color, and blue-collar cool of denim without the added weight. Keep this in mind when trying to find lighter versions of other fall classics, like changing a white oxford to a white linen shirt, or swapping a heavy flannel for similar bold plaid patterns in a heathered cotton, for example.
That touch of grey of the t-shirt gets moved to your sockless sneakers, still keeping the accent color the same. Your black jeans can be replaced by light and comfortable black chino shorts. The route to your look may be different but the final style is the same. Pick a look and find the pieces that help it come to life.
Rethink How You're Accomodating Heat
For a lot of us, when we think of summer clothing, "shorts and short sleeves" is an ingrained maxim going back to elementary school. At some point, t-shirts and polos with jeans or chinos also became acceptable. But there's a third variation that's just as acceptable, comfortable, and stylish:
Shorts with long sleeves.
Not only do long sleeves with shorts allow you to wear your favorite long sleeve shirts well into summer and provide a host of new options for your wardrobe instantly, the combination has unique benefits. Depending on your activity, you're likely to get better heat management by wearing shorts with long sleeves on top instead of pants on the bottom and short sleeves on top.
And it isn't just for heat: I find that on a cooler summer evening, I'm more comfortable tossing on a sweater with my shorts than swapping my shorts for pants and keeping my short sleeves.
Take Action: Find photos of your favorite fall outfits and reconstruct them with summer wear. Like this post? Please share it!
Made to Measure Performance Shorts: Woodies, $95 / Linen Shirt: Uniqlo, $30 / Belt (similar): Amazon, $19 / Watch: 210 East Oak, $179 / Suede Loafer: Jay Butler, $195