Get the look for the final Craig Bond with these budget alternatives.
Bond is back. And he's throwback.
Casino Royale, the first Bond film to see Daniel Craig as 007, was a franchise reset. He was hard-edged, dangerous, and (seemingly) unconcerned with appearances.
Now take a look at this: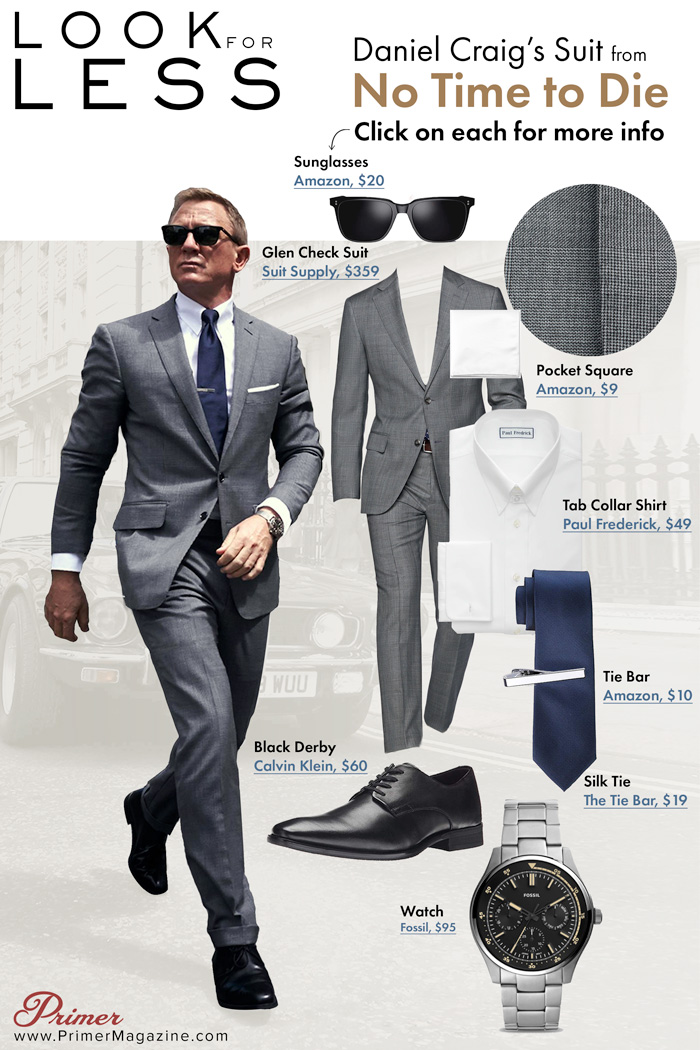 What does it say about the upcoming 5th Craig Bond, No Time to Die? Here at Primer, we hear one message loud and clear: it's back to Bond's roots.
Want to score the suit he's wearing? Unless you have five figures to drop on a Tom Ford suit, you may think you're out of luck. Fear not …you can snag this look for much less–with a little help from the internet.
The Suit: More Connery than Brosnan
Daniel Craig's Tom Ford suit in glen check is as classic as it gets.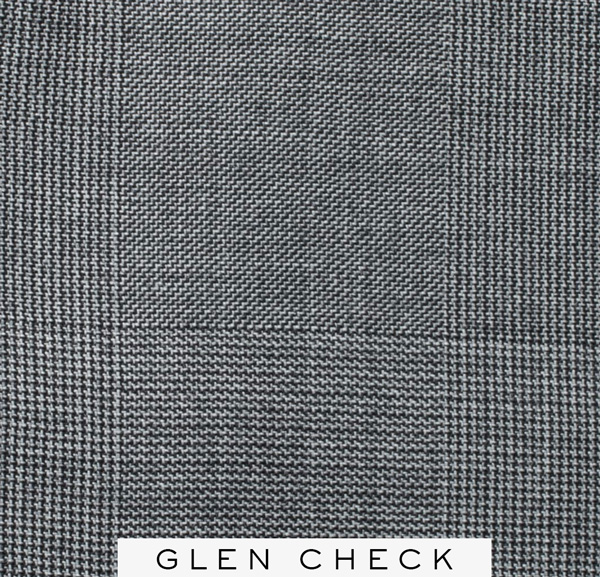 Craig's suit clearly draws inspiration from Sean Connery's suit in From Russia with Love:
Connery's three piece in Goldfinger, arguably the most iconic suit in (arguably) the most iconic Bond film, was also glen check.
George Lazenby, the actor tasked to play James Bond after Sean Connery introduced the character to the world also wore a gray glen check suit in On Her Majesty's Secret Service. The suit has been used by film producers to connect audiences back to the success of the Connery films since the beginning.
Craig's suit in No Time to Die is clearly – obviously – a callback to the golden age of Bond. It nods to Connery in the choice of glen check and certain styling features (more on that below) while updating the overall look to be unmistakably contemporary.
You can pick up a grey glen check suit for under $400 from Suit Supply.
This is a slightly slimmer cut than the one that Bond wears, but it has similar lines, and the color is spot on.
You can also pick up glen check suits from Indochino, Brooks Brothers, and H&M.
The Shirt: Meet the Tab Collar
Craig's Bond wears a tab collar dress shirt. It's a relatively uncommon collar style for most of today's American gentlemen, though they're around if you look.
If you're new to the idea of the tab collar, you'll notice Craig's collar points seem to pull in and wrap around the tie knot. This is accomplished with a connecting tab that is attached to one side of the collar and fastens to the other, behind the tie knot. If you look closely, you can see the tab below:
The result is a very structured look, with the collar points pulled in, and the tie knot held up high. It helps reduce that look we've all seen where a guy's top shirt button is visible because the tie has become slightly loosened or was tied improperly.
This tab collar shirt from Paul Frederick is made with pinpoint oxford cotton, which is a bit heavier than normal broadcloth, so it will hold its shape and stay crisp longer. (This shirt also features a split yoke, traditionally a sign of a higher quality dress shirt.)
The superclean white pops against Bond's grey suit; pair it with this silk navy tie from Calvin Klein for excellent contrast.
Other great shirt options can be found at Brooks Brothers, Jos A Bank, and Calvin Klein (this one is not a tab collar shirt but hits the same note … and you can't beat the price).
The Sunglasses: Fresh Eyes
Daniel Craig's sunglasses in No Time To Die are the perfect example of something we preach often here at Primer: Accessories can radically re-frame an outfit.
If the glen check suit and crisp tab collar shirt are tradition, the shades are fresh. Craig is wearing a pair of Barton Perreiras that are more angular, and less retro than he's worn in the past. Check out Primer's awesome article breaking down the new shades and affordable options if you don't have the $400 for the Barton Perreiras used in the film.
The Shoes: No Brown in Town
These should look familiar, Bond is wearing the same shoes he wore in Skyfall: a pair of black Crockett & Jones Highbury three-eyelet derby shoes.
Black shoes have become less fashionable in favor of slightly more casual grays and browns, but Bond is ex-military and prefers the traditional color.
These Calvin Kleins are very close for the price. They feature an extra set of eyelets, but the silhouette is the same.
Other budget alternatives include Allen Edmonds, Charles Tyrwhitt, Johnston & Murphy, and Florsheim.
Read more: 5 Options for Your First Nice Pair of Dress Shoes
The Watch: Omega For The Win
Bond's watch has been an Omega for the last three films, and this one appears to follow the same route: Seamaster with a brushed titanium case, black bezel and dial, and this time, a metal milanese mesh strap.
The go-to basement budget dive watch is Fossil. This Belmar Multifunction looks the part, and for an extra $50, you can switch out the strap to complete the look.
Other Fossil models to check out include the Belmar and Decker.
This Bulova Lunar Pilot Chrono is also a handsome and more spendy alternative.
Read more: What is a chronograph and how do you use it?
The Accessories
Craig's Bond has been especially austere when it comes to accessories. We typically don't see him with anything flashier than an Omega.
He let his – uh – buzzcut down in Spectre with a knit tie.
But it seems that No Time to Die Bond is truly a return to the old panache, with both a pocket square and tie bar.
Some blogs have suggested that the tie bar may keep his tie in place while he pummels shadowy trans-national crime thugs, but anyone who's actually worn a tie clip knows they tend to restrict movement.
If the tie clip appears in an actual fight sequence, we're all waiting to see how it will perform.
The Haircut
Craig's, short crop is both classic and sophisticated, and modern and rugged at the same time. It's a sure-fire look any guy can pull off. Check out our guide on getting the Daniel Craig haircut:
Full Circle
This will be Craig's final Bond film.
No, really. They mean it this time.
If that is, in fact, true, it seems appropriate to end his run with a full circle recall to the earliest of Bond films.
007 is a long way from the angry young man we met in Casino Royale. He's been heartbroken, jaded, cast down, and resurrected, and he has the look of a man who wears his suit with a hard-won poise.
Taking any cues from Bond for your next suit? Let us know below!
Read next: