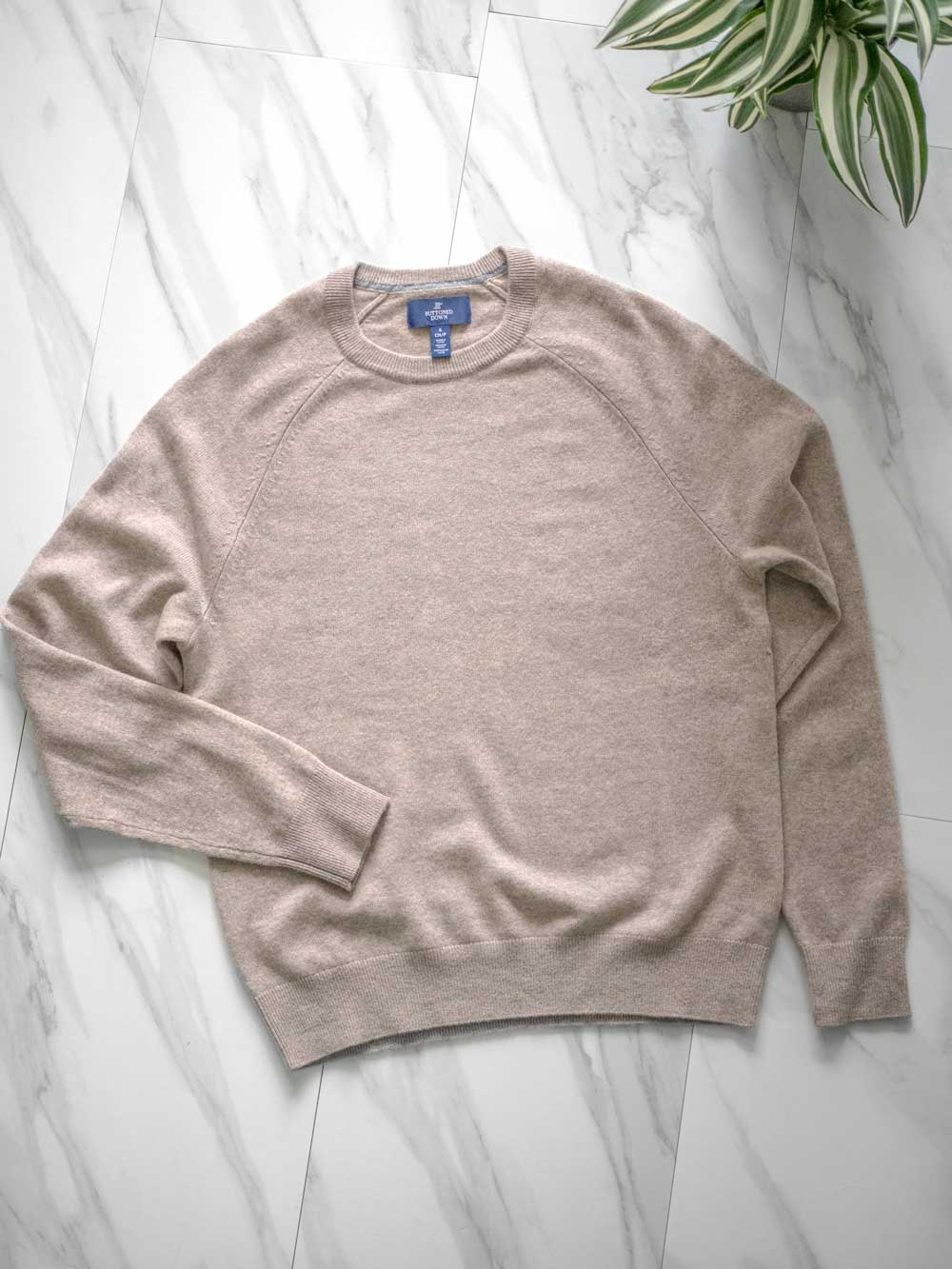 What is cashmere made from?
The much-demanded cashmere wool can be traced back to that most luxurious of animals… the goat. Specifically, the chin hair of the Capra hircus or Kashmir goat. (Yes, Kashmir.) This domestic goat produces double-layered hair on its beard and underbelly that is shed and collected during the spring moulting season. This yield is then de-haired during a multi-week process that removes the long, coarse, and thick "guard hair," leaving the soft and fine cashmere that is then used for elegant knitwear from sweaters and scarves to hats and hosiery.
Cashmere was originally sourced from goats in Indian Kashmir, Mongolia, and Nepal, but production has since expanded across Asia and even into Europe with China now producing 70% of the world's cashmere.
So we spend all that money on goat beards? What?
Cashmere's desirability comes from its almost self-contradictory benefits when compared to standard sheep's wool. Cashmere is stronger yet finer and softer; it's lighter weight yet far more insulating and warm.
Cashmere is also relatively scarce, and it takes a lot of it to make a little; Slate reported in 2012 that it takes more than two goats to make a single two-ply cashmere sweater. Combined with the fact that much of the labor-intensive process to separate the finer undercoat fibers from the coarser top coat must be done by hand, there is considerably little cashmere in the world and simple economics tells us that an item whose demand is far greater than its supply will come at a higher price.
If you find cashmere that's priced too good to be true… then it's likely fake. United States customs has strict parameters for actual cashmere, and any product labeled to contain cashmere must meet all four requirements, which include specifications regarding its dimensions but, first and foremost, it must be "the fine (dehaired) undercoat fibers produced by a cashmere goat (capra hircus laniger)."
You may encounter that initial internal struggle to justify a pricier investment in cashmere knitwear, especially in the face of cosmetically similar alternatives in wool or acrylic blends, but once you've felt cashmere against your skin, you understand the value of your investment.
So why bother?
It's the fleece of the sweater world
Ever wear a regular sweater without a shirt underneath? Scratch central. Sounds terrible. But cashmere creates some of the softest sweaters.
Much like the trouble of buying a leather jacket – where real leather has incredible properties like looking and smelling great, aging beautifully etc. but the problem is the starting price is at least $300+ for a real one. Everything less than that is you trying to piece together a decent one. Cashmere is the same. Traditionally, cashmere is expensive – at least $100+.
Our Picks for Best Affordable Cashmere Sweater
Now that you're convinced that you for sure want a goat-beard sweater, where can you find an affordable one? Well it shouldn't surprise you that in an arms race of supply and demand, Amazon dominates. They offer a 100% cashmere sweater in 4 colors in both crew and v-neck for only $89, and in quarter zip and turtleneck for $99 – one of the best prices we've seen outside of clearances. (But most of those are cashmere blends.) I've had mine all winter long, and after a few months of wearing am happy to recommend it. It's a part of their closet essentials house line Buttoned Down that we've mentioned before.
Your other option is Everlane, the originator of the direct-to-consumer radical transparency business model. They offer a 100% cashmere sweater for $11 more at $100, the advantage Everlane has is they offer a few more patterns and colors.
Check out Buttoned Down's 100% cashmere sweaters here
or click here to check out Everlane's 100% cashmere sweater.
We first featured the Amazon cashmere in my Live Action Getup: What to Wear When You're Not Sure How Dressed Up to Be: