From a handful of key pieces come endless outfit possibilities. We'll show you how it works.
No matter what your favorite season might be, you have to admit that Fall and Winter are the best style seasons.
The brisk weather offers the perfect opportunity for a mix of classy and rugged looks. Autumn is blazer weather, but it's also flannel weather. It is a season of cozy, casual, cool, and professorial chic. Winter may be dark and cold, but your softest sweaters and distinguished coats finally get their chance to shine.
The colder months are also the ideal time to perfect your capsule wardrobe. Coined in the 1970s by London boutique owner Susie Faux and popularized by Donna Karen in the 1980s, the idea behind a capsule wardrobe is to build a collection based on a few essential items that never go out of style.
The goal here is to choose a dozen or so items that can constitute your entire cold weather fashion look. You can adjust for swings in temperature or changes in formality and still maintain the rugged yet classy look offered by this capsule.
Let's take a closer look at the pieces we've assembled and then talk about how you combine them to create a number of perfect fall outfits.
Outerwear
Having a good blazer in your fashion arsenal ensures that you'll be able to match the dress code of all but the most formal occasions at a moment's notice. You'll be able to throw on the blazer over a number of different outfits to elevate your look.
Field jackets come in a few different forms; the one featured here is closer to a trucker jacket. With its waxed canvas and textured lining, this American-made option from Flint & Tinder will keep you dry, warm, and looking great dressed up or down.
Pea coats have a long history of being worn by tough-as-nails men, and while wearing one doesn't automatically make you a member of their ranks, its reputation as an officer's jacket will add a storied ruggedness to whatever you wear with it.
Mid Layers
Originally for boxers, the classic gray crewneck looks sharp in this slim-fitting take, and maintains its rugged heritage vibe even when paired with dressier items. And of course, it looks and feels great when worn casually, too.
Anyone who has ever dealt with early morning fall bluster knows that a hoodie is an essential cold weather item. Since this might be your go-to casual piece, there's no reason you can't look at something that's fashion forward and that you'll want to wear in a variety of environments.
Nothing says cozy like a shawl-collar sweater. It's the kind of sweater you can imagine yourself wearing while sipping a hot toddy next to a fireplace, or as you drink an Americano and read a novel.
Shirts
Plaid shirts are a fall and winter staple; some men line their entire closet with them. Even if lumberjack chic is not your thing, a subdued plaid pattern will add a nice touch to your capsule wardrobe.
A henley offers that just-right mix of rugged and stylish and is the perfect shirt for layering.
The right button-up shirt can work in almost any situation: go one button up for more formal and one button down for more casual. Chambray has a nice, subtle texture, making it more interesting than your standard Oxford while also allowing it to be dressed up or down. Button Up Vs Button Down Shirt – What's the Difference?
Pants
An American staple since 1873, there's a reason they're still the go-to jean. The 502 is a modern take on the classic 501, offering a straight thigh with a tapered leg opening for those men who like the look of a narrow leg but who also frequent the gym.
A dressier yet versatile look that allows you to move seamlessly from work to the bar.
A more rugged take on the khaki, with a little extra thickness, these are the perfect pants for cooler weather.
For an option a little lighter on the wallet, Amazon's house line Goodthreads offers a similarly shaded pair of chinos for that Tinder Date stroll in the park.
Shoes
Oxfords have long been a men's fashion staple, a hallmark of simple elegance. A pair of suede wingtips can be dressed up for work (or more) or worn with slim jeans casually. A great alternative for your casual looks when you want something less built like a boot but more put-together than a sneaker.
The service boot is a sleek and classic boot style that can be worn well into the dressier end of smart casual. With a heritage in the military, these American-made service boots from Chippewa will give you a strong footing you can be proud of.
Whether you're stomping through puddles or shuffling into a subway car, a rugged boot is a cold weather essential. Moc Toes with wedge soles are more casual than a lot of boots you'll find, making them a great third option in contrast to the dressier suede oxfords and service boots.
Accessories
Even if ties aren't always workplace essentials these days, the touch of sophistication they offer shouldn't be ignored. The knit texture pairs with the chambray, plaid, and wool in a way a shiny silk never could.
A handy bag that will work with all of your capsule outfits.
Rugged but not bulky, this is the perfect fall and winter watch.
Outfits
Look 1: Rugged & Classic
This classic, casual look is tough yet fashionable, durable yet stylish. The embodiment of that rustic fall feeling.
Look 2: Classy & Smart
A slightly more dressy look that feels elevated yet natural. Put-together, but not flashy.
Look 3: Relaxed & Refined
Smart but not overly so, this look blends the rugged and the refined.
Look 4: Modern & Minimal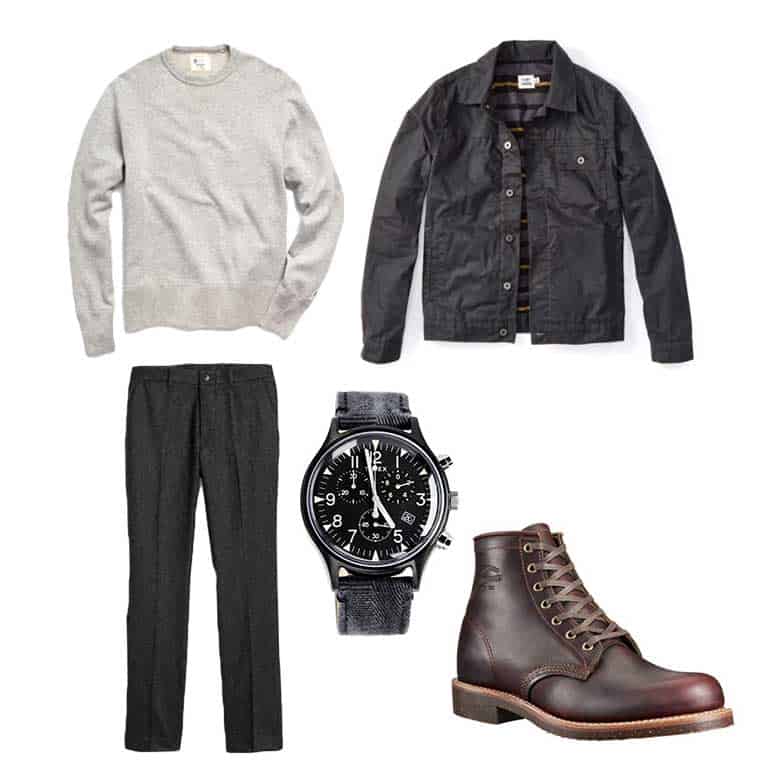 Match a bar dress code – without going over the top – with this clean look. Like minimalist style? Check out out our Minimalist Style guide for 5 more outfits.
Look 5: Layered & Versatile
As you bounce from the train to the coffee shop to your favorite lunch spot, this outfit will keep you comfortable.
Look 6: Bold & Brainy
Perfect for a more casual work conference that you still want to look professional for.
Look 7: Cool & Casual
You can still look good while projecting those "Sunday morning errands" vibes.
8. Classic & Casual
Hearty blazers don't have to be relegated just to dressing up – they can also be worn as outerwear. See this look in action in our Live Action Getup: The Sportcoat as Casual Outerwear
9. Authentic Americana
Waxed canvas, chambray and denim, and Moc Toe boots? It'd be harder to get any closer to classic Americana Workwear.
10 Work & Wander
Perfect for the office or a great restaurant, the combination of textures emphasize you know what you're doing.
Which combos are your favorites? Have a new one? Share it in the comments and we'll add it to the list!