A stylish (and breezy) update to a timeless menswear concept.
Thanks to
Peter Manning
for teaming up with us on the post. Clothes designed for the not-so-tall guy.
Click here to experience
the difference proper fit makes and save 15% off your first order with 'primer15′!
---
Biking on the boardwalk. Backyard campouts. The Beach Boys. Baseball. All tried and true summertime basics. But here's one more you might not think to add to that list: Business casual (the broad strokes of which have been around since Babe Ruth). And while we may not be able to go to the ballpark just yet, business casual remains one enduring custom many of us observe on a daily basis – even on days you might think are too hot for jackets and long pants.
It's never too warm out to step up your business casual game with a lighter and more modern take on menswear classics.

A Look That Means Business Doesn't Have to Mean Boring
When talking menswear classics, you can't get more classic than a navy blazer and button-down. Too afraid of looking like your dad, circa 1983? Jumping on the hoodie bandwagon on casual Friday is boring, too.
The key to cool business casual is in the fit and design details. That's why today's Getup features pieces from Peter Manning, a designer specializing in men's style for those of us who are 5'10" and under – which means all of their clothing is cut and scaled to properly fit the not-so-tall guy (a near impossible thing to find out of the box elsewhere).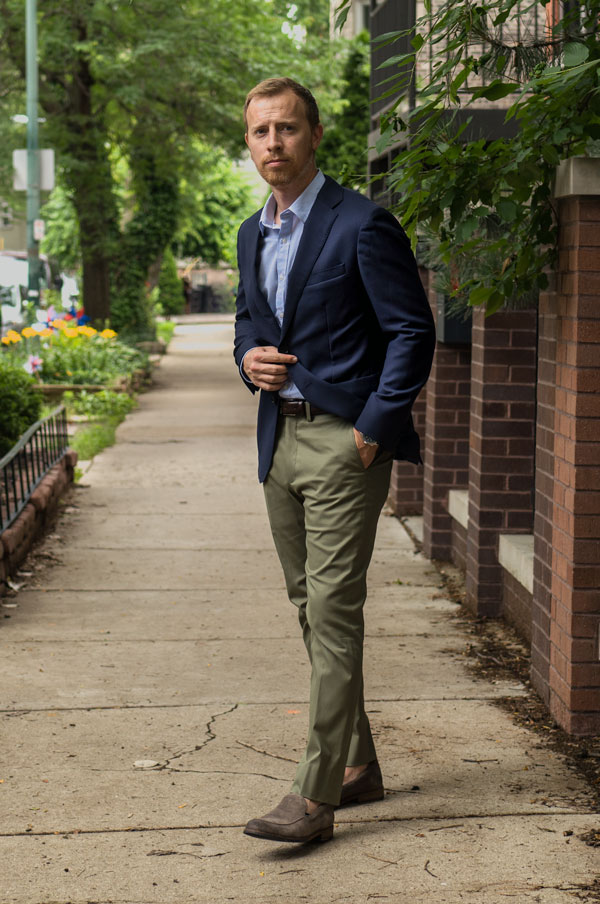 Un-Suffocating Sophistication
While beating the heat in business casual isn't exactly a modern problem, you can bet your blazer there are modern solutions: a supremely breathable unstructured jacket and lightweight cotton pants with a little stretch to keep you cool and comfy. Even the shirt is lightweight; a fine cotton poplin also boasting a bit of stretch.
As Peter Manning Sees Fit
This blazer gives you a suit jacket drape, with blazer design. It's completely unlined – AKA: less bulky, more airflow, more casual. And all the details (down to its narrower lapels) are scaled properly for men 5'10" and under. Find your length and proportions with Peter Manning's proprietary sizing system.
There are a ton of ways to wear a blazer like this. Learn how to style a navy blazer in our complete guide.
A Surefire Shirt Upgrade
You could pair your navy blazer with a white oxford cloth button-down, but that's… too heavy. Instead, we're going with a subtle blue and white pinstripe shirt: dignified, and fashionably reminiscent of summery seersucker. It's tweaks like this that keep us on the right side of the business casual fine line that separates urbane from "uniform". A cool plus: Peter Manning's "hybrid hem", which gives you a length that allows this shirt to be worn either tucked or untucked.
Forget The Khakis… And The Belt
Elevate your business casual with these cotton pants that give you more of a "suit pants" look than khakis – not to mention a more modern, intentional fit with a slim cut and no break (Andrew is wearing a 29" inseam, normally hard to find off the rack).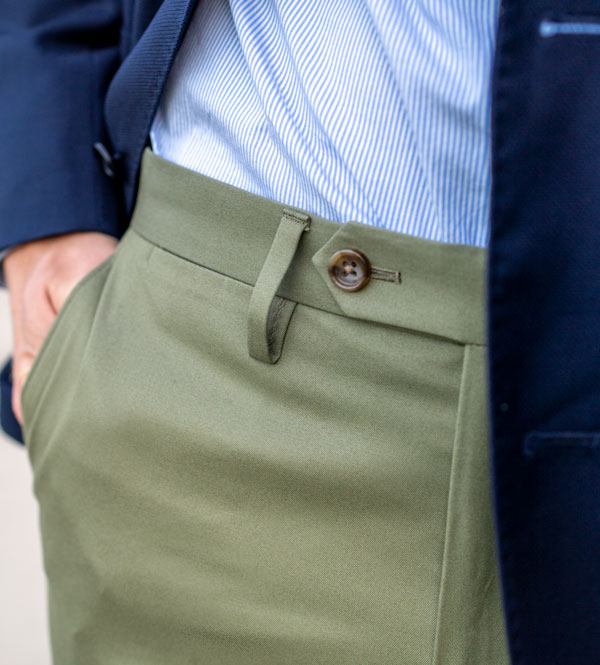 Unlike most khakis or chinos, the off-center button of the tab button design – more typical of suit pants – makes for a dressier, cleaner look that allows you to go beltless for a more rakish European style. Who needs a belt when you have the perfect fit?
---
Peter Manning delivers a great fit with a full line of menswear essentials – check out a more casual summer look built from some of their other pieces. Primer readers save 15% on their first order with code PRIMER15.