My 5 Favorite Pairs of Jeans Right Now
By Andrew Snavely, Editor & Founder
For being such a staple, finding the best jeans can be downright frustrating. For you, maybe that's because you fall in-between straight, slim, or skinny fits, which are not standardized across brands. Or maybe it's because even though men's jeans are sized in inch-based dimensions such as 34×32, these days a pair's actual measurements can be way off from the stated size on the label. This 'vanity sizing' makes it virtually impossible to know what size you are across brands.
I try on a lot of jeans. Budget jeans. Designer jeans. Skinny jeans. Straight leg jeans. And from the huge variance I see, I definitely understand why you're frustrated. That's why I've put together this list of my favorite pairs that I'm wearing right now – what I like about them and when I wear them.
If you're in a place where you're trying to up your style game, any of these would be a solid place to start. The trend right now is to have a fitted silhouette that narrows with a taper. You'll notice I didn't use the words slim or skinny or other denim verbiage. That's because men of different shapes will need a denim fit that complements their bodies to achieve a fitted silhouette that narrows with a taper. For a very thin tall guy, that may mean a pair of skinny jeans best accomplishes that. For a shorter guy with dimension, an athletic fit or other looser but tapered style may be the answer.
And all of that means buying jeans online can be a pain. So for each, I've included the size on the label, and then the actual measurements for the waist, inseam, rise, mid thigh, and leg opening to give you a better guide on what will work best for you.
Something to consider: Every pair of jeans you own doesn't have to fit the same way. I have slimmer fits and I have looser fits, and where and when I wear these depends on the style I'm going for. And especially if you're a guy who lives in denim, you can give yourself a ton more options with different fits. For example, with a single-fit mentality, you may require all of your jeans to be able to work with your chunky Red Wings. But that looser, wider leg will likely prohibit you from dressing those jeans up with a pair of brogues and a blazer. Similarly, a pair of skinnier jeans that look great with minimalist sneakers may not be full enough to wear with a blazer because of the top-heavy silhouette that is created.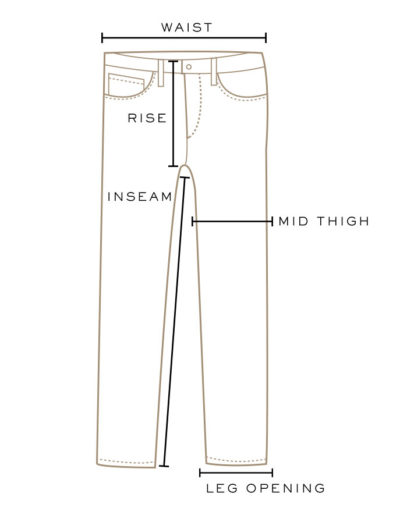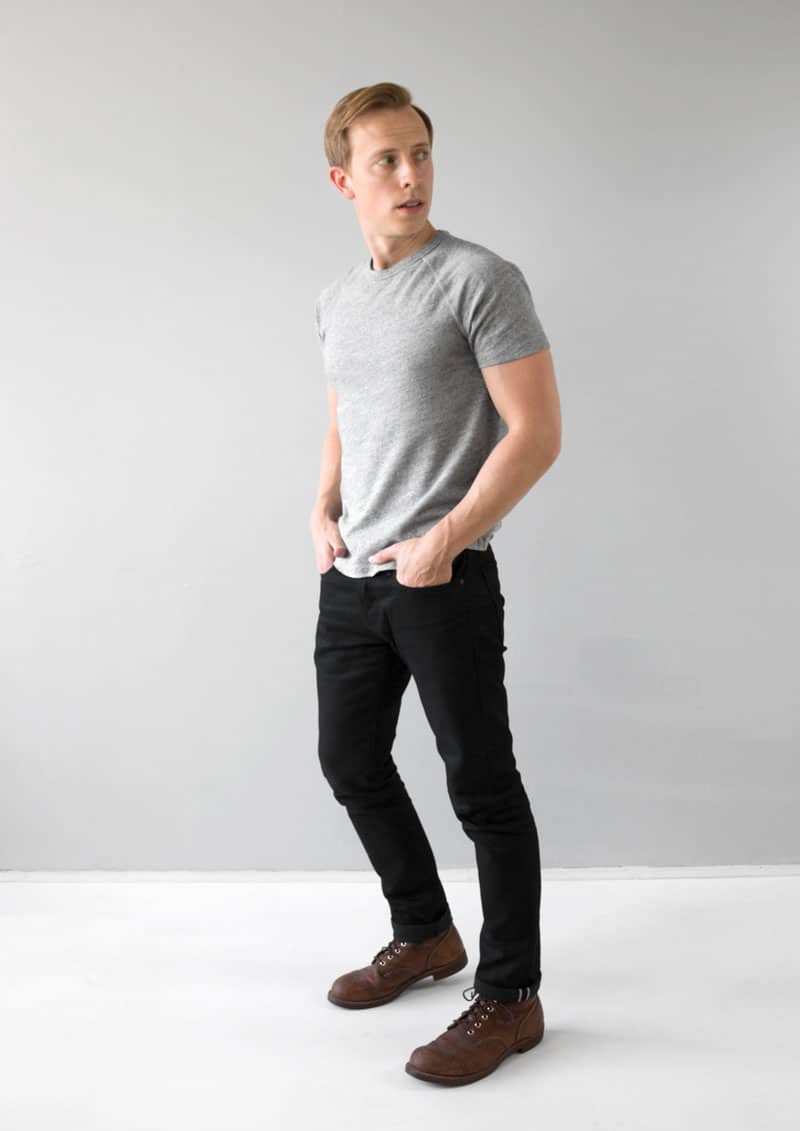 Gap Selvedge Jeans in Slim Fit with GapFlex in Black, $108
I originally picked these up on Black Friday, they're my first pair of non-blue selvedge denim. I really love this pair – they look sharp with a black Getup for heading to some trendy event and look right at home with a more rugged Americana style with a pair of Red Wings. Read our ultimate guide for styling black jeans with brown boots. On a pair of blue selvedge jeans, the cuff is lighter, but on black selvedge the cuff is still black so you just get those two little white stripes, a trademark of quality selvedge denim – which adds a nice little detail to the outfit.
Like any garment made of fitted denim, they were about 5% too snug when I got them, though the waist and inseam were correct. A few hours of wear allows them to stretch and contour to your shape, the result is a comfortable, perfectly fitting pair of slim jeans.
Labeled Size: 29×30
Actual Measurements:
Waist: 31″
Inseam: 30.75″
Rise: 10″
Mid Thigh: 8.5″
Leg Opening: 7″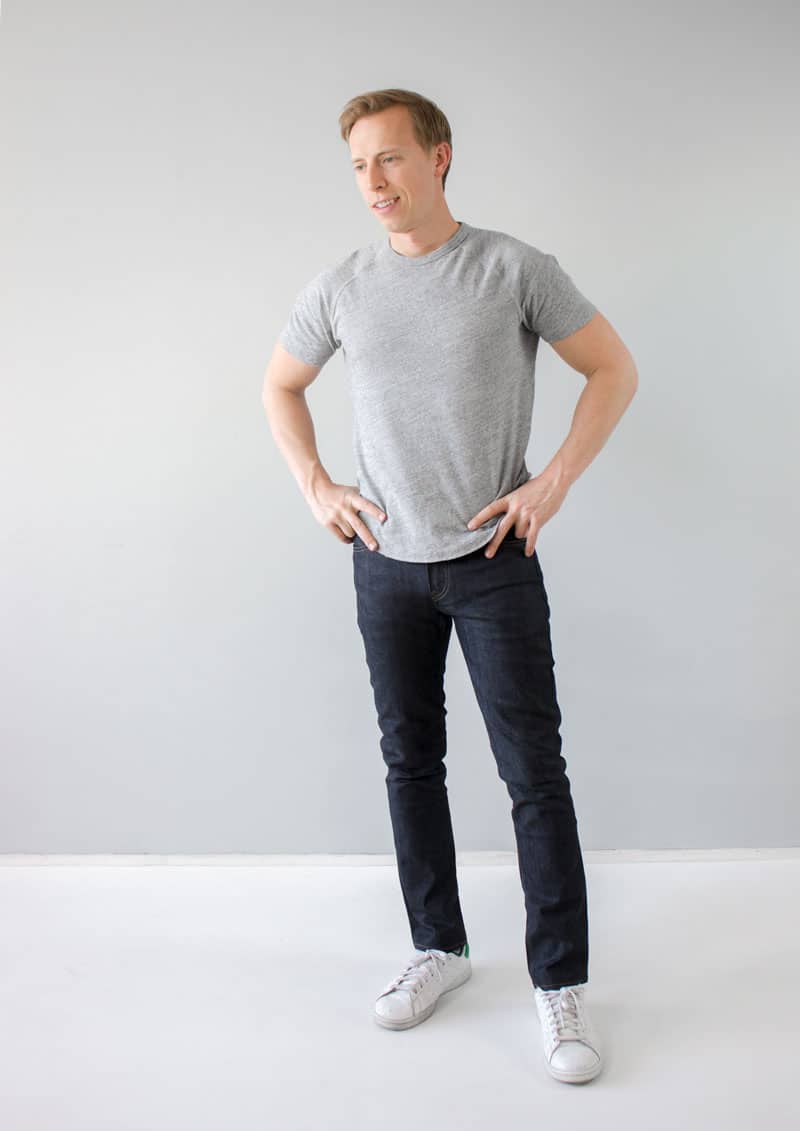 DSTLD American-made Slim Raw Denim in Indigo Timber, $75
This is actually my second pair of these jeans, but not because the first pair wore out. I bought the first pair a few years ago, and still wear them – I bought the new pair to ensure the dimensions hadn't changed.
If you're new to DSTLD, they're a Los Angeles-based brand that's been around for a number of years. They focus on premium denim and essentials like tees and jackets and sell on a direct-to-consumer model cutting out the middle-man and cutting down on the price.
Some of their pieces are even made in Los Angeles, like these slim raw jeans. Slim in all the right ways without being 'skinny,' these will wear in beautifully and look great with boots, brogues, or sneakers. With free shipping and free returns and a fit guarantee, it makes buying jeans online pain-free. See one way to style them in this Live Action Getup.
Labeled Size: 29×30
Actual Measurements:
Waist: 29.5″
Inseam: 29.25″
Rise: 9.5″
Mid Thigh: 9″
Leg Opening: 7″
Levi's 512 Slim Taper in Noise Addict, $59.99
This is my new preferred fit from Levi's. You're likely familiar with the 511 slim straight, these are the same but with a tapered leg opening. These are the snuggest of the 5 jeans on the list, and I like wearing them when heading out somewhere in the evening. I'm a big fan of gray jeans of any shade, and these in "Noise Addict" charcoal can work both as a put-together-gray, or as a rugged-badass-faded-black.
As long as Gap's denim isn't on sale, at $49, the Levi's 512 on Amazon are the cheapest of the 5 – and with 2 day shipping andfree returns, picking up a pair to try is a no-brainer. See one way to wear them in my Joshua Tree Live Action Getup.
Labeled Size: 30×30
Actual Measurements:
Waist: 30″
Inseam: 28.75″
Rise: 10″
Mid Thigh: 9″
Leg Opening: 6″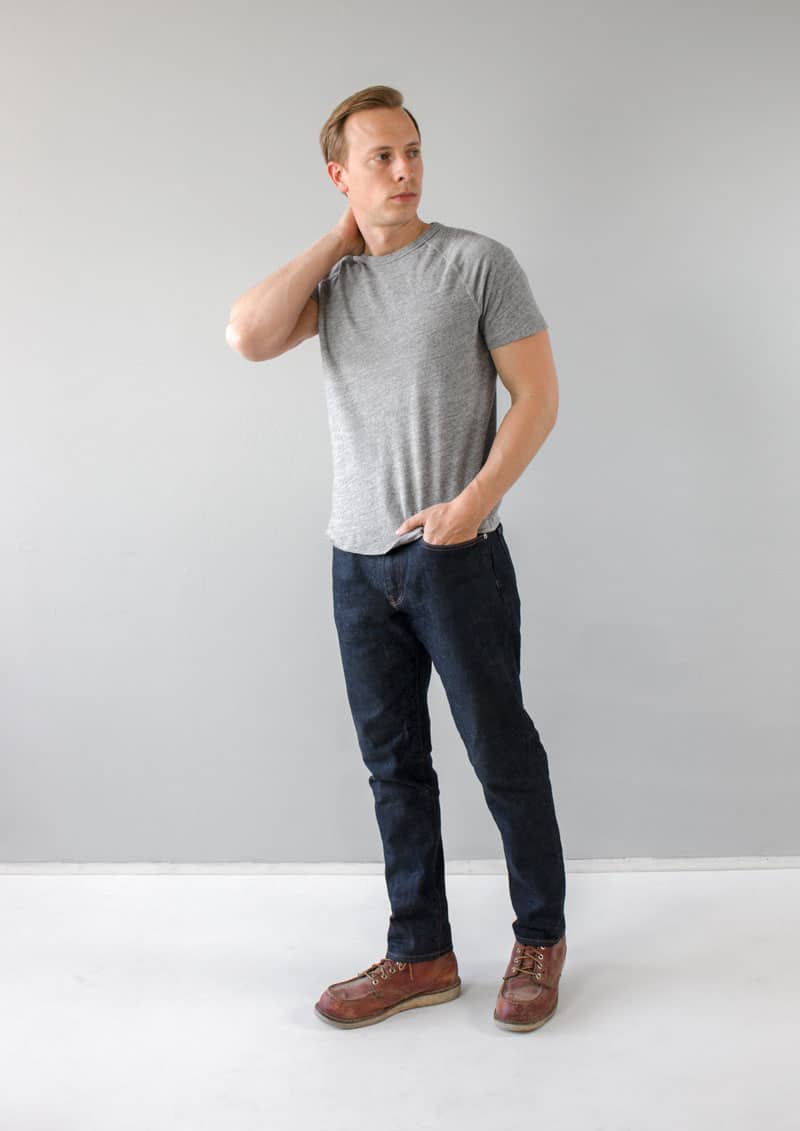 Gap Athletic Fit with Gap Flex in Resin Rinse, $69.95
For those gents with wider thighs, I'm about to make your denim shopping much less frustrating. In the last couple of years brands across the price spectrum have started introducing "Athletic Fits" which offer a slim, tapered silhouette with more room in the thighs and knees. Easily the loosest fit on the list and a saving grace for #menwhosquat but don't let the branding fool you, if you're a huskier guy Athletic Fit may also provide you with the breathing room you want without having to succumb to straight or relaxed fits.
I have two pairs of Athletic Fit jeans from Gap and dig them. I find Gap's slim to be just a smidge too wide for me these days, and the Athletic Fit offers a nice compromise when I want a pair of slim jeans that still fit over a pair of chunky boots or when I know I'm going to have a long day and want to ensure comfort.
Labeled Size: 29×30
Actual Measurements:
Waist: 30.5″
Inseam: 29″
Rise: 10.25″
Mid Thigh: 9.5″
Leg Opening: 7″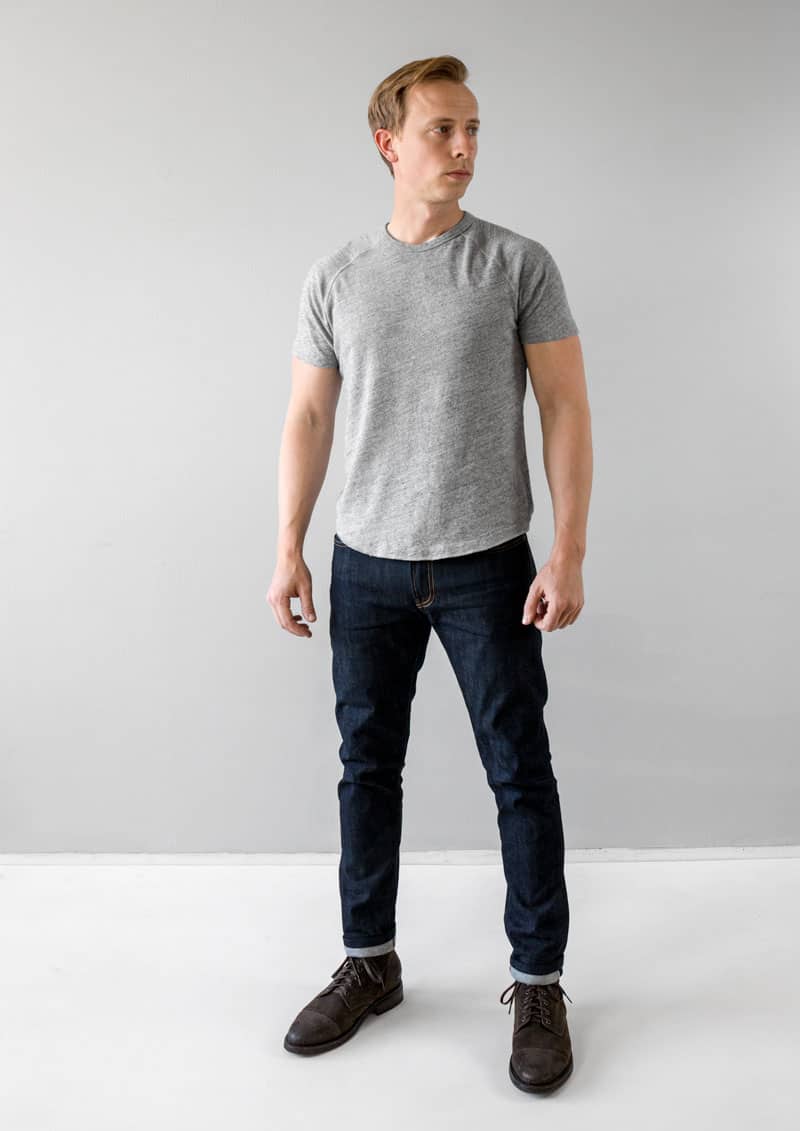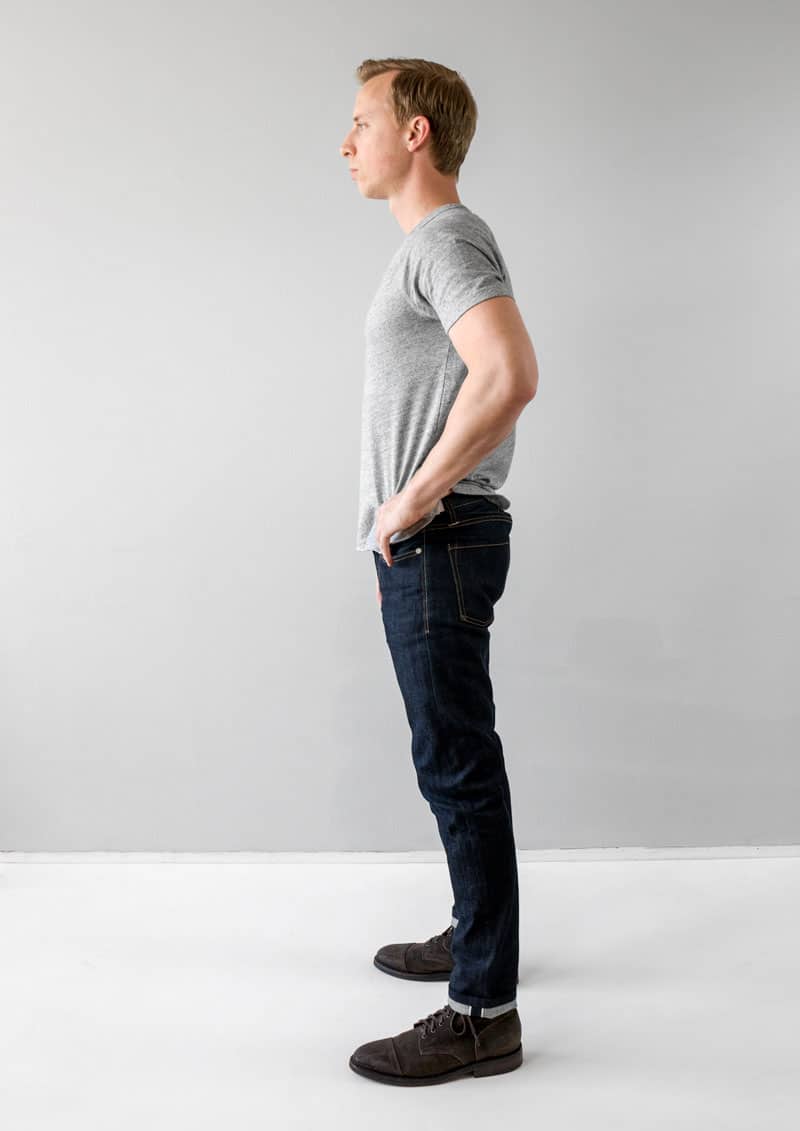 Flint & Tinder American-made Slim Stretch Selvedge Denim in Indigo, $118
Labeled Size: 29 (32 standard inseam)
Actual Measurements:
Waist: 29″
Inseam: 29.75″ tailored
Rise: 9.5″
Mid Thigh: 9.5″
Leg Opening: 6.5″
Do you have a favorite pair of jeans right now? Keep the list going in the comments!