Proving you can dress well in the summer and still be comfortable.
Marco…
From its early sports origins, the polo has undergone somewhat of a "re-branding" throughout the decades at the hands of many contemporary designers who are responsible for the fact that, for as long as we can remember, we've lived in a world where you can find polo shirts at the mall and wear them to casual Fridays, regardless of whether or not you've ever held a polo mallet.
And that's all well and good, I'm not great on horseback. It's just that in recent years, the polo shirt has been significantly dressed down, and not always in a good way. Blame globalization, or the poor taste of tackier and more slovenly men, but there has even been a suggestion from certain female fringes that polo shirts might actually be a "dating deal-breaker".
This classic piece of menswear once fashionably embraced by gentlemen, playboys, and athletes alike has admittedly drifted a bit astray from the world of style. The shirt that was once considered a sporty statement has instead been inching perilously close to a uniform of sorts (and if you go to your local big box store, it might actually be the uniform).
I've always been a fan of the polo and its versatility, so I won't take this laying down. That's right – enough is enough. It's time we bring the polo shirt back as a proud fixture of masculine style – which his why, with a little help, I've integrated it into these three handsome smart-casual looks:
Meet Tanner Guzy: Rugged, Refined, Rakish
In Tanner's highly regarded blog aptly called Masculine Style, while furthering his crusade to help guys dress better with his popular YouTube channel, he breaks down masculine style into three archetypes:
The Rugged Man is "the adventurer, the mountain man, the gladiator, and the blue-collar worker."
The influential Refined Man is "the titan of industry, the politician, the hedge fund manager, and the 1%."
And the socially masculine Rakish Man is "the playboy, the rock star, the outlaw, and the vigilante."
Each man's personal style is firmly rooted into one of these, which he then ventures into the other two archetypes with.
Now, as far as menswear staples that are rugged, refined, and rakish all rolled up into one, there are arguably few pieces as well-rounded as a sharp polo shirt.
Tanner shows us his take on how to get dressy with a polo. Here, he uses a more rugged rugby pique polo from Kent Wang, but with some unique design elements inspired by the more refined woven shirt. First, the collar on this polo is constructed with a robust double-layer self-fabric (as opposed to the single-layer ribbed fabric we usually see on polo collars that often lose shape), with the spread collar adding a rakish touch. Also notable are the long sleeves which feature unique button cuffs, just like a dressier woven shirt.
Jacket: Beckett & Robb, $1480
Chinos: Beckett & Robb, $332
Pocket Square: Beckett & Robb, $65
Shoes: Jay Butler, $195
Polo: Kent Wang, $85
Tanner builds upon this polo in true white with a casual maroon jacket and chinos from Beckett & Robb: "This is a great business casual look – especially on a Friday. It's something I'd wear to meet up with a client or to do a presentation in a more casual environment. The reason the polo works with the jacket is because it's long-sleeved and cut more like a dress shirt."
"The combination of all of these elements lets you know I wear clothing like this because I want to and not because I'm begrudgingly complying with someone else's dress code – which is a subtle way of communicating self respect and intentionality."
A Non-Suit "Suit"
How to dress up a polo, lesson number one: Get a dressier polo.
Polo: H&M, $35
Pants: Suit Supply (full suit $699)
Loafers: Jay Butler, $195
Watch: 210 East Oak, $129
This polo from H&M is decidedly dressier than your traditional pique polo in that it's a more luxurious fine-knit silk blend. Not only that, it features a cleaner ribbed hem, as opposed to the sportier tennis tail.
(What's a "tennis tail", you ask? Ever notice how your run-of-the-mill polo shirt usually has cut-points on the sides of the hem and the back (the "tail") is often a bit longer? It's designed to keep your shirt tucked-in during exertion.)
My pants here are from a three-piece suit by SuitSupply in a texture-rich wool, silk, and linen which balances the fine-knit appearance of the shirt. Although these pants are from a more casual unstructured Havana suit, when they're worn separately, they can become dressy trousers. And if you look closely, there are subtle brown lines in the check pattern which ties nicely with the cream color of the polo. But above all that, the silk and linen blended into the wool makes them super comfortable in the heat.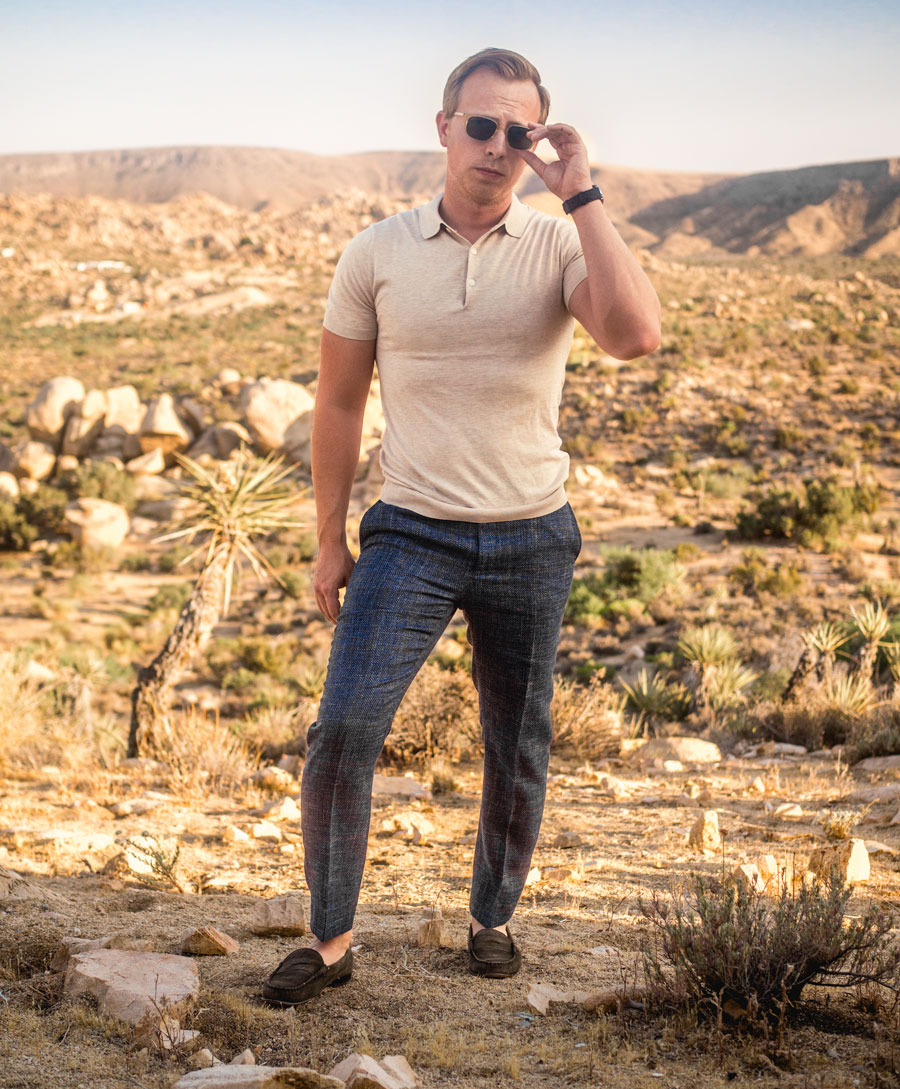 Why Penny Loafers?
These outfits all include the same penny loafer from Jay Butler. Aside from being light, comfortable, and low-vamp (lower-cut opening with the tongue starting lower on the shoe) which are all great for this season – the penny loafer is a surprisingly versatile shoe that can subtly enhance almost any smart-casual outfit. Class up a pair of walking shorts, or add a leisurely touch to a suit. And what better way to demonstrate bold, intentional style while maintaining the ease of that "what-this-old-thing" nonchalance than with a slip-on shoe that doesn't even have laces.
Jay Butler's "Cromwell" loafer is a sexy, olive green take on an old classic – suede, sans tassels (and sans socks of course) – offering that slightly unexpected, rakish touch to an otherwise refined ensemble. Did I just call a pair of penny loafers "sexy"? You bet your suede-loving butt I did, look at these things:
Also, the watch from 210 East Oak has a suit fabric strap that adds even more texture to the whole look overall. This outfit can be worn to outdoor work functions, conferences, and summer wedding festivities, other than the actual wedding of course – because you'll probably have to suit up for the wedding ceremony itself – but here, I've shown you just one way to rebel against the suit and look intentional while doing it.
Refined Casual
While Tanner considers himself traditional at the core, he's calling for an evolution beyond rigid, singular archetypes. Because a suit certainly isn't the only way for a man to look like he knows what the hell he's doing.
Polo: Kent Wang, $85
Pants: Beckett & Robb, $445
Shoes: Jay Butler, $195
Belt: Jay Butler, $50
And for that matter, neither is your plain old dress shirt, or standard solid trousers, or oxford shoes, or even your sport coat. Don't be afraid to tap into your rakish side and play around a little – the key, however, is to do so in a way that doesn't call too much attention to yourself:
"This outfit is refined while still being casual and it's not going to make anyone feel uncomfortably under-dressed when they're around me. Half of the point of dressing well is knowing how it makes your audience feel in your presence – and separating yourself too much can often do more damage than good."
What's Your Style Archetype?
Tanner's not saying that we must be 100% one or the other – rather, his style philosophy is derived from the belief that most men are some blend of the three, and that we should aim to dress in a way that is unique and authentic to where we fall across those extremes.
Because it's somewhere in between these extremes that you'll find just the right smart-casual balance that takes all the disparate elements of a wardrobe and turns them into a confident and intentional style.
Be sure to check out Masculine Style, where you can take Tanner's quiz to help define which archetype you are, and don't forget to follow him on Youtube!
Do you believe in the polo? Please share this!