Understanding the dress code for the best outdoor events of spring and summer.
You know how to tackle most formal occasions, because most formal occasions give you the crucial dress code clues you need right up front: Black tie. Jacket required, etc..
But what do you do when the invite says, "Garden Casual?"
The host is trying to let you know they are looking for an intentional smart, casual look. This is a notch below "dressed up but has playful spring/summer feel to it. Light colors, light, fabrics, and patterns — especially florals — are the order of the day.
I know what you're thinking: easier said than done. Don't worry: we're here to help.
Garden Casual is more of a feeling than a rote description, and as such you're going for the essence of something. That something is whimsical yet classy, playful with an air of formality, fun but in a way that still marks a special occasion.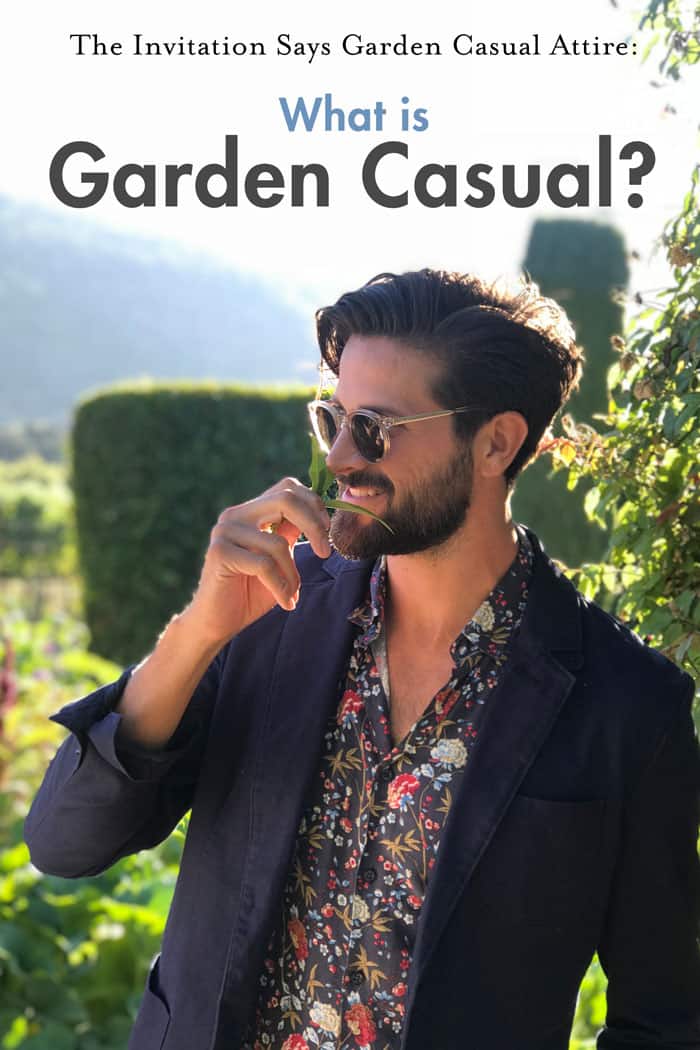 You may be saying, "That's all well and good, but how do I do it?"
That's up to you. This party isn't a backyard barbecue but this also isn't a black-tie gala, and the fun is figuring out how to navigate the space between the two. Garden Casual is a formal look, but its beauty is that it is self-consciously so. It's okay if the perfect look doesn't immediately spring to mind because building your Garden Casual look is park of the fun.
We've got some tips to help you strike a fine balance for your Garden Casual look.
This question was originally asked by a reader on Instagram, and Primer's editor & founder Andrew replied in our Instagram Story. You can watch the original below, and be sure to follow Primer on Instagram – and heck, ask us a question while you're there too.
Playful, But Not Tacky
If you want to pull off Garden Casual without breaking the bank or taking too many risks, think florals. A nice, slim floral print button up shirt under a blazer or suit coat will do the trick. If you want to go this route, you're in luck. This look is in right now as a lot of men want a festive summer option without going full on Hawaiian or Bermuda shirt.
Most fashion forward department stores carry a shirt or two that will fit the bill. Urban Outfitters, Nordstrom Rack, and Amazon all carry variations on this theme, and odds are your go-to fast fashion spot does too. If you don't wear many patterned shirts, you shouldn't be afraid to embrace them: there are plenty of versatile looks you can great with a floral button-up.
If florals are a stretch for your style, think pastels. The goal is something light and fun.
That being said, be careful with your shirt selection. You want something that stands out but doesn't assault the eyes. The colors are bright and airy, not neon. The patterns are bold and consistent, not clashing with themselves.
Garden Casual Tip: Ditch the Tie
If the shirt isn't that out there, go without a tie. Cutting the tie automatically gives you a dash of casual. If the shirt is a bit wild, a solid, dark colored tie — say, black or navy — can help tone things down for the occasion.
How to Dress Garden Casual: Dressy, But Not Stuffy
If you want to think beyond the shirt, there are bunch of cool things you can do to find a unique Garden Casual look. Why does the floral shirt work? You are taking a formal look and radically shifting one element, while maintaining the integrity of the outfit.
How else could you do that?
Pants
There are a number of ways you can signify a relaxed attitude below the waist (okay, maybe that came out wrong!).
Think about a more casual shoe like a loafer, maybe without socks. Sandals would be pushing it, but Sperry Topsiders without socks have been a Garden Casual staple since they first came off of Martha's Vineyard.
Cuffing your pants is another way to add a casual touch.
Also, don't be afraid to try out-of-the-box colors with your pants. Khaki is fine, but salmon, light green, or canary could work even better.
Jacket
Another simple way to kill it with Garden Casual is to pick a jacket that contrasts the rest of your outfit. A classic Garden Casual look is a navy jacket with khaki pants. If you're feeling adventurous, you can turn that on its head with a light colored jacket (maybe salmon or mint green) or something daring like a plaid or herringbone.
A vest is also an option, especially if the summer heat might have an impact on the festivities. You can also get playful with a vest, going with a pastel color or a herringbone pattern.
Suits
A light colored suit is also in play. Khaki, light browns, blues, and light greys will all be at home at a Garden Casual affair. if you have the cash and the confidence walk into the party with the perfect pink suit, the gods of Garden Casual will smile on you. But, as long as you don't walk in wearing your standard black suit, you'll fit right in.
A white or khaki suit could also work and allow you to add other flourishes like florals or a bold tie without overdoing it.
Balanced, But Not Trying too Hard
If your Garden Casual look still feels a little too stuffy after you've put it together, there are some accessories that can bring the outfit that sense of playfulness that is so important for the occasion. Bow ties, especially if they are patterned (and particularly floral, if you can find it), or suspenders, can provide just the touch you need.
On the other hand, you don't want to push too hard to often with a Garden Casual look. If you're pairing a pastel jacket and a floral shirt and mint pants, you run the risk of pushing beyond the intended dress code and into parody.
It's a hard balance to strike, but remember, the best Garden Casual attire doesn't scream "Look at me!" When you do Garden Casual right, people should think, "He followed the spirit of the occasion, but on his own terms."
If you can count more than three "twists" on a classic formal look, you might be pushing too far. Think about how you might look with one less statement piece because sometimes less really is more. If you look in the mirror and feel bland, think of one small way that you could go a little further.
Fit In, But On Your Terms
All of that being said, the reason that your hosts picked this dress code is they want to have fun. Risks will likely be rewarded, and even if you go too far, the other guests will probably appreciate the effort.
If the party wasn't meant to have a bit of whimsy, the dress code would have been something else. So, be bold, have fun, keep it light, and leave your hesitance on florals and pastels at the topiary garden gate.