Pulling together what you've already got.
Seeing someone on the internet wearing a complete outfit, buying the items, and wearing it yourself is a process. Trying to take the components of that outfit and incorporating it into your wardrobe to create lots of other outfits is a whole other thing.
That's why I'm remixing 4 previous Getups. You'll notice the other outfits were all a little more dressed up than today's outfit, emphasizing the power of buying smart casual pieces to simplify building styles that fit whatever dress level the day calls for.
The Pea Coat
Pea coat: Amazon Essentials (Read our Best Pea Coats guide for more)
The remixed look will be especially welcome for a lot of Primer readers: This Amazon Essentials pea coat was one of the most popular links on Primer in January.
If you're new to wool and wool-blend coats they're basically like a super thick sweatshirt with an inside lining. Easy to move around in and no swish-swishing that you get with ski jackets.
Also appearing in:
Live Action Getup: Classic in Any Era
The Chambray Shirt
Chambray shirt (similar): J.Crew
Chambray has some of the textural benefits of denim due to how it's weaved, giving an outfit some more interest than just a solid-toned OCBD. But it's definitely not denim: it is a finer cloth with a simpler weave, making it easy to wear more dressed up with a sportcoat or tie.
Chambray shirts can come with double button chest pockets, no pockets, or a single left patch pocket like most sport shirts. For maximum smart casual versatility, opt for the latter two. The traditional double chest pocket is a great look but is confined to casual.
Also appearing in:
Fall Getup Week: The Modular Fall Lunch Date + 5 Variations!
The Stretch Twill Pants
Flint & Tinder 365 Pant: Huckberry
Five pocket twill pants are kind of the perfect everyday pants. They are a smoother, lightweight material versus denim, but they're still cut like your favorite jeans instead of the dressier style of khakis. Better still, find a pair with stretch and you'll find yourself choosing them day after day.
I'm a big fan of the Flint & Tinder 365 Pant. I've had mine for a few years and they've held up great. They're available in different fits to accommodate multiple body types.
Also appearing in:
Fall Getup Week: How To Look Great In A Smart Casual Office This Fall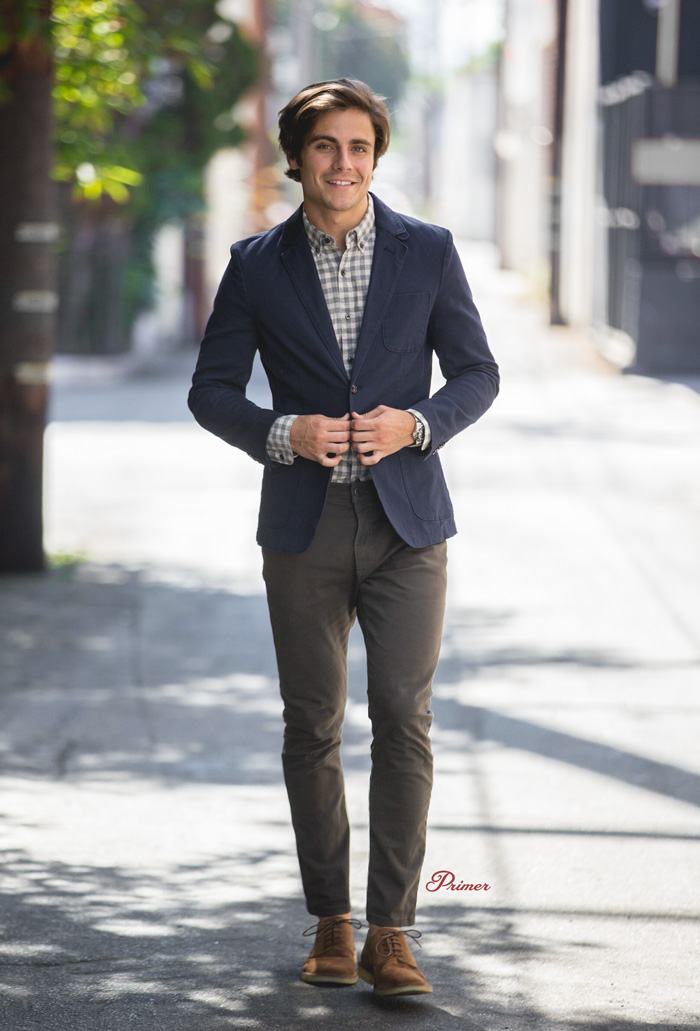 The Gray Striped Pocket T-shirt
Striped pocket t-shirt: Goodthreads
Throw in a subtle pattern on a layer that doesn't command it and you get a little sprinkling of flavor. For this outfit it could be a solid tee; you could go no tee at all. I'm wearing it as an extra warmth layer and breaking up the minimalist solids of the rest of the outfit.
Also appearing in:
Primer Getup Inspo on Instagram
The Tan Moc Toe Boot
Moc toe boots (similar): Grant Stone
The boots I'm wearing are the Kenton Pacer boot from J.Crew, a heavy and budget alternative to the Alden Indy moc toe boot. I picked these up awhile back when we featured them in a deals post because they were crazy on sale (under $120, I think) so they're not available unfortunately. Getting first dibs on the best style discounts we find is a great reason to subscribe to the free Primer email.
If you don't need the dressy moc toe style specifically, there are lots of other tan boot styles that would work well here.
Also appearing in:
Live Action Getup: Rugged Business Casual
Todd Snyder x Timex Liquor Store Watch
I received this watch as a birthday present and absolutely love it. Slim and easy to wear; simple but with lots of great details. This collaboration between Timex and Todd Snyder features a 21 jewel automatic movement.
Also appearing in:
The Primer Gift Guide for Stylish Men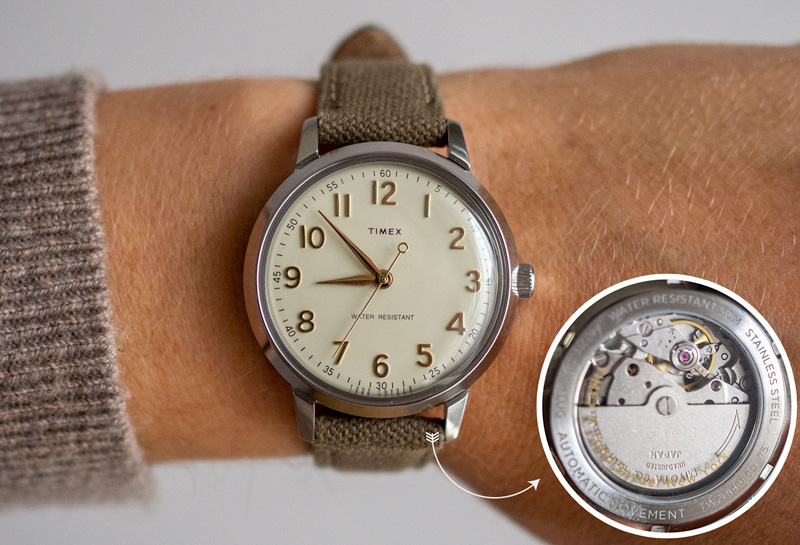 What did you think of this outfit? Want to see more Getup remixes? Chat with me in the comments!