We wish you a happy Giftmas, and a stylish New Year.
Now that Thanksgiving is over, you have plenty of time to relax and unwind. Wrong. It's time to get cracking on that arms-length list of family and friends for whom you have to holiday shop. Just because you're probably working from home and limiting contact with people doesn't mean you can't let delivery services drop off your choice selections for those who mean the most to you.
There's a lot to sift through out there, and you've no doubt received more email offers than you can sensibly read through during work hours. You also don't want to be left in the lurch at the eleventh hour when you're limited to gifts that will still arrive in the shipping window. Avoid things like neckties (who's wearing them these days, anyway?), whisky stones (who uses them?), or anything from the Franklin Mint. Now's the time to capitalize on well-curated items that will be appreciated, have real style and won't break your budget.
We've taken the time to pick some great gifts for the stylish gents in your life or for those who could use a healthy dose of style.
This guide will steer you towards affordable picks, as well as some key upgrades. Our choices range between smart accessories and essential style items that will change looks from simple to standout. Just make sure to be decisive and buy now before stock runs out, time runs out, or both.
Solid Flannel Shirt
Choice: L.L. Bean Chamois Shirt ($60)
You can't go wrong with this choice. It's warm, handsome, and will never go out of style. The 100% Portuguese cotton flannel is brushed for softness, and it just happens to be a 90 year-old staple in the Bean's catalog. The traditional cut fits most body types, and the double-stitched construction and unbreakable buttons mean it's meant to last.
Upgrade: Buck Mason Brushed Flannel Two Pocket Shirt ($105)
Rich in both color and fabric, this flannel shirt is heavy and meant to be worn untucked and casual. The thick cotton flannel is brushed on both sides for warmth and softness, and the two button flap chest pockets are work-shirt requisite. This one easily ranks among the best flannel shirts and might never get taken off by the lucky recipient.
Wristwatch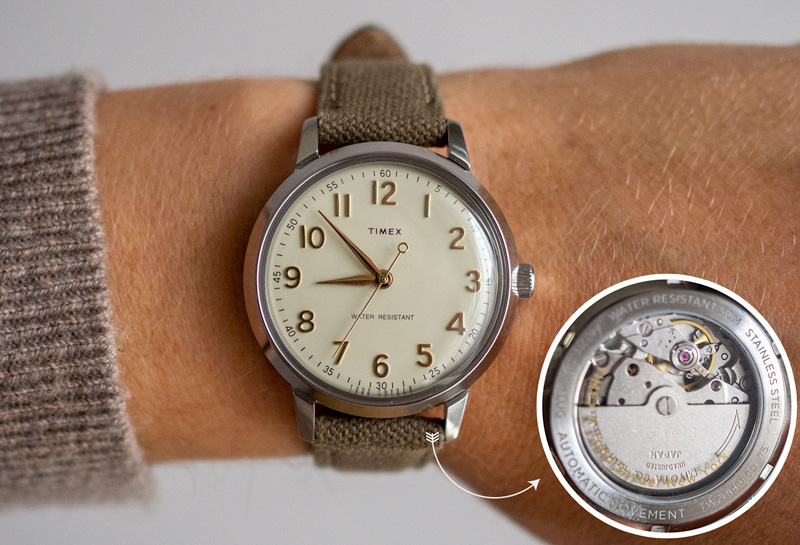 Choice: Timex x Todd Snyder Liquor Store Watch ($249)
This item is out of stock. See similar option here.
What's old is new again when Todd Snyder gets his hands on it. The mid-century watch design gets updated with a gorgeous ecru dial and gold hands and numerals. The olive fabric strap is vintage goodness, and it's girded by a comfy leather backing. Underneath lies a 21-jewel automatic movement, and a classic domed acrylic crystal caps it off. We love the 38mm diameter that fits under any shirt cuff or sweater, and it would deftly punctuate any one of these.
Upgrade: Seiko 4R35 Automatic ($323)
You'd be hard-pressed to find a more attractive watch for this price, and Seiko ranks among the best watches for the price . What you get is a stunning green dial with sunray finish and magnified date calendar. The 41-hour power reserve automatic movement can also be wound manually, and it is water resistant to 100 meters. Finishing it off are the stainless steel case with leather strap and tri-fold push button release clasp.
Wool Crewneck Sweater
Choice: Goodthreads Merino Crewneck Sweater ($35)
Every guy needs a basic navy wool crewneck, and it doesn't get much more affordable than this, especially for 100% merino wool (read our sweater types guide for why that's good). The classic fit works for just about everyone, and the Dorito accent at the base of the collar provides that touch of style that sets it apart from a basic sweatshirt.
Upgrade: The Lodge Sweater in Navy ($168)
You had us at Baby Yak. That's right. This classic is knit from super-soft Baby Yak wool that's responsibly sourced from natural shedding. The double-thick collar, cuffs, and hem provide that added touch of luxe, and this number will look great under a casual blazer or all on its own.
Cashmere Beanie
Choice: Fishers Finery Cashmere Beanie ($40)
Sometimes the simplest accessories are the best. This gift will get tons of use thanks to its super-soft 100% cashmere. Ribbing adds texture, and it can be worn cuff up or down. Thankfully, it comes in five classic colors, too.
Upgrade: American Trench USA Made Recycled Cashmere Watch Cap ($99)
While this beanie might seem like a pricier version of the one above, you can have peace of mind that the cashmere used here is sustainably sourced. The ribbed and cuffed beanie comes in two deep colors to match your own winter broodings.
Sunglasses
Choice: Carfia Classic Square Polarized Sunglasses ($23)
A classic pair of black acetate framed sunglasses will keep the bright light of winter at bay, and UV400 polarized lenses will reduce glare and provide clarity. These retro sunglasses will look good on just about any mug, and the revolutionary flexible acetate frames won't snap under pressure. They're also our affordable alternative to James Bond's sunglasses in No Time to Die.
Upgrade: RAEN Optics Aren 50 ($140)
The style and optics upgrades you get with the Aren 50s are palpable. The thick, translucent smoked zyl acetate frames with an artistic keyhole bridge are straight outta Hollywood, and the Carl Zeiss lenses provide excellent UV protection, clarity, and the right amount of mystery.
Puffer Vest
Choice: Amazon Essentials Lightweight Puffer Vest ($30)
For the price of a week of Starbucks coffee, you get a stylish down vest that looks good with almost anything. While its poly fill might not be as warm as down, it'll get you through brisk outdoor jaunts. The stand up collar gives it a more serious look, but it does pack down into its own drawstring bag for easy packing and transport.
Upgrade: Fjallraven Greenland Down Vest ($190)
This is the kind of puffer vest that makes you look like a serious outdoorsman even if you're not. Its green hue is subtle, but its versatility is not. It works well as a standalone or as a liner for a shell when things get colder than usual. The button flap chest pocket, two hand warmer pockets, and the interior pocket provide ample small EDC storage. The 600-fill goose down will keep you as toasty as a hug from Paul Bunyan, himself.
Apple Watch Strap
Choice: iBazal Genuine Leather Apple Watch Strap ($19)
For less than 20 bucks, you can upgrade the look of your Apple Watch with this all black leather strap that has matching hardware and stitching. Swapping out the OEM rubber strap for this when you have more serious things to do is smart, affordable style.
Upgrade: NOMAD Goods Shell Cordovan Black Apple Watch Strap ($150)
Conventional OEM or aftermarket Apple Watch straps are fine, but if you want to go whole hog, this is your choice. Made with genuine Horween Shell Cordovan leather with a hand-glazed finish, this strap will develop an individual patina over time, and each one has its own uniquely patterned lining. It's also stitched with beeswax linen thread and comes with custom stainless steel lugs and buckle. The price might seem steep, but this is a true limited edition strap.
Card Case
Choice: Main Street Forge Slim Wallet ($35)
This might seem like a small gift, but it can hold up to 8 credit cards and cash while imparting style galore thanks to its beautiful full grain tobacco leather, contrast stitching, and embossed dual hammer logo. It's also made in America in small batch manufacturing, so you know it's built to last.
Upgrade: Allen Edmonds Executive BiFold Wallet ($150)
Talk about a classy billfold that's not just a looker but also truly useful despite its size. Not only does it provide RFID protection, but it also has eight quick-access card slots for your most used plastic, a protected section so your business cards don't get bent, and a hidden section for cash.
Gloves
Choice: Ozero Nappa Leather Cashmere Lined Gloves ($25)
These don't look like $25 gloves, that's for sure. These are the gentlemanly kind you can wear with a wool overcoat. Soft 100% Italian Nappa leather in a refined fit and a warm cashmere lining might have you rubbing your face with them when no one's looking. The snap cinch strap keeps them in place, too. Maybe these are just the right gift for you.
Upgrade: Hestra Utsjö Elk Leather Gloves ($165)
Spending a lot on gloves might not seem to make a ton of sense, but when you view them as a luxury item made like these, the case can be made. Elk leather has its own unique pebbled texture, and it's both soft and resilient. Fleece and Primaloft provide wicking and water resistant properties to help keep you warm, and the double position snap cuff and elastic mean they won't go airborne when zinging snowballs like a madman.
Weekender
Choice: S-ZONE Oversized Canvas and Leather Weekender ($59)
When dark canvas and real leather come together in the form of a big weekend, an asking price this low does not seem commensurate. It easily qualified for this list. The large mouth opening swallows big items, and the leather bottom keeps it all protected. The thick canvas is lined with smooth nylon for easy packing/unpacking, and the zinc hardware impedes rust and corrosion.
Upgrade: WP Standard Canvas Weekender Bag ($248)
This is the kind of duffel that will make the recipient desperately want to travel just to carry it. Made with thick 18oz twill canvas and vegetable tanned leather, it might be worth more to you than the contents you packed. The main compartment is capacious, while the extra pockets keep important items in one place.
Joggers
Choice: Under Armour Fleece Joggers ($48)
Baggy joggers as a gift just encourage slovenliness, but these trim cut versions are just right for a cold weather jog or quick trip to the store. A bit of elastane provides stretch, and the soft polyester fabric provides comfort no matter what the activity. Elastic cuffs keep the bottom in place, while the drawstring waist cord provides security during workouts or while doing virtually nothing at all.
Upgrade: Vuori Sunday Performance Jogger ($89)
Anyone who wears these will either be seriously motivated to lounge or workout, just not simultaneously. The super-soft polyester and elastane fabric wicks moisture, as well as pampers the hindquarters. The tapered ankles reduce superfluous fabric while working out, and the zip pocket means easy key and wallet stashing. They also make you look like a pro at WFH.
Socks
Choice: Amazon Goodthreads Boot Socks ($16)
When you get socks as a kid, it sucks. But when you're an adult, you appreciate great socks that you might not otherwise buy for yourself. When they're cushioned, moisture wicking, fun, and come in a three-pack, you just can't go wrong.
Upgrade: CHUP Socks ($35+)
These Japanese made socks with intricate old-school patterns are like sweaters for your feet. They utilize strong combed cotton yarn that's been blended with synthetics for strength, and they're just the right thickness for colder climes without being bulky.
Wool Slippers
Choice: Rock Dove Memory Foam House Slippers ($22)
Cold feet suck, and you can give the gift of warm toes without spending much. The waffle knit uppers are well-shaped, and the plush lining keep your feet warm without making them sweat. The insole lining is made of memory foam, so it conforms to your feet for ideal support, and the outsole has flexible rubber for quick trips outdoors.
Upgrade: Sorel Falcon Ridge Slippers ($129)
The Sorel Slipper is a tough, yet cozy slipper with a soft suede upper lined in a warm wool blend. Over time, the removable EVA footbed will mold to the shape of the foot, upping the comfort level. You might actually forget to take them off when you finally head to the office, but will anyone notice?
Polar Fleece Jacket
Choice: Amazon Essentials Full-Zip Polar Fleece Jacket ($28)
A basic fleece jacket is imperative when the chill sets in, but you can gift more than basic for less money, too. This Amazon Essentials one has a full front zip, so you don't have to mess up your hair when taking it off. It has handwarmer pockets, a convenient contrasting chest-zip pocket, and contrast trim on the shoulders. Its midweight will do wonders as a layer in cold conditions, or it can stand alone when things aren't quite as bitter.
Upgrade: L.L. Bean Hi-Pile Fleece Jacket ($70)
If you're against buying fur, this is your next best bet for a plush gift. It's Bean's softest jacket with rich, deep hi-pile fleece that feels luxurious to the touch. The standup collar keeps the breeze out, contrasting reinforced fabric add style and toughness at key points. The recipient of this gift might just take a nap in it immediately.
Athleisure Sneakers
Choice: adidas Questar ($59)
Unlike most of us around the holidays, these are light and airy. Questar sneakers are less for running (although you could) and more for athleisure with the mesh upper and OrthoLite sockliner. The design is textured but minimal, and the cushioning is lush. For not much money, you can give the gift of comfy, stylish feet.
Upgrade: New Balance X J. Crew CRT300 V2 ($80)
New Balance sneakers are ultimate lounging shoes, and the USA made 1400s have been around since 1994. These versions are the result of a great collab, and the fully suede uppers are decadent and clean in design. Grippy soles, a bold N logo, and removable footbeds make them a stylish and practical holiday gift.
Chunky Chelsea Boot
Choice: Thursday Boots Safari Legend Chelsea Boot ($199)
A good chunky-soled chelsea boot is truly versatile during most of the year. These happen to work better than most when the weather gets bad, but it still maintains a high level of style. The protected waxed suede keeps moisture out, and the lug soles keep you vertical on snow. Glove leather lining is soft on your feet, and cork-bed midsoles conform for ideal comfort.
Upgrade: Allen Edmonds Discovery Chelsea Boot ($445)
When Allen Edmonds go on sale, pay attention, because they're some of the best made shoes around. These Chelsea boots are hand-crafted in Port Washington and use textured premium vegetable-tanned leather that delivers visual character beyond the usual. Goodyear welted construction ensures durability, and the lug outsole is robust but not overly thick. They also happen to be re-solable for a long life.
Pea Coat
Choice: J. Crew Dock Pea Coat ($240)
J. Crew's version of the classic pea coat is a steal right now, and it's got all the right fixins that pay homage to the original. Thick wool blend material gets an additional layer of warmth with PrimaLoft, and the anchor buttons are reinforced for security. Even the pockets are lined.
Upgrade: Schott NYC Classic Melton Wool Pea Coat ($335)
This is a true classic and one of the best pea coats that will last a lifetime. Made with thick 80/20 Melton Wool and Nylon, a warm lining, big handwarmer pockets, and chunky anchor buttons that are easy to use with gloved hands, it's a winter-go-to. The double-breasted configuration and big standup collar keep the front and neck extra warm, and it looks great with anything shy of a suit and tie.
Cedar Shoe Trees
Allen Edmonds Cedar Shoe Trees ($25)
If you don't have shoe trees, you officially hate your shoes. They'll make your footwear last longer, look better, while removing the stank your feet leave behind. A bonafide pair of cedar shoe trees for this price means you can get a couple of pairs for yourself and one for a friend. The split front helps keep the right shape, and the rear finger grab makes them easy to remove.
Cedar Clothes Hangers
Neaties Cedar Clothes Hangers (30 / $62)
At a little bit more than two bucks a hanger, you can bless your friend or family member with a closet full of real cedar hangers in this pack of 30. Odor and moisture absorbing, these genuine slim cedar hangers come with double notches for straps/tanks and crossbars for pants. They might not seem exciting, but when they open this package, the gift could just change their entire wardrobe.
Looking for more ideas? Check out our full Gift Ideas for Guys for over 150 realistic things you can actually ask for.