Dressing Up the Henley
with Stylist & Creator Travis White
How do you create an elevated casual look that's effortlessly cool AND incredibly comfortable? Funny you should ask…
We've all been there — staring into the void that is your wardrobe, wondering why you have a closet full of clothes, and nothing to wear. If you've got an important formal event coming up, it's easy to throw on a suit and call it a day.
But what if said important event is less formal? Casual, even? But you still have to look like you got dressed with some intention? When button-ups seem too dressy and polos and tees are too informal, there's a great smart casual option that splits the difference. One you probably even have in your wardrobe already: the Henley.
Think of a Henley as a polo shirt's collarless cousin. Just like a polo, a Henley has two or three buttons at the neck. Some are made from the same material as a T-shirt; others are made from a slightly more substantial weave, or waffle knit. While this comfortable cotton shirt is most likely a key part of your casual wardrobe, you probably wear it with jeans (*maybe* chinos or khakis) and haven't tried pairing it with dressier, more tailored items.
Here's why you should.
By Ali Zagat / Photos by Travis White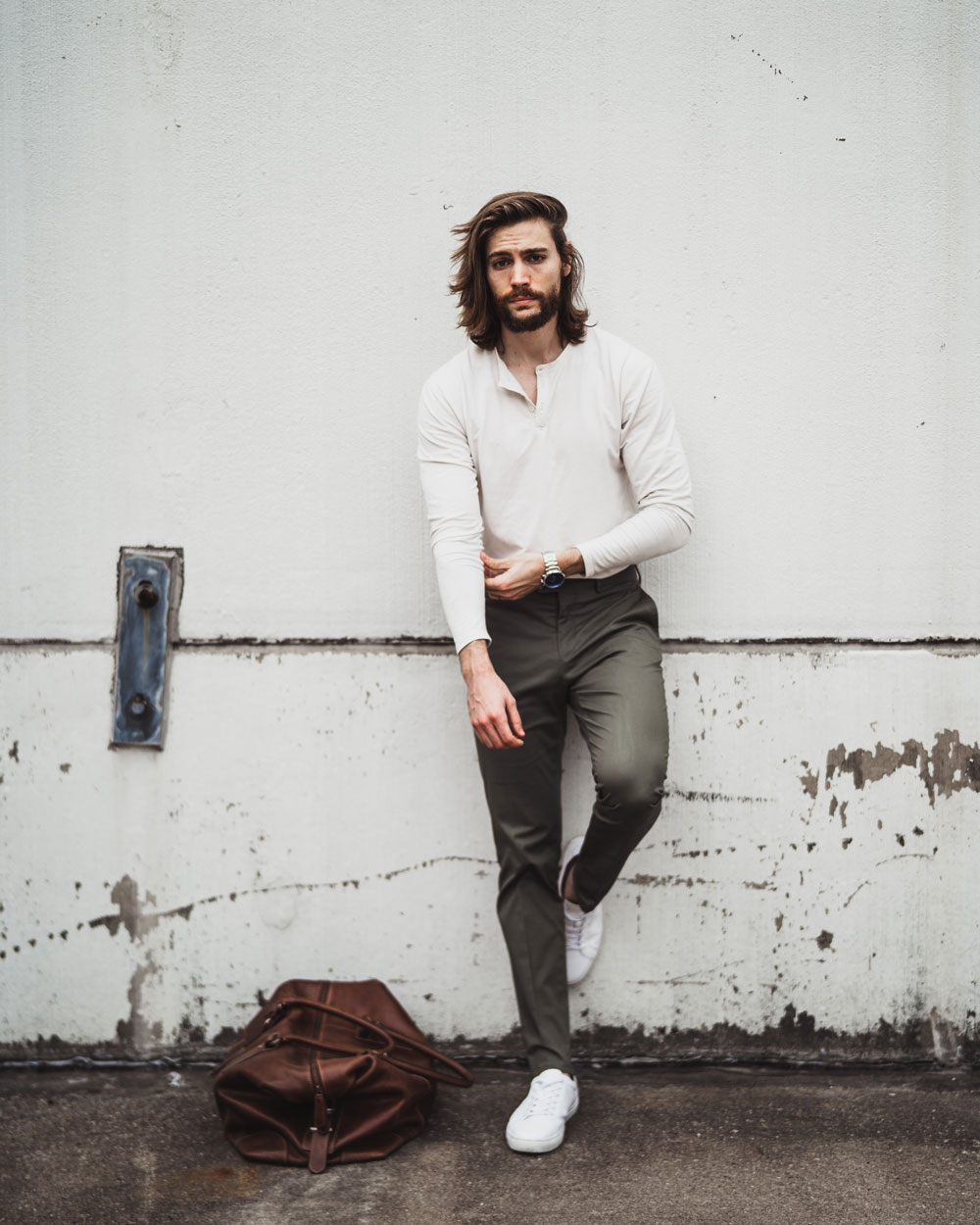 Building a smart casual wardrobe is all about dressing up less formal items and adapting dressier pieces for everyday wear. That way you make more use out of what you already have, rather than buying a ton of specialized pieces that you only wear on hyper-specific occasions.
To help you nail this elevated casual look, we've enlisted Austin, Texas based stylist and digital creator Travis White, who's equally at home in tailored suits and leather jackets. And he knows a thing or two about dressing well without dressing up.
"I own 7 or 8 different Henleys," Travis admits. "It's probably my favorite item of clothing, because it has a multi-dimensional appeal — you can dress it up or down." As long as the Henley isn't designed to be a work shirt, you can pair it with chinos, wool or linen dress pants, or Travis's favorite: suit pants.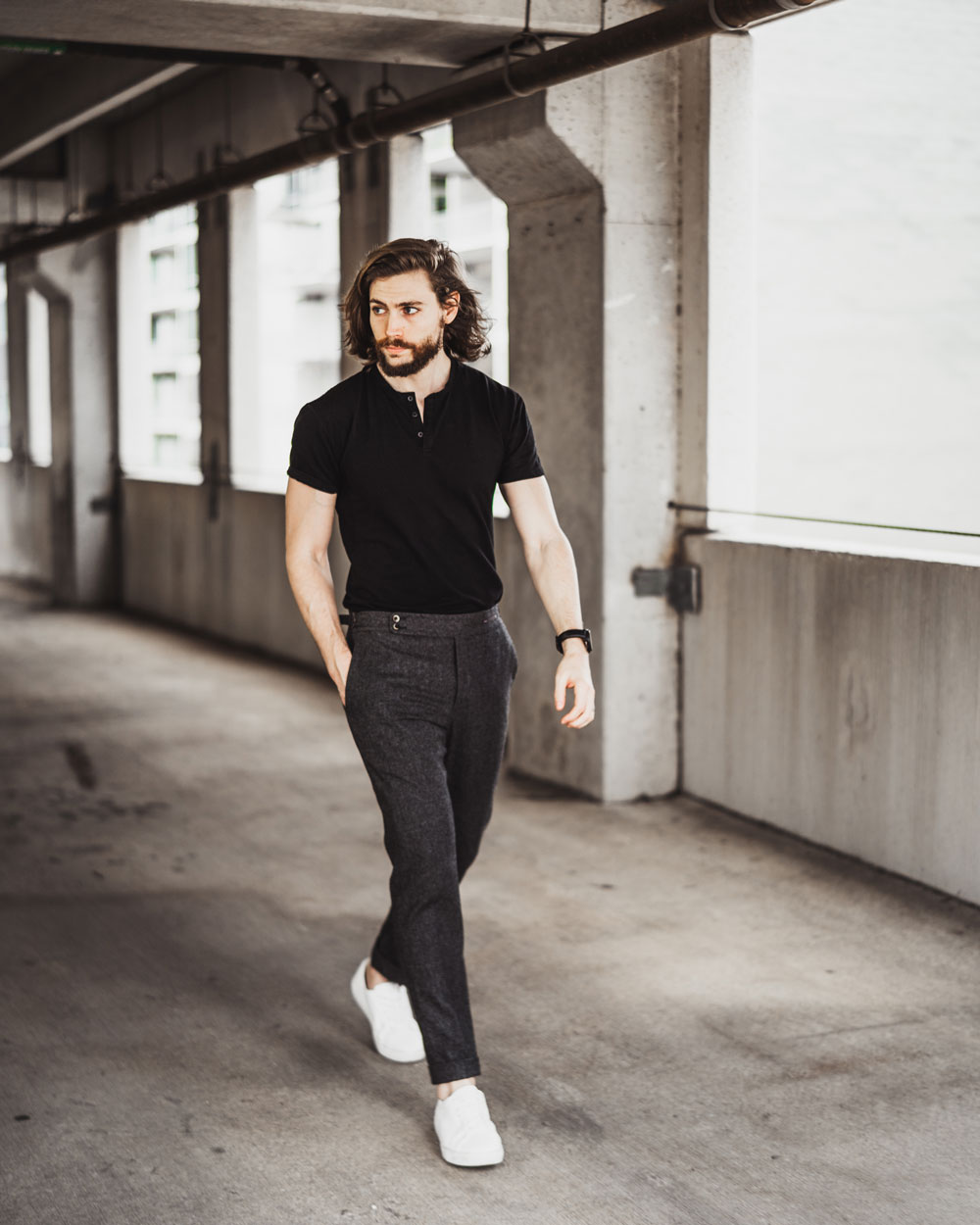 "Pairing your Henley with trousers or dress pants elevates your whole look," says Travis. "You'll still be in the ballpark of casual, but you'll stand out next to every other guy wearing jeans and a T-shirt. In a good way…not being pretentious about it."
"Most guys only pull out a suit for formal events and special occasions, which means you've got a great, well-made piece of clothing just hanging in your closet most of the year," he says. "I like using suit pants as separates, but you can use any pair of tailored pants."
The key word here is "tailored". Travis has all his pants taken in so that instead of a loose, classic fit (think: dad pants) each pair has a neat taper at the ankle and no break. This helps the look read as fresh and modern, and not too formal — if there was more material around the ankle, the pants wouldn't work with some simple white kicks.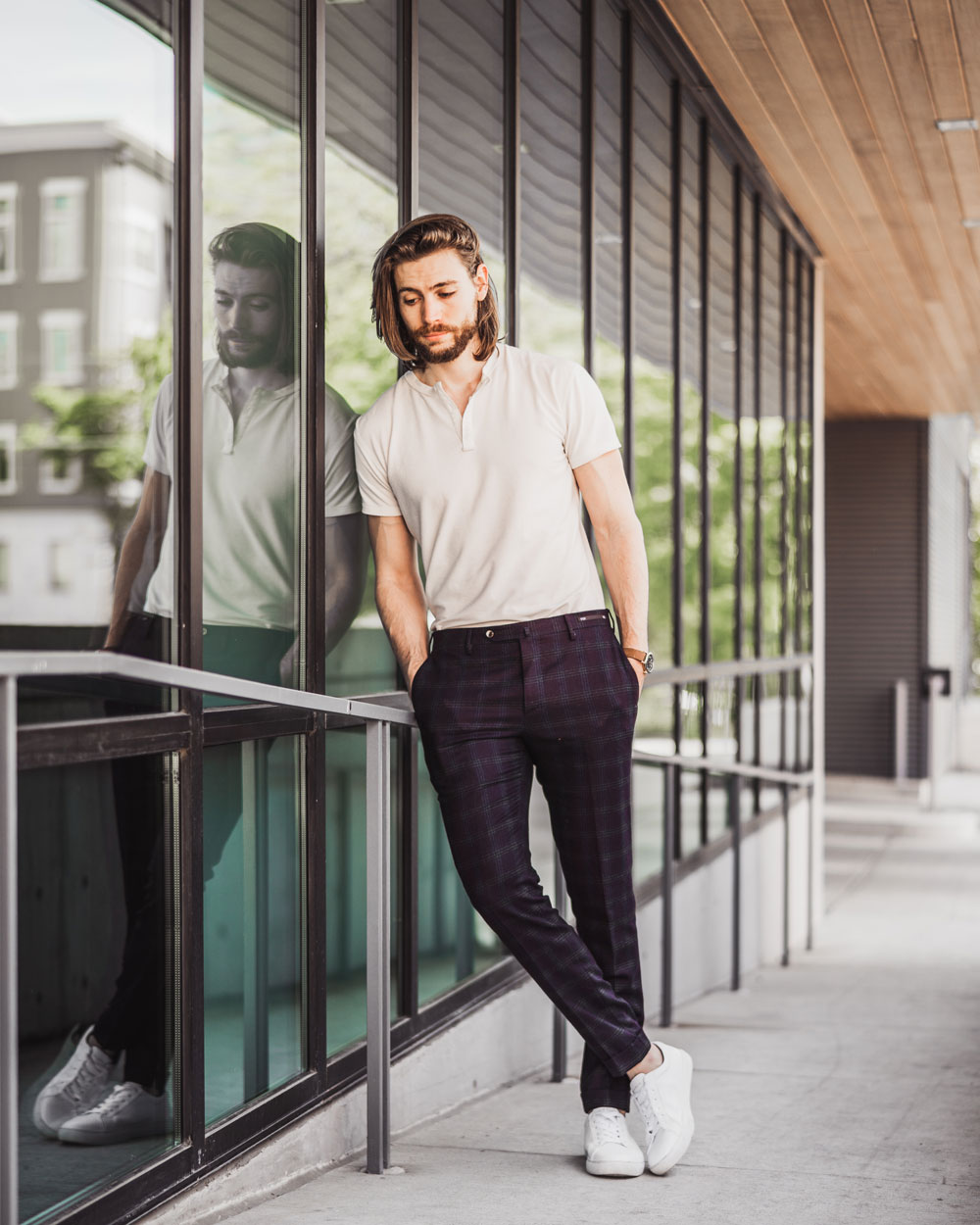 Fit is important on top, too. A loose, baggy shirt is going to look more casual, so choose a Henley with a slimmer cut. Pay attention to details like the fit of the sleeves. A short-sleeve Henley should hit around mid-biceps, and both long and short sleeves should just hug your arms without cutting off circulation. The shirt shouldn't fit like a rashguard, but you shouldn't be swimming in fabric, either. There's a sweet spot where the fit is snug but not skin-tight. Extra credit: look for special touches, like contrast buttons. This might make the shirt a bit more casual, but it adds dimension and interest to a simple outfit.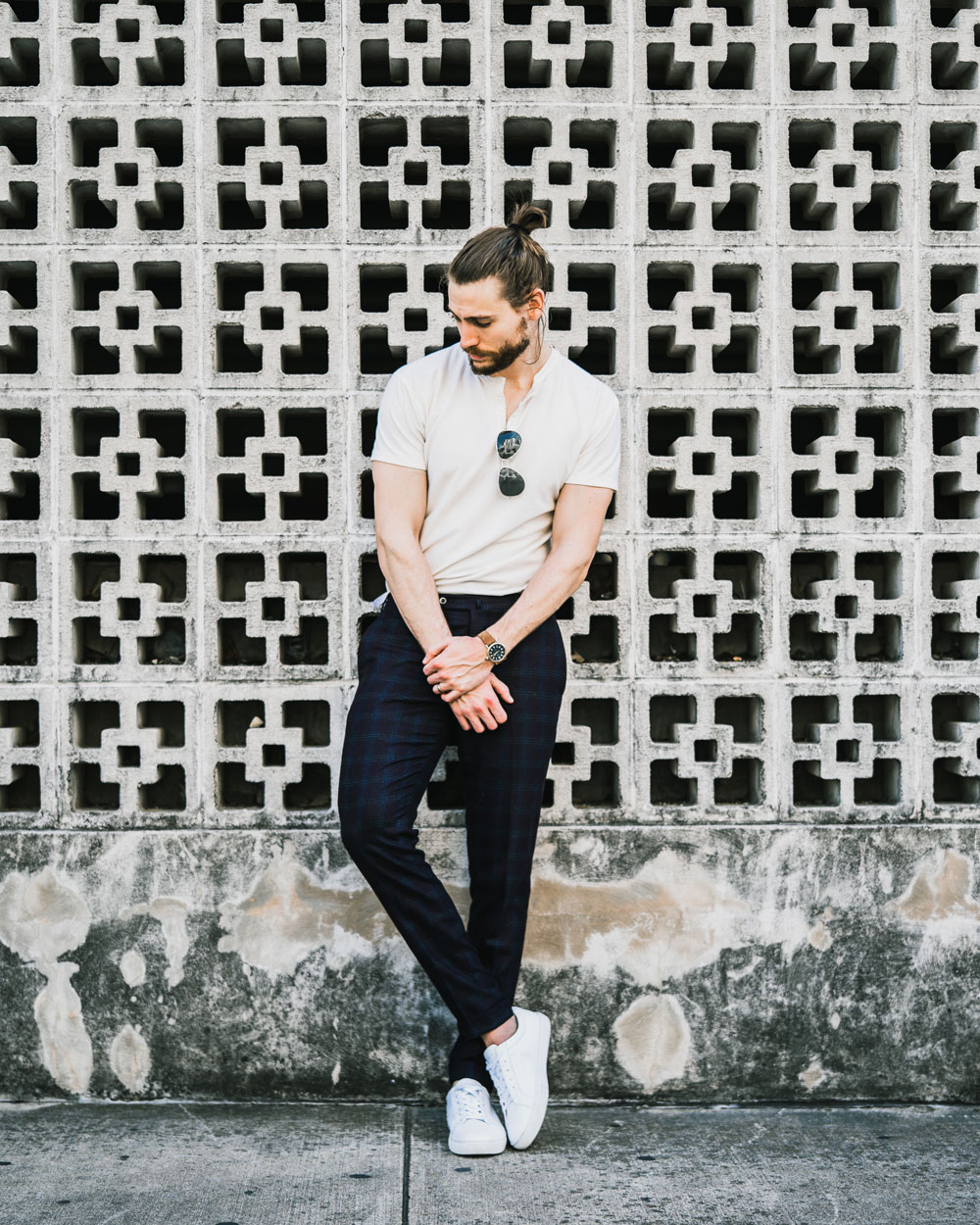 Travis also recommends coordinating fabrics: a heavier cotton weave Henley pairs nicely with wool trousers, while a smoother, lighter tri-blend material feels cool and airy when worn with linen-cotton blend pants in warmer weather. (When a Texan tells you how to beat the heat, take note.)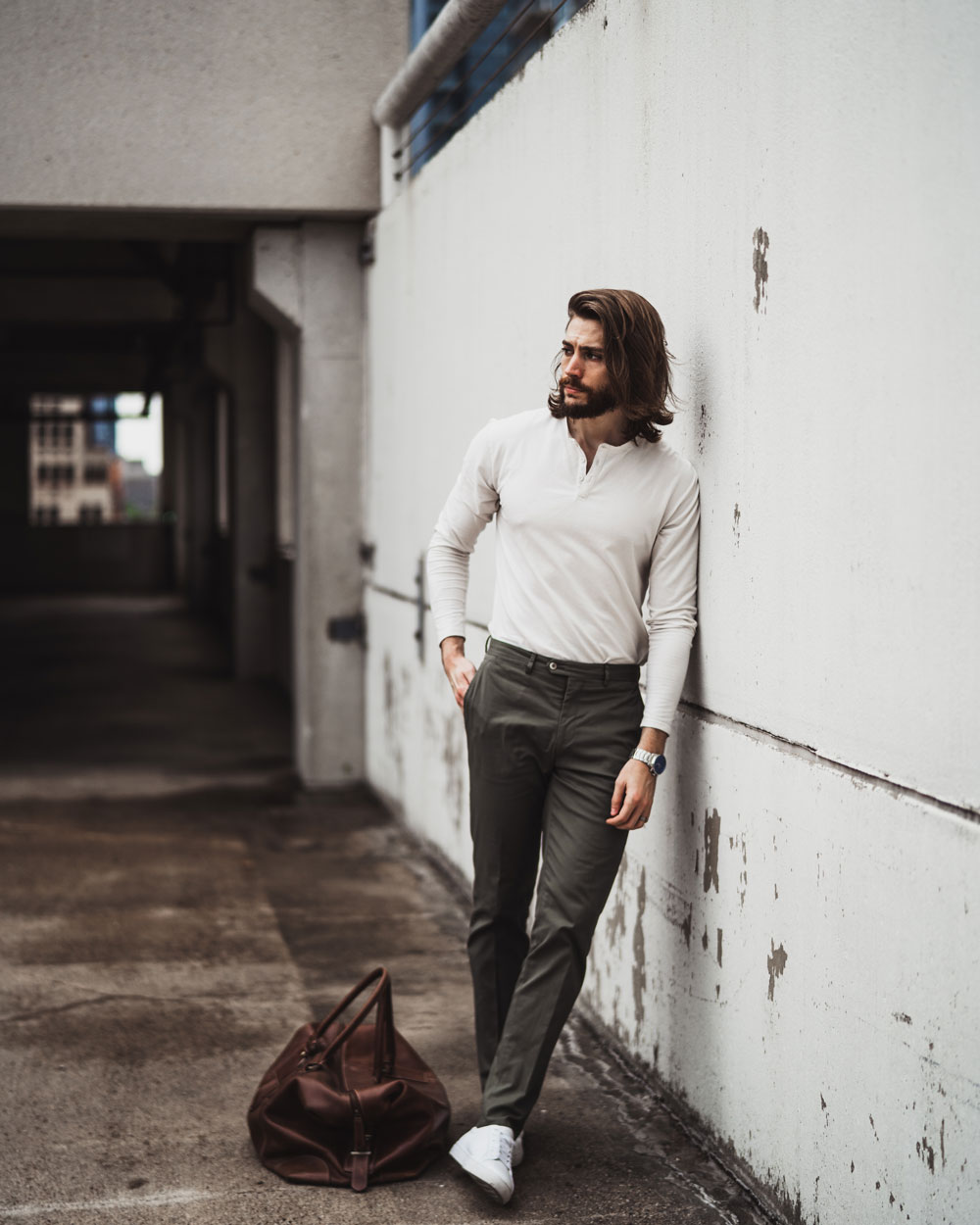 If you just want to invest in one type of Henley to start, try one made from a blend of fabrics: Travis's favorite BYLT Henley features cotton, polyester and spandex. "The polyester keeps you cool, the spandex has a little stretch and give, and the cotton adds a nice weight without being too thick or heavy." Spandex is also good if you have a heavier build and want the shirt to move with you without clinging too much.
So where can you wear your Henley and dress pants? Almost anywhere. Obviously this isn't a formal outfit (so weddings, funerals, black tie charity galas, etc., are right out) but it fits right in at brunch, cocktail hours, and less formal networking events, and Travis even argues it's the perfect first date ensemble.
"You want to show that you care about how you look, but you're still casual enough that you won't make your date uncomfortable if they didn't dress up that much." Wearing dress pants and a Henley hits right in that sweet spot of being stylish, yet low-key, "you made an effort while still looking effortless."
This makes a pretty compelling argument for the Henley being that elusive "chameleon" piece Primer is always discussing. One that complements whatever other pieces you wear it with. Whether you dress it up or dress it down, you're not going to feel out of place, overdressed, or like you're wearing a costume. You're going to look and feel like a slightly more pulled-together version of yourself.
And that's what style is all about.
Check out more from Travis on his site Unkept Gentleman and follow him on Instagram, @trav_white_.
What's your favorite way to style a Henley? Share your tips in the comments.