The knit polo is lightyears away from the traditional golf shirt. It can dress up casual items, or dress down dressier clothing – we'll show you how to wear it and what to look for.
The polo shirt is one of style's great equalizers. Beloved by dads, golfers, smart casual office guys, and Kanye West alike, there's a style of polo that works for just about every kind of guy. And the chances are, you probably already own one to cover a range of occasions, from sporting afternoons to warm weather vacations. But there's one take on the classic look you might have yet to invest in – a look that's fallen by the wayside over the past couple of decades: the knit polo.
It might not sound like an obvious distinction, but there are some key elements to the knit polo that make it stand out from your average pique fabric polo. The thicker fabric is perfect for cooler months, it looks sleeker and more refined, and it nods to the post-war era, bringing an air of effortless vintage cool to your look. But don't just take our word for it – we enlisted Primer style contributor Daniel Z. Baraka to break down the many highlights of the knitted polo.
The knit polo feels more considered
"With 1950s, 60s, and 70s style influences coming back around, one of my favorite style revivals has been the knit polo," Daniel says. "It makes me feel so retro, so cool, and so young all at once."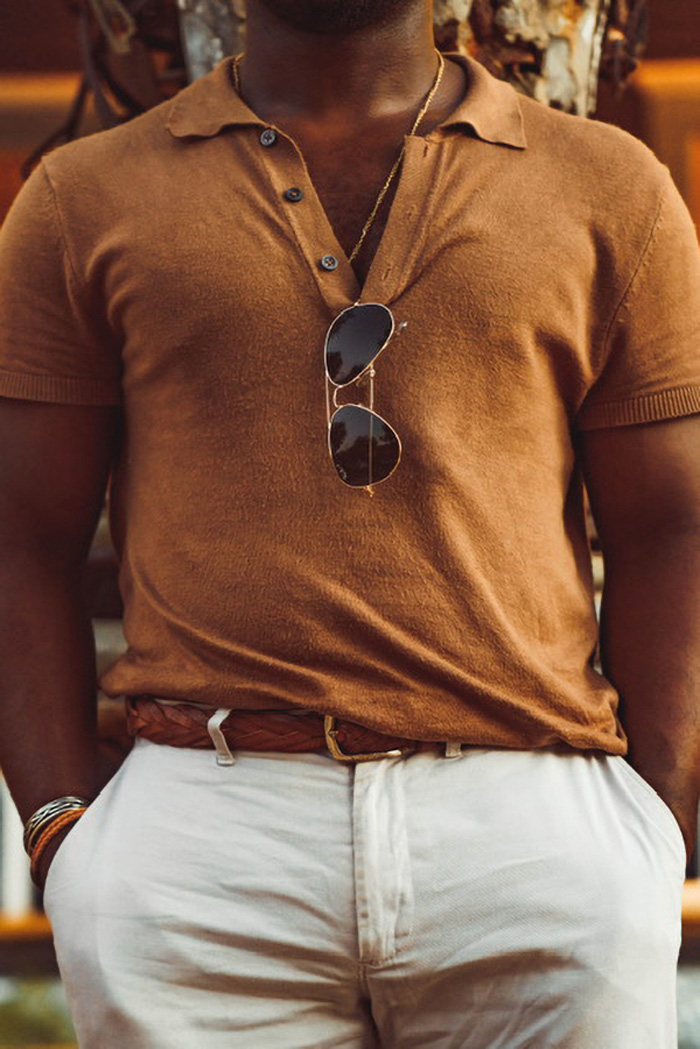 The most obvious point that sets the knit polo apart from your classic pique style is the fabric: it's softer and smoother, and feels inherently dressier. So if you already use the pique polo as a dressed-down version of a shirt in casual days, a knitted version makes a great alternative to slot into a smart casual outfit, or to dress down more formal attire like a suit or blazer.
The pique polo has picked up an unfair share of cultural baggage over the years – from store clerk uniforms to unsavory counter-cultures – but the knitted style remains a timeless and unscathed asset to your collection. It brings an air of stylish refinement to your look, whether you're wearing it with jeans, a pair of chinos, or formal pants.
Knitted polo shirts often have a soft, wonderful texture to them thanks to being made out of merino wool, cashmere, silk, or blends. Because of this, they're also commonly called a sweater polo or a collared sweater.
The knit polo is effortless to style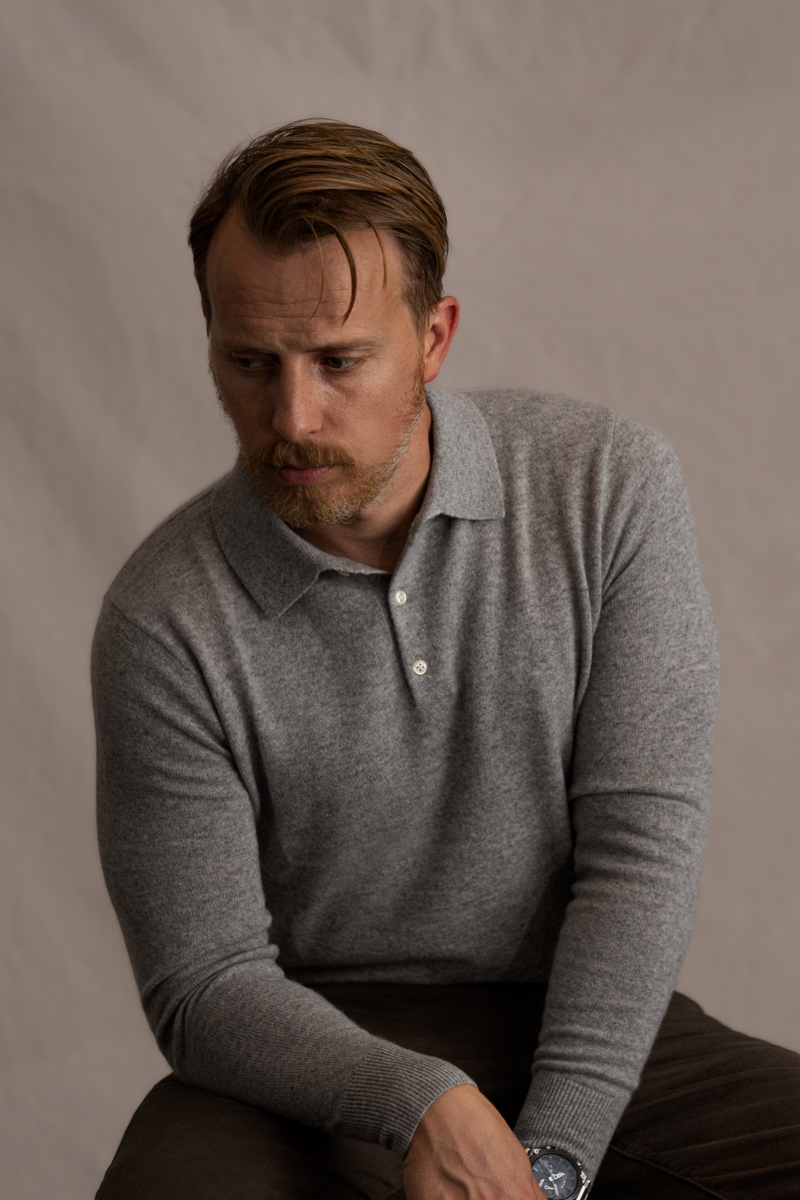 Where pique is a more casual, sporty fabric, wool is easy to dress both up and down. But it's the finer details that really bring the knit polo into its own. "The ribbed sleeves and hem create a seamless transition between your top half and your pants," Daniel explains. "The ribbing offers a cool transition that's missing with a more abrupt seamed straight hem, so you can wear it tucked or untucked and it will fit smoothly into your look either way."
And if you do choose to wear it tucked in for smarter occasions – or just because you prefer the sleeker aesthetic of a tucked shirt – that ribbed hem allows just the right amount of fabric to work with. It has some stretch, but it's fitted so it won't bulge or stretch unflatteringly like a regular hem might.
We're so confident on the versatility of the knit polo, we included it in our latest What to Wear to Work Now: A Modern Business Casual Capsule Wardrobe with 16 Outfit Combos: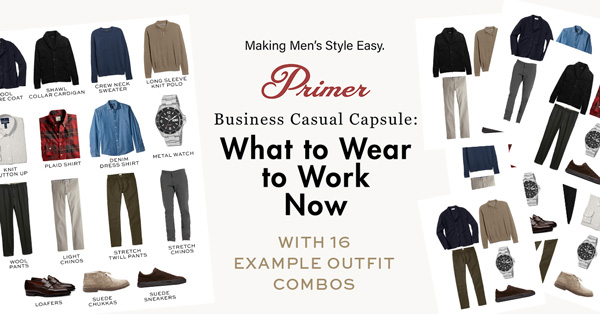 The designs are playful yet stylish
The benefit of woollen garments is that knitting is an art form in itself, so when it comes to designing the patterns and prints of knit polos, the outcome can be more adventurous. Cotton and pique don't adapt to pattern well: the printing can fade, and the designs need to be minimal so as not to feel overwhelming or garish. With knitwear, on the other hand, bold patterns and colors can be worked in perfectly.
If you're a fan of a funky knitted sweater or cardigan come winter, then approach the knit polo in the same way. "The playful designs bring such a breath of fresh air to a knit polo. It helps it work as a stand alone piece, but still goes just as well worn casually underneath a suit." Daniel says.
The collar speaks for itself
The main feature that makes any polo feel smarter than a tee is its collar. And though this is also true of the pique polo, the stiffer fabric means the collar can be a little tougher to work with. A knitted collar, however, lays flat to the body of the polo so it fits perfectly under the lapel of a suit. It's soft and flexible, so it stays perfectly in place without bunching or splaying whether you wear your polo buttoned or open at the neck.
"When I'm looking for a knit polo, these are the elements I consider," Daniel says. "The cut, the pattern and color, and how I want to style it." Picking pieces that bring a whole look together isn't always easy, which is why a piece as versatile and wearable as the knit polo shouldn't be overlooked.
Here, Daniel styles his with a simple two-tone palette.
How to wear your knit polo
"An easy formula for creating a cohesive outfit is to go for a dichromatic look," Daniel says. "I start with light cream or stone pants, and pick a second, different color to go on top." It's as simple as it sounds: just choose a color you like, and the chances are it will complement a pair of light-toned pants. Rich tones, like tans, browns, olives, and navys, work especially well with refined pieces like a knit polo. It brings an air of sophistication through the palette without feeling over the top.
"Sticking with easy color pairings means you can play with the shoes," Daniel says. "Here I have matched them with the top which feels cool and contemporary, but if you're not into color-matching a simple black pair would work just as well."
The beauty of the knit polo is that it truly carries a look – whether you opt for short sleeves, or long sleeves that can double up as a sophisticated sweater in cooler weather. It subtly nods to your aesthetic awareness without feeling like a bold choice, making it the perfect pick for guys looking to mix up their wardrobe without moving into statement-making territory. And it doesn't have to be formal, either. Roll up your pants and pair with some casual sneakers or loafers for a contemporary look that's perfect for off-duty brunches or evenings at the bar.
"I think the knit polo speaks for itself so when it comes to accessorizing, you can keep it simple," Daniel says. "But if you like a more playful look, bring in bolder belts, shoes, or even some retro-feeling pieces that transport the knitted polo back into the 1960s."
Best knit polos to consider
Short sleeved and similar to pique styles
Long sleeved and relaxed fitting
Long sleeved and clean cut