The Best Men's Dive Watches
You Won't Believe They're Under $500
Men's dive watches have been a fashion staple for decades. Professional diver and watch collector Chris Scott reviews and makes our picks for the best affordable dive watches.
There's a terribly outdated joke that's still told around dive shops by some of the old salts that haunt those places. It goes something like "how can you tell which guy in the locker room is a scuba diver? Look for the guy with the big watch and the small prick!" Then the whole room busts out laughing like they have not heard that same joke 1,000 times in the past three decades.
What's funny is that in the modern world a man wearing a dive watch won't necessarily mean he's a diver. I know plenty of people that wear Rolex Submariners who have never gone deeper than 10 feet in a swimming pool. And you can't blame them for it. Dive watches are designed to withstand some of the harshest conditions in the world. If an Omega Seamaster Professional can survive being taken to 300 feet by a saturation diver working in a habitat then it will definitely survive your next paddle boarding excursion down at the lake.
However, at its core the dive watch is a tool for divers whose functionality could mean the difference between coming back to the surface safe and sound, or suffering through a crippling injury or even death. The purpose of a dive watch is simple; to time how long a diver has been underwater.
Watch the video guide, don't forget to subscribe to Primer on Youtube!
Words & Photos by Chris Scott, a diver of over 20 years and has owned over two dozen dive watches
This post contains affiliate links
The History of Dive Watches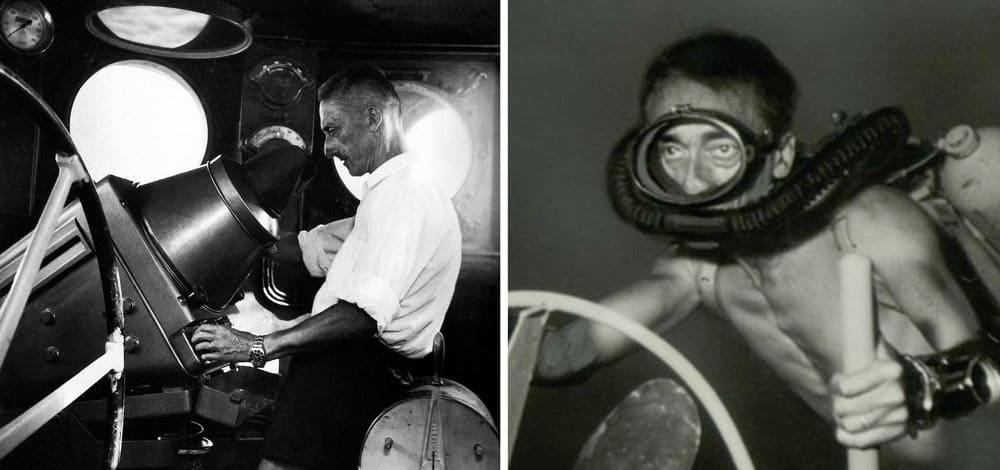 For most of the early 20th century watchmakers experimented with ways to make their watches more water resistant. Before WWII Rolex famously displayed their Oyster wristwatch in fishbowls in display windows. They even had long-distance swimmer Mercedes Gleitze wear an Oyster around her neck when she attempted to swim across the English channel. With the outbreak of WWII came the need to equip combat swimmers and early frogmen with timing devices that would be useful underwater. This included watches made by Panerai (and manufactured by Roelx) for the Italian Navy. The descendants of those luxury watches are still sold by Panerai today (even if they have gone upmarket as a luxury watch brand.)
With Jacques Cousteau and Emile Gagnon's invention of the Aqualung in 1942 the world was changed forever. Now man could stay underwater for extended periods of time untethered to the surface above. And with the spread of the Aqualung and the new sport of scuba diving growing in popularity the need for reliable underwater watches became greater than ever.
Of course, military needs truly pushed the technology forward. While there is some debate of course, the consensus seems to be that the modern dive watch as we know it today was designed by Bob Maloubier the leader of a team of French navy divers who needed an adequate tool for his men. After shopping his design ideas around to various manufacturers Blancpain agreed to produce the watch and the first commercially available dive watch was born.
Shortly thereafter Rolex released their Submariner dive watch, then James Bond wore one, and the rest is history.
You can learn more about the history of diving and Cousteau's contribution in the fantastic Jacques Cousteau: The Sea King by Brad Matsen
The Science of Using a Dive Watch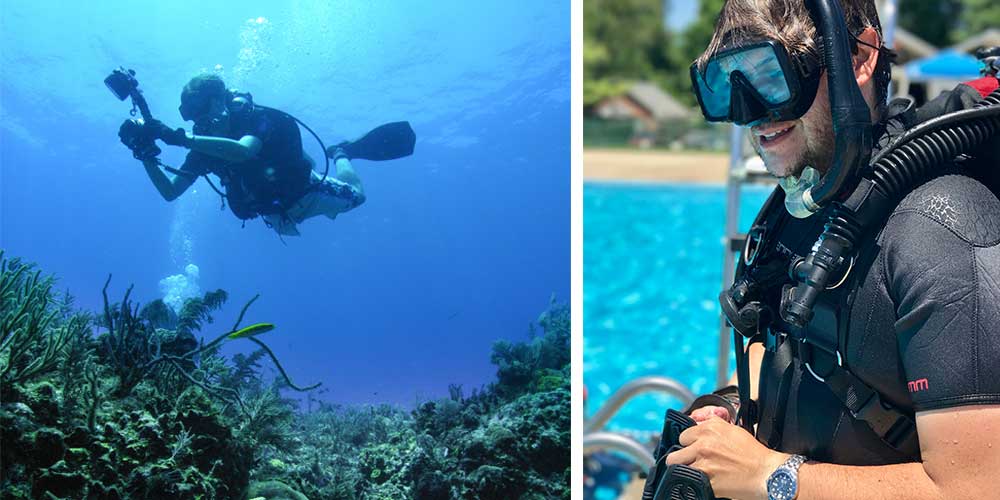 The reason a diver needs to limit their time underwater is due to exposure to high partial pressure of nitrogen. For most dives the breathing gas used by a diver is nothing but plain, old, ordinary air (like the kind you're breathing right now) which is composed of 21% oxygen, 78% nitrogen and 1% trace amounts of other gasses. At 99' of salt water (30m) a diver is under 4 atmospheres of absolute pressure. That's 4 times the atmospheric pressure than of sea level.
According to Boyle's law this pressure at 99' (30m) will affect every air space in and on your body compressing them to 4 times their volume at the surface. As Boyle states pressure and volume are inverse. This means that the nitrogen in your blood stream at 99' has four times the amount of nitrogen than at the surface. This prolonged exposure to nitrogen at higher pressures can cause the nitrogen to create bubbles in the various tissues of your body.
The creation and expansion of these bubbles is called decompression sickness aka "the bends." This nickname is due to the tendency of nitrogen bubbles to form in the spine which causes the diver to bend over in pain. That is why divers have tables and dive computers to help determine our safe time at depth without running a high risk of decompression sickness.
There is a lot of science behind the causes of decompression sickness and this is a gross simplification but you hopefully get the gist of why a timing device is necessary for a scuba diver. Put simply if you stay too long (or come up too quickly) you run the risk of the decompression sickness.
What Makes a Dive Watch a Dive Watch?
There is some debate among watch nerds as to what is actually a dive watch and what is a watch with dive watch styling.
A good place to start would be the definition set by the International Standards Organization (who tend to be a pretty good authority on these types of things.) The listing for ISO 6425 states "a [dive] watch [is] designed to withstand diving in water at depths of at least 100 m and posses a system to control the time." This is a pretty straightforward designation.
However not every watch that presents itself as a dive watch has necessarily been certified by the ISO as a dive watch. The thing to look for when looking for with an ISO designated dive watch is the word "Diver's" preceding the depth rating. That means it has been ISO rated. Just because not every watch presents itself for testing to the ISO that doesn't mean that a watch can't necessarily be used for diving.
So outside of the ISO designation what else makes a dive watch? There's a few things that I personally look for:
Water Resistance – This one can be a bit confusing to non-watch nerds. The ISO defines a dive watch as one being water resistant to 100 meters (300') while many watch manufacturers state that a watch is not appropriate for diving unless it is resistant to 200 meters (600') of water pressure. Why so deep? To account for the additional pressure created by movement underwater and the potential degredation of the gaskets over time. It's not a matter of if something that is supposed to be "waterproof" leaks. It's when. So it's better to be safe than sorry.
Seiko Divers Automatic Deep Blue Dial Mens Watch SKX009K1
A rotating uni-directional timing bezel – This is a big one. The unidirectional timing bezel is how the diver actually manages elapsed time. At the start of the dive you turn the indicator at 60min to the minute you are submerging. As time passes you follow the minute hand around until it is time for you to make your ascent. A timing bezel should turn counter clockwise. That way if the bezel is accidentally moved on a dive it will give you less time underwater instead of more. There are a few exceptions; such as the internal bezel on a Bulova Snorkel, or the bi-directional bezel on older Rolex Submariners, or old chronograph dive watches such as the Aquastar Deepstar but for the most part dive watches are going to have an external bezel.
Screwdown crown and caseback – The screw down and o-ring sealed crown is the most efficient way of keeping out water which work in conjunction gaskets around the crystal and any other buttons on the watch. Keep in mind though that there are many dive watch lookalikes out there with crowns that don't screw down which means they won't be anywhere near as water resistant. While I personally prefer a screwdown caseback there are plenty of fantastic dive watches out there (including the classic Citizen JP2000) which have an o-ring sealed back held in place by multiple screws.
Lume – Lume is painted on to dial markers and hands to soak up light. After exposure to ambient light the lume will glow for a little while which is essential on low visibility or night dives. A good dive watch will have lume at 60 minutes on the bezel, lume on the 5 minutes markers on the dial, and lume on the minute, second, and hour hands.
Movement – As with all watches there are a variety of movements from quartz to mechanical to solar powered. While a quartz movement will be incredibly accurate, and a solar movement will go for a decade without a battery change (which could potentially degrade the water resistance of a dive watch if not done correctly) there is something incredibly cool about a mechanical watch powered by the movement and precise alignment of gears. This all boils down to personal preference as to which one you want on your wrist.
The Best Affordable Dive Watches
With all of that said there are a myriad of affordable options out there when it comes to dive watches. I'm going to highlight a few models that I like myself that cover a pretty wide range of the affordable spectrum focusing mostly on watches under $250. This includes the Best Bang for the Buck, The Fashion Dive Watch, The Best Watch for Scuba Diving, The Most Sartorially Versatile Dive Watch, and we will dip our toe a little bit in to the field of Luxury Dive Watches and Homages.
(While there are a lot of digital dive watches out there [the Casio Frogman and Citizen Aqualand series spring to mind] I'll mainly be sticking to analog watches.)
When it comes to bang for the buck there are few contenders that measure up to the Casio MDV-106. This quartz powered diver comes in at a hefty 45mm but its thin size lets it sit comfortably on even tiny 6.5" wrists like mine. Rated to 200m of water resistance this thing will take any outdoor activity you want to throw at it. It's got the best lume at its price point and I have no trouble suggesting this as a fantastic entry level dive watch to my own scuba diving students.
Ever since James Bond wore a Rolex Submariner with a tuxedo in Goldfinger dive watches have become a staple of men's fashion from office wear to beach wear. That said some dive watches dress up for a date better than others.
One of the most sartorially versatile is the Orient Ray. Recently updated and dubbed the Orient Ray II, this particular watch looks far more expensive than it actually is. Available in a few different color combinations perhaps the most striking is the blue dial. If you can track it down the orange Orient Ray I is another fantastic addition to any collection if you're looking for something a bit different but don't want to spend the money on the classic orange dialed Doxa worn by Cousteau and his cronies.
Orient Ray II on Amazon in black, $147
Orient Ray I on Amazon in Orange, $165 (latest version)
As dive watches became less divers tools and more fashion accessories a lot of fashion brands have started making dive watch lookalikes. Gucci even makes a dive(ish) watch. Many of these watches have bezels that don't move and offer very little in the way of water resistance. That being said this particular Nautica was a bit of a surprise for me. It's a chunky Timex produced quartz dive watch with a very easy to turn bezel, with a screwdown back and crown. I honestly would not have any issues diving with this watch despite it only having 100m of water resistance.
That said it does have two major drawbacks. The first is that the 22mm lugs are solid and can't be removed. This means that only slip-through straps such as a NATO will work with it. The second is that the lume is garbage compared to a comparably priced Seiko or Casio (this seems to be a common problem for Timex watches that actually have lume.) Combine all that with the high price for a quartz watch and this could be a hard pill to swallow. If you can find one for less than $90 pick it up though!
Ask most watch nerds what a good starter watch would be and without fail most will answer the Seiko SKX007 or its "pepsi bezel" cousin the SKX009. Featuring Seiko's tried and true 7s26 automatic movement this watch is practically bulletproof. The chunky bezel is easy to grab even when wearing thick gloves and despite its larger size it looks great on most wrists. Seiko's lume at this price point is second to none and the SKX absolutely drinks in light.
If this thing was equipped with a bit more sophisticated movement and a scratch-resistant sapphire crystal I doubt there would be a better dive watch on the market at any price.
Pick up a Seiko SKX007 on Amazon
A New Challenger Appears!
I've long been a proponent of the Seiko SKX007 as the best all around dive watch at its price point. It's rugged and robust build have been hard to beat. That is until I picked up a Seiko Prospex SNE437. Seiko's Prospex line of tool watches is intended to be worn by professionals and as a professional diver this particular model hits a lot of the right buttons. It's got drilled lugs fantastic lume, excellent build quality with a chunky bezel, easy to read and its solar powered movement means no need to change the battery anytime soon.
That puts its lifespan between services to 8 years which is when the rechargeable battery is expected to need a change. This is far greater than the years between service on any mechanical watch and most quartz watches. Perhaps the only drawback I've found to this watch is that it runs a bit big. Because it's so thin it does not feel massive but it does have some heft to it. Definitely worth taking a second look.
Following Rolex's example many Swiss manufacturers of some of the most iconic tool watches of all time have taken their products upmarket. They've gone from high quality tool watches built for professionals to luxury items that double as status symbols. This is understandable of course. That is the only way that many of these watch manufacturers survived the domination of cheap quartz watches in the 1970s and 1980s. Omega is not exception to this but unlike many luxury brands they produced quartz models well into the 21st century. And these quartz models are as well made as their mechanical breathren and can be had for a comparative steal.
The "Goldeneye" Seamaster is no exception. Featuring one of Omega's best quartz movements, the 1538, this watch was worn by Pierce Brosnan in his first outing as 007 (this was his laser watch!) The thinness of this particular watch belies its fantastic water resistance (300m) and professional diving credentials.
At 10 o'clock there is a helium release valve which allows saturation divers, those commercial diving aquanauts working at 300 feet in helium filled habitats (helium is used to lessen the narcotic effects of nitrogen at depth) to safely vent that helium from their watches when they ascend in a diving bell. Without this release the crystal would pop off on the way up. I doubt I'll ever use this feature but it's cool that it's there.
Perhaps my personal favorite feature is the quickset hour hand found on the 1538. The nature of my job keeps me moving across 3 different time zones. Being able to quickly set the hour hand without it changing the timekeeping function of the minute hand is fantastic.
I originally bought the Goldeneye Seamaster to be a placeholder until I settled on which luxury watch I was going to buy to hand down to my hypothetical kids. To be honest I love this watch so much that I think it's going to be on my wrist for a very long time to come without a mechanical replacement in sight.
Note: Many of the Seamasters of this reference are 20 years are older by now. If you get one be aware the tritium lume has probably long lost its ability to glow and that it will probably need to be pressure tested before you ever take it diving.
Pick up an Omega Seamaster on eBay, $1,300-$2,000 / Amazon, $3,098
Homage watches have a bit of a stigma in the watch industry; some of it deserved some of it not so much. A homage is any watch that copies a watch from another manufacturer. The most common type of homages are copies of Rolex Submariners.
These aren't watches trying to pass themselves off as Rolex watches. They have no Rolex branding they just copy the design. The decision to buy a homage can be a bit tricky. There are established watchmakers out there such as Invicta that are genuine watch companies even if they don't have the most glowing reputation among watch nerds.
There are also homages that are churned out by the same Chinese factories that produce counterfeit watches. These are sold on ebay with brand names like Corgeut and Debert for around $125. For that price in many cases you are actually getting a very nice watch. Sometimes you're getting a dud.
The Corgeut homage to the Tudor Black Bay is the former and I was very impressed by it.  It has a Japanese Miyota automatic movement, scratch-proof sapphire glass crystal, and it passed the 200m water resistance pressure test. In the end though it's a completely unoriginal design with little merit on its own. But if you like the look of it there is nothing illegal about buying one. It's just a matter of personal preference.
The strap for a dive watch needs to be water resistant and durable. This means that most of the time a dive watch is worn on a stainless steel bracelet, nylon NATO, or a rubber strap. For a more in-depth run down of the strap types check out Primer's absolutely fantastic article on watch straps.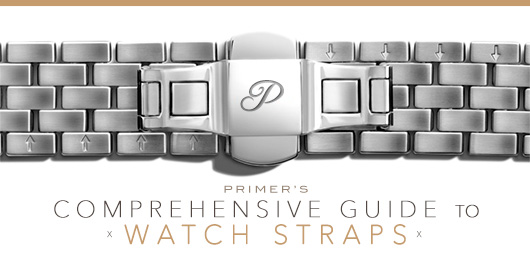 Bracelet
The bracelet is perhaps the most jewelryesque look of all the straps. I know a lot of guys around my age associate a bracelet with the baby boomers. What started out as something built for sports watches has become more than acceptable in a lot of office environments because of those boomers. For diving a  bracelet can be great because they dry quickly and don't take much in the way of wear and tear.
Rubber strap
The rubber strap is the classic dive watch look. They dry quickly and will hold up to damn near anything you put them up against while being a lot easier to adjust than a bracelet for different wrist and wetsuit sizes. The Seiko rubber strap in particular is great because of the accordion design. This accordion looking feature allows the watch to expand and contract on the diver's wrist and worn over a wetsuit. Neoprene, being filled with tiny air bubbles in the foam, will compress at depth. The Seiko rubber strap compresses right along with it.
NATO Straps
The NATO Strap is an extra long nylon strap first issued by the British Ministry of Defense along with their military dive watches. These straps have two pieces of nylon that trap the spring bars of the watch so that in case of the watch getting snagged, and a spring bar popping out it is easily repairable as the spring bar is trapped between the two nylon straps. NATO straps are made longer to accommodate a wetsuit and they are available in an incredible variety of colors and designs.
Dive Watches Overall
For most divers in 2018 the dive watch is an affectation. We usually let a dive computer do most of the heavy lifting of dive planning for us. That's not to say that a dive watch isn't important though. They still make for a great backup. But a dive watch is also something we wear to connect us to the history of the sport.
Additionally they are great for everyday wear because you can beat the hell out of them. Whether I'm meeting a client or on a camping trip I know my watch will take whatever I throw at it. Even with a dive computer I still like knowing my dive watch is there as a backup if I need it. And honestly it helps me feel a little bit more like James Bond. My Seamaster doesn't shoot lasers though.
Did you like this guide? Please share it!