A transitionary style of rugged and refined fall layers.
Another summer has come and gone, but that laidback mood still lingers as we enter the shoulder season leading up to fall. The next few weeks will be a mixed bag of hot, humid days and cool, crisp days…some even both in one.
Even though it seems like men's style resources and clothing brands have two modes: Full on resort summer style and then a dramatic hard pivot to heavy fall layers, the reality is there can be quite a transition between the extremes of the two seasons. There's no need to wear your floral shirts right up until you need plaid shirt jackets. Ease into fall by starting with versatile pieces ideal for transitional weather—and style.
Welcome to our annual Fall Getup Week, where we'll be bringing you new outfit inspiration daily to refresh your cool-weather style.
To kick things off, today's rugged but refined modern look balances utilitarian military details with lightweight comfort. An olive M65 field jacket and white utility pants anchor the outfit's rugged vibe. While a chambray shirt and heathered tee provide a refined foundation for shouldering the elements in style. Finish it off with your choice of sandals, canvas sneakers, or leather boots depending on the day and your personal style. Experimenting with these in-between seasonal pieces helps bridge the gap between summer gear and winter wool.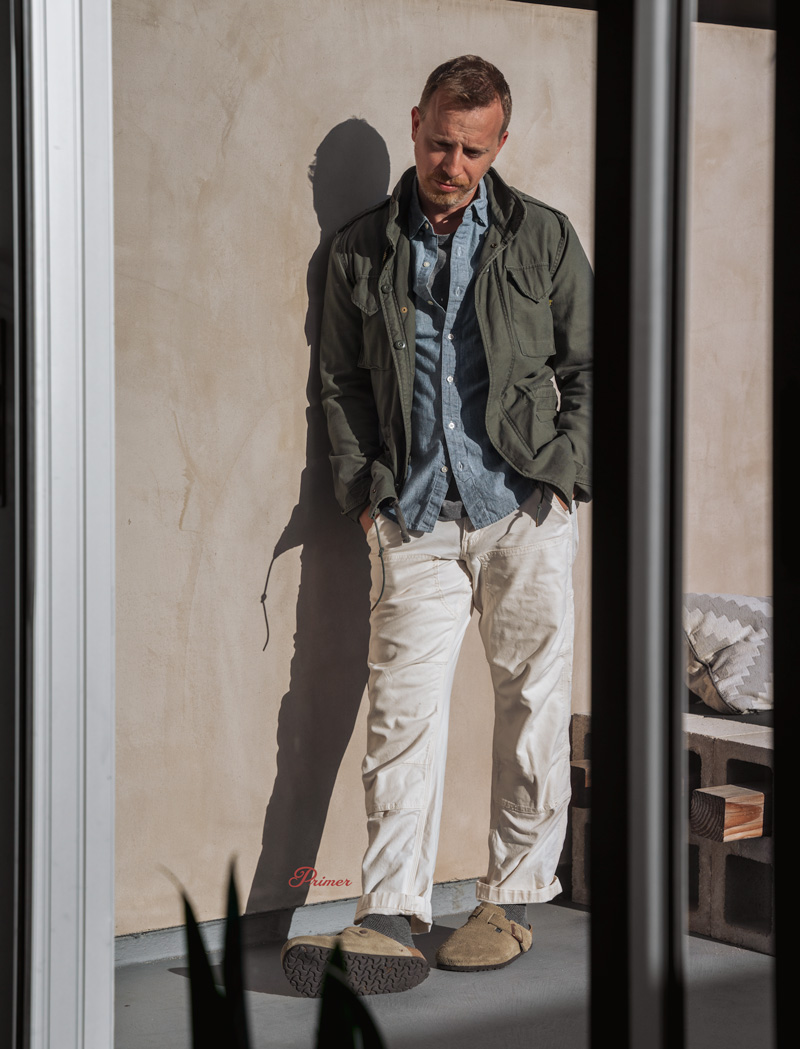 Field Jacket
→ Options
The M65 field jacket, introduced in 1965 for the U.S. military, is a versatile piece ideal for transitional weather. Its roomy design accommodates layers, and features like a zippered hood and snap-closure storm flaps add practicality.
In the decades since, this iconic field jacket has moved into the enduring civilian wardrobe, in a long line of clothing items that originated in the military. Paired with a chambray shirt, heathered tee, and utility pants, the olive drab field jacket pulls together an outfit perfect for the end of summer. Its comfortable silhouette layers well over tees and hoodies alike. With its heritage roots and timeless utilitarian style, the lightweight field jacket brings sophisticated edge to casual looks as another summer fades to the cooler days of fall.
Check out more ways we've featured how to wear it:
Chambray Shirt
→ Options
Dressed up or down, this classic chambray shirt provides visual interest and lightweight comfort as the temperature starts to dip, effortlessly straddling the line between rugged and refined. This medium wash cotton chambray button-down has the soft, broken-in feel of an old favorite flannel or denim shirt. Yet its lightweight fabric and versatile solid color give it a bit more polish than a traditional plaid.
The chambray's lighter blue nicely complements the olive drab field jacket and white utility pants in this outfit. Its enduring workwear vibe pairs perfectly with military-inspired pieces like the field jacket.
Tri-blend T-shirt
The foundation of a great transitional look starts with smart layering for the weather ahead. This heathered tri-blend tee has a soft, vintage aesthetic. In the outfit it makes use of color hierarchy: the heather gray bridges the shade gap between the white pants and chambray, beautifully.
Utility Pants
→ Options
"No white after Labor Day" is an old fashion rule that has no place in a modern man's wardrobe. These Carhartt utility pants in "natural" white have a modern straight leg and loose fit, providing plenty of room to move, while the reinforced thighs ensure durability.
White pants can feel like a bold choice, but the looser cut and utilitarian styling of these Carhartts make them more approachable. The workwear vibe balances out any overt refinement that white chinos may convey. Paired with an olive field jacket and chambray shirt, the white pops without overwhelming. And the crisp canvas plays equally well with casual sneakers or boots when dialing in your personal style.
Footwear Options
Gray Canvas Sneakers
Vintage-inspired canvas sneakers like these from Sperry with leather boot laces swapped in are a perfect match for the heritage military and workwear vibe of this fall outfit. The gray color echoes the t-shirt and chambray, while the brown leather laces tie back to the field jacket. These canvas sneakers were recently featured in our summer shoe alternatives to boat shoes, proving their life extends beyond beach season.
Taupe Birkenstock Sandals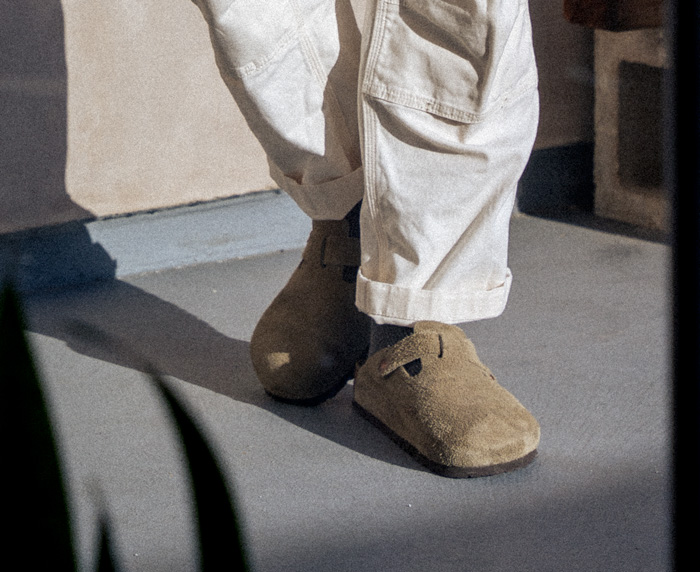 Birkenstock's Boston mule may seem like an unexpected choice for fall, but with a thick pair of socks they make for the ideal next level of a house shoe. The taupe leather ties into both the pants and jacket, and the contoured cork footbed provides signature Birkenstock comfort and support when you're on the go.
See how else you'll wear it: The Unlikely Style Icon: How Birkenstock Bostons Won Me Over – 4 Outfits + Alternatives
Red Wing Moc Toe Boots
When you need a boot to handle fall adventures, Red Wing's classic Moc Toe design brings rugged heritage style. The dark leather handsomely contrasts the chambray shirt and olive jacket. And the contrasting white traction tread sole balances fashion with function—providing grip and support for traversing unpredictable fall weather and terrain, while tying the dark leather to the light pants. The signature Goodyear welt construction ensures these boots are made to last, season after season.
Whether you opt for Sperry's vintage-inspired canvas sneakers, Birkenstock's mules, or Red Wing's classic boots, each choice accentuates the outfit's military and workwear elements.
A new outfit every day this week, check your email tomorrow for the next!
I hope you liked Fall Getup Week this year, check out the other outfits and let me know which you liked most!