Great style, no fuss.
Casual style seems to give a lot of guys a hard time. It's like when some men find out they should "dress casually," to something that translates to, "Oh! It doesn't matter what I wear."
Or worse, they equate anything but t-shirts and sweats or jeans to being not comfortable. And that's a problem for our partners who have to put up with us during any era, but it's a super big problem in this work from home period because it means they may not have seen us in real clothes since March '20.
The truth is being casual, comfortable, and looking like a put-together adult are not competing priorities. It almost feels like cheating once you discover how to dress for comfort and still look purposeful.
The magic in this simple style is the dark color palette. I love the way the deep green pairs with the navy, tied together by the vintage heather gray t-shirt and kept light with the tan Converse 70 hightops.
Fleece Shirt Jacket
The shirt jacket has increasingly become almost a daily staple for me, and now, in the time of being at home, I've come to rely on it even more.
Shirt jackets usually wear lighter than a sweater, both in terms of weight and feeling stuffy. They're easier to augment if you get hot or cold thanks to the buttons and rollable sleeves.
Take the comfort quotient up a notch with a fleece shirt jacket and it's basically like wearing a blanket. The one I've got on in the photos is from Amazon Essentials, unfortunately the green one sold out quickly after we featured it the first time. It is still available in other colors if you're not married to the (handsome) green and is a deal at $25.
Here are two other great options:
See how else shirt jackets will rock your daily Getup:
Blue Chinos
Stretch chinos are straight up the most comfortable casual pants option that are acceptable to wear outside of a gym. So many guys see them and run the other way screaming, "KHAKIIiiisss…" but these aren't the dress pants of your teenage years.
Lots of guys think they hate chinos because when they've worn them before they were for some business casual or church thing – they feel stuffy and made you feel like a dork. But these pants…ain't them.
For one, they have a slimmer silhouette, more akin to your favorite jeans than your pleated Sunday's Best of 2008. But more so, most of them now have stretch built into them by way of 2-5% elastane, meaning you can do the daily task equivalent of high knees and squatting until the cows come home and not feel restricted.
Gray Lightweight T-Shirt
Similar: Next Level, $13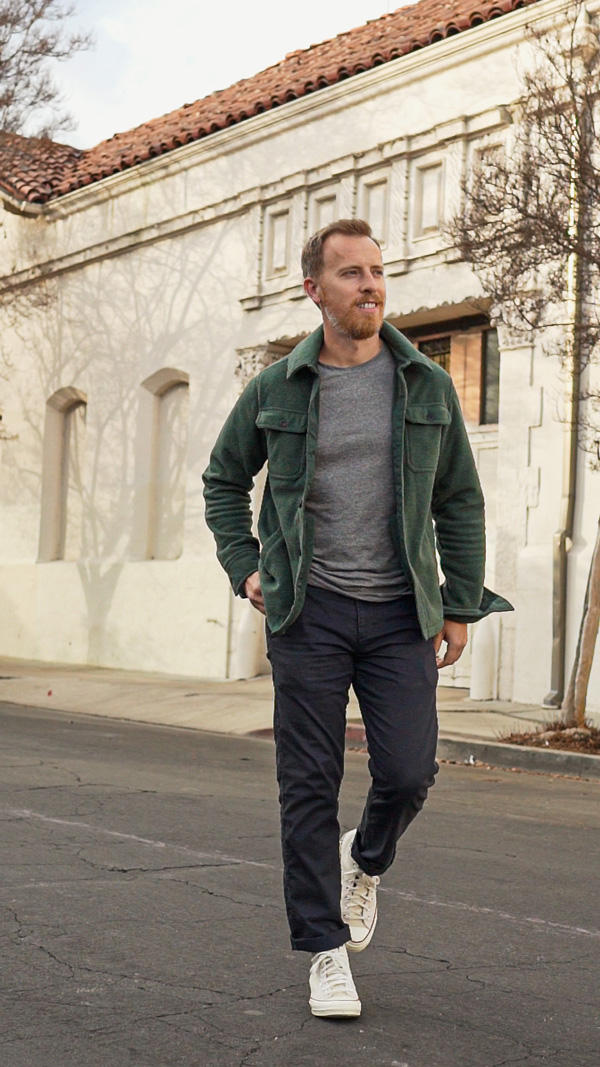 I love a medium gray t-shirt made with a tri-blend fabric for that lightweight vintage look and feel. Keeps it from looking like a stiff cotton heather gray tee that you get for free at every event you participate in. The blend also provides stretch.
Converse 70s High Top
As they say, the devil is in the details. I dig the look of the Converse 70s in the parchment colorway. The 70s feature throwback styling including taller and beefier sole and toe cap. These also feature an Ortholite cushioned footbed, making them easier to wear than their flat foot relatives.
The off-white color gives it that cool dirty, beat up Converse feel without actually being, you know, dirty and beat up.
Bulova Lunar Watch
On the wrist, I have the other watch that landed on the moon. We've featured the Lunar Pilot a number of times over the last year or so. It's a handsome chronograph with a simple, mechanical-inspired face. That, and the not-shiny steel case give it a premium look beyond its price level.
I've slipped a gray NATO strap on it, the link above is for the two strap option which includes a NATO. This is a big watch, something I'm generally not a fan of, but I love to wear it: It's not thick, it just has a big footprint.
Have a shirt jacket you like? Dig this style? Chat with me in the comments!